For those of us that are full-time RVers, it's important to treat your RV for what it is – your home. The biggest difference between living in an RV and an actual house, however, is that your RV is much smaller and doesn't leave much room for personalization.
However, while RVs are small and compact, there are plenty of great ways to decorate them and add a homey touch. If you want to change your RV and add a fresh look, this article contains 12 of the best RV decorating ideas to shake things up!
12 Best RV Decorating Ideas
The keys to decorating your RV are working smarter, not harder, and remembering that less is more. Giving your RV a fresh look doesn't always require a big change or furniture additions and can be something as simple as a new throw pillow or wall decor.
Regardless of your goals, here are some of the best RV decorating ideas from around the web!
Be Deliberate With Your Interior Decor
Before you even start with any of these RV decorating ideas, you should first decide that you're going to be deliberate. No matter what you do, you're not going to have much space to work with, so being deliberate and selective is crucial.
The key to being deliberate is having a plan. Instead of going to IKEA or Target and browsing the shelves for random things, decide beforehand what your decorating goals are and stick to them.
You'll be amazed at how cohesive, and put-together your rig looks (and how much money you'll save) if you go into decorating day with a plan.
Go Festive
If you're a Christmas or holiday junkie, nothing will make your RV feel more like home than festive decorations. Once again, decorating to fit the season or time of year doesn't have to be a massive undertaking.
For Christmas, hanging a wreath on the door and some lights around the inside of your camper will go a long way. You can also erect a small Christmas tree or string lights outside your camper.
During fall, a few pumpkins or gnomes around the outside entrance to your rig and an autumnal welcome mat will help people feel right at home. There are also plenty of wall hangings and interior decor pieces from Target, Crate and Barrel, or Wal-Mart that will give your camper a finished look.
No matter the season, being festive will add life and joy to your camper.
Invest in a Paint Job
One of the overall best RV decorating ideas is to give your rig a fresh look with a new paint job. Most RVs come from the factory with basic paint jobs mixed with wallpaper, but it's often minimalistic and bland.
So, if your RV is starting to feel stagnant, you should invest in a fresh coat of paint to give it new life. Be advised, however, that painting over RV walls is easier said than done because of the material that the interior walls are made of.
The nice thing about a paint job is that you can decide how broad you want to go. You can start with a single room or wall and expand from there.
Regardless of the extent to which you decide to go, your RV will look great with a fresh paint coat.
Hang Wall Paper
If you don't feel like doing a full-on paint job, you can also decorate your walls with wallpaper. In many cases, wallpaper is easier to work with than paint because of how difficult RV walls can be to paint.
While wallpaper was once considered outdated, it's coming back into style in a great way. Wallpaper is a great way to add color or a design to one or multiple walls in your rig and is easily one of the best RV decorating ideas imaginable.
You can go for anything from floral designs to nature themes and anything in between. If wallpaper is too much work, you can also try hanging a blanket or tapestry to give your travel trailer some life.
Focus on the Bathroom or Kitchen
As with houses and apartments, the bathroom and kitchen of your RV are extremely important and are often the center of RV decorating ideas. Everything else in the travel trailer can look slightly outdated or simplistic, but as long as the bathroom and kitchen look good, people will be impressed with your RV.
Redoing your bathroom or kitchen doesn't have to mean new appliances and plumbing fixtures by any means. Instead, move some things around, clean it up, so it looks nice, and maybe select a few wall hangings and decorations.
You can also change the layout of these rooms to give them a fresh look. One example would be removing your cabinet doors and giving your kitchen an open concept look.
Another great idea for the bathroom or kitchen is installing new knobs and pulls on the cabinets and drawers. You can also repaint them if you're feeling extra ambitious.
Install Drapes or Curtains
Another area where RVs and motorhomes often lack is their drapes and curtains. In most cases, campers have pull-down curtains to block sunlight but do not have actual drapes or curtains.
While not having drapes and curtains is inconvenient, it also gives you a fresh slate to work your magic with. You can choose between blackout curtains, floor-to-ceiling drapes, or colorful ones to give your RV a feeling and character.
Try Out a New Flooring
Installing new flooring might sound like one of the more complicated RV decorating ideas, but it doesn't have to be. Rather than pulling your old flooring out and installing new planks or tongue and groove flooring, you should consider peel and stick flooring as an option.
Peel and stick flooring is similar to a stick-on backsplash or wall decals. It often comes in square pieces similar to tiles in bathrooms and kitchens.
You simply peel the protective back covering off the tile and press it down on the floor. You can repeat the process until your entire floor is covered and looks cohesive.
If you're happy with your flooring, you can also use peel and stick tiles for a kitchen or bathroom backsplash to give it new life.
Add an Area Rug
Rather than installing new flooring, you can stick to our original principle of working smarter, not harder. Investing in an area rug is a great way to personalize your living space within your travel trailer.
The nice thing about area rugs is that you can easily change them out for a new one if it gets ruined or if you want to redecorate with each coming season. You'll be amazed at how much a single area rug can change up your rig, which is why it's one of the easiest and best RV decorating ideas.
Decorate With Collectibles and Souvenirs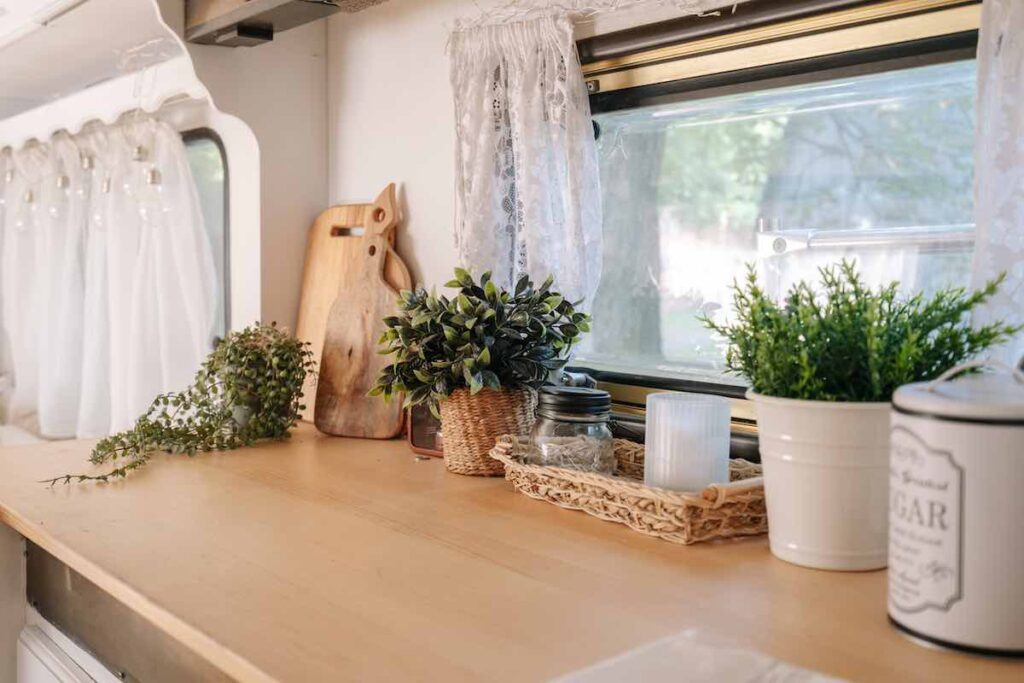 Decorating with collectibles and souvenirs is one of the trickier RV decorating ideas on this list. If you're not careful, it's easy to clutter your living space with an assortment of items that don't go together cohesively.
However, decorating with collectibles and souvenirs is an awesome idea if you're deliberate and try out different looks. It's a great way to incorporate memories of your travels into your rig in a nostalgic and inviting way.
Paint the Exterior
Just like painting the interior is one of the best RV decorating ideas, so is painting the exterior. Once again, you want to be careful and deliberate when doing any type of exterior painting because it's very difficult to change it if you don't like it.
While painting the exterior will certainly give your rig a fresh look, it's also one of the most time-consuming RV decorating ideas on our list. It will take a lot of time, money, and effort and might be more work than it's worth if you want a quick changeover.
Add a Coffee Nook or Corner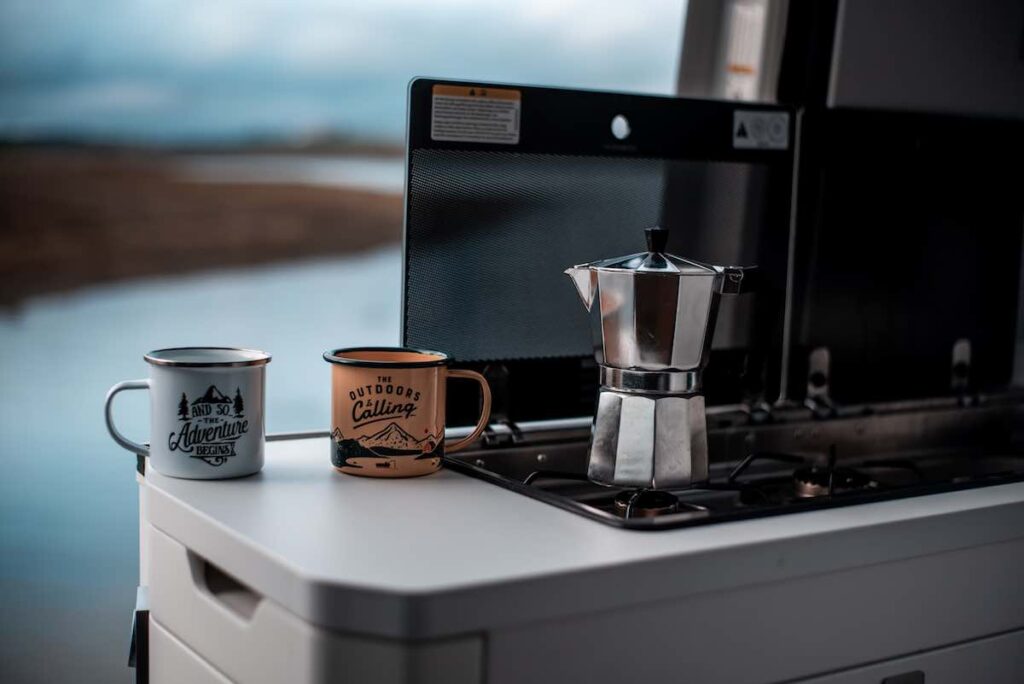 Few RV decorating ideas will give your RV a cozy and fresh look like a coffee nook. We all love our coffee and tea, and giving it its own dedicated space is both functional and aesthetically pleasing.
While designing your coffee nook, you might want to consider adding a few new features to the mix. Wall hangings, a small coffee cart or bar, and a few decorations will give your coffee corner a cozy look.
You can add new appliances such as an electric kettle, a pour-over set, or a new tea kettle.
Revamp the Bedroom or Living Space
Revamping your bedroom or living space might sound like a tall order, but it doesn't have to be. This is another RV decorating idea where you can go big or small, depending on your budget and how hard you want to work.
When revamping a bedroom or living space, you have two options. You can either purchase new furniture, wall hangings, decor and throw pillows or revamp what you already have.
Personally, we've had the same five or six pieces of furniture in our RV for years. Rather than being big spenders and changing it out, we choose to rearrange the furniture and occasionally invest in new wall decor or throw pillows.
Most RVs' bedrooms and living rooms are small enough that even these small changes feel massive. It's also a great way to save money and not waste your belongings.
Final Thoughts About RV Decorating Ideas
Hopefully, our list of RV decorating ideas has given you some inspiration and hope for your RVing adventures. Decorating your RV is one of the best ways to keep things fresh when living in such a small space.
The main things to remember are that less is more and that redecorating doesn't have to be a massive undertaking. Instead, it's better to make a plan, start small, and see where your imagination takes you.
Looking for more decorating ideas for the holidays, or for your home? Take a look at our decor section!