Using Wise Owl Paint for the first time!
Introducing the canvas I would use Wise Owl Paint on. I already knew I wanted to go for a slightly rustic glam sort of look. I wanted them to be versatile and able to be used in many styles of spaces but also have a fun and unique design.
Im thinking you should totally pin this for later,..
Just a little bit back Wise Owl Paint was running a giveaway. I was so excited to win! Wise Owl Paints color palette includes both vintage inspired pigments and trend setting hues. I quickly informed them I would love to try their new, limited edition color Abyss. Abyss would TOTALLY pull off the Rustic Glam look I was going for!
But what is Wise Owl Paint?
If you have never heard of Wise Owl Paints premium products, let me introduce you! Wise Owl Paint comes in the Chalk "Synthesis" style which is considered a no voc premium clay mineral paint as well as their One Hour Enamel. Both are proudly manufactured in the state of Michigan.
---
Wise Owl chalk synthesis paint is named such because they studied various styles of paint and created a synthesis of all the best characteristics each paint held including supreme adhesion. Its an easy to apply product, great for creating solid color finishes as well as all sorts of artistic paint techniques. Wise Owl paint will adhere to virtually any surface you can think of. For solid wood you wont need to sand down to the bare finish or prime for most projects. It wont require the prep work of traditional paints. A single pint can cover up to 75 square feet and what is best it is free of harsh chemicals and solvents.
And as you may know I love teals,..Wise Owl Paint in Abyss is luscious and deep,… I had recently scored some lovely end tables. ACTUALLY though, these were the end pieces to an antique vanity.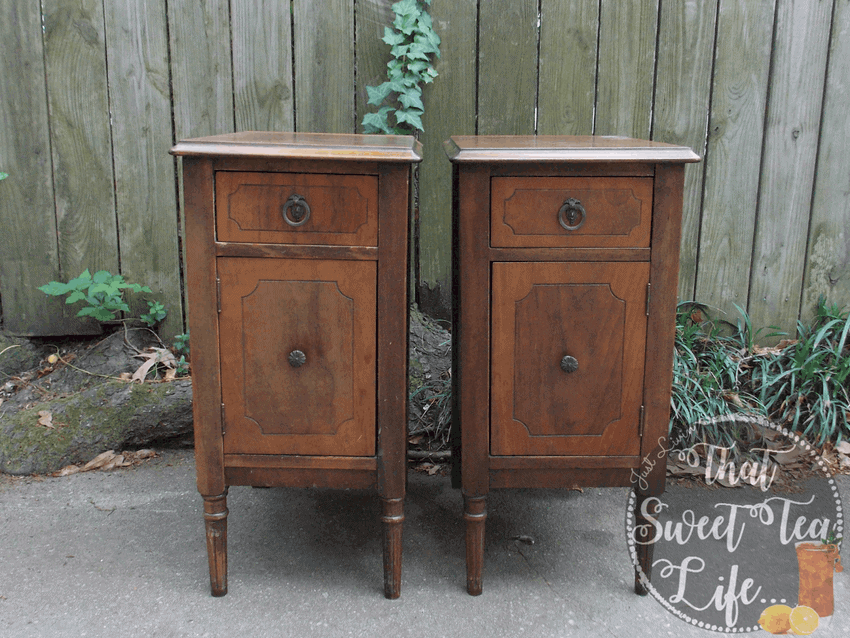 The middle area and mirrors had been removed leaving just the end pieces. These are going to be difficult to let go of,.. I have long looked for a set of deep and rather thin nightstands and these are perfect! …So hopefully I will come across some again,..
What will I use on this Wise Owl Paint project?
Now, what will I need? Here is everything you will read me using with clickable links. Some may be affiliate in nature which means if you shop through them I may earn a commission.
How I prepped then painted using Wise Owl Paint
The first thing I would do is clean with TSP, Then I sanded to break the finish with my flexible sandpaper, and followed up with higher grits to smooth it back out. Next I wiped everything down with a vinegar water mixture and sprayed 2 coats of shellac. WE ARE READY!
I like to set them up and flip them upside down to really get to those legs…
This is one coat,.. the "Rustic" has begun! I followed this up by brushing in the modern masters gold to bring in the "Glam" and laid in the Wise Owl Abyss at the top of the stands and dragging it down,.. Then I sanded it all smooth…
Much of the gold faded back so I decided to paint more back in and feather it back,.. Gotta get more glam
I loved how the wood tones and gold played together!
So I decided to stain the tops and add some gold stenciling using the Modern Masters Gold! 6 Coats of clear and a gentle sanding between each would follow. On the sides of the drawers I painted Unicorn SPiT in Zia Teal, distressed that back and added more stenciling. That was sealed with a lacquer spray.
So gentle and faint,.. just what I wanted! The sides were sealed up with Wise Owl Varnish, 2 coats sanded lightly between then I used my lemon salve over everything. I absolutely LOVE the feel and the water resistant qualities of adding the salve over the varnish protection.
I should mention. The first day I placed the hardware in a baggie with ketchup. After a few hours I removed it and scrubbed it a tiny but with a scrubby. And this is what I ended up with…
I love when old hardware shines up so beautifully! This definitely helps add the Glam into this Rustic Glam Painted Look!
And we are done…
Now for the finale!
Admittedly, the pictures could have been better! I used a fancier camera I couldn't seem to work well…
BUT they are lovely! And all ready for the shop! I have truly enjoyed working with Wise Owl Chalk Synthesis paint!!
---
Now dont forget to go check out all my craft friends!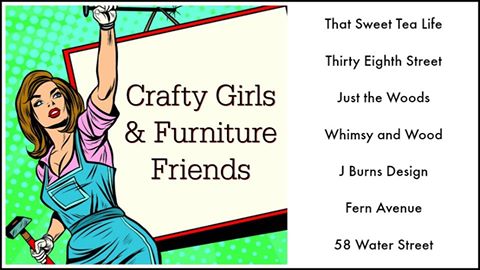 ---
1. Reviving a Craftsman Pedestal Table by 58 Water Street
2. How To Love Your Furniture When You Hate The Color by Just The Woods
3. Trying Out Wise Owl Chalk Synthesis Paint by That Sweet Tea Life
4. Go With Red by Whimsy and Wood
5. How To Transform Second Hand Furniture Easily by Thirty Eighth Street
---
Oh my Goodness!! My crafty girls NEVER disappoint! LOVE these gorgeous transformations! Which one is your favorite??