If you have a piece of furniture that is older and could use a new life, there's no better way to revive it than by painting it with chalk paint. The great news is that one of our favorite home experts, Joanna Gaines from the TV show "Fixer Upper," has her own brand of Magnolia chalk paint.
Joanna Gaines' chalk paint is called Magnolia Home Chalk Style. Joanna's business, Magnolia Home, created this chalk paint with the KILZ paint company. Note that KILZ offers a chalk paint style line of their own. In this review, we are specifically covering the Magnolia Home Chalk Style Paint.
If you've already been using chalk paint to transform furniture pieces, you probably know that several paint companies offer chalk-style paint. What makes Magnolia Home Chalk Style Paint unique? Let's dive in with an honest and comprehensive review of this chalk-style paint.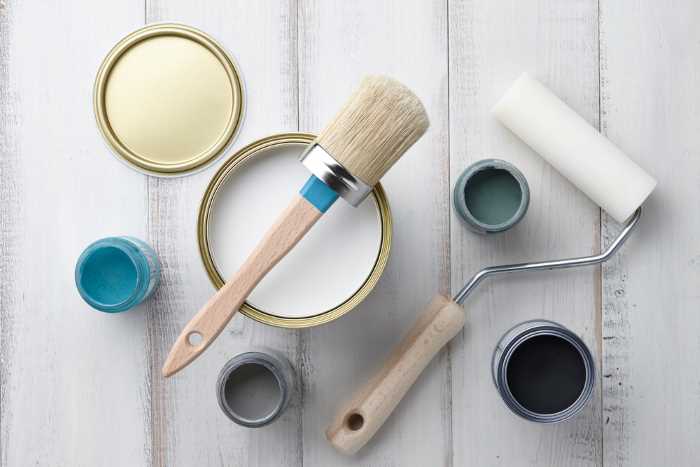 History of Chalk Paint
In 1990, a British woman named Annie Sloan invented a revolutionary new type of paint that was easy to use and left furniture pieces with a gorgeous matte finish. That paint was Chalk Paint, Annie Sloan's brand.
Sloan's dream was to create a paint that was easy to use, fast-drying, and reliable. She achieved that goal because in most cases, no prep work is required to paint something with chalk paint.
These days, Annie Sloan is considered is widely considered to be one of the world's leading authorities in color, paint, and home style.
Soan's company trademarked the name "Chalk Paint," so other brands that use chalk-style paint have different names. For example, Rustoleum has "Chalked," KILZ calls their chalk paint "Chalk Style Paint," FolkArt's paint is called "Home Decor Chalk," and Sherwin Williams uses the name "Krylon Chalky Finish Paint." Magnolia chalk paint is called "Magnolia Home Chalk Style Paint."
While similar, all of these companies have chalk-style paint that has distinct differences.
About Magnolia Home and Magnolia Chalk Paint
Magnolia was started in 2003 by home design power couple Chip and Joanna Gaines. The couple rose to fame on the hit home improvement TV show "Fixer Upper." Their store, Magnolia, is located in Waco, Texas. They also have their own television network, Magnolia Network.
Magnolia Home created their chalk paint with KILZ, one of the world's leading paint companies. With KILZ as a partner, Magnolia Home Chalk Paint gets all of the benefits of a huge paint company's research and marketing.
On the KILZ website, the company says that Joanna Gaines created this paint so that homeowners could give a fresh start to meaningful furniture pieces. The paint comes in quart sizes only and has a curated color palette.
Why Do People Use Chalk Paint?
All chalk paint is remarkably versatile and easy to use, including Magnolia Home Chalk Style Paint. You can use chalk paint to cover nearly any surface to which paint can adhere.
The primary reason chalk paint has become so beloved is that furniture that you paint with chalk paint doesn't require any prep work beyond cleaning. Not needing to sand or prime furniture is immensely appealing to people who want to get a project done quickly without a lot of fuss.
Finally, chalk paint is excellent for camouflaging blemishes that you often find in older pieces of furniture.
What Is the Best Chalk Paint?
Several companies have chalk-style paint offerings, and the best chalk paint depends on the project you're working on and your personal preference.
Before tackling any painting project, the best thing you can do is to conduct thorough research. For example, some chalk-style paints are thinner than others. Researching online can save you tons of time and frustration when you're starting your painting project.
Keep in mind that some paint companies don't offer chalk-style spray paint, and that includes Magnolia Home. If you're painting something like wicker baskets, for example, this may inform your decision about which chalk paint is best for your project.
Magnolia Chalk Paint Cost and Availability
When you begin a painting project of any kind, cost and availability play a significant role in deciding which chalk paint to use.
Where to Buy Magnolia Chalk Paint
If you decide you need more paint at some point, you need to be able to access it in the timeframe that you need it. Having local access to the paint you need is sometimes important.
To buy Magnolia Home chalk paint in person, you have to find a hardware store that carries the paint. For example, Ace Hardware and some other select hardware stores stock it, but Magnolia chalk paint isn't available at the big home improvement stores where most of us love to shop.
You can also buy Magnolia Home Chalk Style Paint online at the Magnolia website or Ace Hardware.
Magnolia Chalk Paint Cost
Also, the cost of the paint can play a role. For some furniture pieces, you want the very best paint you can afford. On the other hand, if you're just doing some craft projects like painting baskets, a less costly paint may be ideal for your needs.
Regardless of which chalk paint you use, most of them are less expensive than the leading brand, Annie Sloan.
In terms of cost, Magnolia Home Chalk Style Paint is about the same price as Annie Sloan Chalk Paint, and it is definitely more expensive than some of the other brands we have reviewed. On the Magnolia website, a quart of Magnolia Home Chalk Style Paint is $32 as of this writing.
How to Use Magnolia Chalk Paint
Home crafters and professionals alike love chalk paint because it's so easy to use and doesn't require much prep work. You don't usually have to sand or prime a piece of furniture before painting it with chalk paint. With that said, there are times when some prep work will help you turn out a nicer finished project.
1. De-Odorize Your Items
When you are refurbishing older items, you may notice that they have a lingering odor. It's a good idea to get rid of these undesirable smells before painting. Do some research online to learn how to best remove odors from whatever you're planning to paint.
2. Thoroughly Clean Your Items
No paint will adhere well to dirty surfaces and that includes chalk paint. Plant to give your furniture a thorough cleaning before you get started on your painting project. After cleaning your furniture, make sure the surface is completely dry before you paint it.
3. Correct Blemishes
If you're going for a shabby chic look, the blemishes in your old furniture pieces may add to the charm. However, if you would like to fill in holes and fix other problems, do that before you paint your furniture. For example, if your piece has holes from nails and screws, you can use spackling or wood filler to fill in these holes. Be sure to sand the area lightly afterward so that the area you sanded will blend in with the rest of the piece.
4. Sand if Needed
You don't technically have to sand a piece before painting it with chalk paint, but any type of paint adheres better to a surface that has light sanding. If you want to sand your piece, use 120-150 grit sandpaper.
One thing that you need to know is that if your furniture piece has a lacquered or high-gloss finish, you will have to apply more coats of paint. In this case, it's better to lightly sand these pieces.
5. Special Circumstances
If you're going to paint a piece of furniture that is dark in color or has unsightly stains, you may want to prime it before you paint it with chalk paint. Priming these types of pieces will prevent the existing color from bleeding through your chalk paint.
For painting raw and unfinished wood, prime it before painting it with Magnolia Home Chalk Style Paint. Otherwise, the wood will just soak up the chalk paint.
Magnolia Chalk Paint Coverage
Here is what we experienced in terms of coverage with Magnolia chalk paint.
After First Coat of Magnolia Chalk Paint
We saw good coverage after just one coat of Magnolia chalk paint on a wooden chair. However, a second coat was definitely needed to get full coverage.
The paint went on smoothly and wasn't too heavy or thick. Also, a little bit of the paint went a long way. Since this paint is thinner than paints like Annie Sloan Chalk Paint, you don't need to water it down at all.
Also, the paint has great pigmentation, even white paint.
After Second Coat of Chalk Paint
Fortunately, Magnolia Home chalk paint dries very quickly. You only have to wait about 10 minutes before applying the second coat of paint to your project.
The matte finish isn't rough or scratchy to the touch, and a second coat will cover up most of your imperfections if not all of them. This paint doesn't leave any streaks. The second coat gives a solid smooth finish with full coverage.
Magnolia Chalk Paint Durability
Chalk paint has the same durability advantages and disadvantages that other paints have. One consideration is that chalk paint doesn't hold up as well if the piece you're painting will be in a room that has a lot of moisture, like a bathroom.
Another consideration for painting with chalk paint or any paint is that a piece of furniture that gets a lot of use may not hold the finish as well. For example, if you live with children and eat at the kitchen table every day, that may not be the best piece to paint with chalk paint. On the other hand, if your table is more decorative than functional, it will be fine to paint it with chalk paint.
Magnolia Chalk Paint Colors
Magnolia Home Chalk Style Paint currently comes in 39 beautiful colors. One thing that is just slightly annoying is that in most cases, the names of the colors don't offer any indication as to what the color actually is. Here are Magnolia chalk paint colors.
True White
Shiplap
Antique Rose
Soft Landing
Heirloom Yellow
Emmie's Room
Americana Egg
Luxe
Ella Rose
Cabbage Rose
Home at Last
Antiquing
Bright Days
Garden Essential
Magnolia Green
Aspen Leaf
Create
Vine Ripened Tomato
Work Worn Wood
Celery Seed
Olive Grove
Regal Leaf
It Is Well
Rainy Days
Dark Moon
Times Past
Refinished
Sunday Stroll
Day-To-Day
Yarn
Sir Drake
Duke Gray
Display
Deep Rock
Pashmina Plum
Garden Trowel
Vintage Weathervane
Weekend
Boutique Gray
Magnolia Chalk Paint Pros
There are both pros and cons to using Magnolia chalk paint. Chalk paint is easy to use, so that's the most obvious pro. However, we also like that this chalk paint is much thinner than other chalk paints.
Lots of Colors
Magnolia chalk paint comes in a lot of colors, so it has more options than some chalk paint.
Solid Pigmentation
Magnolia Home chalk paint is more pigmented than some of the other chalk paints, including Rustoleum chalk paint.
Better Coverage
Magnolia's chalk paint offers better coverage than some of the other chalk paint brands we have used.
Quick-Drying
Magnolia Home chalk paint dries quickly. You can apply the second coat about 10 minutes after you apply the first coat.
Excellent Wax Sealant
Furniture painted with chalk paint requires waxing to seal the paint job. Magnolia Home offers chalk paint wax in clear and dark. Reviewers note that Magnolia's wax seems drier than some other waxes they have worked with.
The clear wax is quite impressive. It goes on quickly and easily, then you just have to buff and wipe away the excess wax with a dry and clean rag. The wax doesn't change the way the paint color looks at all, and it doesn't make the paint yellowish, which is a problem with some waxes.
Magnolia Chalk Paint Cons
There are some notable downsides to Magnolia Home Chalk Style Paint.
Availability
This paint isn't easy to get your hands on. You have to find an Ace Hardware (or select other hardware stores). Also, there are only a couple of places to buy this paint online.
Chalk Paint Removal
One thing to keep in mind is that chalk paint isn't the easiest paint to remove from surfaces. However, if you need to remove chalk paint from a surface, check out our guide for how to do it more efficiently.
No Spray Paint
Several other brands offer chalk-style paint in aerosol sprays, but Magnolia Home does not.
Not Available in Pints
Magnolia Home Chalk Style Paint is only available in quarts. This is inconvenient if you want to test the paint or try out some different colors.
Chalk Paint Isn't Always the Best Choice
Chalk paint is an excellent choice for many projects. Nevertheless, chalk paint isn't the best fit for every single project. Here are some examples of projects that aren't well-suited to chalk paint.
Bathrooms and other high-moisture areas
Kitchen cabinets
Furniture like mahogany or knotty pine that bleeds through (you will have to prime it)
Unprimed raw furniture
Extremely low-quality furniture
Dark woods that are high in tannins (redwood, cedar, and mahogany)
To use chalk paint on a darker wood, we suggest priming it first with a product like Zinsser Cover-Stain.
If you use chalk paint for a piece that will be in a high-moisture or high-use area, we recommend sealing it with a product like Minwax Matte Polycrylic instead of the traditional wax used with chalk paint.
Chalk Paint Supplies
To paint with Magnolia chalk paint, you need the same supplies you would use with most other painting projects.
Paint
PaintbrushesPainter's tape
Dropcloths
Painting trays
Rags
Wax (optional)
Polycrylic (optional)
Magnolia Chalk Paint: Final Thoughts
Magnolia Home Chalk Style Paint is a good product, but since it is comparable in price to Annie Sloan, it's usually better to go with the gold standard of Sloan. One exception is if you want thinner paint. In this case, Magnolia Home's chalk paint would be your best option.
Have you tried Magnolia Chalk Paint? If so, tell us about your experience in the comments below.