Chalk paint is a type of paint that has become increasingly popular for home projects and DIY enthusiasts, especially in the realm of furniture makeover. It offers a unique distressed look that can be a part of popular styles like vintage, retro, farmhouse, and shabby chic.
If you are looking for the best chalk paint for your next project, you have probably come across the Behr brand. Behr is one of the most widely-used paint brands, is highly reliable, and of great quality. But how does its chalk paint measure up?
In this article, we will talk about Behr chalk paint and how you can use it for your next home project.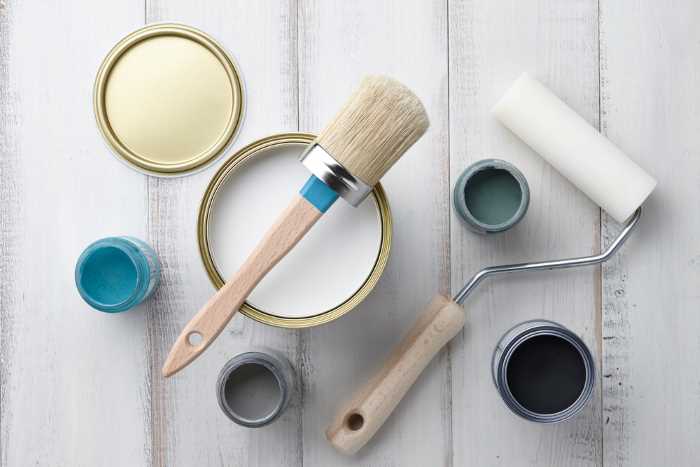 Some History About Using Behr Chalk Paint on Furniture
Chalk paint originated in 1990 under the brand name Annie Sloan. Technically, the name chalk paint is still a registered name with that company, but that hasn't stopped dozens of other companies from entering the market with their own version of the paint mix. Among them is Behr.
Behr chalk paint is usually used for furniture. Unlike other chalk paints, Behr comes in both a brush-on version and a spray formula, making it even easier to get your projects done in a fraction of the time.
Pros of Behr Chalk Paint
Behr is an excellent and widely-known paint brand, so when you buy it, you can rest assured that you are getting a dependable, quality paint.
It isn't common to find a chalk paint variety with application options other than simple brush-on paint. But Behr chalk paint comes in both traditional and spray varieties. Both types of paint offer excellent adhesion and full coverage and can help you achieve exactly the look you are going for, no matter what your project is.
Behr chalk paint goes on smoothly. It has a thick, creamy texture that will cut down on your work time. This also means it has great coverage, so you only have to apply one coat, maybe two, depending on how distressed you want the surface to look. Full coverage is easy to attain in as little as two coats, whether you are using traditional brush paint or spray paint.
Though Behr chalk paint is not intended to be used on walls (we're not saying you couldn't try if that is your heart's desire), it is a great option for many other surfaces. That means that you can use it on wood, tile, metal, laminate, and much more. Unlike some chalk paint brands, Behr adheres smoothly and effectively to almost any surface.
Behr chalk paint provides a smooth matte finish that is soft to the touch. While it does need to be finished with wax or another sealant, this finish helps the paint level off so that there are no visible brushstrokes or uneven spots.
Keep in mind that even though it is smooth, Behr chalk paint — like pretty much any other chalk paint — does not have any gloss or sheen to it. It is entirely matte, which is why it needs to be finished with a special wax or sealant.
Cons of Behr Chalk Paint
Like every product, there are a few drawbacks to Behr chalk paint. It is important to consider these before buying so you can make the best choice for your needs.
Behr chalk paint is advertised as decorative, which means it is better suited to small projects and detail work. In other words, you don't want to use this type of paint as the main paint on your kitchen wall.
The coverage and finish aren't well suited for wall projects, since they are likely to end up looking streaky and poorly covered. Meanwhile, the matte finish means that the walls will be extremely difficult to clean, even if they are properly sealed.
Behr chalk paint also has to be sealed once applied. This is a con because there are in fact chalk paint brands that are made to stand on their own, without the need for wax or sealant. Unfortunately, Behr is not one of them. If you plan to use it on any of your home projects, make sure you are prepared to apply a sealant once it is dry. Otherwise, you run the risk of it chipping or cracking and being extremely difficult to clean.
Paint Coverage
Behr chalk paint is extra thick, so you can achieve the ideal amount of coverage in a fraction of the time. One coat will provide the classic distressed or rustic look that chalk paint is famous for. A second coat will provide fuller coverage so you can take it in a different direction. In other words, you can get whatever effect you want with one to two coats of Behr chalk paint.
Cost
Behr is a surprisingly affordable option, especially when you compare it to other brands like Annie Sloan. A quart of Behr chalk paint is just under $20, where most other brands cost twice that much. But despite its price difference, Behr maintains the same quality as Annie Sloan or Amy Howard, making it an excellent option for those who are on a budget.
Availability
Behr chalk paint is widely available through its partner store, Home Depot. Although you can't buy it from other online retailers, you can order it through Home Depot's website. Depending on your location and the store availability, you may be able to have it delivered either to your home or to the nearest Home Depot location for pickup.
Durability
Behr's quality is consistent with other "fancier" chalk paint brands, and that extends to its durability. It will be most durable, if you take the time to properly seal it after painting, then allowing it to fully cure.
Most chalk paint brands claim that no preparation is needed before painting — you just need to make sure that the area is clean and free of dust before applying the paint. However, some people find that their paint job is clearer and more durable if they apply a coat of regular primer before painting.
Applying Behr Chalk Paint
So how can you apply Behr chalk paint, and what is the best way to get the effect that you want?
A Roller
A roller is a perfectly acceptable way to apply chalk paint. Because it is made to be flat matte and achieve a distressed look with a single layer, you might find that you need to be more thorough and perhaps even apply two or three layers with a roller.
Brush
For this reason, most people choose to apply Behr chalk paint with a brush. You might notice visible brush strokes as you work, but be reassured that they will fade as the paint dries. Most chalk paint contains a leveling agent, meaning that any uneven lines gradually shift and lie flat.
If the brushstrokes are too visible for your liking, feeling free to apply another coat of paint. This often does the trick and helps the paint level out.
Spray
Most chalk paints come in only one form, but Behr does things a little differently. You can also buy chalk paint from the brand in spray form. This can be a great choice for crafting, or for quick projects like chairs or smaller furniture, especially if you can move them outside to the open air.
Spray chalk paint from Behr offers just as much coverage and quality with a shorter work time. There is no need to prep beforehand — all you have to do is spray, let dry, and seal with wax.
Wax
Behr also produces wax made specifically to finish off chalk paint. This is important since it helps complete the look of your chalk paint and give it a nice sheen. You can adjust this look based on how much wax you use, but it is important to take this step in completing your project. If you don't seal your paint, you run the risk of chipping or becoming irretrievably dirty thanks to the matte finish.
To apply, just wait until the chalk paint is dry, then dip a clean cloth in the wax. Buff evenly over the surface of your project until it is completely coated.
Behr Chalk Paint Colors
One of the biggest advantages of Behr is that you can get chalk paint in any color Behr offers for its standard paint. Most brands only offer a limited number of chalk paint colors. But with Behr, you can choose from hundreds of shades.
What's The Best Way To Use Behr Chalk Paint?
In general, Behr chalk paint is intended for use on furniture. This lets you achieve a particular style. Chalk paint is often used in decor styles like modern farmhouse, shabby chic, rustic, vintage, and distressed.
But remember, you can drastically change the look of chalk paint based on how you use it. Coverage, application, and finish all play a role in the final look.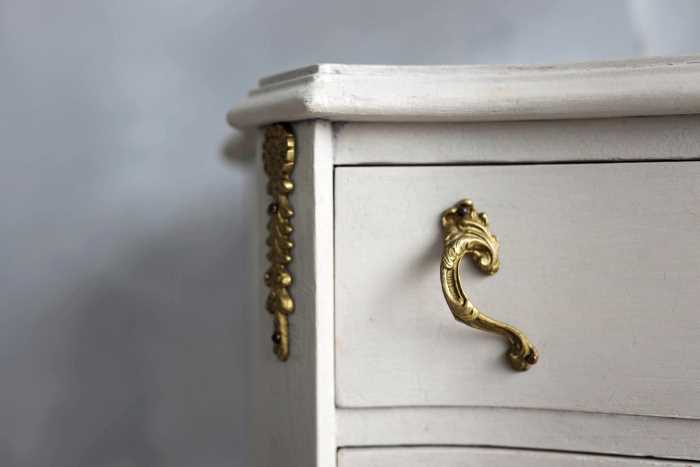 Conclusion
If you are looking for a chalk paint that is affordable but high quality, easy to apply, and super versatile, Behr chalk paint is an excellent choice. Behr is one of the most popular paint brands nationwide, and it lives up to its reputation when it comes to its chalk paint line.
This chalk paint is perfect for painting fixtures, furniture, and detail work around your home. It's comparatively very affordable without skimping on quantity. If you are on a budget but want to make your home projects really stand out, Behr chalk paint is a great choice.
And if you decide to give Behr chalk paint a try, or have used it on a project in the past, be sure to tell us about your experience in the comments below. We love hearing your thoughts and ideas.