Pottery has been a creative outlet for centuries, allowing individuals to mold and shape clay into beautifully functional and decorative pieces. Kids pottery wheels introduce this timeless art form to a younger generation, enhancing their fine motor skills and sparking their imaginative talents.
A well-designed kids pottery wheel offers a fun and educational activity for children with a variety of engaging features designed specifically for their skill level.
After extensive research and testing, we have narrowed down the best kids pottery wheels to provide an enjoyable and educational pottery experience for your young artist. These selections cater to various skill levels and preferences, ensuring that every child can discover the joys of pottery in a safe and engaging way.
Discover the perfect kid's pottery wheel to spark creativity and fun. These selections will inspire your little artist while providing endless ceramic adventures.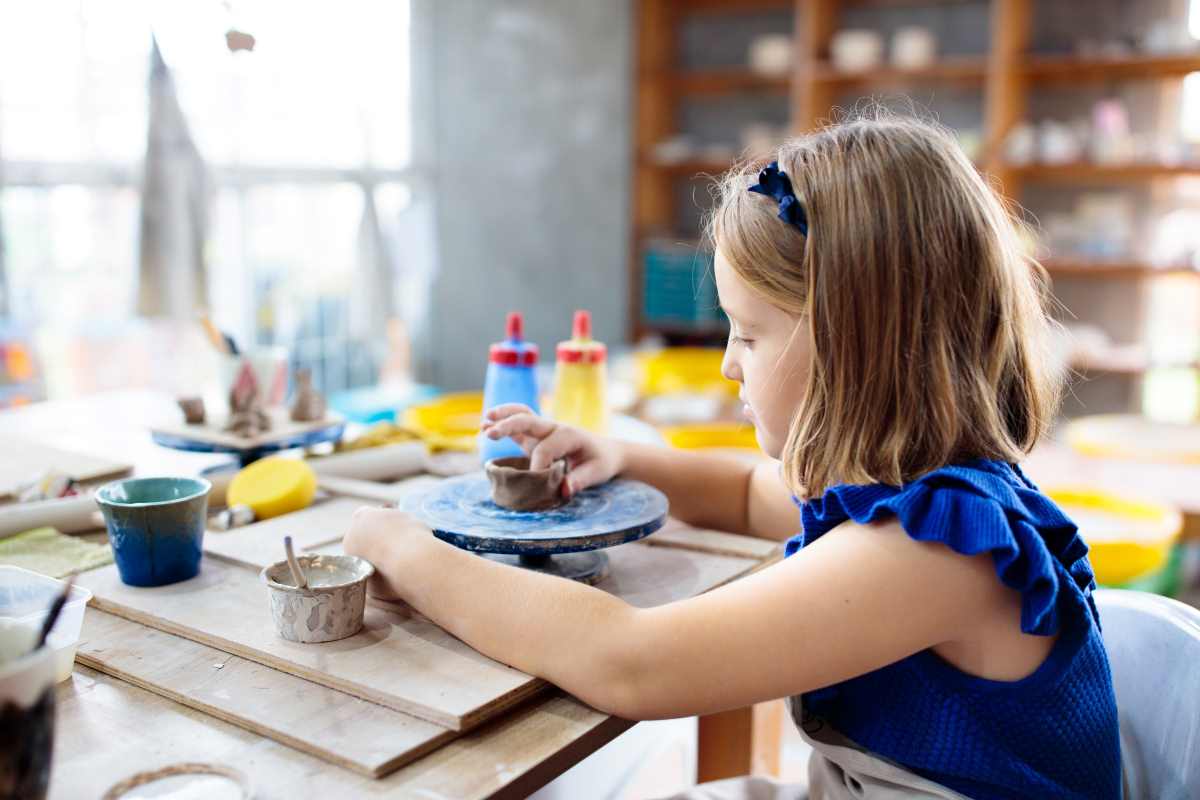 ---
Our Top Picks
Best Overall
Faber-Castell Pottery Studio
Budget Option
Made By Me Motorized Power Pottery Wheel
Best Premium
NATIONAL GEOGRAPHIC Pottery Wheel for Kids
---
Best Overall
The Faber-Castell Pottery Studio is an excellent choice for parents looking to introduce their children to the wonderful world of pottery. With all the necessary tools and materials included, this kit offers a seamless experience for kids to learn and create hand-crafted ceramics.
One of the best features of the pottery studio is the convenience in powering the wheel. The wheel can be powered by either a USB cable or batteries, giving you the option to use it anywhere in your home. With a two-speed option and a built-in tray for the clay tools and paint, the pottery studio offers easy access during pottery creation.
Overall, the Faber-Castell Pottery Studio is a worthwhile investment for parents looking to spark creativity and inspire their kids to explore the art of hand-crafted pottery. Despite some shortcomings, this kit provides a fun and engaging pottery experience for children ages eight and up.
Pros
Complete kit with pottery wheel, clay, and painting tools
Suitable for kids ages 8+
Can be powered by USB or batteries
Cons
Clay may take longer to dry
Wheel could be stronger
Can be noisy during operation
---
Budget Option
Set up your own pottery studio at home with the Made By Me Motorized Power Pottery Wheel. This user-friendly wheel offers excellent control over speed and height, making it easy for young artists ages six and up to practice their pottery skills.
Included in the kit are two pounds of premium terra cotta clay, which is perfect for sculpting without the need for baking. The set also comes with new bonus tools and step-by-step illustrated instructions to help your child create the perfect pot.
However, keep in mind that working with the pottery wheel can be messy and challenging for some kids. The wheel may not be as sturdy as professional ones, so it might require extra care during use. Additionally, the kit provides limited clay supplies, so you may want to purchase additional clay if your child wants to create multiple projects.
Overall, the Made By Me Motorized Power Pottery Wheel is a fantastic option for kids who want to explore the world of pottery-making in a fun and engaging way.
Pros
Easy-to-use motorized wheel with foot pedal and adjustable arm
Comes with two pounds of premium terra cotta clay
New bonus tools and instructions provided for pot-making
Cons
Can be messy and challenging for some kids
May not be as sturdy as professional pottery wheels
Limited clay supplies for multiple projects
---
Best Premium
The NATIONAL GEOGRAPHIC Pottery Wheel for Kids is a complete pottery kit designed with beginners in mind. It comes with all the tools and materials needed to start creating beautiful pottery pieces, including air-dry clay, sculpting tools, paint, and more.
The integrated arm tools are especially useful for guiding young hands in centering, opening, and shaping clay, making the process easier and more enjoyable.
With a two-speed electric motor, this pottery wheel provides steady power and rotation, ensuring that even beginners can achieve satisfactory results.
The detailed instructions and video lessons included make it easy for children to learn the basics of pottery making, while the illustrated learning guide teaches them about the science and history of pottery.
Pros
Comes with everything you need, including two pounds of air-dry clay and various tools
Integrated arm tools are helpful for beginners and suitable for both left and right-handed users
Two-speed electric motor provides steady power and rotation
Cons
Air-dry clay can be challenging to work with, compared to traditional clay
Might take some practice for absolute beginners to get the desired results
Motor might not be strong enough for heavy pressure
---
When you start using this pottery wheel kit, you'll notice how comprehensive it is, providing a variety of tools and accessories for a well-rounded pottery experience. Your child will have fun while shaping and painting their clay pots, which will help them develop their artistic skills and creativity.
The colorful gem stickers included in the kit make it easy to personalize the pots, making each creation more appealing and engaging.
As you use the Insnug Kids Pottery Wheel Kit, you will appreciate the attention to safety. The materials used are non-toxic and suitable for children to handle, even with wet hands. This shows that the company prioritizes the well-being of their young users.
The educational nature of this kit makes it a valuable addition to your child's learning experience as it simultaneously aids in fine motor skill development, problem-solving, and introduces the calming aspect of pottery art.
Overall, the Insnug Kids Pottery Wheel Kit is an excellent investment for parents looking to provide their kids with a creative and educational outlet. With the variety of tools, accessories, and safe materials, it will surely be an enjoyable experience for children aged 8-12.
Pros
Comprehensive kit with all necessary tools and accessories
Encourages creativity and fine motor skill development
Safe, non-toxic materials for kids to use
Cons
Paint quality may not be satisfactory for some users
Box may arrive with minor damage
Clay not included in some packages
---
Cool Maker Pottery Studio offers a fun experience and a new way to create clay projects. The innovative system makes crafting and designing with clay quite easy and enjoyable for children.
This pottery studio comes with everything you need to create unique projects like a jewelry dish, cupcake pencil holder, and more!
You will appreciate the gravity-assisted design, allowing you to create perfectly shaped pottery without much effort. The kit includes multiple sculpting tools and five bright metallic paints, allowing your child to personalize each creation. While the clay can get a bit messy when wet, it's a minor inconvenience for an incredibly engaging and easy-to-use crafting set.
Although it requires 4 C batteries that are not included in the package, the Cool Maker Pottery Studio is a great investment for nurturing your child's creativity and honing their artistic skills. So go ahead, dive into the world of pottery and clay with this fantastic craft kit – your child will surely thank you for it!
Pros
Easy to sculpt and design with the gravity-assisted wheel
Comes with various tools and metallic paints for customization
Suitable for kids aged 6 and above
Cons
Requires 4 C batteries (not included)
Clay can be messy when wet
Wheel may not turn smoothly with pressure applied
---
Buying Guide
When looking for a kids pottery wheel, there are several key features and factors to consider that will help you make the best decision. In this buying guide, we'll outline some of these considerations to ensure you choose the perfect pottery wheel for your child.
Safety and Ease of Use
It's important to find a pottery wheel that is both safe and easy to use for your child. Look for models with safety features like non-slip bases and finger guards to prevent accidents.
Additionally, consider choosing a pottery wheel with adjustable speed controls. This way, your child can start at a slower speed and gradually increase as they become more comfortable and confident.
Material Quality
The quality of materials used in the pottery wheel's construction will have an impact on its durability and longevity. Opt for pottery wheels made from sturdy and easy-to-clean materials like metal or plastic. Additionally, ensure that the supplied clay is non-toxic and safe for children.
Educational Value
A good pottery wheel should not only provide entertainment but also help your child develop and improve their motor skills, creativity, and problem-solving abilities. Look for models that come with detailed instructional guides or video tutorials to enhance the learning experience.
Accessories
Consider the accessories that come with the pottery wheel, such as sculpting tools, paintbrushes, and aprons. These additional items can make the pottery experience more enjoyable and efficient for your child. They can also save you the trouble of purchasing them separately.
Price and Warranty
Lastly, it's essential to consider your budget and the warranty offered by the manufacturer. Set a realistic budget for yourself and check out the range of pottery wheels available within that price range.
Don't forget to factor in the cost of additional supplies like clay and replacement parts. A reputable manufacturer should offer a warranty covering any defects or malfunctions, providing added peace of mind for your investment.
---
Frequently Asked Questions
What is the best age for children to start using a pottery wheel?
The appropriate age for children to start using a pottery wheel can vary depending on the child. Generally, it is recommended for children around six to seven years old to begin learning pottery with a wheel.
However, it's important to remember that each child is unique and their motor skills and interests may develop at different rates.
Are mini pottery wheels effective for children's use?
Yes, mini pottery wheels can be an effective and enjoyable tool for children. These smaller wheels are designed with kids in mind, and are often more compact and lightweight than regular pottery wheels.
This makes them easier to use for younger, smaller hands. It's important to choose a high-quality mini pottery wheel to ensure a positive experience for your child.
How can I ensure child safety while using a pottery wheel?
To ensure your child's safety while using a pottery wheel, follow these tips:
Supervise your child at all times while they use the wheel and keep distractions to a minimum.
Make sure your child wears appropriate safety gear, such as an apron, goggles, and closed-toe shoes.
Keep the workspace clean and clear of any clutter or dangerous objects.
Teach your child the proper technique for using the wheel and review safety guidelines with them.
Ensure the pottery wheel is properly maintained and in good working condition.
Do pottery wheel kits include step-by-step instructions?
Most pottery wheel kits for children do include step-by-step instructions, making it easy for your child to follow along and learn the process.
These instructions may come in the form of a printed manual, online videos, or a combination of both. It's also helpful to provide your child with additional resources, such as books or online tutorials, to further enhance their learning experience.
---
Wrapping up the Best Kids Pottery for Getting Started
Kid's pottery wheels are generally easier to operate and safer than their adult counterparts, making them suitable for young artists just starting to explore the world of pottery.
These specialized pottery wheels typically come with adjustable speed settings, making the learning process smoother and more enjoyable. Which ever one you pick is sure to bring lots of fun for your kids!
Next, check out The Best Kids Craft Table to Nurture Creativity.