When your little one starts to show their budding curiosity about the creative world, it is time to get them a space where they can explore their newfound skills.
Here we have composed our top five picks of the best kid's craft tables that give you the confidence to let your child dabble in arts and crafts in a safe place made for messes.
If our top-tier list isn't what you're looking for, please keep reading till the end to see our comprehensive buyer's guide for what to look for in purchasing a kids craft table.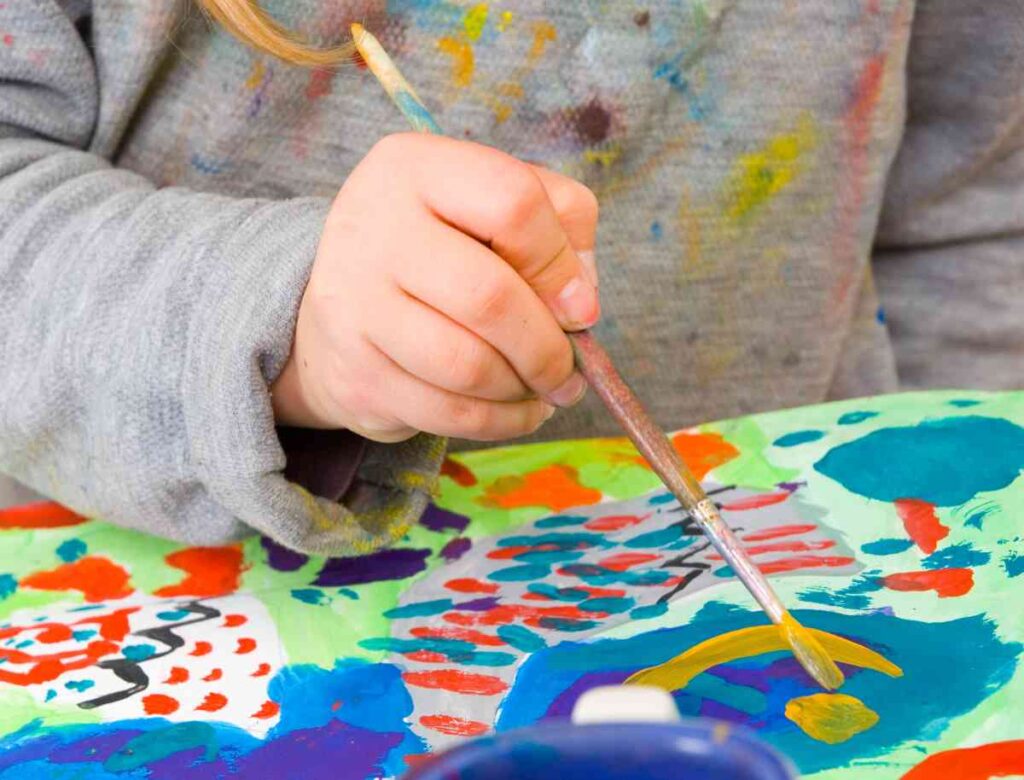 ---
Our Top Picks
Best Overall
Elk and Friends Activity Table with Chairs
Budget Option
3 Piece Kiddy Table and Chair Set
Best for Storage and Play
Guidecraft Arts and Crafts Center
---
Best Overall
When looking for the perfect addition to your kid's bedroom for them to bloom their creative side, you'll need to pick up this kid's crafting table. This minimalistic style table is anything but minimal. The large table top can be used for painting, drawing, coloring, and crafting.
When your child bores of their artistic side, the top can convert into a building block table. With underneath storage for all their crafting and building materials. Everything will have its place, making clean-up a breeze.
This sturdy kid's craft table has a paper roll holder and two chairs designed with child-safe smooth edges to avoid unwanted accidents.
Pros:
Versatile, children can craft and use it for a play area
Build in building block board
Easy to wipe clean after crafting
Cons:
Scratches easily
Paint chips overtime
---
Budget Option
When searching for budget-friendly kid's craft tables, we have the perfect pick. No more bulky, brightly colored plastic sets that do not match your home's decor. With a beautiful classic minimal look, this craft table can be placed in any bedroom or living space.
Its built-in low-profile border stops small items such as markers, crayons, puzzle pieces, beads, and more from falling to the floor. This keeps your child's inner creative spark going without having to stop and find the crayon that rolled under the sofa.
The wood construction makes a safe and sturdy place for your little one to explore their artistic talents. Not only is it sturdy, but it's simple to clean off and await the next project.
Pros:
Low profile border to prevent items from falling to the floor
Stylish and functional
Cons:
The border makes it difficult to swipe up spills or pick up crumbs
Tabletop stains easily
---
Best For Storage and Play
If you need a place to let your children's creativity soar yet store it once they are done, this kid's craft table is the perfect pick for you.
The best feature of this table is the sectioned storage bin shelving and set-in cups that can hold your child's art supplies, such as crayons, markers, paintbrushes, and scissors.
The UV-resistant poly finish helps prevent scratches and scuffs, and the stylish design makes it easy to blend into any home decor. The rounded corners offer a safe place for younger children to explore their creativity for hours.
Pros:
Safe rounded corners
Multiple storage spaces
Stylish and functional
---
When you have multiple children running around the house, it's nice to have a space large enough where they can work on a project or play with a toy. With this kid's craft table, they can have all their creative juices flowing.
The cutout design keeps the paper roll neat and tidy so you won't have excess falling to the floor. With the built-in storage area, clean-up is a breeze. The side storage can hold up to six large bins, so every project or supply has its place.
The wood and a non-toxic finish will provide a sturdy and scuff-resistant space that helps your child develop their creativity while looking brand new.
Pros:
Excellent storage space
Perfect addition to living spaces
Chairs can easily be stored under the table when not in use
Cons:
Shelving is made of particle board which can dent and scratch with use
---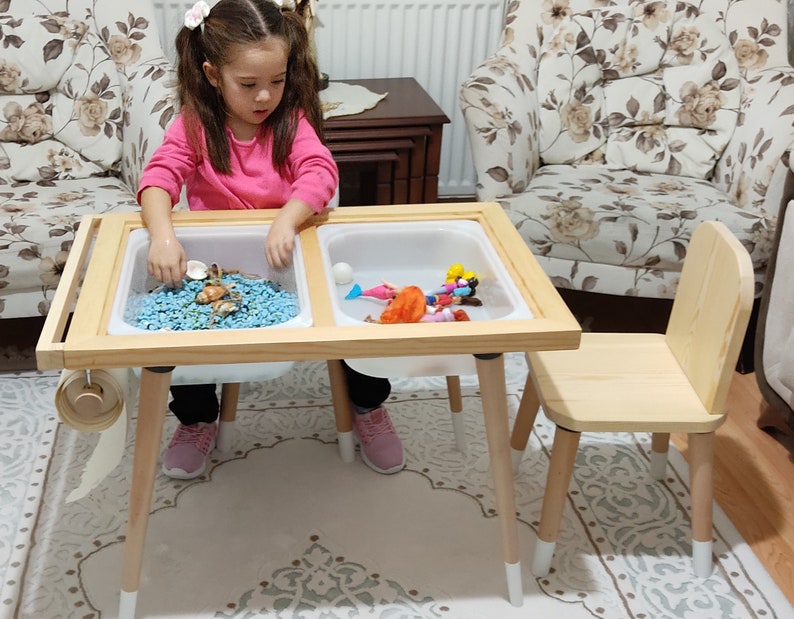 This adorable multifunctional kid's craft table is perfect for any sensory seeker. This table supports creative learning and motor development skills.
You can fill the bins with sand, water, playdoh, etc. Whatever you place in the bins, the strong natural wood of this table can handle it. The table is finished with a non-toxic teak oil that prevents water damage and keeps the crafting table looking good as new.
The top can be converted into a solid top where you can easily attach a paper roll for painting, coloring, and drawing. Produced in accordance with the Montessori education system, your little ones will be on their way to fulfilling their creative needs in no time.
Pros:
Multi-functional and versatile
Made with child safe, non-toxic materials
Montessori approved
---
The Best Kids Craft Tables Buyer's Guide
When purchasing your child a crafting table, there are a few features you should be searching for.
Safety
The most important is ensuring your child is safe to explore their new budding creativity. Look for kid's craft tables with rounded corners and sturdy wood or other materials that will not splinter or split.
Versatility
Buying a kid's craft table that can be multi-functional is super important for those little ones constantly searching for entertainment. Having a table that can easily flip into a building block station or can be fitted with bins for sensory play will be a momma's best friend.
Indoor/Outdoor
Where do you want to keep the table? Is it for indoors only? Or would it be nice to take it outside on nicer days?
Whatever you want, make sure the kid's craft table you choose fits your lifestyle.
Multi Seating
Before you buy a kid's craft table, make sure it's conducive to the number of kids you have so there won't be any fighting for seats. The same goes for play dates. Make sure there is ample room for all those little ones to create.
Materials
Look for kid's craft tables with plastic or laminated tops or legs, or sturdy tables with wood and a poly-finished top.
Ensure these materials are child safe and can handle a few bumps and bruises because these will likely happen!
---
Kids Craft Tables: Frequently Asked Questions
What are some features to look for in a kid's craft table?
Look for storage bins or shelves for supplies, special holders for paper rolls, and other features like drop-in cups to hold drawing or painting materials.
Where is the best place to put a kid's craft table?
There is no best place per se. It is really up to personal preference, but places like the child's bedroom or shared living space are excellent options.
When can I purchase a kid's craft table for my child?
Whenever your child shows a creative interest and can sit unassisted in a chair or stool.
Most kid's craft tables are rated for children three and older.
---
Wrapping up the Best Kids Craft Tables for Budding Creativity
No matter what table you choose for your child, they will love a space to let their newly found creativity soar!
Need some crafting ideas for your new crafting table? Teach your child the art of finger painting or help them create the most adorable pencil pinwheels!