Long gone are the days of having to piece together everything you need to get creative making your own jewelry at home. There are nearly countless jewelry-making kits to choose from that do the hard work for you now.
There are bracelet kits, earring kits, necklace kits, and kits that cover it all. You can make jewelry from clay, beads, glass, string, metal, and more!
With so many options, choosing the right one can be intimidating. We've combed through the kits and found some of the very best out there to choose from.
Read on to learn more about the best jewelry-making kits!
---
Our Top Picks for Jewelry-Making Kits
Best Overall
Inscraft Jewelry Making Kit
Budget Option
SUNNYCLUE Luxury Jewelry Making Kit
Best for Kids
Leitait Bracelet Making Kit
---
Best Overall
The Inscraft Jewelry Making Kit is the best overall because it is full of jewelry-making goodies!
This kit has 16 necessary tools to make nearly any jewelry. There are three types of pliers, thread scissors, two sizes of needles, a needle threader, and more. There's even a thimble to keep your thumb safe and sound.
On top of the tools, there are over 500 jewelry-making findings. Findings are the bits and bobs that link beads together, like clasps, connectors, fasteners, and endings. There are pieces to make dangly earrings, bracelets, and necklaces.
But what would a jewelry-making kit be without beautiful beads and charms? This kit has over 1,300 beads and charms, ranging from classy glass to fun letters, with a little of everything in between.
All of these goodies come in a convenient and compact carrying case. That will help you stay organized and means you can bring your jewelry-making kit wherever you go so you can create with inspiration strikes!
Pros
Hundreds of pieces can be used to make nearly any simple jewelry piece
Carrying case to hold everything
Great value for everything included
Cons
It can be challenging for nervous beginners to know where to start
Tools aren't the highest quality and will need to be replaced if used a lot
Beads are primarily plastic and challenging for children to use
---
Budget Option
If you just want to dip your toes in the world of jewelry making without a big financial commitment, the SUNNYCLUE jewelry-making kit is the right choice.
This simple kit includes the basics of jewelry making for an incredible price. You'll get wire, beading needles, pliers, hundreds of findings, hundreds of different beads, charms, and more.
The affordable price makes this a no-brainer for gifts, both the kit itself and using the kit to make gifts!
Pros
Detailed instructions are included
Different color options
A small carrying case keeps beads separated
Cons
The clasps are too loose to hold tight sometimes
A smaller number of tools and bead options
---
Best Jewelry Making Kit for Kids
Bright and colorful are the names of the game for kids' jewelry-making kits, and this Leitait bracelet-making kit is a clear winner!
The bulk of this kit is made up of thin clay beads. It includes nearly 2,500 in 12 different colors. These kinds of beads are all the rage these days, and the child in your life will love making their own jewelry from them!
In addition to the clay beads, there are 600 other fun beads and charms. While there are typical solid-colored beads, there are also smiley faces, flowers, letters, and sweet treats like cupcakes and peppermints.
This kit comes with elastic wire for customizable sizes, as well as three pre-made necklaces and two metal bracelets.
Pros
Exciting, fun beads for kid jewelry
Pre-made necklaces and bracelets are more accessible for kids to get started with
Drawstring bags are included for simple gift-giving
Cons
The box may break easily, making a big mess with many tiny beads
No tools included
---
Best for Polymer Clay Jewelry
Polymer clay has been used in crafts for years but has leaped onto the jewelry scene in a big way recently. Its versatility means using the same materials and tools to create dainty stud earrings or massive statement pieces.
The Snoghmil polymer jewelry-making kit has everything you need to experiment with this trend. There are enough clay and earring parts to make 30 pairs of customizable earrings!
Choose from 24 colors of clay and 32 different clay cutters to make any type of clay earrings you could dream of. Start with simple shapes to understand how to work with the clay, but you can learn to make intricate masterpieces with the clay.
It's important to note that polymer clay needs to be baked to harden and cure completely. Getting small cookie sheets designated specifically for crafting to keep things separate and clean is a good idea.
Pros
Vibrant colors
Tools and findings for multiple pairs of earrings
Detailed instructions for many different designs are included
Cons
The baking process may take some trial and error
Some metal cutters have small seams that may be visible in the finished product
Color may transfer to a surface and hands before baking
---
Best for Stamped Metal Jewelry
If you want to make simple, personalized statement jewelry, try stamping metal. The STMT stamped metal jewelry-making kit has everything you need to start.
The STMT kit comes with high-quality tools and materials. Not only can you get the hang of metal stamping with the pieces included, but the stamps (the whole English alphabet plus ampersand), hammer, and mini chain nose pliers can be used again and again to create more one-of-a-kind pieces.
If you're a little nervous about beginning to stamp and don't want to mess up, have no fear! An included roll of stamping tape and marker can help you figure out spacing. And if things are still a little off, that's alright. That's part of the charm of hand-stamped metal jewelry.
The STMT kit will give you enough material to make eight pieces, including earrings, bracelets, necklaces, and a keychain. Once you get going, you may not be able to stop!
Pros
High-quality tools that will be usable beyond the materials provided in the kit
Includes instructions for getting started with metal stamping
Low cost
Cons
No number stamps included
Letters are small and sometimes difficult to distinguish between
There's a learning curve, and only a few metal pieces to stamp are included in the kit
---
Best for Resin Jewelry
Resin jewelry is customizable and makes for unique keepsake pieces. When you hear "resin," you may think of a gloopy, gooey mess that's hard to tame. Lucky for you, resin has gotten much cleaner and easier to handle over time.
Let's Resin has spent years perfecting simple resin jewelry and has assembled a jewelry-making kit that anyone of any crafting level can use and enjoy.
While many resin kits require mixing and pouring compounds like a mad scientist, this kit comes with ready-to-use resin! It also has plenty of add-ins to make your pieces unique.
There are 16 pendants, 12 different types of dried flowers, and 24 different kinds of glitter you can mix and match! There are also molds, jump rings, earring hooks, necklace chains, and keyrings ready to be used.
The new and improved UV light is all you need to completely harden the resin, leaving you with long-lasting, beautiful pieces of jewelry you can take pride in.
Pros
Includes all-in-one resin for simple pouring
No chemical smells
Molds, pendants, glitter, flowers, and more make the design options nearly endless
Cons
UV curing lamp is on the small side
The automatic turn-off feature on the light means you can't set it and forget it
Doesn't include dye to change the color of the resin
---
Jewelry-Making Kit Buyer's Guide
As you can see, there are many incredible jewelry-making kits on the market. Here are a few more things to consider when deciding which suits you.
Nobody said you can't try them all. You've just got to start somewhere!
Factors to Consider When Choosing a Jewelry-Making Kit
Skill Level
Having an idea of the skill level needed for the particular jewelry-making kit you're considering is crucial because you want a "win." The last thing you want is to invest in a kit, both financially and emotionally, and find yourself frustrated by an overly complicated process that takes a bit of learning to master.
Making your own jewelry should be an exciting and satisfying experience, so consider the skill level required for different kits.
Metal stamping, simple bracelets, and friendship bracelets are all great, simple kits to start with.
If you consider yourself crafty, challenge yourself with a resin kit or polymer clay for something different!
Project Complexity
Setting realistic expectations before diving into a jewelry-making kit is critical.
Do you want to commit minutes or hours to the project? Do you want instant or delayed gratification? Are you willing to learn new techniques and use new tools to create, or do you just want to keep it simple?
Different kits come with varying levels of complexity, and you need to ensure you've got the one that meets your expectations.
For quick and easy projects, grab our top pick and make a simple set of earrings in one afternoon.
If you want to get lost in the world of crafting, polymer clay is an excellent choice for you. You can spend an entire day experimenting with different patterns and cutting tools to achieve wildly different results.
Then, you've got to perfect the baking length and temperature in your specific oven, which also takes time. If that's the complexity you're ready for, the results are worth it!
Tools and Materials Provided
How important are the variety and quality of the tools in your jewelry-making kit to you?
Are you hoping to turn this into a hobby or side hustle? Make sure the tools included in the kit can grow with you.
Do you want to master a single type of jewelry or try it all? Choose a kit that fits your goals. Some kits cover a specific kind of jewelry, while others cover a wide variety.
---
Jewelry Making Kit Frequently Asked Questions
Why should I use a jewelry-making kit?
Here are some reasons you should use a jewelry-making kit:
Convenience
Kits come with everything you need to make jewelry. It saves you the time and effort it would take to source everything individually and ensures you've got the right supplies.
Guidance
A good kit will come with detailed instructions to help even the most novice crafter create a beautiful piece of jewelry. Most also come with design inspiration.
Reduces Waste
Buying a kit will reduce wasted supplies and money. You waste very little if you try a kit and don't love it. However, if you source everything individually, you'll have spent more money and have way more unneeded supplies left over if you don't enjoy the craft.
Sense of pride and accomplishment
These jewelry kits make it as easy and accessible as possible for anyone to create a one-of-a-kind piece of jewelry. You're bound to feel accomplished and proud when you're done.
Are jewelry-making kits appropriate for kids?
Some jewelry-making kits are absolutely for kids!
In addition to the Leitait Bracelet Making Kit, paracord bracelet kits are excellent for kids. The thick cord is easy for small hands to work with.
These kits have the same benefits mentioned above and a few more.
When kids work on making jewelry, they'll practice fine motor skills, develop determination and problem-solving skills, and learn to do something new.
Can I reuse the tools and materials from my kit?
It depends on what is included in the kit.
Many tools can be reused, even after the materials included in the kits have been used up. They may not be high enough quality to reuse for years to come, but the goal of a kit is to expose you to a craft, not be forever tools.
Most jewelry materials are consumable, meaning you can't use them again. If you get a kit and find you love creating that type of jewelry, you can easily purchase more materials to keep the creativity flowing.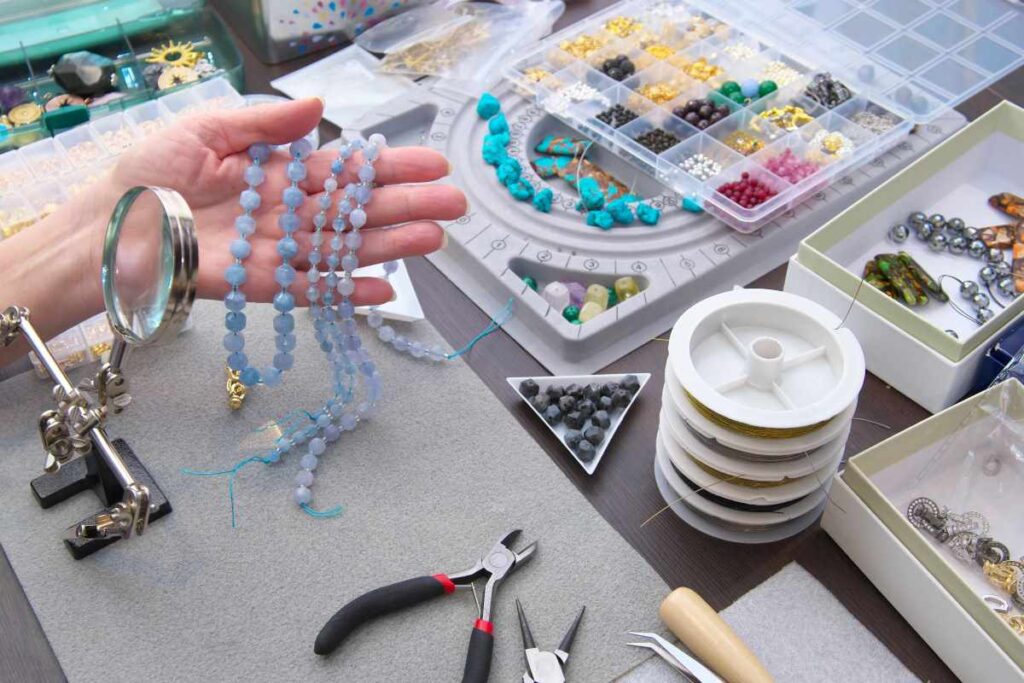 ---
Wrapping Up the Best Jewelry-Making Kits
Whether you're looking to create jewelry for yourself, make gifts for loved ones, or explore a potential side hustle, there's a jewelry-making kit that's perfect for you! The only thing standing between your creative possibilities and making them a reality is choosing the right one, so get to picking so you can start creating!
If you need a surface for your jewelry-making endeavors, check out our picks of the Best Jewelers Benches!