Jewelry making is an intricate and delicate art, and it requires a solid, sturdy workbench to achieve the best result. The best jeweler's bench for jewelry crafters is the one that allows the crafter to practice their art without worrying about their work surface.
Jeweler's benches can be an investment, but they're well worth it for prolific makers. So, which jeweler's benches are our favorites? Read on to find out!
---
Our Top Picks
Best Overall
PMC Supplies Deluxe Jeweler's Bench Set
Budget Option
Mini Table-Top Workbench
Best Benchtop Organizer
Jewelry Supply Benchtop Organizer
---
Best Overall
The PMC Supplies Deluxe Jeweler's Bench Set is our choice for the overall best jeweler's bench for jewelry crafters. The bench is made from sturdy, solid wood and features three utility drawers where you can store your gear, as well as a pull-out tray and two shelves.
Need a place to organize your go-to tools, like pliers, drill bits, and saw blades? This jeweler's bench set has 28 holes to hold your most-used tools so you can grab them easily and keep everything organized at the end of the day.
Pros
Good customer service
Lots of storage
Sturdy
Cons
Mixed opinions on assembly directions
May not stand up well to shipping
---
Budget Option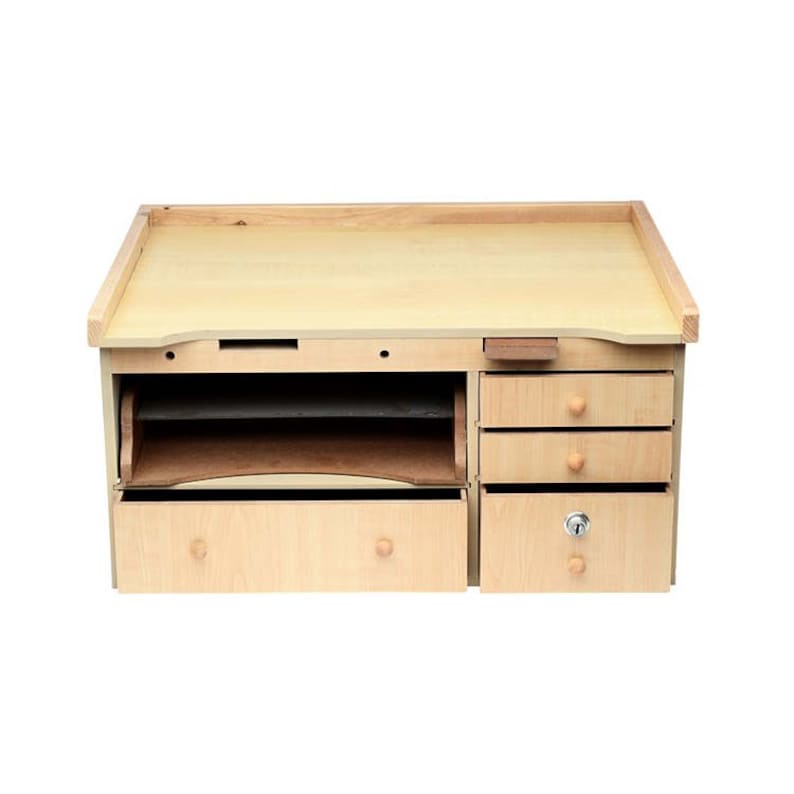 For those who want the full jeweler's bench experience but are on a tighter budget, this mini table-top workbench might be your best bet! In fact, if you travel and need (or want) to take along a workbench, you may also be impressed with this piece from Jewelry Supplies NW.
One of the nice features of this jeweler's bench is that it comes with one locking drawer. This is especially useful if you do intend to take this workbench to tradeshows or other events where you may like the security of a locked drawer.
Even with its smaller size, this workbench still comes with a comfortable armrest and moveable tool shelf, and the entire flat top is enclosed in a three-sided lip to keep your projects from rolling or sliding off the sides.
Pros
Extremely portable
Sturdy
Compact
Budget-friendly
Great customer service
Cons
Smaller than a full-sized jeweler's bench
Fewer compartments and accessories for unique storage than some others on the market
---
Best Benchtop Organizer
For those who already have a sturdy jeweler's bench (or piece of furniture you like to use to make jewelry), this benchtop organizer can enhance your jewelry-making experience at a fraction of the price of a brand new jeweler's bench.
This benchtop organizer, which comes fully assembled, fits on the back of your existing work table. Its four drawers, several slots, and various bins give you lots of space to organize and store beads, smaller pieces, accessories, tools, and in-process projects.
Pros
Comes fully assembled
More affordable than a full jeweler's workbench
Cons
Must add on an existing, sturdy bench or table
No extra features that you might find along the sides of a dedicated jeweler's bench
---
Best Value
PMC Supplies is nailing the workbench game! This Deluxe Workbench Station comes with two shelves, a pull-out tray, and a lined catch drawer. It's sturdy, surrounded on three sides with a lip to keep your materials where you want them and not on the ground.
What we like best about this workbench is that, although it's still not an inexpensive piece of gear, you get a good value for what you pay. It isn't fancy, but it's reliable.
Pros
Sturdy
Good value
Small business
Cons
Mixed opinions on assembly directions and difficulty
May be smaller than expected (be sure to read and understand the measurements)
---
Best Splurge
If money is no option, the Grobet Jeweler's Workbench is the best jeweler's bench splurge. It has five drawers, including three for storage, one metal catch tray (great for soldering), and one pull-out utility tray with two shelves, so you have lots of places to stash materials.
This jeweler's bench is skirted on three sides, giving it maximum stability, and, like others, a three-sided lip on the top keeps your materials where you can see them. Made from solid wood, this jeweler's bench can attribute some of its stability to its heft.
Pros
Sturdy
Good size
Comes partially assembled
Good height
Cons
Heavy–nearly 100 pounds (which some may actually see as a pro)
More mixed thoughts on assembly ease and instructions
Wood may be too soft for some crafters
---
Jeweler's Bench Buyer's Guide
Work surface, size, and storage
The work surface and size of a jeweler's bench significantly impact the efficiency, comfort, and quality of work for jewelry makers.
A spacious work surface provides ample room for laying out tools, materials, and partially finished pieces. This prevents overcrowding and allows you to work on multiple tasks simultaneously, reducing the need for constant rearrangement.
It results in better overall organization, which increases productivity (and, for many, helps creativity flow better than if they have to work on a crowded surface).
A larger work surface also reduces the risk of pieces getting lost or misplaced during the creation process.
In terms of comfort and ergonomics, adequate space on the work surface allows you to position tools and workpieces where they're most accessible for your unique needs.
Ergonomics are so important to crafting, in general, but to jewelry-making, in particular, because proper setup reduces strain on your wrists, neck, and back, allowing you to comfortably create for longer periods without fatigue.
This is also crucial for maintaining good posture and preventing discomfort or long-term health issues.
A jeweler's bench with a larger work surface provides the flexibility to experiment with design layouts, try different arrangements, and explore creative possibilities without feeling restricted by space limitations.
If you intend to do some soldering as part of your jewelry-making, a spacious work surface provides sufficient distance between the heat source and other materials, reducing the risk of accidents and damage.
Finally, larger jeweler's benches typically have more space to store your in-process projects and other tools and materials. Anything that can keep you organized and keep your workspace neat is bound to help your creative process!
Look for a jeweler's bench that has the storage space and options you need. Drawers, shelves, and compartments are essential to organization. Additional features, like pre-drilled holes for storing pliers, can be game changers, keeping everything where you can find it when you need it.
Durability and material
The material you choose for your jeweler's bench is extremely important. Consider how much you intend to use your new bench.
Jewelers often work with various tools and materials that can be heavy and abrasive. A durable bench can withstand the regular impact and wear from tools like hammers, files, and pliers.
This becomes more important with increased use. If you plan to put your jeweler's bench to heavy use, go for as much solid wood as you can when selecting your piece.
Although it can be a big investment up front, a well-built and durable jeweler's bench can last for many years, providing a stable and reliable workspace for consistent jewelry production. This longevity can help you avoid the hassle and cost of frequently replacing your workbench.
Durability goes hand in hand with stability. A sturdy and durable bench won't wobble or shift during work, ensuring that delicate tasks like soldering, stone setting, and intricate designs can be completed with precision.
Durability also ensures that the bench won't collapse or break under pressure, reducing the risk of accidents and injuries during jewelry-making.
Do you work with chemicals, fluxes, or heat when soldering jewelry? A durable bench with a resistant surface can better withstand potential spills, stains, and the high temperatures generated during soldering.
If you haven't leveled up to soldering yet, consider if it's something you might want to explore in the future. If you think so, it might be a good idea to invest in a more durable jeweler's bench.
The repetitive filing, sanding, and sawing that comes along with jewelry-making make a durable bench important. Look for one that resists scratches, dents, and other signs of wear that can accumulate over time.
Similarly, if you do a lot of work with heavy materials, like metals and gemstones, a durable bench provides a solid platform.
A stable work surface provided by a durable bench also allows your tools to perform at their best. For example, bench pins, vises, and clamps can function optimally on a sturdy surface, resulting in more accurate and efficient work.
Comfort and ergonomics
We touched on this above, but it's important to reiterate the importance of ergonomics when you're delving into jewelry-making. Not only do good ergonomics reduce fatigue, but they also prevent long-term posture issues.
Some jeweler's benches come with the ability to raise and lower the working surface. This feature can be helpful when you're engaged in the consistently repetitive motions involved in jewelry-making.
Flexibility and customization
The amount and type of attachments and accessories you should look for in a new jeweler's workbench depends on your style. If you use a lot of tools and other accessories, look for a jeweler's bench that has all the nooks and crannies you need to store–and easily access–all your "extras."
---
Frequently Asked Questions
How do I maintain my jeweler's bench?
Maintaining your jeweler's bench is essential to ensure its longevity, functionality, and your overall comfort while working. Good maintenance can also save you money by keeping your bench in great working condition for a long time.
Regular cleaning
Regular cleaning is the most basic, but maybe most important, step you can take to maintain your jeweler's bench. Wipe down the surface of the bench daily to remove dust, debris, and any spilled materials. Make sure you use a soft cloth and a gentle cleaning solution to prevent scratching or damaging the surface.
Organize tools and supplies
Regularly clean your tools, materials, and supplies. Return them to their designated storage spaces to keep your workspace clutter-free and efficient.
Prevent rust on your tools and your workbench with a rust prevention spray.
Avoid overloading your jeweler's bench. Although jeweler's benches are designed to hold tools and materials, avoid excessive weight to prevent strain and potential damage.
Protect the surface
Use a bench pin or protective bench mat when working with tools that could potentially scratch or dent the bench's surface. If you're soldering or working with chemicals, use a fire-resistant pad to protect the bench from heat and potential spills.
Check and tighten
Regularly check screws, bolts, and connections to ensure that the bench is stable and secure. Tighten any loose parts as needed.
Ultimately, regularly inspect your jeweler's bench and make any repairs as soon as possible.
How do I personalize my workbench?
Personalizing your jeweler's bench can increase your efficiency and creativity!
First, organize your tools and supplies in a way that suits your workflow. Keep frequently used tools within easy reach and categorize supplies for efficient access.
If needed, add storage, like additional shelves or compartments. Install tool holders, pegs, or racks on your bench to keep your tools organized and within arm's reach. Label drawers.
Decorate your bench area with personal items that inspire you, such as photos, artwork, or objects that hold sentimental value. A visually appealing space can enhance your creativity and motivation.
If your jeweler's bench will be in a regular space or workshop, install task lighting that provides ample illumination for your work area. Adjustable lighting, besides setting the mood and ambiance that fuels your creativity, helps prevent eye strain and ensures you can see your work clearly.
Paint or finish your bench in colors that resonate with you. A visually pleasing color scheme can make your workspace feel inviting and reflect your personal style.
You can also add elements that inspire you to further personalize your workbench. Add wood, stone, or paper accents to your jeweler's bench.
Attach a corkboard, magnetic board, or even a tablet stand to your bench for easy access to reference materials, sketches, and design inspiration.
---
Create a Fun Bench
It's not work if you love doing it, right? So choose the best jeweler's bench for you to express your creativity and help you be as efficient as you want to be!
Get more inspiration for all your crafting and DIY dreams on our website!