Many crafters, designers, carpenters, and do-it-yourselfers consider sanding wooden furniture before painting as a good practice. Unfortunately, it's a part of prep work that's also messy and time-consuming and one many wish to skip entirely.
The good news is, depending on the quality of the wood, the available materials, and your envisioned aesthetic, it's absolutely possible to restore wooden furniture into something magnificent without sanding.
Keep reading to learn how to paint furniture without sanding, including five practical ways to do so.
---
What Happens if You Don't Sand Furniture?
Wooden furniture is typically sanded before it's primed and painted because sanding removes defects. A surface that's clean of dust, chipped paint, cracks, and crevices provides greater adhesion for a new primer and paint to stick to.
Sanding is not always necessary. There are a few conditions where you can absolutely paint furniture without sanding, such as when:
working with untreated wood
making minor touch-ups
painting over the same type of paint
working with furniture that's in good condition
If sanding is your least-favorite step, then it's certainly possible to paint furniture without sanding. But to do so with favorite results, you should clean the wood's surface AND use a high-quality primer and/or paint. You can also use liquid paint remover to scrape off the old paint.
Below we cover the preparation needed to paint furniture without sanding.
---
Project Preparation
Ready to get started on your next project? Not so fast! You'll want to prep your piece and workstation to ensure you're satisfied with the end product.
Find a sturdy piece of furniture.
If you're working with new, untreated wood, then you probably have a piece of solid, stable furniture on your hands. But if you sourced your furniture from a thrift store, market, estate sale, or your attic, you'll need to consider its condition.
Assess the wood
You should approach any project that involves the use of treated and/or used wooden furniture with a mental checklist of questions:
Is the wood stained?
Are there cracks?
Is there internal damage to drawers, shelves, etc.?
Does it smell? (Bad odors like pet urine, tobacco smoke, and mildew can penetrate wood over time.)
Before you decide to paint furniture without sanding, you'll want to ensure the project is worth your time!
Prepare your workspace
Choose your setup. Whether you're working on this project indoors or outdoors, begin by protecting anything nearby from potential damage. If you're indoors, including working out of a garage or shed, we suggest laying down a canvas drop cloth on the floor.
Remove hardware
Use a screwdriver or power drill to remove all drawer handles, knobs, pulls, and the backplate. Here, you have the option to clean the tarnished hardware and reuse it or use new hardware for a different aesthetic.
Clean the wood
Cleaning the wood is necessary if you aim to paint furniture without sanding with the best possible results.
Because sanding removes the outer layer of wood to reveal a smooth surface underneath, it also removes oil transferred from hands and dust, dirt, and grime. So, you'll need to use soap and water to clean the wood the old-fashioned way to remove this debris.
To do this, simply grab a bucket, add some water, and make a soapy solution with whatever dish soap you have handy. Then, dip a sponge or microfiber cloth into the solution, wring it out, and scrub the wood's surface. Allow it to dry completely before moving on to the next step.
You can also use a product like Odorless Mineral Spirits to help you out. It's a chemical solution that is rubbed onto wood using a microfiber towel to remove dirt, dust, and oil from the surface. It also has a number of other uses, like degreasing car parts for easier cleaning, which is why some prefer it over water and soap.
Prime the wood
To paint furniture without sanding and produce a well-finished product, you'll need to use a high-quality liquid deglosser, a bonding primer, or both.
On the packaging of some primers, it states outright that "no sanding is necessary." If you're unsure whether to choose a store-branded primer or a product with a slightly higher price point and better reviews, we suggest the latter. In some cases, a lower-quality primer can lead to underwhelming results when working with old or used wooden furniture.
Prepare the paint
You'll want to make sure the paint(s) you use are in fast and easy reach for greater convenience and less mess.
We suggest using mineral paint, chalk paint, or milk paint, which are some of the most popular, tried-and-true ways to paint furniture without sanding.
Test the wood
If you have extra time to work on this project, then we recommend testing a small area of the wood before painting the entire piece. Testing the wood gives you a chance to see how the paint dries and how it looks when dry.
As a do-it-yourselfer, you know that some paints dry lighter or darker than the color that's shown on the packaging.
---
Five Ways to Paint Furniture Without Sanding
You can use any of the following five products and achieve amazing results when you paint furniture without sanding! Whether you plan to flip the furniture at a thrift market, give it to a friend, or keep it for yourself, you'll breathe new life into old pieces by using the right materials for the job.
Bonding Materials
Liquid Deglosser
Liquid deglosser, also known as liquid sandpaper, is a chemical substitute that's safer and easier than sanding by hand. Liquid deglosser is a great way to paint furniture without sanding because it softens and seals the wood's surface so the new paint can better bind to it.
Apply a coat of deglosser onto your furniture using a brush. Deglosser should be applied immediately after your furniture has thoroughly dried from being cleaned. Allow the deglosser to dry completely before you do anything else. It can take anywhere from a few hours up to a few days to dry.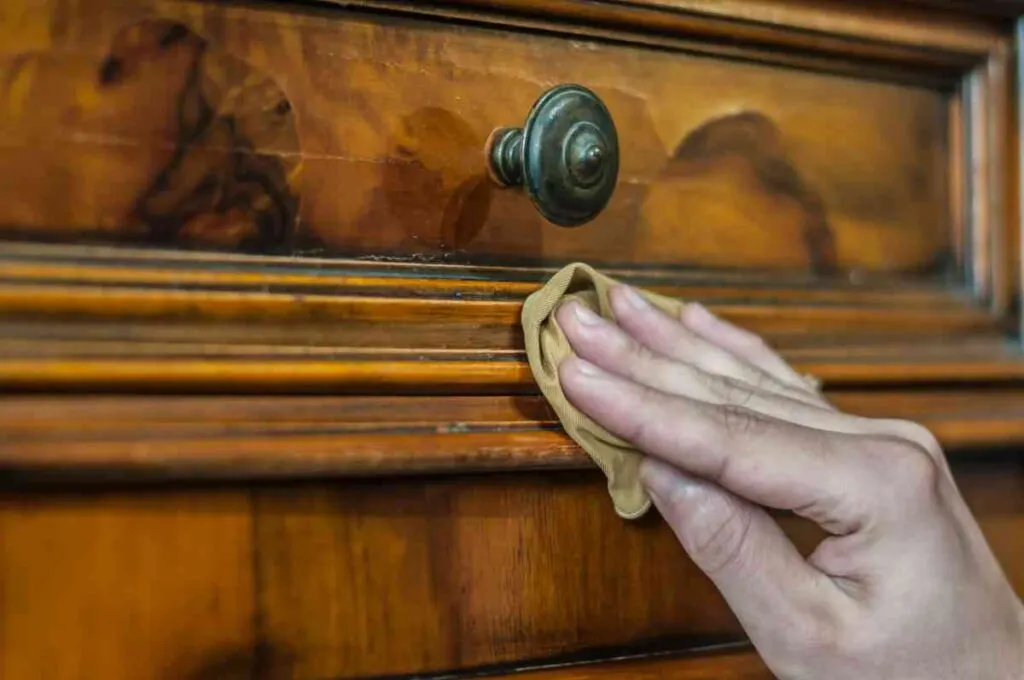 You can benefit from using a product like Sander Deglosser by Klean Strip on many painted surfaces, including wood, enamel, lacquer, polyurethane, stain, and varnish.
Be mindful that the deglosser remains active for three to seven days, depending on the product you use. If you wait too long to paint, you'll have to reapply the deglosser and wait for it to dry again.
Bonding Primer
Bonding primer is particularly great to use on worn, weathered wood. Though it's more expensive than the cost of standard primer, it does what it's supposed to: bonding primer creates a strong bond between the wood's surface and the new paint.
The Bulls 1-2-3 Water-Based Primer/Sealer is a water-based primer and sealing agent that offers many benefits: it prevents the paint from fading, repels pet and smoke odors, and seals porous surfaces and water stains. It also dries in just 35 minutes, so you can start painting in under an hour.
Paint
Mineral Paint
Mineral paint is a paint that derives color from natural pigments. It's naturally UV-resistant, which means that colors won't fade over time like with synthetic paint.
What's convenient about mineral paint is that you don't need to use a primer beforehand, although you can if you want to. It's a particularly low-maintenance way to paint furniture without sanding.
Paints from Fusion Mineral Paint are available in color to fit every aesthetic, like this shade of coal black. This acrylic paint is non-toxic, lead-free, and virtually odorless. It's also easy to apply and requires minimal setup without the need for a finishing coat.
Chalk Paint
Chalk paint is a water-based paint that leaves a matte finish. Like mineral paint, you also don't need to use a primer beforehand. It's another paint type that binds to just about every material or surface, both indoors and outdoors.
If you use chalk paint to paint furniture without sanding, adding a top coat finish is recommended. Chalk paint is known to chip over time and may require frequent touch-ups if you don't seal it with a protective layer.
The chalk paint from Country Chic, including this shade of vanilla frosting, offers three-in-one benefits: combining primer, paint, and top coat in a single product. It's particularly easy to prep and use. It's also eco-friendly and dries in just 30 minutes. The paint leaves a chalky, smooth matte finish that's easy to distress if you wish to.
Milk Paint with a Bonding Agent
Milk paint is made from natural ingredients and has been long used to paint furniture without sanding. It's made using a combination of proteins from milk and lime proteins, clay, and pigments of color. Like the paints mentioned earlier, you can apply milk paint without a primer. It's non-toxic, biodegradable, and dries in less than 30 minutes.
You can buy milk paint in powder form and mix it on your own with your preferred bonding agent, or you can order it pre-mixed. Pre-mixed milk paint is certainly the easier option because it can be challenging to mix just the right amount of bonding agent and paint–especially for first-timers.
What's unique about milk paint is that it leaves a slightly distressed look. It's a great option if you're leaning toward a vintage, country, or boho aesthetic.
---
Yes, You Can Paint Furniture Without Sanding!
It's always satisfying to transform worn, used, or vintage furniture into something that looks new–and is very much your style. Remember, a little creativity goes a long way–so long as you have the correct materials!
Interested in learning more about repurposing furniture? Our complete guide on how to repurpose furniture covers everything you need to know.