Earrings are fun pieces of jewelry that can help you express yourself and complete your outfit. There are plenty of eye-catching designs out there for you to choose from. But your earring search can still be challenging, especially if you want something specific and niche. Luckily, you can learn how to make acrylic earrings for customization control!
There are a few ways to make acrylic earrings, but the easiest at-home option is to use plastic shrink film. It's an easily accessible material, and the shrinking takes minutes. So, keep reading to learn about the shrink film acrylic earring-making process!
---
Materials You'll Need When Learning How to Make Acrylic Earrings
You'll need a few materials to make your earrings, with most being household items. Be sure to look around your house before purchasing your supplies!
Printable Plastic Shrink Film
You can't learn how to make acrylic earrings without the star of the show, which is printable plastic shrink film! This common crafting material is perfect for kids and adults alike. It's easy to use, as you simply need to print your designs on it. Then you can cut them out, throw them in the oven for a few minutes, and watch the magic! Your designs will shrink to a fraction of their original size.
Earring Making Kit
An earring kit is another necessity when learning how to make acrylic earrings, as you'll need earring hooks. It might be wise to get a hypoallergenic earring kit, as it omits metals that can cause irritation. This is especially true if you plan on giving the finished earrings to someone else. Nickel-based earring hooks are typically the ones that cause the most allergic reactions.
The kit has everything you need, including hooks, jump rings, earring backs, pliers, and more! Kits are much easier and cheaper than getting everything separately.
Hole Puncher
The best way to attach your earrings hooks is by putting a hole in the top of your design. You can do this with a ruler hole punch or single hole punch. Use whichever one you already have or whichever one is easier for you to use.
Scissors
To get clean lines around your shrink film designs, you'll need a sharp pair of scissors. They're good for the initial cutting, and then you can clean your design up afterward. Scissors are also excellent for simple designs and shapes.
Craft Knife Kit
If you have an intricate design, you'll need something small to cut around the edges. That's where a craft knife kit comes in handy when learning how to make acrylic earrings.
These knives can handle the tiny sections that your scissors could potentially ruin. Just be sure you pick a kit that comes with a cutting mat. Craft knives are extremely sharp and will ruin your table if you don't use a mat.
Inkjet Printer
Most plastic shrink film brands require that you have an inkjet printer. These printers provide strikingly clear images, which will make your earrings look high-quality. The ink also sticks to the film perfectly with little to no smudging as long as you let it dry.
Baking Sheet
You can't put your shrink film directly on the grates inside your oven. The film might melt to them, leaving you with a huge mess. To prevent this, using a baking sheet is the safest option when learning how to make acrylic earrings. Don't put them on dishes, foil, or anything else.
Parchment Paper
You should never put your shrink film designs on a bare baking sheet. The film can melt to the baking sheet, leaving it unusable. And you might notice a melted plastic smell lingering inside your home. Instead, you should line the baking sheet with parchment paper. This baking paper will protect your baking sheet, and the film will slide right off.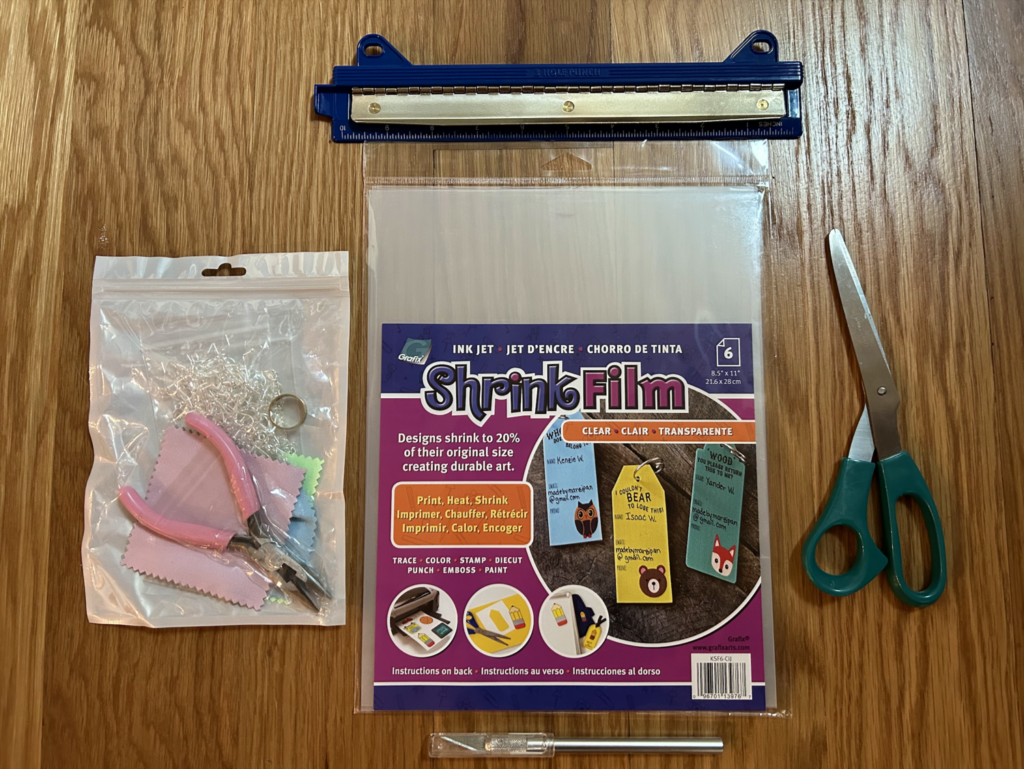 ---
How to Make Acrylic Earrings at Home
Now it's time to get into the crafting mood! Follow these steps and use your materials list to create some beautiful acrylic earrings.
1. Create Your Earring Designs on a Computer or Smartphone
The first thing you need to do when learning how to make acrylic earrings is find or make a design. You can search for free images, patterns, and graphics to use. Or you can create your own earring design through digital drawings or graphic design.
When you find or make the perfect design, you can move the file over into a blank document. It's a good idea to include different-sized earring pairs in this document. It's hard to gauge how much your earrings will shrink. That's why it's a good idea to have multiple sizes. Then you can pick which one you like best when they come out of the oven.
2. Print Your Designs on the Plastic Shrink Paper
After you have your document set up, it's time for printing! Printable plastic shrink film often allows printing on either side of the sheets. But be sure to check the directions.
Then, you can load your shrink film into your printer one sheet at a time. When your sheet is in the paper tray, you can go into the printing settings within your digital document. Don't hit the print button right away! There are some settings you need to change when learning how to make acrylic earrings.
Printing options may look different depending on your computer or phone. But, generally, there should be an option to change the paper or media type.
You'll need to click on that drop-down menu and choose glossy photo paper or something similar. This will tell the printer to adjust its ink coverage to that specific texture. Another thing you might want to change is the quality of the printing. You'll have a few options to choose from. But always go for the best quality so the images will be nice and clear.
After you change the settings, you can hit the print button. Let the printed designs dry for a few minutes, and then you can move on to the next step! Allowing your designs to dry is key when learning how to make acrylic earrings, as it prevents smudges.
3. Cut Out Your Designs and Hole-Punch Them
When your designs are completely dry, you can get your scissors and cut them out. Cut as close to the edges of your design as possible. The non-printed parts of the shrink film will have a frosted look.
If your design is an easy shape, you're probably done with cutting them out. But if you have intricate details, you'll need to go in with your craft knife. Be very careful and take your time with this, as you don't want to make unwanted slices. You can't fix these mistakes when learning how to make acrylic earrings. And you'll need to reprint and cut your design again if this happens.
Once your cut-outs look good, it's time to hole-punch them so you can attach your earring hooks later. Keep in mind that you cannot hole-punch shrink film after it comes out of the oven. The plastic is too stiff and thick at that point.
You'll typically only need one hole at the top of your earring designs. But you can make others if you want to create tiered earrings by attaching other pieces.
4. Bake Your Earring Designs
Now it's time to preheat your oven, bake, and watch your earrings shrink! Start by lining a baking sheet with parchment paper and then spread your earrings out on top of it.
Ensure that you read the instructions on your shrink film for temperature settings and timing. Most brands say to set your oven between 300-350º and bake the film for about 1-3 minutes. But it's a good idea to watch your designs in the oven to decide when it's time to take them out.
When learning how to make acrylic earrings, you might notice them curling in the oven. This is okay. Eventually, you should notice them starting to uncurl and flatten out. When you see this, it's typically time to take them out of the oven.
They might not be completely flat after removing them. So, you might need to flatten them with a spatula immediately after they come out. The plastic will still be soft at this point, making manipulation easy. Then you can let them cool.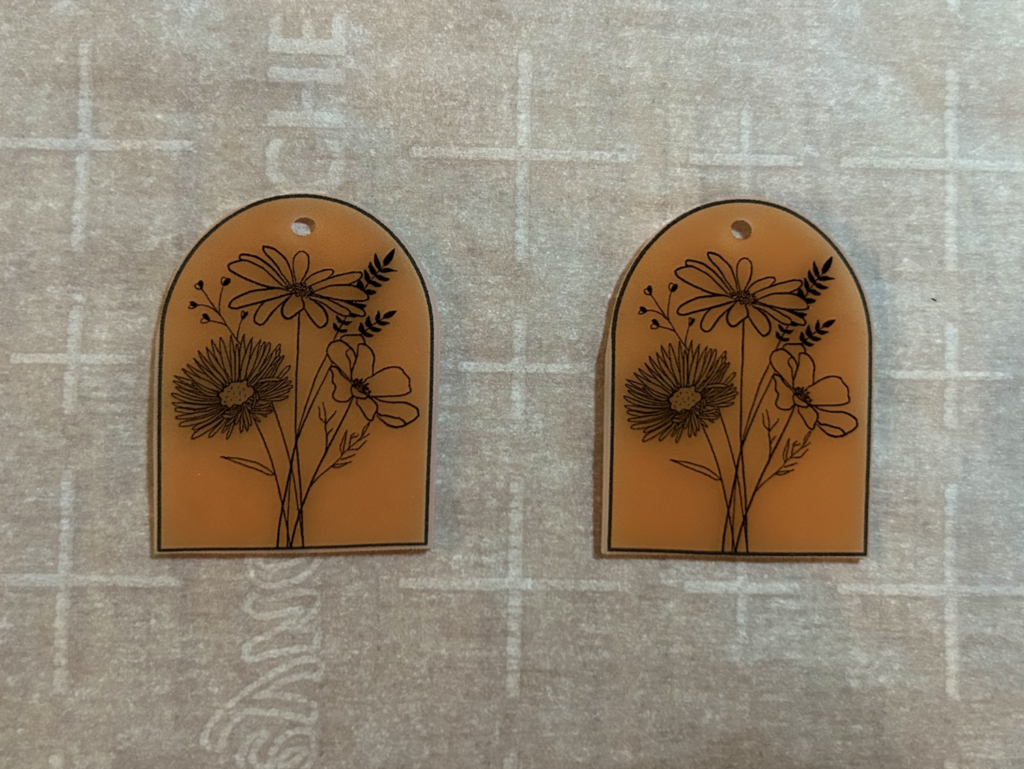 5. Attach Earring Hooks to Your Designs
Your shrink film earrings should be cool in a matter of minutes. Afterward, you can move on to attaching your earring hook pieces. You'll need two hooks, two jump rings, and the pliers in your earring kit. Using earring backs from the kit might also be a good idea. These will prevent any pokes and injuries from the earring hooks.
Open your jump rings with the pliers and put them through the hole-punch in your earrings. While keeping the ring open, slide the earring hook on as well. Then you can close the ring with your pliers. Then you can close the ring with your pliers. You can leave the earrings as is or attach the earring backs.
And that's it! The earrings are ready for wearing. You officially know how to make acrylic earrings at home!
---
What to Do With Your Homemade Acrylic Earrings
There are some things you can do after learning how to make acrylic earrings, including wearing, gifting, or selling them.
You can keep them, wear them, and make more beautiful designs to match all your outfits! But if you're not necessarily an earring wearer, they can make perfect gifts for jewelry lovers. It'll also mean so much more to the receiver that you made the gift rather than bought it.
Creating a jewelry store on Etsy or another website to sell your earrings is another excellent idea. You can have fun making the earrings and earn some extra money in the process! Your design options are endless when learning how to make acrylic earrings. So, you'll never be short of new, modern, and chic ideas!
---
Frequently Asked Questions
Are acrylic earrings heavy?
Acrylic earrings are very lightweight, making them excellent options for everyone. They won't tug on your ears or cause ear pain by the end of the day. Acrylic is a type of plastic material. And plastics are typically light while still providing a decent amount of strength. That's why acrylic is a great material when learning how to make acrylic earrings.
Can acrylic earrings get wet?
Water usually doesn't affect plastic. And since acrylic is plastic, your earrings should be absolutely fine. However, it's the metal pieces of your earring, like the hooks, that you need to worry about. Those might rust with water exposure. As long as the metal components are anti-rusting, your earrings can get wet.
How do you clean acrylic earrings?
Never clean your acrylic earrings with alcohol. This can take the ink right off your earrings. Instead, it is best to use a jewelry cloth. Or you can use mild soap and some kind of soft cloth if there's some nasty grime on your earrings.
---
Wrapping Up How to Make Acrylic Earrings
Acrylic earrings can make beautiful additions to your or someone else's jewelry collection. They're durable, lightweight, and extremely easy to make with plastic shrink film. Learning how to make acrylic earrings is a fun and exciting project anyone can do. So, start finding or making some eye-catching designs and turn them into stunning jewelry pieces today!
Are you looking for other creative ways to make earrings? Check out How to Make Macrame Earrings for more earring-making fun!