Chalk paint is popular with DIYers because of the unique look it gives painted items. You can either apply chalk paint in full coats as you would regular paint, use chalk paint to create "washes," or use chalk paint to distress painted items. Distressing furniture with chalk paint was actually one of the methods used by Annie Sloan, the inventor of the original Chalk Paint product.
In this article, we'll explore what distressing is, why it's done, and how to distress furniture with chalk paints. We'll also give you some tips on how to incorporate your distressed piece into your home décor.
What Is Distressing?
Distressing involves making the surface of an object appear more aged than it is — a feature of rustic or vintage design. The surface is intentionally marred and weathered to mimic the effects of use over a long period of time. Experts can use distressing techniques to transform a brand new, unfinished wooden piece into something that looks like it could have been made a hundred years ago (or more).
The most common DIY method of distressing furniture is sanding the piece along edges and any parts that get handled (such as knobs) or that stick out from the rest of the piece. This recreates the normal wear and tear that a piece of furniture's paint job will show after decades of being used without repainting.
Sanding does need to be applied in the right areas to give the item an authentic, worn look. Before you pick up that piece of sandpaper and go to work, it helps to do a little research to learn where to sand your furniture so that your distressing looks like it came about naturally (i.e. because the piece is so "old" and well-used!).
Another popular distressing method is using steel wool which some DIYers prefer since steel wool is easier to use than sandpaper to scuff and remove paint on non-flat surfaces. Both sanding and steel wool may require you to apply some wax or poly-coating to protect the surface of the piece since it often exposes the wood the piece is made of.
A modern approach to distressing furniture is with chalk paint, which can be applied several ways to create the appearance of age. You can also use layers of different chalk paint colors to add depth to the final look of your project.
Why the Distressed Look Is So Popular
The distressed look has been a popular decorating style for several decades. Going by other names such as "rustic," "farmhouse," or "shabby chic," you've likely seen a piece of distressed furniture in someone's home or even in businesses that create a relaxed, casual setting for customers.
Some reasons for distressing's popularity are:
You can age wood, metal, fabric, stone, concrete, plaster, paint or even plastic surfaces. This means there is no limit to what you can distress, especially when you combine distressing with paint like chalk paint, which sticks to almost all surfaces.
Distressing a piece can make it appear as though you own an expensive item. If you've ever browsed an antique shop, you're probably aware that old furniture carries a hefty price tag. Distressing can make even a thrift store find look like it came from a spendy antique store.
Distressing furniture allows you to give new life to your pieces instead of buying replacements. Chalk paint distressing is an especially easy way to give furniture a new look for far less than the cost of buying new items.
Distressed pieces can make you money! Yes, you heard me right. A brand new table can be bought for $110, but after the same table is distressed, you can flip it for around $150-$200, depending on the size. To learn more about flipping furniture, visit this article.
Gives you the opportunity to blend new furniture with your old furniture. If your original home design is vintage, and you see a furniture set you like, you can buy and distress it to match the décor.
Distressed furniture creates a cozy and relaxed setting. If done right, distressed, "shabby chic" decor feels warm and inviting.
How to Incorporate Distressed Furniture Into Your Décor
There are several ways you can add distressed furniture pieces into almost all home design styles. Here are a few tips:
You can use old hardware on new furniture to make it look like an older piece.
You can place distressed furniture in locations like a home library/office, hallways, bathrooms, or even outside on porches, decks, or patios. The distressed piece can serve as a showpiece by itself, blend in with existing aged furniture, or act as a contrasting element against newer furniture.
Repetition is a trick for combining mismatched pieces into your decorating scheme. By repeating a pattern, shape, color, or style you can assemble an eclectic collection of items that work together to create an overall look in a living space.
Choose a theme and then collect distressed items to complement it. For example, if you go for a room that should be themed for a professor, collect distressed items that would communicate such a message.
Do research to see how others are using distressed pieces. If you haven't discovered the wonders of Pinterest, you're missing out! Do a search using keywords like "vintage," "rustic," "farmhouse," "shabby chic," or "distressed" and then settle in for some inspiring images. (You should be warned, however, that five minutes in Pinterest Land equals about 20 minutes in the regular world — so you may want to make sure you have plenty of time to kill before losing yourself in this app!)
Why Distressing With Chalk Paint Works
Chalk painting is one of the best ways to distress furniture. The great thing about chalk paint is how it sticks to almost every surface. Its unique matte finish has a vintage look all on its own even without additional distressing techniques.
Chalk paint is a great option for fast projects since there's no need for the prep work other painting projects require (however, some DIYers do prep pieces for longer lasting results). It also dries up quickly, which saves even more time.
Aging Your Furniture With Chalk Paint
Chalk paint is an easy way to distress furniture and only requires basic painting skills. Below are the steps you need to take to age your furniture using chalk paint:
Select and Prepare Your Piece to Work On
If you're a chalk paint beginner, it's a good idea to start with small pieces for your first few projects. Chalk paint acts a little differently from regular water- and oil-based paints and it may take a few attempts to figure out how to get the look you're going for. Y
To prepare the piece, simply clean it to remove dust and dirt. We discuss more about cleaning furniture prior to painting in this article. If the piece needs any repairs, do those before you paint. Some people also lightly sand the surface to give the chalk paint even more "grip.", but this can be skipped if you just want to get started.
Materials and Tools
There are basic materials you need for distressing with chalk paint. You'll need a cleaner/degreaser, a paint can opener, chalk paint, wax or glaze, protective gear or painter's tape. You will also need a good paintbrush and some water if the chalk paint needs to be thinned. If you are manually distressing the piece, then you'll also need sandpaper or steel wool for scuffing and removing paint.
Prepare Your Workspace
Cover the floor with a tarp, drop cloth, old sheet, or old towel to catch paint spills/drips. Even though chalk paint is low VOC (i.e. it doesn't give off the fumes you have to worry about with other types of paint), good air circulation is still a wise idea, not to mention it will help speed up the paint's drying time.
Though it should go without saying, make sure you're working in an area that has good lighting. If you're using a layered paint aging technique, you'll need to see how the previous paint color is showing through the top coat of paint.
Apply the Chalk Paint
Chalk paint can be used several different ways to create the appearance of age — some of them don't require the use of sandpaper or steel wool, either.
Manual Distressing
This is the distressing method most people think of where sandpaper or steel wool is used. Apply two coats of chalk paint, allowing each coat to dry according to the manufacturer's directions.
Using 180-220 grit sandpaper, sand the piece in the areas to be distressed. Sand down to let the wood show through.
Using Dark Wax or Glaze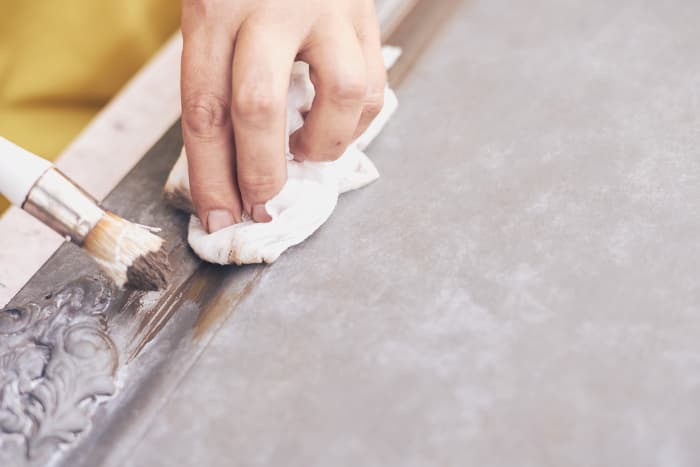 After applying two coats of chalk paint and allowing them to dry, use a rag to apply a dark wax or use a brush to apply a dark glaze.
While the wax/glaze is still wet, use a cloth to wipe it off until you get the desired patina. The dark color of the wax/glaze will remain in any seams, cracks, or blemishes on the piece and give it a vintage look.
Color Wash
Thin your chalk paint with water. Use a brush to paint the piece and then allow it to dry. This works best with unfinished wood pieces because the grain shows through.
Using white paint produces a white-washed effect, but you can use other chalk paint colors to create any color wash you wish.
Dry Brush
Dip your brush into the chalk paint and then wipe the excess onto a paper towel. Paint your piece lightly (the point isn't to apply a full coat of paint) and then allow it to dry. Again, this looks best on unfinished wood because the grain shows through.
Layering
For this, you'll need two different colors of chalk paint.
Apply a coat of the darker paint first and allow it to dry. Apply the lighter paint color and let it dry.
Using 180 grit sandpaper, lightly sand just enough to allow the first, darker paint color to show through.
Seal the Distressed Furniture
Chalk paint projects need to be sealed once they're dry. Sealing protects your paint job from dirt, fingerprints, or use that could chip the paint.
You can use wax, polyurethane, polycrylic, or even light-colored glaze to seal chalk paint.
FAQs
What makes distressing with chalk paint easy?
Chalk paint does not need anything beyond basic painting skills. It also requires no prep work. Some types of chalk paint distressing even create an aged look without the use of sandpaper or steel wool.
Can I paint over chalk paint or wax?
Yes. You can apply new chalk paint over existing chalk paint even if it was sealed with wax. All you need to remember is to clean before painting (which is standard for any chalk paint project).
Conclusion
Distressing using chalk paint is an easy way to give your furniture or wooden pieces a vintage look. Chalk paint offers a versatility for your DIY distressing projects not found with other paint or stain products. Browse online for inspiration and then pick up a can of chalk paint to get started. You may end up being the newest member of the chalk paint craze!
To learn more about chalk paint, subscribe to our blog.