The weather is getting chilly, things are getting a little more spooky, and craft stores are rolling out their seasonal supplies. This can only mean one thing: the time for Halloween wood crafts is here!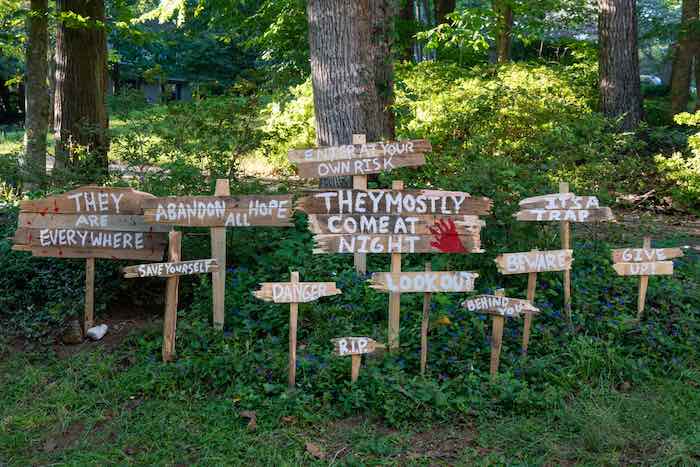 These projects are great for people with established woodworking skills as well as people just getting started with wood crafts.
9 Halloween Wood Crafts To Decorate Your Home For Halloween
These are wood crafts that are truly to die for!
DIY Wood Crate Pumpkins
Let's start off easy. These pumpkins made of wood crates use only a few supplies and are mostly pre-made for you. It's still DIY, but a great way to shake off those cobwebs and get back in the crafting spirit.
These crate pumpkins make for a fantastic decoration whenever you'd want to place a real pumpkin, but don't want the hassle of having a real gourd hanging around the home. They are also a little greener than their plastic and foam alternatives.
If you want to get really crafty, you can make the crates yourself from whatever scrap wood you have lying around from projects past.
To pick your DIY pumpkin crates from the patch, you'll need these supplies.
Wood crates
Craft paint
Straw
Branches to make the pumpkin "stems"
Build Your Own Coffin!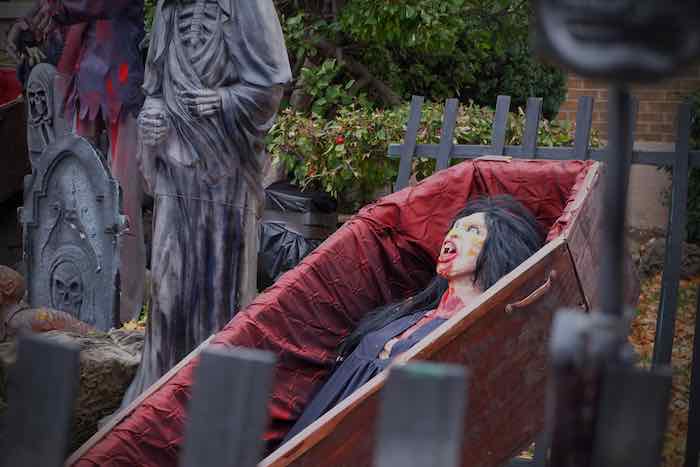 Alright. We started with the easiest craft, and now we are taking things up a notch to something much more skill-oriented. If you really want a ghastly decoration for this year's Halloween festivities, why not dig up a good time by building your very own DIY coffin?
This DIY coffin is the real deal. The plans for this will make an honest to graveness toe-pincher that is really going to be a statement piece. If you've been having a Halloween decorating arms race with the neighbors, friends, or family, consider this your decorative ace in the hole.
What can you do with a real coffin? Besides everything you can do with a prop coffin, you can also use this as a truly spooky centerpiece for your Halloween party. Throw the lid on and this is the spookiest coffee table you've ever seen!
The most important supply you'll need is a little woodworking knowledge. This is the next level of seasonal DIY.
Here's the rest of what you need to unearth to make your very own coffin:
Lumber, reclaimed or new
Wood glue
Nail gun
Table saw
Painted Halloween Blocks
These painted Halloween blocks are a great way to add some rustic charm to your Halloween decor.
Halloween wood crafts have a way of bringing that farmhouse charm while still showing how ready you are for those trick or treaters!
These blocks give you an attractive decoration that you can customize any way you like. You can even make this into a family or date night activity. While this guide uses lots of vinyl stencils, you're also total alright free-hand painting your own ghoulish decorations.
These are the supplies you'll need to scare together for this craft.
One 2×4 or scrap blocks of wood
Saw (If not using pre-cut blocks)
Craft paint
Vinyl stencils
Brushes
Bows or any other additional flare you want to add
Any Size Painted Wood Pumpkin
These painted pumpkins are the ideal Halloween wood crafts.
Rather than being a one-size-fits-all project, these pumpkins can be any size you wish. Whether you're looking for a towering jack-o'-lantern to haunt your yard or you'd like to give Mom a heartfelt indoor decoration this year, this project has what you need.
It all comes down to the scalable grid pattern. The grids do not have any measurements on them, but can be scaled to any size you wish. Each grid can represent 2-inches as quickly as it can 2-feet. This lets you make these pumpkins ready for the top prize at the county fair or something a little more home-friendly.
Pick these supplies from the patch:
Scrap, craft, or any type of wood board
Indoor or outdoor paint depending on your project
The pattern from the tutorial
Retro Wooden Scarecrow With Pumpkins
This scarecrow project has a timeless charm that calls back to those nostalgic decorations our grandparents used to have around the house. If you're looking to bring back some of that old-time charm, this is one of the Halloween wood crafts you need to try.
This little scarecrow needs a bit more woodworking skill than some of the cut-free projects on this list, but it's also no full-size coffin! It just takes a few quick cuts using their handy templates, and you'll be ready to glue and screw this scarecrow together.
This can be a fun family project. After the adults take care of all the cutting and assembly, the kids can come in and help paint the scarecrows and pumpkins.
You'll need to scare up these craft supplies:
Craft paints
Saw and drill
Several thicknesses of wood
Screws or wood glue
The project's template
Wooden Ghost Door Sign
If your door could be a little more haunting for this Halloween season, this is the project you need to try.
This project uses some basic woodworking techniques and has great results. If you're looking for something that is pretty impressive for how the skills required, then this project is what you need. These ghosts only require you to know how to cut stencils in wood which is a very basic and easy to learn skill. This is a great project for people looking to get into the basics of wood craft projects.
Like all the projects on this list, you can have fun customizing this sign. This is a craft project, after all, make it yours! No matter how ghoulish or how family-friendly you make this sign, it'll be the perfect addition to your Halloween festivities.
Summon these supplies to your crafting party:
Wood craft board
Paints
Metal wire
Wood glue
Saw
The template from the tutorial
Medieval Stocks
Not interested in the rustic charms of doorway signage and scarecrows? Need a Halloween wood craft that shows off a little more skill and a lot more fear factor? Then try your hand at making honest to ghoulness medieval stocks!
The final product of this project looks incredibly impressive and makes the perfect addition to your haunted castle, torture chamber, or ye olde witch trial decoration plan. While this project looks extremely impressive when it's done, it is actually really simple and straightforward to make.
If you're a little worried about the safety of having actual medieval stocks around the house for Halloween, you can make this quick mod to transform this into a harmless bit of decor. After you finish the build, add a skeleton to your stocks and then screw them shut. This way your stocks only wind up catching a plastic skeleton and no daredevil trick or treaters!
Find these supplies in your local haunted castle:
3 2x6s
2×4
Hasp
Strap hinge
Wood glue, screws, and bolts
Finish of your choice
Pumpkin Face Blocks
Alright, maybe that last project was a little ambitious, but this one is a perfect addition to the Halloween wood crafts that the whole family can enjoy. These pumpkin face blocks can be made by ghouls of all ages and makes a perfect afternoon activity with the kids.
The best part about this craft is that you can make it exactly how you want it. You can even freehand paint the pumpkin faces on for a unique look. If you swap out the paint for something non-toxic, this can make a great seasonal toy for young kids!
Here's what you'll need to make these pumpkin blocks:
Wood blocks
Orange craft paint
Brushes
Die Cut pumpkin faces (these could be hand cut or done with a Cricut Expression or similar tool.)
Glue or modg podge
Creepy (and Easy) Decorative Coffin!
We're closing out our list with another DIY coffin, but this one is much quicker, lighter, and easier to make!
Rather than making a full-size coffin, this tutorial makes a great tabletop piece that you can customize to your liking. The guide uses spanish moss and skeleton hands to decorate their coffin, but you can feel free to swap out those pieces for anything you would like.
The basic plan for this coffin can also be translated into a larger, but still very simple, prop coffin as well as smaller party favors or table markers.
Dig up these supplies and you'll be ready to go!
Wood craft board
Wood glue
Saw
Stencil or freehand text
Decorations like spanish moss, skeletons, and anything creepy!
How Are You Haunting Your Home This Halloween?
These Halloween wood crafts will keep you busy all throughout the spookiest time of year!
Whether you're looking to create realistic coffins and medieval stockades or you want a few fun projects for the family, you're all set for this year's Halloween.
Let us know what your favorite Halloween wood crafts are and any woodworking tips we missed!