Green is not only the color of envy, it is the color of summer, of rich forests, of some fruit, of the essence of life. Bringing it into your life can give your home a lift you will find comfortable and familiar.
Using chalk paint to bring the green in means you will have the option of rich color with a matt finish in a variety of shades and tints. Chalk paint is very useful for painting existing furniture, walls and other surfaces to give a room a new look. It is also an excellent paint to use when you are decorating a new home.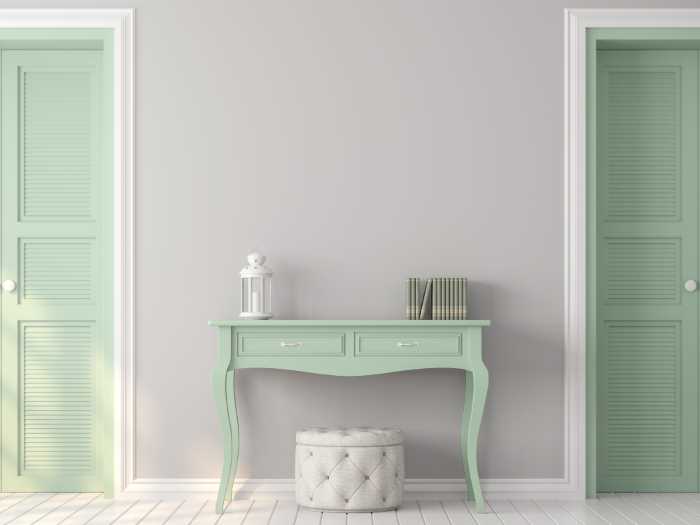 Bring green into your home
Choose green chalk paint
The best thing about using chalk paint to bring green into your home is that it adheres easily to just about any surface, which means you can use it on walls, furniture, cupboards and cabinets. You may even find a way to use it on the floor.
The only real prerequisite for painting a piece of furniture or a wall with chalk paint is that it is clean, particularly free of dust or any residual grease. To remove any traces of these, wipe down the surface with soapy warm water. If any of the surfaces are a little grimier, then you may need to add a bit of scouring powder. Once the furniture/wall is clean, that is it: you can go ahead and paint it.
Only if the surface you want to paint is covered in paint that is beginning to peel, will you need to do a bit more work on it and strip the paint before painting, otherwise the new paint is likely to begin to peel off before it has had a chance to make its mark.
Shades of green
You may think about green as being just one color, but there are about as many shades of green as you can think of.
If you browse the paint catalog for chalk paints for any manufacturer, you will find at least 6 or 7 different shades of green. Annie Sloan, Vintage Market Furniture Paint and American Paint Company are some leaders in chalk paint and various shades of green are part of the palette for all of them.
Florence (a turquoise-green), Amsterdam green (very dark, rich green), Antibes green (bright, jade-like green), Olive green (Dark, almost grey-green)
Vintage Market Furniture Paint
New Leaf (Light, pale green), Mint (Light green with slight blue undertone), Sage (grey-green), Dear John (Rich jade-like green)
American Paint Company
Canadian Shield (Deep green with a very slight hint of turquoise), Grassy Lake (Dark green similar to avocado green), Nana's cupboard (Lighter, rich green, with slight undertones of yellow), Sea Foam (Bright, turquoise green).
Tints of green chalk paint
Don't think of your choice of green chalk paint being limited to just the shades that are available. A little clever manipulation will produce ranges of different tints for each shade.
Tinting paint means adding white or black paint to make the paint lighter or darker. By creating different tints of one shade of green chalk paint, it is possible to decorate one room using the same basic shade, without it becoming overwhelming.
You can buy different tints of a basic shade of green chalk paint, or mix your own by adding little bits of black or white to the basic shade.
Amsterdam Green
This very rich, dark green can be tinted by adding progressively larger amounts of white paint to produce a range of tints from a very light, pale whitish-green all the way back to the original dark shade.
Dear John
Adding a bit of black to this paint will produce a tint that is darker, but still has the jewel-like color of the paint. Conversely, adding quite a lot of white will produce a very pale green tint that is similar to New Leaf, but which has a slightly deeper richness of color.
Sea Foam
Adding just a bit of white to Sea Foam will result in a tint that still has the allure of the turquoise tones of the paint, but which is lighter and airier.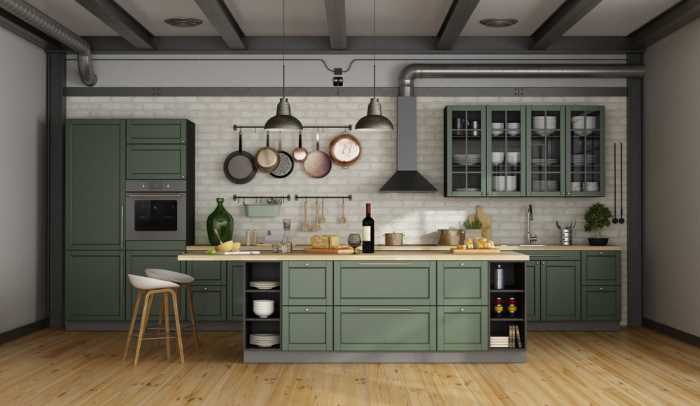 Using green chalk paint in your home: some ideas
Green is a natural color and can be used in many ways to change the look and feel of any of the rooms in your home.
Green chalk paint in the kitchen
The kitchen is often described as the 'heart' of a dwelling. It truly is the one room that can set the tone for the look and feel of your home.
Think about a kitchen having three possible basic looks: classic look, funky and farm-style.
Classic look kitchen
A classic kitchen would be more sophisticated, streamlined and understated. This is the perfect place in which to use a softer, less dominant shade of green chalk paint, such as sage green. This can be matched with a neutral color, such as white, or cream. If you are redoing your kitchen, then grey granite countertops will go beautifully with the sage green.
If, however, you have existing kitchen surfaces, you will need to make your own call. Don't think you have to stick only to the neutral color and the shade of green chalk paint. You can work the countertops into your color scheme.
To give your kitchen the classic look, paint the doors of the kitchen cabinets in sage green. You can use a very light tint of the same green for the exposed wall spaces, or simply paint them white. You can pick up the green in the backsplash, or the doorknobs on the cabinets.
Funky kitchen
Your house may be very modern and you want to upgrade the kitchen, so that it has quite a funky look. Here, green chalk paint is a great color and a great paint.
Begin by selecting a dominant shade of green that is light and bright, such as Antibes green. Paint the doors of the kitchen cabinets with green chalk paint. Consider finishing them off with wax or a poly-sealant, which will give the paint a slight gloss.
To create a truly fun, funky look in your kitchen, don't confine yourself to one bright color. Choose another shade of green, such as Sea Foam, that will complement the Antibes green cupboards. Alternatively, think really outside the box and choose a color that contrasts quite dramatically with green, such as orange.
The contrasting or complementary color should be used quite specifically for certain features (such as the curtains and backsplash), so that the kitchen does not become overwhelmingly colorful.
Farm-style kitchen
Whether your house is in the city or country or is modern, or very old, you may choose to create a farm-style kitchen. Quite simply, this means using quite a lot of wood and giving the kitchen a rather rustic feel. Here, green chalk paint cannot be beaten to achieve the look and feel you want.
To begin with, make sure that your kitchen cabinets are wooden (or wooden looking), preferably with some detail on the doors. The windows should be cottage pane, or relatively smaller than big, modern windows. You should also be able to have a wooden table and chairs in the kitchen.
For this style of kitchen, choose a more muted, but still rich, shade of green chalk paint, such as Dear John or Nana's Cupboard. In the case of a farm-style kitchen, green should become the dominant color in the kitchen.
Paint the table and cabinet doors in the basic shade, then use a slightly lighter tint of the same shade for the chairs. Use this tint to paint the window frames and the door. The same tint can also be picked up in the curtains. Use the original shade to paint the pelmets.
Now, this is where using green chalk paint is just what you need to give your kitchen the vintage, farm-style look, because it can be distressed. Take some medium grain sandpaper and rub-down the table, chairs and cabinets in the places that would usually show wear and tear. You should aim to expose the wood completely in some patches, or just to break up the neatness of the paint.
Green chalk paint in the bedroom
In the bedroom, if you use green, don't think you need to stick to different shades of green, or green plus neutral colors. Think outside the box and use colors that contrast with green.
Mauve may not come to mind as a natural fit with green, but it can work very well. Mauve is made from a tinted combination of blue and red, while green is a combination of yellow and blue, so the two colors do have some kind of blue hint in common.
Go for a strong shade of green chalk paint, like Canadian Shield (American Paint Company), because the contrast with the mauve will be stronger. You can use different tints of mauve. Choose a very light mauve for the walls. The chalk paint will give you a lovely matte finish.
Choose a few key pieces of furniture in the room to be painted with green chalk paint. These may be the chest of drawers, headboard and footboard of the bed. Don't overdo the green, because it can become overwhelming. Paint the basic pieces with green chalk paint. You can keep the matte look of the paint if you leave the furniture unsealed. However, you can finish off the paint with wax or a poly-sealant.
An option you have is to introduce a feature wall into the room by painting one wall with green chalk paint. Make sure that this is not the wall that the chest of drawers or bed stand against. Bring the colors in the room together with linen that features tints of the green and the mauve and throw pillows.
Curtains and a carpet in the key colors, possibly also including some white, can make the room lighter and brighter.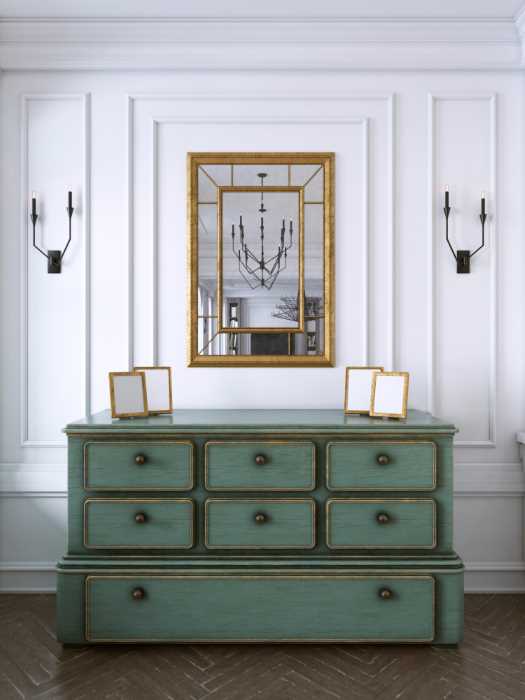 FAQ
Are there different colors of green chalk paint?
Green chalk paint is the basic color and is a general name given to any shade of green. Different 'greens' are all the same basic shade, but have bits of different colors mixed into them to create a slightly different look for each one.
Do I need to distress green chalk paint?
You can distress chalk paint, but only need to if you want to create a worn, or shabby chic look with the paint.
Conclusion
Green is the essential color of nature and introduces a peaceful feeling into your home. It is also a color that comes in a variety of shades. Green chalk paint is available from a few different suppliers, but they don't all stock the same shades. Before deciding exactly what color you want, make sure that you can get that particular shade of green chalk paint. Then you can transform a room in your home. Then, why not go on to tackle the whole home?