The color green tends to inspire thoughts of nature. It's also associated with feelings of luck, safety, and even envy. Pale green creates an opening, inviting, and relaxing mood, no matter how much (or little) you use. Using this shade of green can turn your home into a peaceful and tranquil environment that makes you feel close to nature.
Green is known as a "tertiary color" created by two primary colors that have to be mixed (blue and yellow). By knowing this, you can effectively plan your color scheme to ensure that it's aesthetically appealing.
Whether you want to incorporate pale green as the main color scheme in your house, or simply use it as an accessory or accent color, we have plenty of inspiration for you to get to work on revamping and revitalizing your home with this appealing and calming color.
In the Kitchen
Using pale green in your kitchen gives you plenty of room to work with when it comes to a color scheme. It is best used when paired with more natural or lighter colors but it can also go well with darker colors.
If you want to have a crisp, clean-looking kitchen, try using a light green backsplash and pure white countertops. Stainless steel or slate gray appliances also compliment pale green because they are a lighter color as well.
To pull this design scheme together in a natural way, opt for accessories made of wood (fruit bowls, cooking utensil holders, etc) while pairing it with wooden barstools if your kitchen has an island or bar area.
If you don't want to invoke an earthy feel in your kitchen, you can always select those accessories in a stark white shade. This allows the room to feel clean and welcoming, a perfect vibe for any kitchen!
A more functional characteristic of this color is the idea that pale green helps to suppress the appetite (through the use of the color blue) and bring one closer to nature to encourage more wholesome and healthy eating habits. This functionality makes it an even more appealing color to use in your kitchen!
In the Bedroom
All too often, we don't place enough emphasis on the importance of having a relaxing environment in our bedroom. However, it is important because it is here that our mind and body is able to unwind from the day and rest and replenish. A pale green theme in your bedroom is a great way to come home and relax in a space that is perfectly designed to help you unwind!
Similar to your kitchen, incorporating natural wood with pale green can produce the best outcome. Try using a light wood bed frame complete with a dresser and side table to create a natural, earthy feel in your room. If you would rather veer away from the earthy look, a white bed frame and bedroom set can still maintain a fresh appearance without feeling too natural.
You could also use a throw blanket or pillow (or even a bed frame if you really want to commit to this color). Incorporating this color with a white or cream comforter can really keep your room feeling fresh, clean, and relaxing.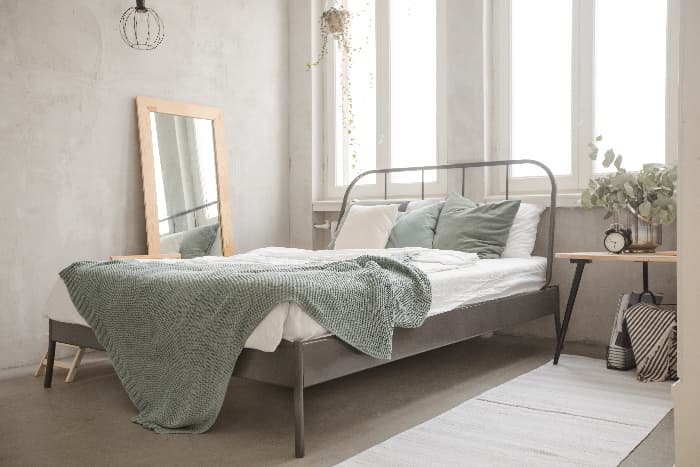 Interior Paint
If you're using pale green in a larger space, it can actually become underwhelming if not used heavily enough. Painting your walls pale green is an easy way to achieve the relaxing environment that so many of us need in today's busy and stressful world.
Sherwin-Williams has created a stunning pale green color with their HGTV HOME collection. The best match for it is the color Green Savvy Hgsw1266 which is neither too light nor too dark. However, there are plenty of other paint options on the market that will turn out more or less green, depending on the color you are shooting for.
If your walls are dark prior to painting, you will want to make sure you prime them to give yourself the best outcome possible. There are many tutorials online to help with this, but painting over the original color with white is one of the best ways to go about it. In doing this, you conceal any underlying color that could end up skewing your final result and tainting your pale green walls.
Exterior Paint
It is best to be cautious when using pale green to paint the exterior of your house. Unless you really love pale green and are okay with having your entire house this color, it may be best to choose a few key items to paint, such as a door or window shutters.
If you're not interested in painting parts of your home this color, you could always create a DIY project and revamp some patio furniture or even a few flower pots. Pale green goes well outdoors because it complements the outdoor surroundings.
Pratt & Lambert have created a shade called "Gingham Green" that veers more toward the green end of the color spectrum. It is designed as an exterior paint, which is important when painting on any surface that will be exposed to the elements. Exterior paint is designed to hold up to wind, rain, and snow without fading due to the elements or sun exposure.
Man Caves and She Sheds!
This is a relatively new, and very fun, trend. Generally, this is a small shed that is detached from the home and gives people a space to have time alone, to decompress, and just unwind from the day without being interrupted by spouses, children, etc. It is a haven for relaxation for many homeowners around the country.
Since this is a smaller space, pale green goes well as the main color scheme because its light shade opens up even the smallest of rooms. Use a pale green rug, throw pillow, blanket, or even paint the walls!
If it matches or compliments the main house, you can also paint the exterior a nice shade of pale green with ColorPlace Ultra Exterior Paint and Primer in the shade "Mint Shake". This paint incorporates both primer and paint to make your job much easier.
In the Bathroom
We all want our bathrooms to look and feel as clean as possible. Using pale green in your bathroom is another way you can add to the clean appearance, as well as a relaxing space to shower off the stress from your day.
If you want your bathroom to feel open and airy, try complimenting pale green with pure white. Most of us already have white bathtubs and sinks, so it's an easy way to pull this look together! There are options to purchase a pale green toothbrush holder, soap dish, or soap dispenser as well.
Also, try to incorporate white and pale green towels in order to really pull the look together (the white towels can help break up the color scheme if needed). To finish off this look, consider painting a wall (or four!) and installing a pale green shower curtain for a pristine look and feel.
Accessories
Pale green accessories come in great for renters, or for people who don't want to make the commitment and paint walls or incorporate pricey home upgrades such as backsplash. It is an inexpensive and less permanent way to create that feeling of peacefulness inside of your home.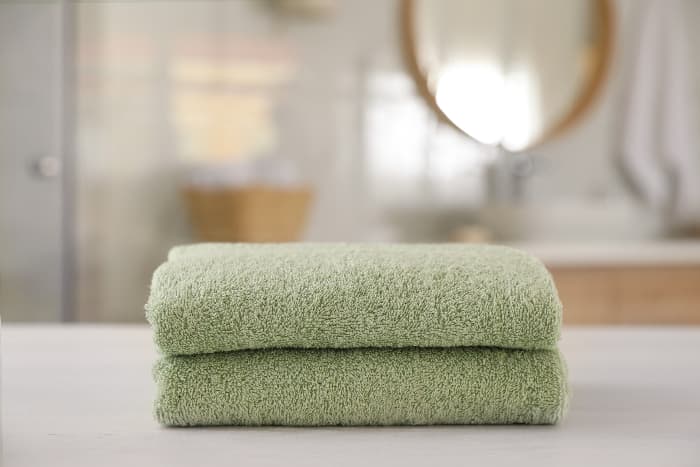 Depending on the room you want to revamp, there are a lot of different accessories you can incorporate. For example, in the living room, you could purchase a pale green throw pillow and blanket or even a large area rug. When combined with light (or dark) wood flooring, it creates a peaceful and natural look that is appealing to the eye.
If you want to create this same feeling in the kitchen, check out some pale green dish sets or hand towels. When combining this with the above kitchen scheme, it pulls together nicely for a finished and organized look.
No matter what your end goal is, whether to create an earthy vibe in your home or just keep it looking fresh and clean, pale green is a great way to make this happen. Make it permanent with pale green walls or easily swap out your color scheme by dressing your room up with a few pale green accessories listed above!
For more ideas about how to use the pale green color in your home, visit these links on our website.
Over 20 of the Most GORGEOUS Green Painted Furniture I Could Find You!