With so many choices out there, it is hard to know which chalk paint will work best for your project. A lot of times, it depends on what you are doing, and how you are using the paint. You'll find that there are certain paints that work better for different projects, and FolkArt Chalk Paint is no exception.
Chalk paint can be used to cover a wide variety of surface materials, including wood and metal. Moreover, you can distress chalk paint to achieve a more vintage or shabby chic look for a home with country or farmhouse décor. When you use chalk paint, the end result will be a long-lasting matte finish.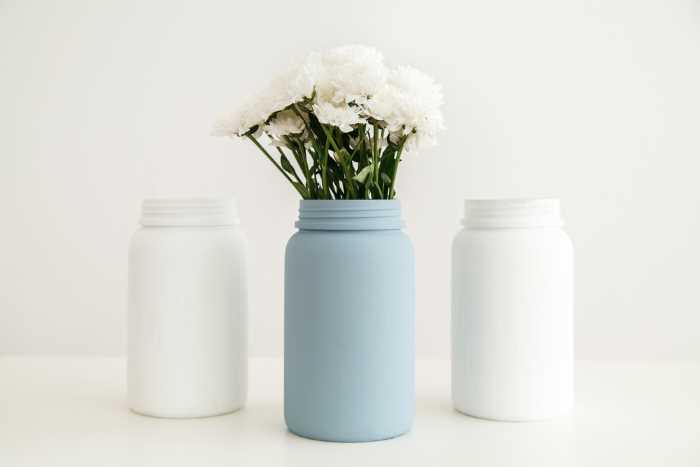 If you have ventured inside a craft store recently, chances are you have seen FolkArt chalk paint on the shelves. We'll walk you through the pros and cons of this crafters chalk paint to help you decide if it is the right paint for you and your next DIY project.
A Brief History of Chalk Paint
A thick matte paint, chalk paint has become a popular painting medium because it is so incredibly versatile. With chalk paint, you can cover nearly any type of furniture with minimal prep-work.
Also, because it is thicker than other paints, chalk paint can disguise blemishes that sometimes occur when you've had your furniture for a long time.
The phrase "Chalk Paint" is actually trademarked by the Annie Sloan company. Annie Sloan is the leading supplier of chalk-style paint products and her Chalk Paint is a water-based decorative paint.
Several other paint companies have created their own version of Annie Sloan's Chalk Paint, and they all have differences. In some cases, the differences between chalk-style paint from other paint companies and Annie Sloan's chalk paint are subtle. However, in some instances, the differences are more pronounced, which is why it is important to always do your research beforehand.
Why Is Chalk Paint So Popular?
Every paint product has benefits and downsides, and that includes chalk paint. And as a DIY-er, I always assume that most people know about chalk paint and have tried it. But you know what they say about assuming . . . I digress. In case you are new to chalk paint, here are a few reasons us DIY-res love it so much.
One of the reasons chalk paint is so popular is that you don't have to sand the surface you're painting. When you use chalk paint, you can simply clean your piece of furniture and it's ready to be painted.
Another reason chalk paint is so popular is because the distressed/shabby chic look has become so trendy in the last several years, and chalk paint is the easiest way to achieve this look with minimal effort.
More than anything, chalk paint is popular because you don't have to do hours of prep work before using it, and you can paint practically anything with chalk paint. And I mean practically anything – wood, metal, furniture, even fabric.
About FolkArt Chalk Paint
Made by the Plaid company, FolkArt Chalk paint is made in the U.S. FolkArt Home Decor Chalk paint is a non-toxic water-based paint. The finish is ultra-matte and no priming or sanding is needed. This paint is for indoor use only. The company claims that you can get sufficient coverage with just one coat, but I would recommend a second or third coat, depending upon the desired coverage you are wanting.
One thing to keep in mind is that FolkArt Chalk Paint isn't a true "chalk paint". It is an ultra matte acrylic paint, so this means it will apply as such. If you are used to using paints like Annie Sloane, you will notice that FolkArt is thinner and seems a bit runnier than traditional chalk paints. It does, however, have that ultra matte, chalky finish like traditional chalk paints.
Similarly, FolkArt's wax is different as well. Where Annie Sloane's wax is more of a solid, FolkArt's wax is more liquid-y and reminds me of thick honey in texture. In all honesty, I prefer the way it applies to the more solid waxes, but there is a slight learning curve if you haven't used it before.
How to Use FolkArt Chalk Paint
Since there is no prep work required to use chalk paint, it's super easy to use. Nevertheless, if you follow a few extra steps, you will likely be more satisfied with your finished piece.
1. De-Odorize the Furniture You Plan to Paint
Older furniture often brings with it odors from the past. If you notice any smells coming from the piece you're preparing to paint with chalk paint, it probably needs a good deodorizing.
Do a bit of research to find out the best way to remove odors from whatever you're painting, especially if the piece in question is a thrift store or yard sale find.
2. Clean the Piece Well
Before you can paint anything, the surface area needs to be clean. Typically this is achieved easily with a mild soap and warm water. However, some things may require a little more elbow grease to remove dirt and grime from its past life.
Research online to find out how to best clean the surface of the piece you're painting and clean it well. Be sure to allow time for what you're painting to completely dry before you get ready to paint it – we recommend at least 24 hours.
3. Repair Damaged Spots as Needed
Sometimes older furniture or other objects have damage. In some cases, you may want this damage to be a part of the furniture. For example, if you have rustic décor, a little damage just adds to the charm.
However, if there are holes or other damage, you may want to consider repairing the piece. If you're painting wood items, you can use spackling or wood filler to fill the holes. Then, do a light sanding so that the area you fixed blends in well with the rest of the piece.
4. Lightly Sand (optional)
Technically, you don't have to sand an object or piece of furniture that you're going to paint with chalk paint. However, there are instances when a little sanding is necessary.
If the piece you are working with has been painted in the past and that paint has begun to chip or strip away, you will want to sand off that paint before moving forward. This will prevent your new layer of paint from doing the same, unless you are wanting a shabby chic affect for your project.
If you give your piece a light sanding, the paint will adhere more thoroughly and possibly last longer.
Experts recommend that if you sand, just do a light sanding with 120-150 grit sandpaper. Then, finish it off with a 220 grit sanding block.
5. Prime Raw or Unfinished Wood
If you paint unfinished or raw wood with chalk paint, the wood will soak up all of the paint. Because of this, you need to prime anything that is unfinished. Since FolkArt Chalk Paint is a non-toxic paint, you may also want to look for a non-toxic primer as well, if maintaining a lack of toxins is important to you.
Also, priming your price will help to prevent staining and bleed-through on your finished product.
FolkArt Chalk Paint Coverage
As we've noted, the Plaid company says that one coat of FolkArt Chalk paint is enough for coverage. However, experience has leant us to suggest you apply more than one coat to create the look you are wanting. We've found that one coat hasn't necessarily achieved the coverage we have desired for our crafting projects. The downside to this is FolkArt Chalk Paint tends to take longer to dry than other chalk paints. This could be due to the fact is is actually an acrylic paint.
FolkArt Chalk Paint Durability
Like all paint products, there are limitations to the durability of surfaces that are painted. As an example, we don't recommend that you use chalk paint in areas of your home that receive a lot of moisture.
However, the one thing that seems to work in favor of FolkArt Chalk Paint is its acrylic base. This gives it a more durable finish than your standard chalk paints. Does this mean you should forgo sealing it? Not necessarily. We still recommend using a sealant on your finished project to add to the durability of the paint.
FolkArt Chalk Paint Colors
FolkArt Chalk Paint is available in a few different sizes and in a wide variety of colors. They offer over 30 color choices, so you are sure to find the color you are looking for.
FolkArt Chalk Paint Pros
It comes in a variety of colors
Made in the USA
Affordable
Easy to clean
Non-toxic
Ultra Matte, chalky finish
Works on a variety of surfaces
Easy to distress for a shabby chic look
Great option for smaller craft projects
One of the most significant benefits to FolkArt Chalk paint is that it's widely available and comes in a variety of colors. You can buy it from numerous places online, including Michael's, Amazon, or on the Plaid website. FolkArt Chalk paint is also easy to find at retail outlets, including craft stores, JoAnn's, and Walmart.
We also like that this paint is US based, and non-toxic.
Another benefit of FolkArt Chalk paint is the price. An 8 oz bottle will typically cost you around $7.99.
FolkArt Chalk Paint Cons
Runnier than most chalk paints
Not available in a spray form, nor will it work with a spray gun
Takes longer to dry than other chalk paints
Coverage isn't as great as the company boasts
Not recommended for larger projects
Some users will find that FolkArt Chalk paint is runnier than Annie Sloan's paint. This may be a bonus for some people, though. It just depends on the type of finish you're trying to achieve. One negative about this product is that it doesn't come in a spray formula.
Because the coverage isn't as great, you will need to apply more than one coat in most instances. Given the longer drying time, this means it will take longer for your project to be finished vs. other chalk paints.
But overall, we feel the benefits outweigh the drawbacks.
FolkArt Chalk Paint: The Final Verdict
In short, if you're looking for a small bottle of chalk paint for smaller projects, FolkArt Chalk paint is the way to go. They also have larger bottles (up to 32 oz), so you're covered for bigger projects, too.
We recommend FolkArt Home Chalk paint not just because of the quality, but also because it's so affordable, easy to find, and offers an expansive color palette.
Here is a video from Plaid Crafts about FolkArt Chalk.
If you've used this paint in the past, tell us about your experience and if you liked the way it worked for your project. We always love to hear about your crafting experiences.