I love a good DIY project and this finger knit chunky knit blanket is one of my favorite projects to do. These blankets are super trendy and make perfect gifts. One of the major perks of these blankets is how quickly they come together. This project took me about an hour and a half to complete. Keep reading to see how to make a chunky knit blanket for yourself or as a stunning gift!
What Finger Knitting?
Finger knitting is exactly what it sounds like, it is the act of knitting or crocheting but instead of using needles or crochet hooks, you are only using your fingers and hands. I love finger knitting, and there are so many different types of things you can make using the process of finger knitting. Anyone, young and older, can learn this technique.
If you want to learn a bit more on the technique of finger knitting check out this article here, I will go in-depth more on the process, the items you will need to start, and exactly how to start your first stitch! I highly suggest if you are new to the finger knitting process to check out the article that way when you come back to making your chunky knit blanket you will be set up for success!
What Is A Chunky Knit Blanket?
Some people may have a different idea of what exactly a chunky knit blanket is, for me, it is a blanket made with chunky knit yarn. You may have seen some of these in beautifully staged Pinterest photos, or on the covers of different at-home magazines, but the ones I have seen online do come with a pretty hefty price tag. And when a project can come together so quickly with only a little bit of a learning curve that's when I decided to give this a try!
There are many different types of chunky yarn as well. They come in different sizes and textures, some yarn is as large as 2 inches in diameter! Now that's a big yarn. And when choosing the type of yarn you want to finger knit with the price tag may influence what type you will be purchasing. Some of the chunky yarn can be quite expensive and will depend on the desired look you are going for.
I found a holy grail of chunky yarn that I love at Hobby Lobby. I will leave the link here if you would like to check it out. It works wonderfully with little to no shedding, it's soft and washable! Plus, Hobby Lobby will have sales periodically throughout the year where they will heavily discount all of their yarns, so it is the perfect time to stock up if you are wanting to make even more finger knitting projects!
Finger Knitting A Chunky Knit Blanket – Step By Step
Firstly, we need our yarn, for this Project I used the Eternal Bliss Collection from Hobby Lobby in the color Olive, it is a beautiful dark green that I think will fit the upcoming season perfectly. For this blanket I am using 6 skeins of yarn, which gave me a perfect 4.5 feet by 3.5 foot lap blanket or throw.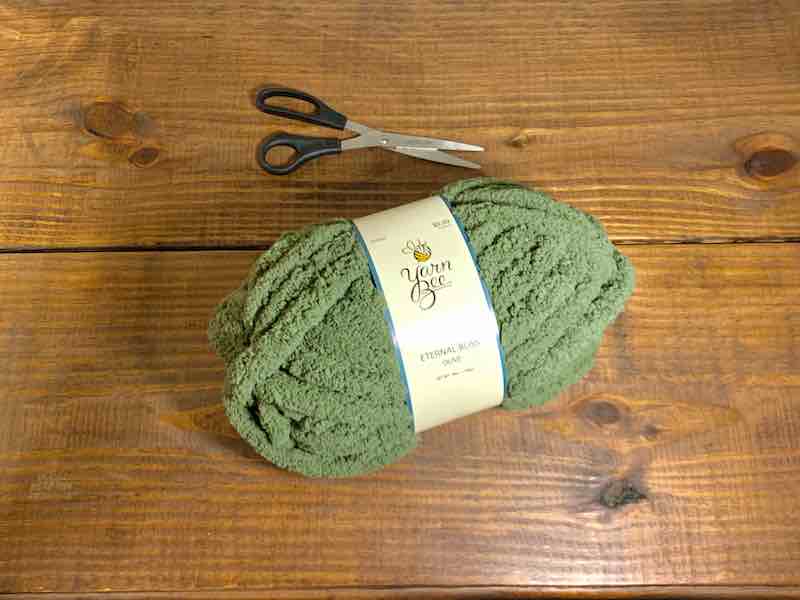 To start the process you need to tie a slip knot to start your first chain, then, you need to pinch through the center of your slip knot to grap your working yarn and make another loop, you will repeat this process untill you have 30 loops. If you want to get more information on how to tie a slip knot and start your first chain I have a more in depth article here explaining the process.
Once you have your first chain finished, start your first row. Pro Tip: Point your working yarn in the direction you are working in, it keeps things more tidy and easy to work with.
Starting with your first loop, just pull another loop through facing upwards, then just go into the top of every single chain and pull a loop through, keeping all of your sizes consistant.
This first chain and loops can be a bit fiddily, just keep flattening it out with your hands to prevent more twisting and turning.
Make sure you have the same ammount of loops of chains, for example, since I have 30 chains I will have 30 loops.
Now it is time to start our second chain! Make sure to point the working yarn in the direction that you are working in, start in the very first loop, then pinch your fingers through the loop and pull the working yarn through making another loop.
This is pretty much your entire process! These blankets take me about 2 hours to complete so make sure your in a comfortable position and not to hurt your back by leaning over to much.
Once you run out of working yarn it is super simple to attach another skein of yarn, all you need to do is tie your working yarn to a new skein, then cut off the tail and keep on going!
These blankets are so easy to make and once you get into a rythem they pretty much make themselves, the best part is there's no crazy or expensive tools you need to buy to make these chunky knit blankets. All you need is a pair of scissors, the yarn, and your hands!
Keep making your loops, trying to keep the size as uniform as possible, the bigger the loop the more "loose" the blanket will be and the smaller the loops the more "tight" the knit formation will be.
Once you come to the end of your yarn you will need to finish your blanket.
Your going to make these final loops (your final row) about an inch bigger than the ones you were making previously, this is because we are going to feed them into one another.
Make sure there is a small tail left once you do your final loop row to feed through the blanket.
Taking the first of the final loops you created pinch your finger through and grab the loop next to it, and continue the process all the way along, this gives you a super pretty chain effect.
Once you have finished take the final tail and just weave it through the edge of your blanket.
And that's it! You have made your first chunky knit blanket!
Don't Be Discouraged! You Can Do This.
I have been making quite a few of these blankets recently and the first one that I had made was, well, a little different looking, but with some practice these blankets make themselves! Plus, if you follow this tutorial of instructions you are sure to succeed! And if you notice that you have messed up you can always go back and fix something.
That's the best part about finger knitting a chunky blanket is that nothing is sewn down, so if you need to undo a few loops to fix a mistake it is super easy to do so!
The Perfect Gift
I absolutely love making these as gifts for my friends, family, and co-workers! Where I live we get some pretty cold winters and I don't know anyone who would love to have a nice throw blanket sitting on their couch or office chair. Plus being hand made you will impress a bunch of them! I know the first blanket that I hand knitted, all of my family was asking how I did it and when they will be receiving one!
These are also great for baby blankets! I have an upcoming baby shower that I need to go to and I am going to make a smaller version of this blanket, they are so cuddly soft and you can customize colors, add more than one, or even multiple colors to make this blanket perfectly unique!
Chunky Knit Blanket Takeaway
You now have all of the tools and tips to make these beautiful, warm, and trendy chunky knit blankets. Just take your time and you will have amazing blankets you can toss around your home for a pop of color, or to even match a holiday season! They make great gifts also for showers, birthdays, holidays, and more! You can defiantly make a blanket in about an hour or two as well, it doesn't take much time at all! Go ahead and get started on your very own chunky knit blanket today!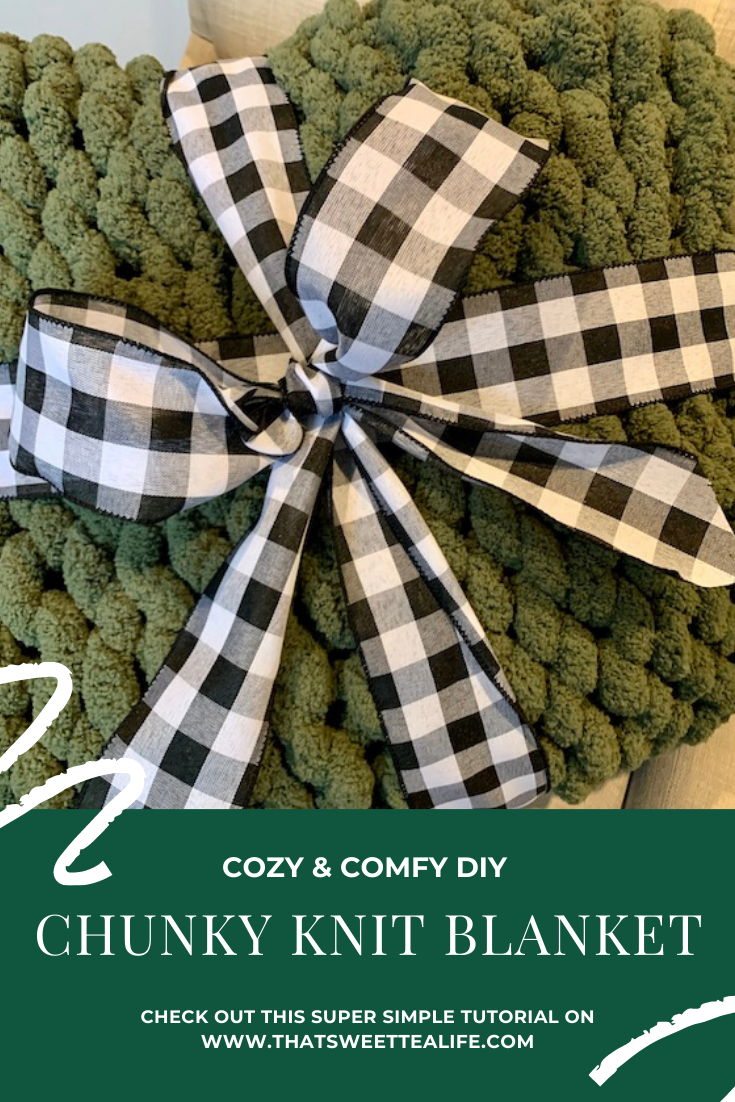 About the Author
Latest Posts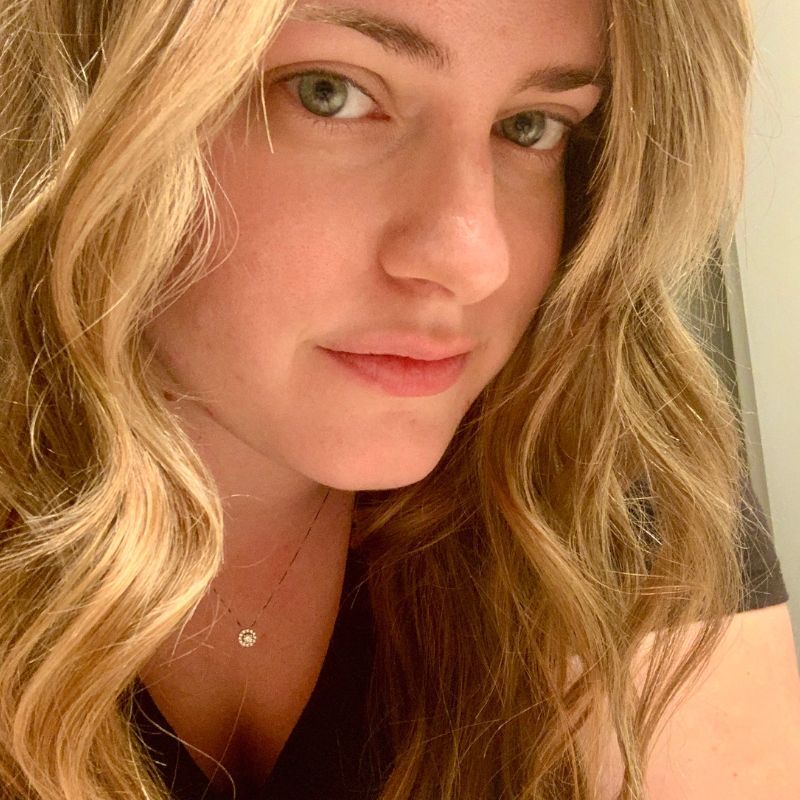 Lauren loves a good crafting project. Whether refinishing a coffee table or playing around with cutting machines or macrame, she isn't afraid to give it a go!
As a mom and wife, Lauren knows time management when crafting projects is a must! That's why you can count on her for her easy-to-follow guides and pro tips for making your projects flow flawlessly.
No matter what creative aspect Lauren has dabbled in most, that's why we love her advice!