Ready to take up knitting? Whether you're interested in textile crafts for their own sake, you're preserving a family tradition, or you just want to keep your hands busy while binging your favorite Netflix series, knitting is a time-worn handcraft that even novice creators can learn to excel at.
Now that you're ready to get started, read on to learn about the best knitting needles for beginners!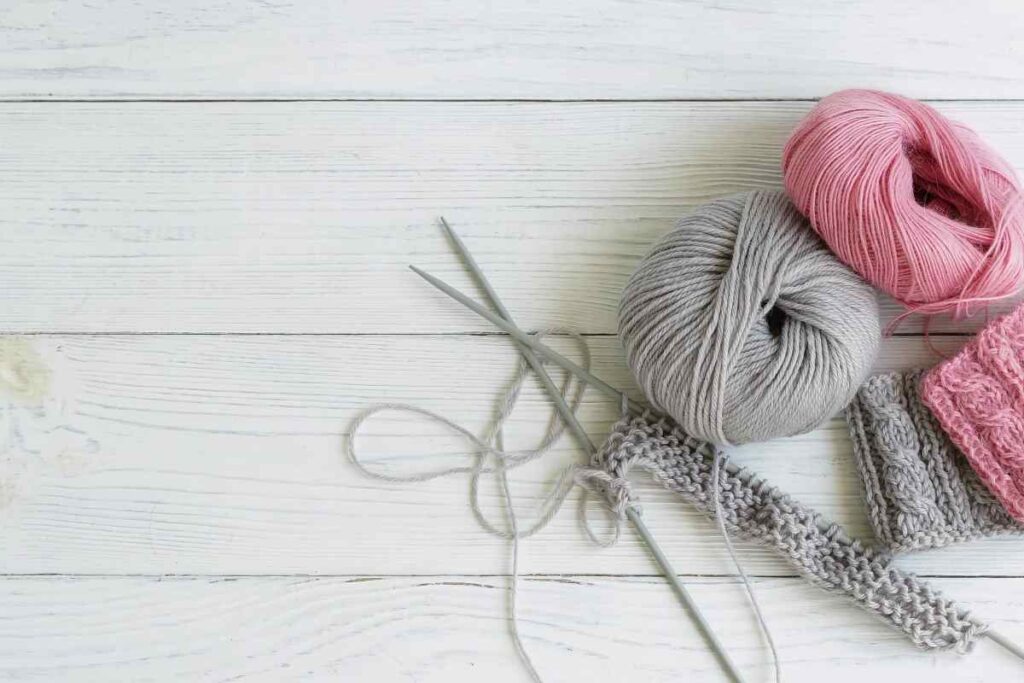 ---
Our Top Picks
Best Overall
LIHAO 36-Piece Bamboo Knitting Needle Set
Best Value
BCMRUN 22-Piece Knitting Needle Set
Best for Fast Knitters
Boye Aluminum Knitting Needle Set
---
Best Overall
Our top pick overall is, by far, a wooden knitting needle set–preferably bamboo. Wooden needles can be a little more expensive (though this LIHAO set is quite affordable!), but easier to handle than plastic or metal needles because they aren't as slippery. They also have a nice, warm feel.
Bamboo is a sustainable and renewable resource, making these knitting needles an eco-friendly choice for environmentally conscious knitters. They're also great if you're working with delicate yarns. The smooth surface allows yarn to gently slide over as you knit and perl, reducing the chances that you'll damage the yarn.
On the other hand, wooden needles are easier to break than plastic or metal needles, so users should take care when transporting them and when using them. They aren't well suited for heavier yarns that could lead to breakage.
Pros
Lightweight
Less slippery
Warm, comfortable feel
Good with delicate yarns
Environmentally friendly option
Cons
Break more easily than plastic or metal needles
Can be a bit more expensive
---
Best Value
For beginner knitters who have a good feeling that they'll be knitting a variety of projects for years to come, this BCMRUN 22-Piece Knitting Needle Set is a great value. It's fully loaded with durable needles in various sizes that are lightweight and easy to maneuver.
This set comes with 11 pairs of standard-sized needles, as well as ten stitch markers, nine large-eye blunt needles, and a measuring tape–all nice accessories to have if you plan to knit multiple projects.
Pros
Inexpensive
Durable
Lightweight
Includes needed accessories for beginners who continue on knitting
Cons
Not as solid quality as others on the market
---
Best for Fast Knitters
This Boye Aluminum Knitting Needle Set is for any skill level, from beginner to professional. The sleek metal allows yarn to slide freely during each stitch, which allows you to move quickly through your rows. Although most beginners prefer smooth aluminum knitting needles, some may find these particular needles to be too slippery for their taste. If you're a beginner who keeps a good tension in your yarn while knitting, this set may suit you just fine.
Unlike the bamboo knitting needles above, these Boye aluminum needles are not good for delicate yarns, which slip off them far too easily. They are, however, some of the best knitting needles for heavier materials.
Two common complaints about aluminum knitting needles, in general, is that they can be noisy and are cold to the touch. These factors don't affect the quality of the finished product, but some users find they make the knitting experience less enjoyable.
Pros
Easy to move through stitches
Available in a wide range of sizes
Lightweight
Cons
Can be too slippery for beginners
Prone to accidental bending
---
Best for Loose Knits and Chunky Yarns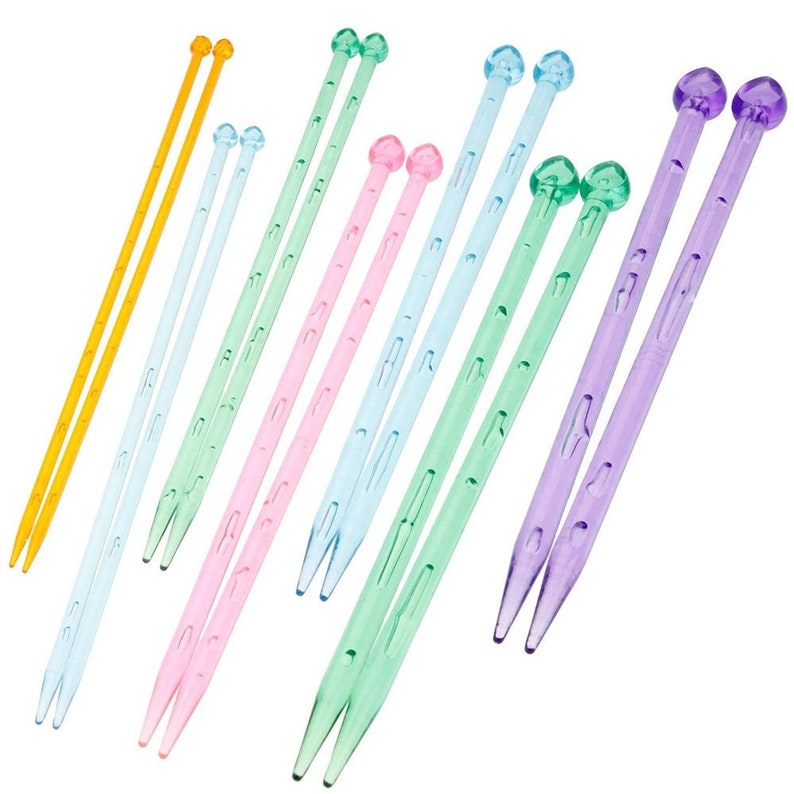 Plastic knitting needles are a nice in-between for beginning knitters. They aren't as heavy as wooden needles, but aren't as slippery as metal needles. They offer decent durability and a reasonable heft.
These single-pointed acrylic needles are great for beginners. Not only are they long, but they come in pretty pastel colors, too. Their rounded tips make them a nice option for loose-knit projects, and for those who get tired of accidentally stabbing themselves with more pointy-tipped needles. However, this can be a challenge when you need a tighter knit or want to work through a project faster.
Pros
Durable
Relatively lightweight
Blunt tips (could also be a con)
Cons
Can bend and warp
Tips are more rounded, which can be frustrating when you need tighter knots
---
Most Indestructible
Knitter's Pride-Karbonz Straight Needles are made of carbon fiber, which is a newer material being used for knitting needles. The carbon fiber is combined with nickel-plated brass to offer the best of both worlds: the light weight and flexibility of carbon and the smoothness of brass. These qualities result in a coveted needle that's perfect for long knitting sessions.
These Knitter's Pride needles are warm to the touch and extremely durable, too. However, all that luxury comes at a price! Carbon fiber needles, in general, are quite expensive. And, because they're a relatively new material to be used in knitting needles, carbon fiber needles can be hard to find and aren't always offered in the myriad sizes other needles offer.
Pros
Extremely durable
Lightweight
Won't bend
Warm feel
Cons
Expensive
Limited options on the market
---
Factors to Consider when Choosing Beginning Knitting Needles
There are several factors to consider when choosing the best knitting needles, and beneath all those considerations, beginners must also keep in mind that they may not stick with knitting long enough to make some of the fancier needles pay off. On the other hand, the wrong needles for a project could turn a beginner off of knitting, altogether!
Cost
The biggest factor a beginning knitter should think about when choosing knitting needles is the cost. Because a beginner doesn't know right away how much they'll enjoy their new hobby, it doesn't make a lot of sense to spend a lot of money on a nice needle set.
However, it is possible to get a fine set at a decent price, and it may be worth the extra cash to get a beginner set that makes your early knitting experience enjoyable.
Weight
The heavier the needle, the easier it is to fatigue. Projects that require thicker yarns are often best completed with heavier, more durable needles; yet, the weight of a hefty yarn coupled with a weighty needle set can lead to fatigue fast.
Heavier knitting needles often result in looser stitches, which may or may not be a problem for your project. Thinner, lighter needles are necessary for more delicate yarns, and they allow the knitter to work with greater speed and precision.
Overall, the best weight for knitting needles depends on personal preference and the knitter's specific project.
Projects You Plan to Undertake
Larger, heavier projects, like blankets and afghans, call for knitting needles that are strong enough to support the weight of the yarn and the overall weight of the project. However, all that heft can get tiring to hold up! Try to balance the sturdiness of your needles with the need to hold their weight for a knitting session.
On the flipside, projects like lacework and socks require more delicate yarn with a typically tighter knit. For these projects, thinner, lighter needles win the day.
Portability
If you plan to do a lot of knitting on the road–at kids' sporting events, community meetings, or with a weekly knitting circle, for example–the best knitting needles will be ones that combine durability with light weight.
You don't want to haul around bulky, heavy needles, but your needles must be strong enough to stand up to being transported.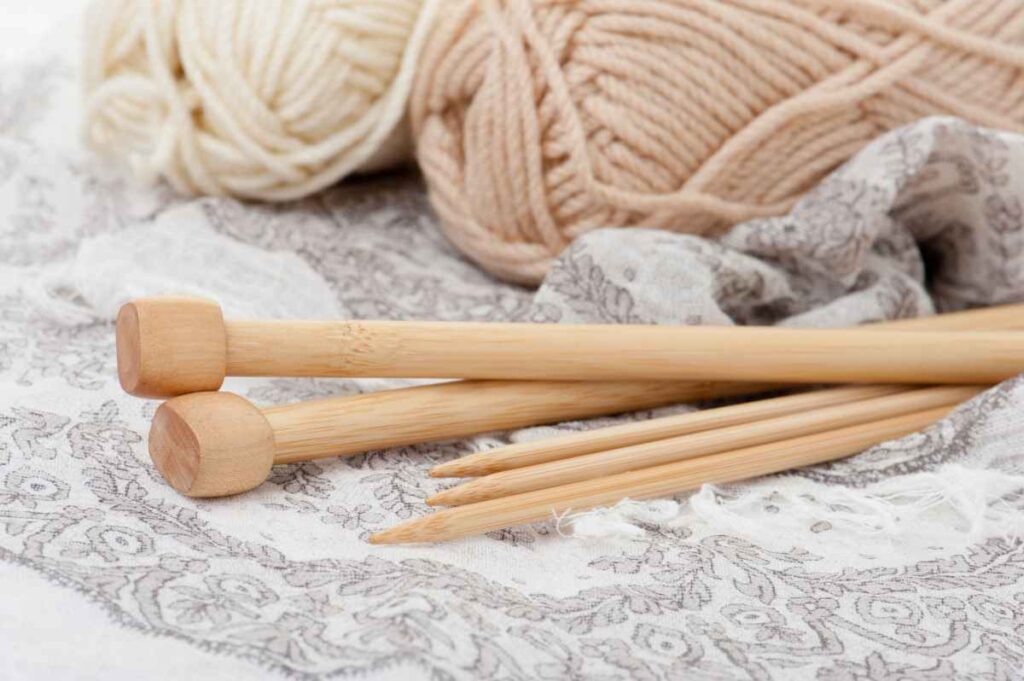 ---
Frequently Asked Questions
What are the best sizes of knitting needles for beginners?
The best knitting needle size for anyone depends on the project and the yarn you're using. A good, middle-of-the-road size is a US 8 that's about 10 inches long. This size works well with the worsted-weight yarn that's common in your neighborhood craft store.
If you're knitting from a pattern, go with whatever size the creator lists.
Are circular knitting needles good for beginners?
They can be! Circular knitting needles are connected by a smooth nylon or plastic cord, which allows you to take some weight off your hands and wrists and instead let it sit in your lap.
They're often used for projects like hats, socks, and baby booties. They're especially handy if you'll be doing a lot of knitting on the go–it's impossible to lose one needle mid-project!
All that is to say yes, circular knitting needles allow knitters to tackle a variety of projects while keeping their tools together and easing some stress on their hands.
What accessories are good for beginning knitters to have on hand?
Although you can start knitting with just some yarn and needles, clever folks have come up with some really useful tools over the centuries that are worth adding to your supply!
---
Get Knitting
Knitting is a fabulous way to create, relax, and connect to artisans throughout history who have embraced this textile art. Choosing the best knitting needles for beginners is an important first step on your knitting journey; choose wisely.
Not ready to try knitting with needles? Check out this article on finger knitting!
About the Author
Latest Posts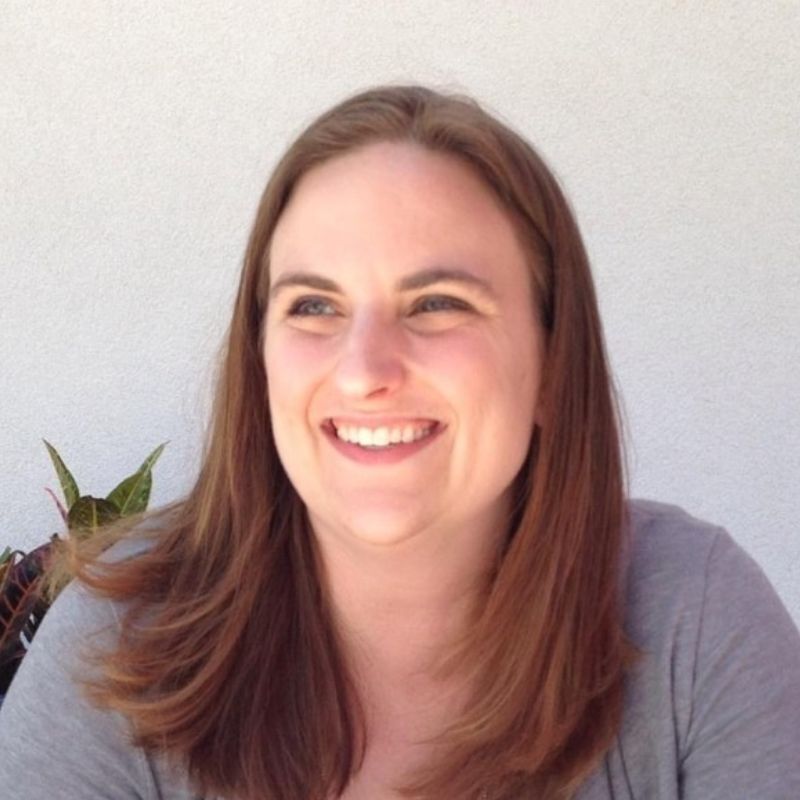 Ronda Lindsay is an avid crafter who developed a love for all things DIY as a little girl with an extremely resourceful mother. When she's not using her writing skills in her daily work in government communications, she's busy dreaming up her next crafty creation, whether that's in the kitchen, behind a camera lens, or among her vast scrapbooking supplies.
With a bachelor's in English and a master's in professional writing, Ronda enjoys learning about new DIY tips and tricks and sharing them with readers of That Sweet Tea Life! She hopes to one day be as creative as her big sister.