Are you looking for an easy DIY project that adds vintage charm to furniture? Check out this guide on dry brushing paint to unleash all the creative possibilities.
This painting technique is so simple that any amateur DIY-er can master it, yet it yields stunning results.
Dry brushing paint allows you to transform any boring, static furniture into a conversation piece with lots of character.
In this guide, you'll learn how to dry brush paint like a pro. We'll show you all the steps, from choosing the right paint to sealing your project's beauty for years to come.
So if you're inspired to give this simple DIY technique a shot, keep reading our guide on dry brushing paint to become an expert.
---
What is Dry Brushing Paint?
If you're not really sure what dry brushing paint is all about, this is a good place to start.
This technique involves using a dry brush (hence the name) to apply a small amount of paint to a piece of furniture, creating a worn, textured look.
The key here is to use the tiniest amount of paint possible. You can either do this by wiping off excess paint on the bristles or letting it dry partially.
This way, when you swipe it across the surface of your furniture, you're left with a hint of color that gives it an aged, weathered finish.
This painting technique is popular among furniture upcyclers and model builders since you can transform ordinary items into something that looks vintage. It also highlights the textures of preloved furniture, giving it a distressed look.
Dry Brushing vs. Wet Brushing?
You might be wondering, how does dry brushing differ from wet brushing?
The name pretty much sums it up; where dry brushing involves dipping a dry brush into paint and wiping most of it off or leaving it to dry, wet brushing entails the opposite.
This technique starts with a damp brush and uses more paint to create a smooth, saturated finish. It's ideal for covering larger surface areas or tinting with bold, vibrant colors.
In other words, dry brushing is all about subtlety and texture, whereas wet brushing is focused on color and coverage.
Dry Brushing Paint Design Aesthetics
This unique painting technique has incredible versatility and complements a variety of interior design aesthetics.
It blends in wonderfully with a rustic farmhouse style, adding an element of aged charm and character.
The distressed finish achieved through dry brushing paint also pairs well with shabby chic and vintage aesthetics, giving your space a nostalgic, lived-in feel.
For those who gravitate towards a coastal beach house look, dry brushing paint in light, breezy hues can create a driftwood effect, adding to a room's casual and relaxed vibe.
Or, if you prefer a minimalistic, contemporary interior, the contrast of textures offered by this painting technique can create depth and interest without overwhelming a space.
---
Why Dry Brush Paint on Furniture?
Aside from boasting excellent versatility between design aesthetics and offering an incredible way to give your furniture a stunning makeover, dry brushing paint is also very easy to do.
You don't need to be a professional artist to pull off this technique since you're aiming to have imperfections in the final result.
The materials needed are few, and you can complete this project in under an hour. Plus, you can use any furniture you have kicking around, whether it's an old family heirloom or a new Ikea find.
So if you're ready to add this simple skill to your crafting repertoire, keep reading.
---
Materials Needed
Now that you know what dry brushing paint is, let's get down to business.
To successfully complete this painting technique, there are a few essential items you'll need:
A piece of furniture
Paint
Paintbrush
Paint sealer
A paper plate or something similar to pour paint onto
A cloth or paper towel
---
How to Dry Brush Paint on Furniture
Now it's time for the main event. Below, you'll discover the steps to start dry brushing paint like a champ so you can create the vintage masterpiece of your dreams.
---
Step 1: Find the Right Piece of Furniture
Before you start painting your work of art, you need to find the right canvas. Dry brushing paint is a forgivable technique that works well on all types of furniture. Still, it's particularly effective on pieces with lots of details and textures, like an intricate side table or a detailed dresser.
So take a trip to your local thrift store or flea market and see if you can find any preloved furniture that could use a little TLC.
You can also dry brush paint on new furniture, but be sure to find something with pre-existing paint or stain on the wood surface. This technique works best when it contrasts colors or tints. Think light brushes of white paint on a sea-foam green surface or flecks of navy on a grey-wood stain.
---
Step 2: Decide on the Right Paint
Now it's time to find the perfect paint for your project. First, consider the color of the furniture item you're working on.
For grey surfaces, you can never go wrong with dry brushing white for an aged look that resembles driftwood. If you're painting over white, reverse this logic and try dry brushing with grey.
If you're starting with stained wood, try a bluish tone to add a light pop of color. Or mix and match beige with black to create a unique multicolored surface with lots of visual interest.
Best Paints for Dry Brushing
Choosing the right paint will make your dry brushing experience even easier. You can use pretty much any water or oil-based paint but try to look for something with a matte finish. Paints with a high gloss sheen will make it harder to achieve a distressed look in the final product.
Using chalk paint with a matte finish, like the Country Chic Chalk Paint, would be your best bet for creating an aged, vintage look on your furniture.
---
Step 3: Prep Surfaces
Before you start dry brushing paint, it's important to prep the surface of your furniture.
If you built a piece of furniture from scratch or bought something with natural wood, now's the time to give it a base coat of paint or stain. Give our painting furniture guide a read for tips on completing a seamless paint job.
Once your furniture item is completely painted, or if you're starting from a pre-painted or secondhand piece, all you need to do is make sure the surface is clean and free of dust or debris.
Use a damp microfiber cloth to wipe down the surfaces of the furniture, then let it dry completely before moving on to the next step.
---
Step 4: Dry Brush
This is where the magic happens! It's time to unleash your inner Bob Ross and get to painting. First, pour a small amount of paint onto a paper plate or something similar.
Then find your dry brush. Choose something flat and stiff, like a chip paintbrush, for the best results. You probably know this by now, but it's worth mentioning again to avoid wetting the brush before using it.
Now, dip the tip of your brush into the paint and gently wipe off any excess onto a paper towel until almost no paint remains on the brush. You can also let your brush sit for a minute to let the paint slightly dry.
Then lightly stroke the brush across your work surface, applying very little pressure so only the slightest bit of color streaks the wood.
Continue this process, applying even strokes in the same direction. Be sure to let each layer dry before applying another one, but since the paint is so light, this should only take a minute or so.
Once you're satisfied with the results, it's time to move on to the next step.
---
Step 5: Seal Paint
Sealing might seem like an afterthought, but it's an important part of the process that extends the life of your art by protecting it from dust, scratches, and fading.
The first step is choosing the right sealant. Acrylic sealers work best for dry brushed paint, so look for one with a matte finish, like Aleene's Spray Sealer. This brand comes in a canister that boasts an effortless application process.
Apply a thin, even layer of sealer over the surface of your furniture, ensuring all areas are completely covered.
Allow the sealer to dry before moving or using your furniture. With this simple step, your masterpiece remains vibrant and protected for years to come.
---
Common Mistakes to Avoid
Dry brushing is a pretty straightforward process, but it's not 100% foolproof. Read these common mistakes so you can avoid them the first time around.
One typical misstep is loading your brush with too much paint, which defeats the purpose of this technique and results in heavy, inconsistent layers.
Another faux pas is brushing in random directions, making your piece look messy and unrefined. It's important to maintain a steady, light hand and to always brush in one direction for the best possible outcome.
Lastly, it's important not to rush the process. Allow each coating to dry completely before adding the next to avoid smudging the layers.
Remember, practice makes perfect, so don't be afraid to make mistakes as you hone this versatile technique.
---
Maintaining Dry Brushed Furniture
To keep your dry-brushed masterpiece in tip-top shape, follow these maintenance tips to ensure it stays looking spiffy.
Dust it regularly using a soft cloth to keep the surface looking pristine. Avoid using harsh chemicals or abrasive cleaners that can strip away the paint. For spills and stains, a damp cloth with mild soap should do the trick.
Don't worry if your furniture begins to show signs of wear over time. Dry brushing paint has the benefit of aging gracefully since it's already supposed to look a little worn.
---
Frequently Asked Questions
Before we wrap up our guide to dry brushing paint, learn the answers to the most frequently asked questions by fellow DIY-ers.
Do you thin paint when dry brushing?
One common question that goes around is whether you need to thin the paint during this process. The straightforward answer is no.
The whole essence of dry brushing is using undiluted, thick paint on a dry brush. This allows the paint to only catch parts of the surface, giving that exquisite, textured look.
So, don't thin out your paint, and keep your brush dry for the best results.
What kind of paintbrush is best for dry brushing paint?
The best type of brush for this technique is a flat, stiff-bristled brush. It allows you to pick up a small amount of paint and distribute it evenly over the surface.
The flat shape helps to create the characteristic streaky effect of dry brushing, while the stiff bristles give you more control over your strokes.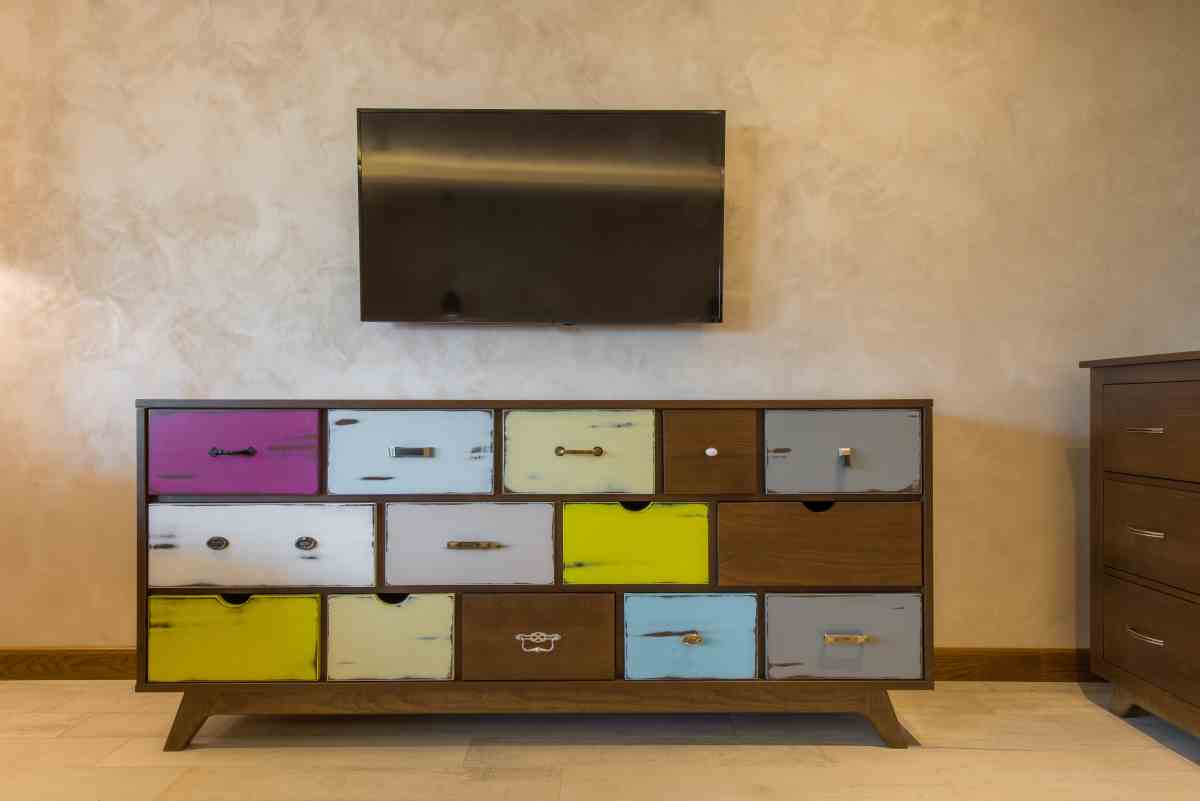 ---
Dry Brushing Paint: Summed Up
Whether you want to transform a static Ikea find into a weathered conversation piece or breathe new life into a family heirloom, you can't go wrong with dry brushing paint.
Not only is it incredibly easy to do, but it boasts immense versatility that works with a variety of home decor styles. And the final results are absolutely stunning. In just a few simple steps, you can create a textured work of art that will charm your home.
Now that you know about dry brushing paint, check out our Painting Furniture page for more DIY tips.