The DIY Storage Bed Hack You won't Believe!
When we decided to have kiddo number 5 we knew that would mean kids sharing a room.  Either a boys room or a girls room.  This made me scramble for a twin bed with storage drawers.  The thought of fitting two twin beds and two dressers just drove me crazy.  Of course they would fit, but WHY?  I would much rather keep the floor space.  So,.. I would begin my hunt and found captains beds, DIY platform beds,  and of course that gorgeous Pottery Barn Stratton Bed that would only cost a few thousand dollars came up on my search.  As lovely as it is, there is no way I would allow myself to spend that kind of cash! I wanted twin storage beds.  So I wondered,  could I build a bed with storage? If I did, I could have storage space for clothing and such and sleep space in one!  This is a great idea for kids rooms as well as guest room since you can absolutely do this for twin, queen beds, or even king size beds!
How much would this EASY DIY Storage Bed Cost? Depending on what you have, $0 to easily under $300
But here is the thing,.. who wants to spend a grand or more on one of those sets?? (especially if we are talking about anything more than particle board furniture)  Not I!  It was time to get creative making my own plans for DIY Captains Beds!  This would mean all that dresser space could be confined to the space under the bed with extra storage as well!  This allows room for DESKS or VANITIES! Those other things that serve purpose and needs! Ok so, what will be our easy to follow bed plan? 
What do I need to make a Twin bed with Storage Drawers?
The Dresser
Use any stable dresser-and you can even remove the legs if you think it would mean more stability or to make it shorter! Whatever suits YOUR need!  Consider your child's height but remember you can also always get a step stool!
2X4s
These will need to fill the majority of the length and width of your bed.  They don't need to perfectly fit-you will see why later.  Just a bulk of the length of two sides of the bed.  Imagine that, no huge complex cutting list, just 2 2x4s!
The PLATFORM
I was lucky enough that a neighbor was offloading a few of them so I got them for free!  Take a look HERE at the one I used. Choose twin, full size or even a queen size depending on your mattress and needs.  Now don't get me wrong you could likely totally do a DIY Platform or a DIY panel bed platform with plywood -I didn't have to so, I didn't! PLUS by getting these I could use them in the future in any twin platform
Screws
Wood Screws that are long enough to go through the platform edge as well as into the foundation (2x4s or dresser) without going too far. I used 11 total.  I recommend self tapping screws or when you choose drill bits grab one that has a countersink ability.
Drill and Drill Bits
Not only to attach the screws but you WILL want to drill pilot holes before hand to avoid splitting the wood.
Stud Finder
I didn't have one so I managed to put a few dozen holes in my wall.  BUT if you have one or can get one do it!
How do I make a twin bed with storage drawers?
The first thing I did is measure the height of my dresser.  You will want to measure it as it will be once you have it set up.  If you prefer to remove the legs, do that first.  I will say, our storage bed hack has been set up for several years now, and we have had no stability issues!
Once I had my measurement, I took it to the walls to mark them off.
Guided by those marks I used a level to create a line that would be my guide for hanging the wall supports.
I placed the 2x4s just under the guide lines and attached them to the wall being sure to drill a pilot hole first.  This is less necessary for the 2x4s than it will be later for the bed frame but why not take the extra precaution!? 3-4 screws should be all you need, however, be sure at least two are secured into the wall stud.  If you have the stud finder this will be the time to use it!
Once the wall braces were secured I laid the platform bed base across the top of the dresser and the braces.  I then used my drill to create pilot holes for the screws that would attach it to the wall braces and the dresser.  Remember to be sure your screws penetrate at least 1/2 an inch but also be sure they will not come out the other side of the dresser surface. 
As an added precaution I also removed some of the slats long enough to secure the platform directly to the wall and into the studs.  It may be slight overkill but once again-why not!? 
The last thing to do is top with my mattress and my favorite bedding! This bedding from Azalea Skye is absolutely perfect for this room! I encourage you to check them out online where they are sold at JC Penney, Bed Bath and Beyond and more! They provided me this bedding to complete the makeover with and I couldn't be more thrilled!!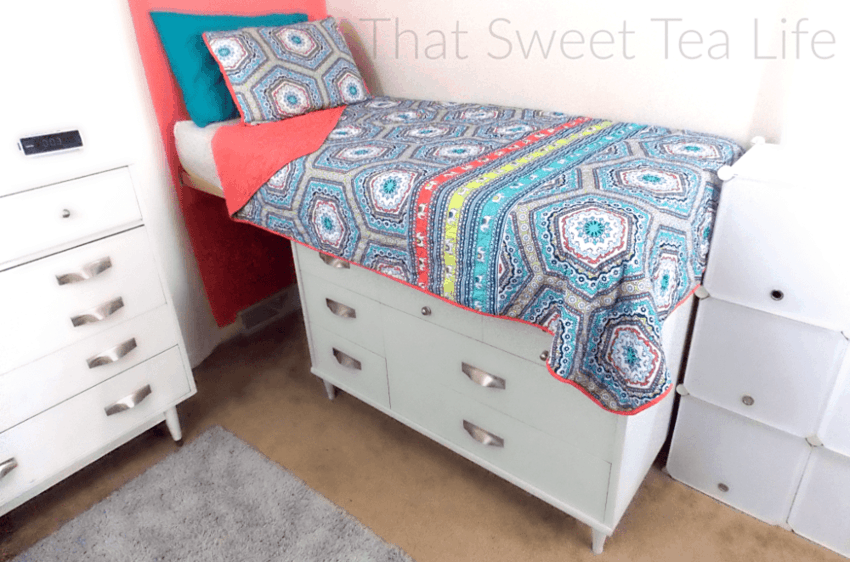 Now, what is even more fun is my daughter loves to go up under the bed and use it as a fort, reading nook, or imaginative play area for her and her friends!  Next I will be adding some lights!  By the way, do you love those dressers? See how I painted them and where I scored that AMAZING HARDWARE HERE
Now go check out your kids rooms! Just imagine the bed setting on top of the dresser,.. how much more space do you have?? Whether the kids share a room or not this is SUCH a great way to optimize the space we have!  I hope you enjoyed and I would love to see your makeovers as well! Till next time when I may be conquering kitchen cabinets at That Sweet Tea Life!