If you are like me you love looking at Christmas door ideas for your home (especially EASY to DIY Signs). But, if you are even more like me you will often find yourself in analysis paralysis unable to find just the right one for your front door!
(You can see all my favorite DIY Signs here)
---
While we want our own virtual winter wonderland, we find ourselves not so interested in traditional red and green. For the Christmas season we like to have fun and use things like pine cones in our Christmas wreath or even on the Christmas tree. Our holiday decor may or may not include Christmas lights across the front porch-again these are decisions that have to be made! The stress of it all! Hahaha!
My Favorite Christmas Door Hangers
So, this holiday season I am giving you a Christmas gift. Here are a few of my TOP favorite Christmas Door Hangings from the Deck the HOME Blog hop featured on DIY Door Decor for Christmas! I want to see you be able to DIY Christmas decor like never before and take your Christmas decorations to the next level! We will explore other Christmas crafts later BUT for now we will explore creating our very own Holiday Door. Its all about layering things in one piece at a time…Im telling you, pin this one for later! These are some great (and easy) ideas! You may want to just Pin this article on Pinterest for later!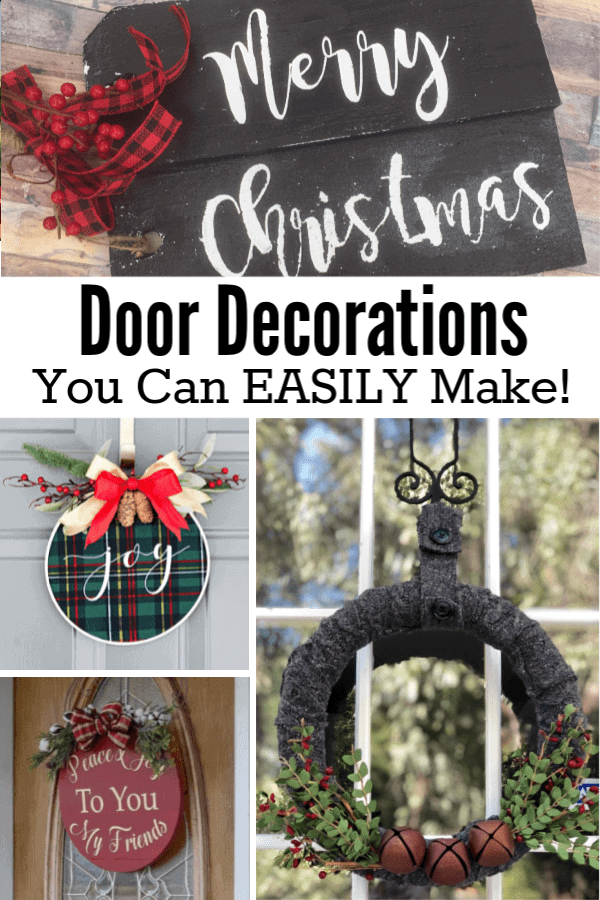 Here you can learn how to create my DIY Door Decor using your favorite paint or even just spray paint! Its super easy and a totally unique front door decoration!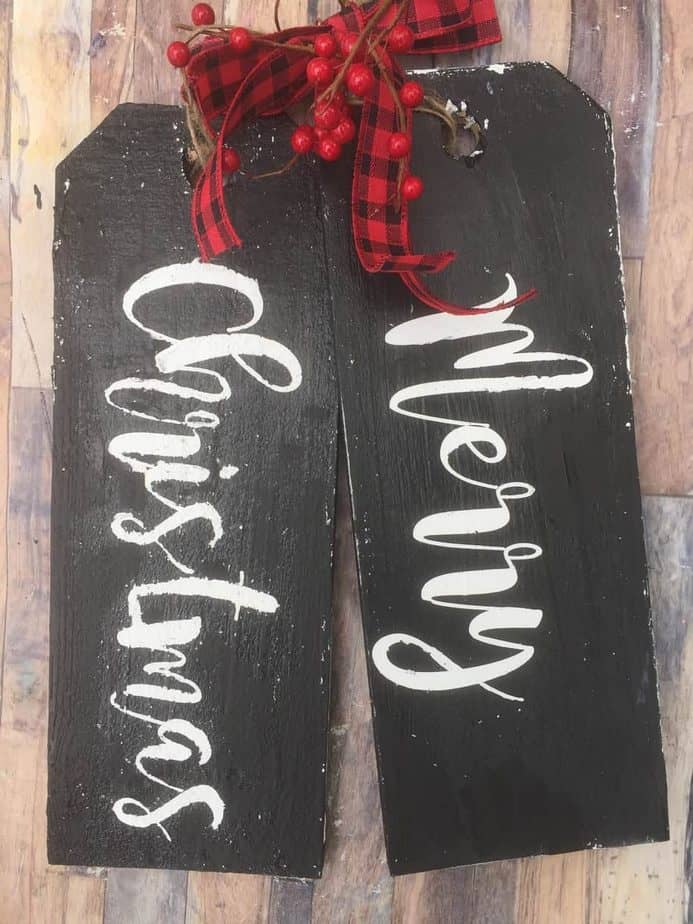 and then we have my Christmas Plank Art created with Blended Paint! No hot glue gun needed! Either hang this on your door or simply lean it against the wall beside it!
Don't get me wrong, I do love a traditional wreath, but there is something more fun about these non traditional hangers that I love too! We can get a bit more creative and out of the box. I just love this Nontraditional Christmas Decor created by My Kitchen Craft. I can see this being a great project to take on with the kids, especially if you used a cookie cutter for the center!
When I saw this Thrift Store Christmas Wreath Creation by Cribbs Style, my heart just kind of melted.. I just love the soft sweater material and how simple it is. Slightly rustic but so pretty and festive!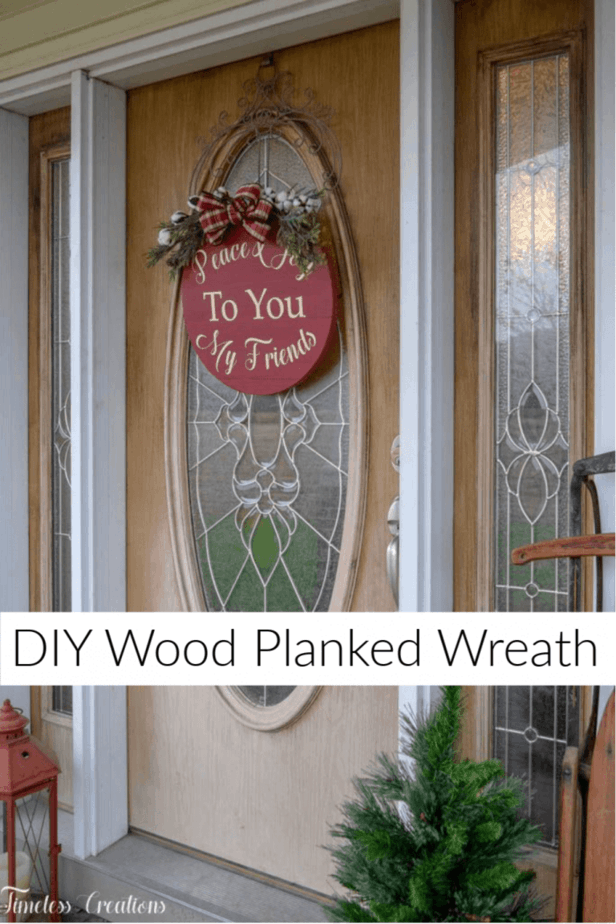 As you may know, I like wood creations! I enjoy making plank art and especially re-using old wooden remnants! So this Wood Planked Wreath by Timeless Creations is right up my alley! Slightly rustic and Simple but also pretty and festive!
This Embroidery Hoop Christmas Wreath is just so pretty!! From the slight bling in the hanger to the very traditional plaid. I could see someone taking this opportunity to have some Buffalo Plaid fun too!!
Minimalism has begun to claim me. Something about sweet simplicity is just so alluring given the rush and chaos of the current day! So this Simple Christmas Wreath is just simply lovely.
Another super cute wreath that I just loved is this DIY Simple Rustic Wreath by Renovating Mapleson Manor! Once again rustic simplicity prevails with the tiny little lovely pops of white.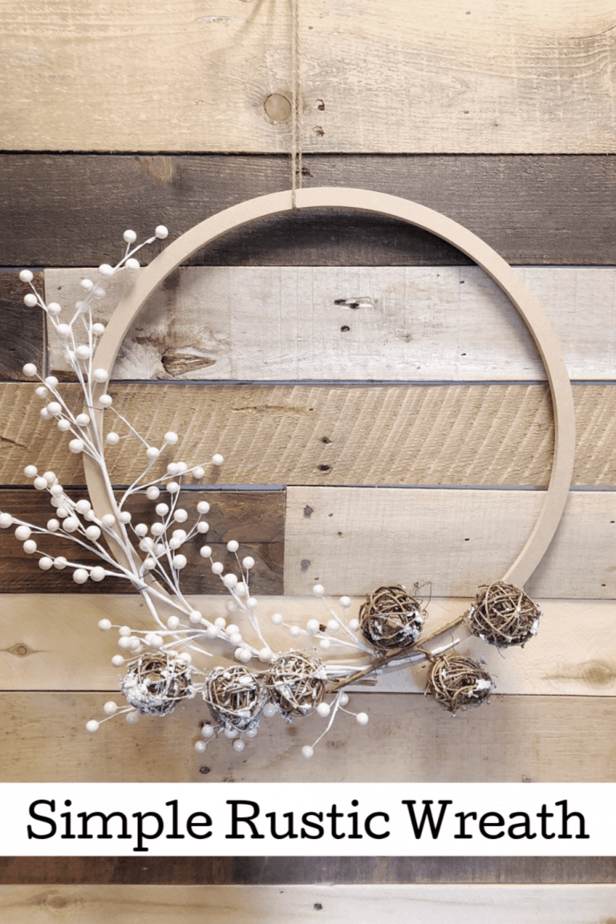 Yay for more traditional plaid in a non traditional way! I think this Simple Cozy Christmas Wreath by Gross to Gandiose hits all my marks on what I love about these non traditional door hangers! A little rustic, a little traditional, and super easy to create!
And THEN I came across this Easy Boho Christmas Door Decor created bye Jessica Lehman Design! I have loved seeing all these different wall hangings and would have never thought to use them on a door!
Then there is this Simple Wooden Star by Just Measuring Up! Once again such a simple design and not much material but can make a big impact!
Ah!
I hope you enjoyed the little collection! I wanted to take the time to bring you some new and fresh ideas to create the holiday decor for your home that you love! If you try one be sure to let me know!! I would love to see your creation! Till next time at That Sweet Tea Life!