What's the first thing that pops into your mind when you think of jewelry? You're probably thinking of an accessory with a charm or hanging pendant. Without charms, your jewelry can look a little bland and uninteresting.
In a sense, charms for jewelry making are the stars of the show! They help add personality to your handmade accessories and provide a decorative flair.
There are jewelry charms for almost anything you can think of. Whether you like a sport, nature, an animal, or positive sayings, there's a charm just for you!
But, sometimes, all the available choices can be a little overwhelming. So, keep reading to see a few charm ideas that'll give you some inspiration!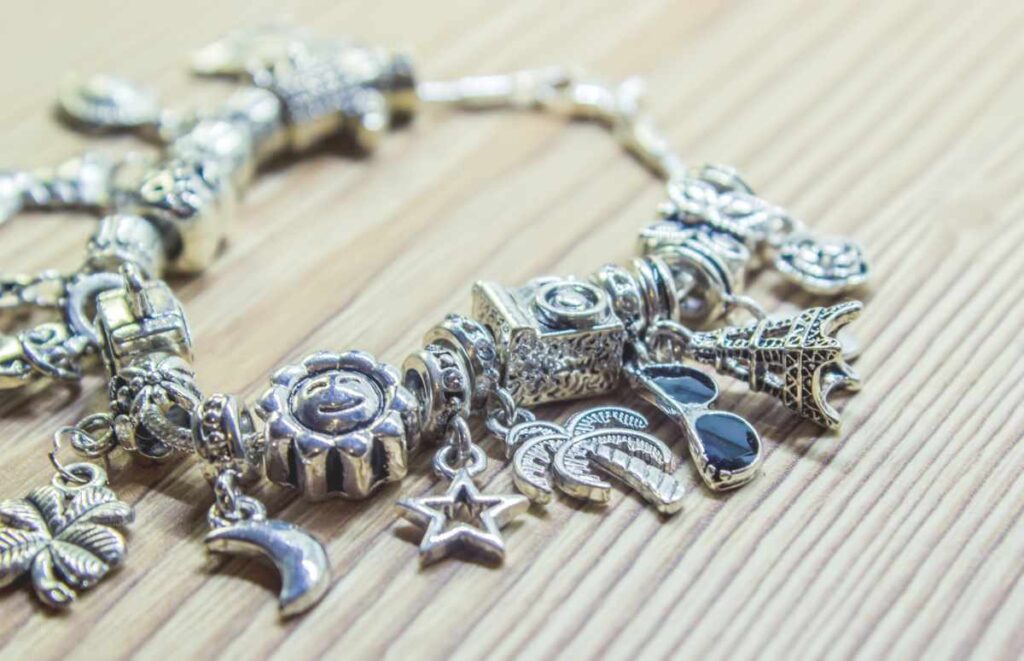 ---
Flat Pendant Charms
1. Birth Flower
You're probably familiar with birthstones and zodiac signs. But did you know that each month also has a birth flower? And there are charms for jewelry making specifically for these beautiful blooms!
Birth flowers relate to blooming patterns along with historical meanings and symbolism. You'll usually find that your birth flower's symbolism matches your personality, as they're often based on zodiac traits. So, they make the perfect personalized charm!
A birth flower charm like this is small and dainty, making it great for necklaces, bracelets, and anklets. The circular charm has the flower stamped right into it, making it a fade-resistant piece. It's so simple yet stunning and will make a good option for anyone.
2. Sun
When you think of the sun, you probably think about summertime. Soaking up those warm rays is the epitome of happiness for many people. So, why not encapsulate that feeling into a charm for jewelry making?
Sun charms can come in a variety of shapes, sizes, and designs. But they all represent the same thing, which is typically positive energy. Wearing a charm like this will serve as a reminder to enjoy your life and think positively.
Many people need that reminder sometimes, as life can create some challenging obstacles. So, using sun charms in your jewelry making is a great idea!
3. Mushrooms and Moon
Fungi, like mushrooms, generally represent the cycle of life and spirituality. But, besides that, they're also interesting and beautiful organisms. You'll often find them featured in charms for jewelry making for both their symbolism and intriguing look.
A mushroom and moon charm like this one provides the traditional mushroom depiction that we're familiar with and love. It also features a little crescent moon for a hint of a celestial vibe. The combination of these two things provides a magical nighttime scene that many people would love.
It's a nice choice for personal jewelry or commercial jewelry making if you have a store.
4. Tree
Towering trees are other nature-related things that usually represent life. Have you heard of the Tree of Life? It's a vital part of biology that shows diversity within the process of evolution.
It also has multiple symbolic representations in many religions and philosophical beliefs. But all meanings usually point to the cycle of life.
Tree charms for jewelry making are a simple yet beautiful way to represent these meanings, whether they're scientific or philosophical.
However, even if you don't use them for their meanings, they make beautiful jewelry pieces. Maybe you're just a nature lover, and that's okay! Charms can symbolize anything your heart desires.
---
Three-Dimensional Pendant Charms
5. Rose
If you like flowers but aren't interested in birth flowers, you might like this rose charm!
A three-dimensional flower charm for jewelry-making like this one will make a stunning addition to any accessory. It creates a sense of depth and offers bright colors to your jewelry collection.
You can use the rose charm solely for its beauty. Or you can use the charm for its general symbolism of love. This universal symbolism is why people often give roses to each other on Valentine's Day.
Rose charm jewelry could actually make a great gift to replace real roses! It'll last much longer and is a wearable reminder of love.
6. Crystal Moon
If you like things to have symbolism and meanings, crystals might interest you! These crystal moon charms for jewelry making are beautiful and can symbolize many positive things.
Many people use crystals for their possible healing energies. Amethyst typically represents peace, quartz is equal to clarity, and citrine usually relates to success.
There's a whole list of other crystals out there that offer different meanings and energies, which are all positive. A crystal moon charm is a celestial depiction of these meanings, depending on the crystal you choose.
Even if you don't choose this charm for its symbolism, it's still a stunning piece to wear.
7. Little Bee
Do you enjoy watching busy bees in the spring and summertime? They can be cute little creatures as long as you don't bother them while they're working. Due to this and their symbolism of productivity, they can make adorable charms for jewelry making!
The gold finish of this specific charm is eye-catching, and it's the perfect size for a necklace or bracelet. Its detailing is especially attention-grabbing as you can see each little vein in the wings and the bumpy stripes.
Detailed charms are always fun to look at and add to your jewelry-making supply collection.
8. Feather
Bird feathers often symbolize strength and freedom, which are excellent meanings to wear as an accessory.
A feather charm for jewelry making is generally a beautiful piece to look at, especially if the charm depicts movement. This specific charm looks like it's blowing in the wind with its uneven edges and curled point.
If you like birds and nature, this could be a good charm option for you as well. Maybe you're a birdwatcher or know someone who is. This is a great way to depict that love for birds subtly. Not everyone likes to have bold charms that draw attention.
9. Earth
Do you have a love for the Earth and keeping it healthy? Or do you love to travel and learn about other countries? Well, you can show this off with a beautiful Earth charm for jewelry making!
Its precisely round design and carved continents are extremely eye-catching. The small size allows just enough detail to recognize what the charm is.
An Earth charm can help you remember to ground yourself. Maybe you're looking for stability in your life or know someone who needs it. This charm can remind you to allow yourself to relax both mentally and physically.
10. Confetti Globe
Are you looking for a charm that's different and fun? A confetti globe charm for jewelry making could be a cool addition to your charm supply!
You'll find tiny and shiny star confetti inside this clear globe charm. It's an adorable piece that can make every day feel like a party! You can use your favorite colored confetti, your school colors, or any other color that has meaning to you.
Just keep in mind that these charms are glass. Due to this, the best jewelry options would probably be a necklace or earrings. You can easily hit the charm if it's on a bracelet or anklet, causing it to shatter.
---
Bead Charms
11. Moon with Dangling Stars
This moon with dangling stars charm is a unique find and has some gorgeous gem detailing. The three hanging stars are especially eye-catching. It's like having four charms wrapped into one!
Celestial charms for jewelry making like these often offer symbolism for change. This is usually due to the changing phases of the moon.
But without their meaning, they're still beautiful pieces to wear on your handmade accessories. You can use these charms simply for the love of all things space or the beauty of the night sky.
12. Positivity Beads
Sometimes life can throw some curveballs, which can affect our mood significantly. While a simple word can't fix your problems, it can remind you to keep your head up.
Positivity beads for jewelry making are excellent options to serve as a reminder that things will get better. They can also serve as reminders of what you want to share with others.
Some of your loved ones may need hope, faith, or love. These beads can remind you to project these things onto the people around you. You can even share these beads with them by creating a personalized piece of jewelry.
13. Paw Print Hearts
A paw print heart charm is the perfect option for animal lovers. It's a very simple bead that can hold a lot of meaning. This charm for jewelry making can be perfect on its own, or you can pair it with other charms.
The heart-shaped paw pad of the design is especially notable. It's a nice little detail to further display the wearer's love for animals. The design is also rather versatile in relation to animals.
A paw print can relate to dogs, cats, hamsters, ferrets, and any other paw-printed furry friend. This allows you to use the charm for almost any pet owner or general animal lover.
---
Make Some Wearable Art with These Charms for Jewelry Making!
If you're looking for ways to improve your handmade jewelry, simply adding charms can make a world of difference! Charms for jewelry making can have many meanings, and they generally give your pieces a personal flair. So, use these options to help you decide which ones you want to add to your jewelry charm collection!
Are you looking for more jewelry-making inspiration? Take a look at Stamping Metal Jewelry for an outside-the-box idea!