If you are considering making over a room or space in your home, you cannot go wrong with blue themes and color schemes. Choose blue home décor for your spaces that is useful and beautiful; select pieces that make you happy and joyful whenever possible!
Also, keep your areas and rooms clear and clean, free from clutter, to emphasize and highlight the blue home décor and objects that you do have and that you want to showcase. Go for functional items and furnishings, as well as recycled pieces for sustainability, when it is an option.
Love blue? Here are 33 blue home décor ideas for the blue lover:
Blue Doors
Start your theme with a blue décor idea that greets visitors and guests: a blue front door. Painting your front door a color that contrasts, but complements, the main colors of your dwelling provides a pop that captures attention and draws the eye. Anchor potted foliage or flowers on either side of your blue door for an aesthetically appealing entry that is fresh and new.
Blue Mirrors
Vintage shops and antique stores often sell old mirrors; look for blue glass mirrors for the perfect accent that not only looks amazing hung over a fireplace or arch, but that also makes the room that you hang it in look bigger. Mirrors are an old interior design trick to make cramped quarters seemingly larger; blue casts a unique reflection and cool hue that helps set a mood in your home.
Unlikely Color Combination
Try a new color scheme when decorating in blue; that is, pair the palest of blue with vibrant orange for a fresh and appealing look in any room, from a master bedroom to your living room. Choose metal furniture and accents for a modern feel; go with rich teak or light pine for a warmer space. Select a paint color that is subtle, almost a robin's eggshell blue, though any shade of blue looks great with orange. More on that later!
Back to Basics
When you think of blue, particularly navy blue, what other color do you think of? Many will point to white as being the most basic, yet timeless, color schemes there is. Try applying your blue and white color scheme in a slightly different way; for instance, use navy blue for a bold and striking accent wall in a room that is primarily white, from floors to furniture. Combine the two colors for cohesive textiles, throw pillows, and accent rugs to pull it all together. Choose simple artwork, like a frameless mirror, on the wall.
Welcome Signs
Start your blue theme when guests come on the porch with blue home décor, like welcome signs and accents. Greet guests and replicate your blue color scheme with a simple plank sign by the front door, or with a monogrammed slate tile that hangs in the foyer.
Nice and Nautical
Blue is usually associated with nautical inspired spaces. Embrace this with your own variation on the popular theme with dark blue nautical stripes on a wall, horizontally painted, against a cream or sand background. The result is slightly less common than blue and white stripes, and the pairing of blue and vanilla or ivory is rich and sophisticated.
Blue Lights
Give your space or home a cool, fresh feel with blue illumination from lights, bulbs, and fixtures. Use a rich blue bulb to give your home a bit of atmosphere, and you can use colored bulbs in conjunction with your regular white warm or cool bulbs, too. Avoid using multicolor bulbs in the home, however; it can come across as carnival-like or too-holiday.
Warm Blue
Generally, blue is considered to be a cool color palette, however there are warmer hues of blue which actually have red in them- like denim blue. Use denim blues throughout the home and pair with rich reds- and the colors that you pair with reds, too. The result will be a color palette that you probably never considered but that is rich and inviting.
Channel the Sea
Create depth and an oceanic flavor with soft blues and pale greens together. Consider ombre drapes, paint-poured wall hangings, and muted colors of flooring to create a soothing, serene setting. This is a great theme for a bathroom, too- and it might make it seem more spacious.
A Pretty Porch
Bring beautiful blue out on to the pretty porch with blue floral textiles for upholstery or linens and consider painting pickets or planks a coordinating shade of blue. Consider using this scheme for your outdoor swing; add a side table with a blue pitcher and tray or a tabletop fountain for added appeal.
Try Teal
Teal is a shade of blue; try giving your walls a bold makeover with rich, deep teal paint. Mix it up with metal accent pieces and blue home décor that brings some visual interest with varied patterns, prints, and textures.
Blue Kitchens
Blue is an excellent color scheme for a kitchen, especially if you spend a lot of time in there. This is the time to pull out your blue pots, pans, and crockery to display and use in your space. Bring a pop of blue here and there with vinyl sticky tiles or some glossy acrylic paint; try customizing a blue backsplash or giving your stove hood a quick makeover to match.
Gradient Grouping
Bring an artistic seating arrangement to your room with blue painted chairs; paint each one a slightly darker- or lighter- shade of blue than the last, and when together, they for an ombre effect. This is an excellent treatment for thrift store dining chairs or mismatched chairs that you might have in your garage or storage space. These also look great around a table in a breakfast nook or on a sunporch. If you are using your painted chairs outside, make sure to seal the paint to protect the finish from the elements.
Combine Prints
Go bold with mix-and-match prints that share one common characteristic: the color blue. Bring bold patterns and vibrant color into a traditional space of the home brings it up to date and gives it some edginess. Mix patterns of upholstery fabric for your dining room chairs or fireside seating; use bright blue throw pillows or carpet to bring the two together harmoniously.
Blue and Brown
Blue and brown are a classic color combination. Take this a bit further by embracing a soft, light blue with rich, dark wood. Blue, beige, and brown are a classy and elegant color combination; use the lighter wood shades for your trim throughout the room to give it an open and light feeling.
Blue and Brown
Go with a royal blue for an accent wall to accompany furniture and home decor that are modern and geometric in design. That is, look for linear objects and streamlined furniture that gives the room a contemporary style. Look for art and accents that echo geometric designs, like rectangular lamps or vertical blinds. The result is clean and futuristic.
Baby Blue
A monochromatic baby blue scheme is quite serene and soothing to the soul. Depending on the colors and blue home décor items that you use, you can alter the entire mood and purpose of the space. Consider baby blue to be a blank slate: paired with white, it exudes innocence and romance, and with chocolate brown, the space becomes sophisticated and stately. Start collecting blue home décor items in baby blue to use in the monochrome style of your room.
Blue and Brown
Stick to the popular neutral tones of ivory, wheat, beige, taupe- all of the shades that homeowners are suggested to use to keep rooms versatile and appealing to a wide range of people. For something different, use blue as your accent amid these sandy neutrals. Consider navy throw pillows, valances, and upholstery; layer dark blue bamboo mats or canvas floor coverings for an inventive touch.
Blue Frames
Spray paint frames all different sizes and shapes in the same- or different- shades of blue; let dry completely and fill with the photos of your choice. Combine and use for a grouping that will become a focal point of your home; hang on a wall or a stairway.
Partner with Red
Sure, you know that blue goes with red, but have you considered a rich, rusty red? It makes sense since red and blue are both primary colors, but how do you use them without it seeming too patriotic and Americana? Try pulling the two rich shades together through one single home décor object or accent item, such as a painting or a patterned tablecloth. This duo looks great when combined with cherry wood furnishings, too.
Blue Americana
So, speaking of Americana, make blue the highlight of your patriotic home theme. Pair dark blue with white-washed wood and pops of red throughout. Chalk paint is an excellent and subtle medium to use, and it gives whatever you paint a weathered, vintage flavor.
Floor Underfoot
Make the rug or flooring the blue component that gives your room its distinctive style. Consider investing in a gorgeous blue rug featuring an intricate pattern or motif. Embrace the blue but add a bit of the unexpected with bright yellow or coral accessories, collectibles, or artwork for a unique colorway.
Glass Groupings
Create magic with all the blue glass that you can get your hands on! Gather up blue glass dishes, carafes, cruets, and any other delicate glass piece that suits you; there are some fine and unusual pieces found at thrift stores and antique malls. Group these in a window, on a shelf, or on your counter for a blue accent that will pull the hue from your furniture and accents, creating a cohesive style and scheme.
Formal Dining
Go with blue for a formal dining room. Check out textured fabrics, like blue velvet, for your upholstery, and sloughed silk for window treatments. Display blue dishes or glassware on a buffet or bar cart in your fresh, formal space.
A Blue Island
Go ahead and add a blue island to the kitchen. First of all, a blue painted island adds a lot of utility to a kitchen, providing you with a whole new workspace, and second, it brings a splash of your favorite shade of blue to the room. These islands are particularly striking with stainless and metal fixtures and appliances, too.
DIY Headboard
Give yourself a blue upholstered headboard for the bed- and you can make your own! Follow simple online tutorials to create a tufted headboard simply, and that can be added to any size or style of bed with ease.
Blue Bedrooms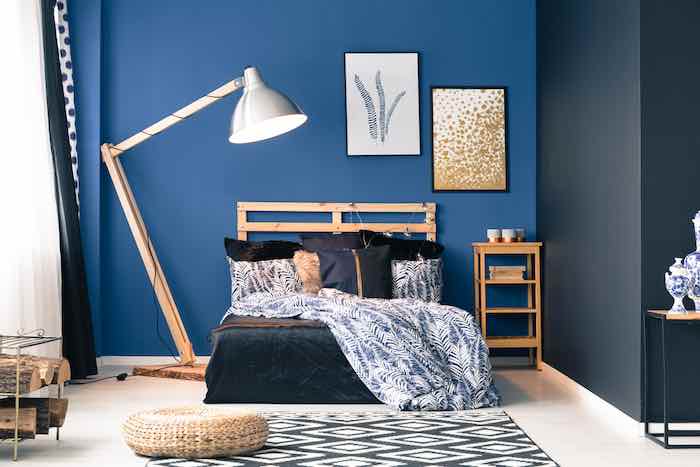 You might want to use that blue headboard in your own bedroom, as blue is a serene and calm neutral for a bedroom. It is known to pair well with paneled walls or neutrals tones, so if you do not want to commit to painting the room blue, you can always use it cohesively as an accent color. You should know that blue is considered a great color for bedroom as it induces calm and can make you sleepy.
Global Inspiration
Use a globe or map as the inspiration and focal point for your space. The blue of the ocean on a vintage world globe or frame an old map and bring out the blue with blue furniture, carpet, or paint. Install a small task light near the globe or map to highlight it and create a cool display.
Blue Bathrooms
Never underestimate how beautiful a blue bathroom can be. When you use shades of blue in the bathroom and keep the accents simple and natural, you can get a very spa-like feel. Subway tiles in white or blue give any bathroom a fresh face, and the marriage of blue and white is clean and fresh. Invest in thick, thirsty towels in your favorite shades of blue.
Restored Countertops
Are your countertops a bit rough? If this is not the time to invest in a new countertop, give your old counter a blue restoration. There are some inexpensive and effective cement and paint treatments that can restore older surfaces, like your counters. Check them out online!
Navy and Mustard
You have probably seen blue and sunny yellow paired together, but what about navy-blue and mustard yellow? This is a great color duo, and it works so well in a bedroom, home office, or library.
Outdoor Living Spaces
Bring some blue outside on your sunporch. Hang blue wind chimes from a patio, give your solar lights blue shades and bulbs, and cover your outdoor furniture with blue paint or upholstery. Top things off with big blue planters filled with your favorite blooms. Hang a blue garden flag on your porch, too.
Fireplace Treatments
Extend the color scheme to include your blue fireplace. If you paint the fireplace and hearth the same shade as the walls, and extend the blue to the ceiling, the effect can be dramatic. It will make the room seem higher, taller, and somewhat loftier. Try a glossy navy-blue paint color for something different and luxurious. Pair your leather accents and furnishings with this, including leather chairs and suede throw pillows.
Looking to transform a space in your home? Consider going with the color blue; it evokes a sense of calm and comfort that is ideal for any room, from a bright, sunny kitchen to a soft and subtle bedroom. Visit online merchants for Blue Home Décor and more that fits your color scheme and that brings utility, aesthetics, and joy to your home.