A fresh coat of paint is one of the best ways to update wood furniture. If you want to get a new look without spending a lot of time or money, spray paint is a great option! Spray paint for wood furniture is inexpensive and much faster than using brushes and rollers.
Once you've decided on spray paint, finding the best product can be tricky. Here are our picks for the best spray paint for wood furniture so you can spend less time shopping and get right to your project!
Our Top Picks
Best Overall
Krylon Fusion All-in-One Spray Paint
Best on a Budget
Krylon COLORmaxx Spray Paint and Primer
Best Chalk Finish
Rust-Oleum Chalked Spray Paint
---
Best Overall
Krylon Fusion all-in-one spray paint offers incredible durability and coverage. With this product, there's no need for primer or sealer. You don't even have to sand your wooden furniture first. Just apply the color, and you're good to go!
This spray paint works well on many different surfaces, including wood, metal, plastic, and more. It adheres exceptionally well, and the paint doesn't flake or peel, even after lots of use.
You can hold the can at any angle to spray, making it easy to reach all areas of the piece of furniture you're painting.
Product Features
This spray paint comes in a 12-ounce can that covers up to 25 square feet. Multiple finishes are available, including matte, hammered, satin, gloss, and more. Choose from dozens of different colors, including bright and bold shades, neutrals, and everything in between.
Suitable for both indoor and outdoor furniture. The spray paint is quick-drying, so you can finish your project fast.
Pros
Durable finish
No need for additional primer or sealer
Comes in a wide range of colors and finishes
Cons
The thin consistency of the paint drips if you apply too much at one time.
The nozzle sometimes gets clogged. To avoid this, wipe down the nozzle after each use.
---
Best on a Budget
The Krylon COLORmaxx Spray Paint and Primer saves time by allowing you to skip the priming step and get right to the color.
The best spray paint for wood furniture should have a durable finish, and this product is excellent in that regard. The finish holds up well both indoors and outdoors. It's rust-resistant and fade-resistant, so your wooden furniture looks great for years to come.
A large trigger makes the spray paint easy to apply. The spray comes out in a fine, even mist and can be applied at any angle.
Product Features
Each can is 12 ounces and can cover up to 25 square feet.
Whatever color or finish you're looking for, this paint has an option for you. Choose from eight different finishes, including metallic, gloss, semi-flat, and more. The paint comes in over 70 different colors- more options than any other Krylon spray paint product.
Pros
Long-lasting color that doesn't fade
Good for both indoor and outdoor use
Durable finish
Cons
Takes a while to dry
On most surfaces, multiple coats are needed to get good coverage
---
Best Chalk Finish
If you like the chalk paint look, but you want the convenience of spray paint for wood furniture, the Rust-Oleum chalked spray paint is the perfect option.
This spray paint gives the perfect chalky finish, allowing you to achieve a vintage or weathered look. The color goes on smoothly, providing a beautiful finish every time.
The oil-based formula provides excellent coverage, so you need fewer coats, saving you both time and money. Many surfaces can be covered with just one coat.
Product Features
Each 12-ounce can covers up to 12 square feet. There are 16 color options ranging from white, beige, and light blue to dark red, brown, and black. For the perfect weathered look, use two different colors: one on top and one underneath. Lightly sand the top color to reveal the second color underneath.
Primer isn't necessary for most applications, but it's suggested for certain situations, such as when painting bare wood.
Pros
Ultra-smooth finish
Excellent coverage
Quick-drying
Cons
Less color options than other products
More expensive than other options
Some applications require a primer
---
Best for Covering Dark Colors
Next up on our list of the best spray paint for wood furniture is Rust-Oleum Painter's touch 2X ultra cover.
This product lives up to its "ultra cover" name. The paint goes on smoothly and covers even dark colors with ease. With such good coverage, you don't need as many coats making each can last longer.
Primer is included in the paint, saving a step and making the job quick and easy. The paint is fade-resistant, chip-resistant, and rust-resistant for a long-lasting finish.
Product Features
One 12-ounce can covers up to 12 square feet. The oil-based formula of this wood furniture spray paint provides a durable finish that's suitable for indoor or outdoor use.
The spray paint comes in several different colors and finishes. For an extra shiny finished product, the high-gloss finish is one of the glossiest spray paints you can find.
Pros
Excellent coverage
Smooth finish
A thick texture that doesn't drip
Cons
For best results, sanding is required before applying
Can be hard to apply it evenly
Takes a longer time to dry
---
Most Comfortable Trigger
This all-purpose spray paint can be applied to just about anything, including plastic, metal, concrete, fiberglass, and of course, wood furniture.
Suitable for both indoor and outdoor furniture, the spray paint is resistant to chips, fading, and rust.
The spray paint can features a comfortable grip and trigger button, making it more convenient to use than many other brands. You can hold the can in any position, including upside down, which makes it easier to spray those hard-to-reach areas.
Product Features
Each 12-ounce can covers up to 15 square feet. Multiple colors and finishes are available.
The fast-drying formula helps you get more done in less time.
Pros
Comfortable to hold when spraying
Can be used on indoor or outdoor furniture
Durable finish
Cons
The trigger can be messy, with leaking paint that gets on your hands.
The spray can splatter at first. It takes a few seconds to come out evenly after pulling the trigger.
---
Spray Paint for Wood Furniture Buyer's Guide
Types of Spray Paint for Wood Furniture
Most all-purpose or general-purpose spray paint works well for wood furniture. It's easy to check if a product is suitable for wood. Look at the online product description or check the back of the can when shopping in-store.
What to Look for in the Best Spray Paint for Wood Furniture
Good coverage and a durable finish are two of the most important things to look for. You want a product that goes on smoothly and evenly and covers what's underneath.
A durable finish resists chipping, scratching, and fading, so your finished piece of furniture will look great for years to come.
Indoor vs. Outdoor Wood Furniture Spray Paint
Some paints are made for outdoor use, and some aren't. Most outdoor spray paint will work just fine indoors, but indoor paint isn't suitable for outdoor use because it's not designed to stand up to the elements like rain, heat, or sun.
Make sure you choose the right type of paint based on where you plan to use the furniture.
Tips for Spray Painting Wood Furniture
Sand your furniture first to help the product adhere well.
Clean the surface thoroughly to remove dirt and debris before painting. Wipe the piece down with warm water and mild detergent, then allow it to dry completely.
Shake the spray paint can for at least 1-2 minutes before spraying.
Spray back and forth in sweeping strokes, slightly overlapping each stroke.
Allow the proper amount of dry time between coats. Check your can for the recommended time for your particular product.
Wipe the nozzle down with a rag after each use to ensure it doesn't get clogged.
---
Frequently Asked Questions
Is painting or spray painting better for wood furniture?
Either one is a good choice and can result in a beautiful finished product. Spray painting is faster and often easier. There's less to prepare and clean up (no need for paint trays or brushes), and it's a good way to avoid brush marks.
What types of spray paint can be used on wood furniture?
Most all-purpose spray paints are suitable for wood, including all of the products listed in our best spray paint for wood furniture list.
If you're not sure if the product you're considering will work for wood furniture, check the back of the can or the online product description to see what surfaces it can be applied to.
Can you spray paint wood furniture without sanding?
In many cases, yes, you can. Choose a product like our top pick, Krylon Fusion all-in-one spray paint, that's been specifically designed to work without sanding.
If the piece of furniture you're painting has a very smooth or glossy finish, sanding first is a good idea to help the paint stick better. A thorough stripping probably isn't necessary; just run some sandpaper over it to roughen up the surface a bit and give the spray paint something to stick to.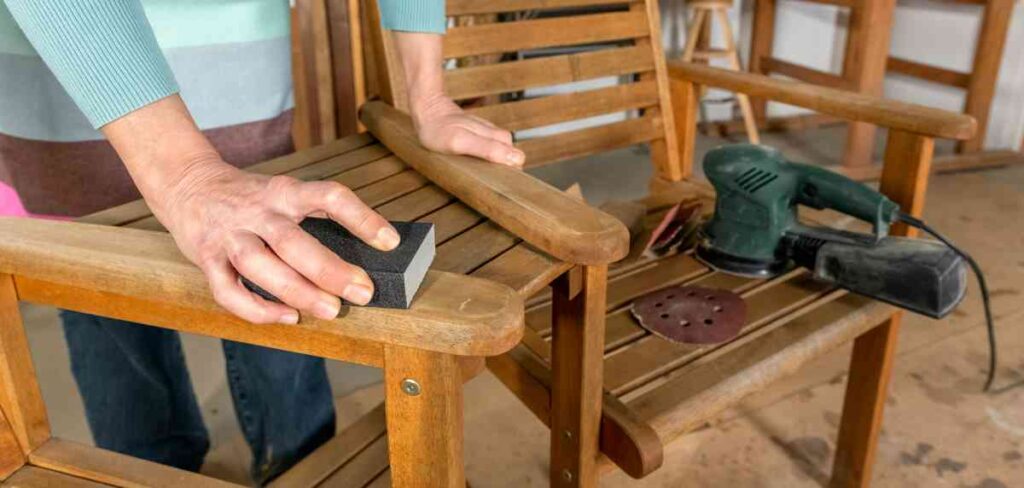 ---
Additional Materials for Spray Painting Wood Furniture
Once you've picked out a good spray paint for wood furniture, here are some other things you might need to get the job done.
Drop Cloths
Canvas drop cloths protect the ground where you're painting, making clean-up easier. Lay them down under the furniture before you begin painting to avoid making a mess in the grass, on the driveway, or wherever you happen to be working.
Disposable Gloves
Even the best spray paint for wood furniture can be messy and hard to get off your hands. A pair of disposable gloves is an inexpensive and easy way to keep your hands clean and dry while painting.
Sander
If you're planning to sand your furniture before spray painting, an electric detail sander makes the process quick and easy.
For smaller jobs, some fine grit sandpaper and a bit of elbow grease are enough to get the job done.
Safety Glasses
When working with sandpaper and spray paint, a pair of safety glasses is always a good idea to protect your eyes.
Microfiber Cloths
Microfiber cleaning cloths are ideal for removing dust and dirt before spray painting wood furniture. Use a bowl of warm water with some mild detergent to wipe down your furniture to help the paint adhere smoothly and evenly.
Primer
Even though most of the selections on our best spray paints for wood furniture include a primer, for the best results, a spray paint primer may be used. Priming helps the spray paint adhere more effectively, resulting in a more durable finish.
Sealer
Most of the time, a sealer isn't necessary for spray painting wood furniture, but you may want to use one to achieve a different finish. This Rust-oleum clear coat adds the perfect glossy shine to your finished project.
---
Time to Get the Best Spray Paint for Wood Furniture
Are you ready to get started? For the best spray paint for wood furniture, you can't go wrong with the Krylon Fusion All-in-one Spray Paint. It goes on beautifully and is quick and easy to use.
For more tips and tricks on painting wood furniture, check out our painting furniture section. There we have articles to help you every step of the way. From inspiration to how-to guides and more product recommendations, you're sure to find some ideas and get some helpful tips for your next project.
About the Author
Latest Posts
Sadie Teh is a DIY enthusiast, teacher, and writer with an eye for finding beauty in unexpected places. She believes that almost anything can be made beautiful with a fresh coat of paint and a bit of elbow grease.
Sadie has written for numerous blogs, websites, and newsletters. With a bachelor's degree in psychology and a master's in education, Sadie likes using her educational skills to teach others how to create beautiful projects of their own.
When she's not writing or working in the craft room, Sadie enjoys spending time outside with her family, working in the garden, or reading a good book.
Sadie can be reached at stehwriting@gmail.com