Painting furniture by hand can be time-consuming and messy, which is why using a lightweight paint sprayer is ideal for all kinds of furniture restoration projects.
If you've got an old coffee table or dresser, you would like to paint, or maybe a new piece of furniture that didn't come in the color you wanted, using a paint sprayer is a quick and relatively easy way to achieve the best results.
Below, I've found some of the best spray painters on the market and will go over their features along with their pros and cons.
I'll also share with you about different types of furniture sprayers, tips on spraying and more. But first, let's dive right into the best paint sprayers for furniture.
---
Our Top Picks
Best Overall:
HOMERIGHT Finish Max Paint Sprayer
Highest Quality Finish:
Fuji Semi-Pro 2 HVLP Spray System
Best Mid-Tier Option:
Graco TrueCoat 360 Airless Handheld Paint Sprayer
---
Best Paint Sprayers for Furniture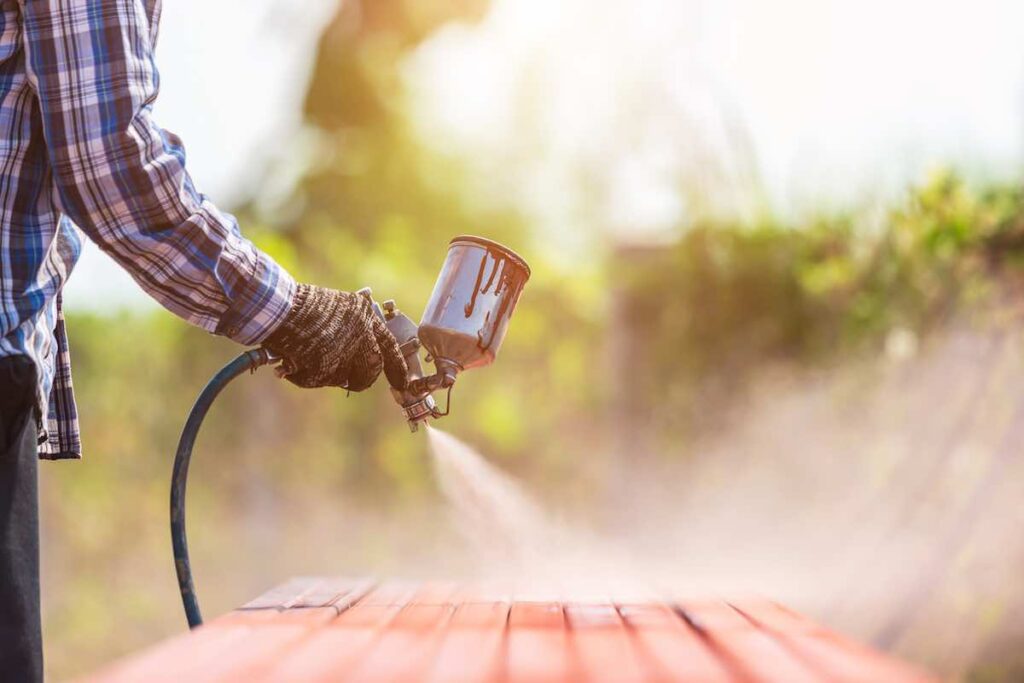 Below we've gathered a list of some of the best paint sprayers for furniture. They include HLVP sprayers primarily, with one exception. We've found that HLVP sprayers are a better fit for furniture due to their lower volume output. Of course, this means you'll need to use thinned paint as they are the most popular for furniture painting.
---
Best Overall
HOMERIGHT Finish Max Paint Sprayer
This HVLP painter features adjustable settings that let you adjust the air cap to spray verticle, horizontal, or round. You can change the material flow control knob allowing you to decrease or increase the paint output quickly.
This sprayer comes with brass spray tip technology that uses a 2-millimeter precision brass spray nozzle and tip, providing superior performance over plastic.
Can easily spray thinned paints such as milk, chalk, latex, primers, enamels, clear sealer, varnish, polyurethane, and stain. It also includes a viscosity cup for a more straightforward paint thickness measurement.
If you buy the HOMERIGHT Finish Max, please check out our videos on the YouTube channel of our sister site DIY Painting Tips – and of course, please subscribe!
---
Highest Quality Finish
Fuji Semi-Pro 2 HVLP Spray System
This DIY-Pro series HLVP Spayer from Fuji is one of the most potent two-stage systems available on the market.
While most HVLP systems have a low-wattage motor that's underpowered for most projects, the Semi-Pro easily allows you to change the fan pattern from narrow to wide.
It features a 1400-watt 2-stage bypass motor encased in a metal turbine that can expel nearly any type of paint, and it comes with a 25-foot hi-flex hose.
---
Best Mid-Grade
Graco TrueCoat 360 Airless Handheld Paint Sprayer
This airless sprayer features an innovative suction tub, allowing you to spray in small corners and nooks. However, you also get a wider area of coverage with every spray.
It also comes with interchangeable sprayer tips that allow you to test and modify spray patterns for a better finish.
And this sprayer is easy to clean. It's an ideal sprayer for novices and professional contractors who have to deal with awkward furniture angles and surfaces.
---
Wagner Spraytech FLEXiO 590
The Wagner Spaytech Flexio 590 is an HVLP sprayer that's ideal for various projects. It includes two nozzles, an iSpray nozzle perfect for larger jobs, and a detailed finish nozzle that is great for smaller furniture projects.
Also, with the X-Boost turbine, you have the power even to spray un-thinned exterior and interior paints and stains!
This sprayer also comes with an easy-to-adjust X-boost power dial with ten-speed settings allowing effortless control of your paint flow to achieve precise control. You can also adjust your vertical, horizontal, narrow, or broad patterns.
Spays up to 8 gallons of paint per hour, ten times faster than using a brush. And clean-up only takes five minutes.
---
Wagner Control Max
This professional-grade HLVP sprayer features a two-stage turbine that makes it easy to paint surfaces with thinned latex paints, stains, and poly.
It has adjustable settings allowing you to customize paint flow using a material flow adjuster and pressure control dial to achieve the perfect finish every time. You can also turn the air cap to adjust the vertical, horizontal, or round spraying.
The stationary base includes a 20-foot hose with a light spray gun that reduces hand fatigue while allowing you to reach your furniture efficiently.
---
Paint Zoom Paint Sprayer Plus 2
This 950-watt HVLP sprayer features an adjustable 3 way nozzle and a 900-milliliter high-capacity container.
You've also got an adjustable flow control knob that regulates your paint output, allowing you to tackle corners, edges, and board interior surfaces with ease.
Plus, it sprays in three patterns, vertical, circular, and horizontal.
It's effortless to clean and features a 5 foot air hose that makes spraying easy. The Paint Zoom is also lightweight and handheld, allowing you to spray longer without getting fatigued.
---
Earlex HVLP Spray Station Paint Sprayer
This semi-pro sprayer features a 650-watt turbine that delivers a superior finish on small to medium-sized projects such as furniture and cars.
It has an adjustable flow control dial along with a fast spray patterning switching system that's just push-and-click, providing vertical, horizontal, or round patterns.
You can also use a wider variety of paints such as water and oil-based sealers, stains, thinned latex, lacquers, sealers, varnishes, shellacs, and enamels.
The sprayer also features onboard storage for the spray gon, 13-foot hose, and 5.5-foot cord. Plus, it comes with a carry handle for hassle-free portability as you move around your furniture.
---
NEU MASTER HVLP Home Electric Paint Spray Gun
This 600-watt electric sprayer has powerful turbofans and motors that support smoother finishes. It also includes a special separation instruction between the gun body and motor that makes the sprayer lighter than many handheld sprayers.
You can adjust it to spray in three patterns: circular, horizontal, and vertical. And it comes with two different sized nozzles: 3 and 2.5 millimeters.
It has an adjustable flow control knob that allows you to tune it to just the right paint output.
And the Neu Master is easy to wash with a user-friendly design that's great for beginners.
---
The Different Types of Paint Sprayers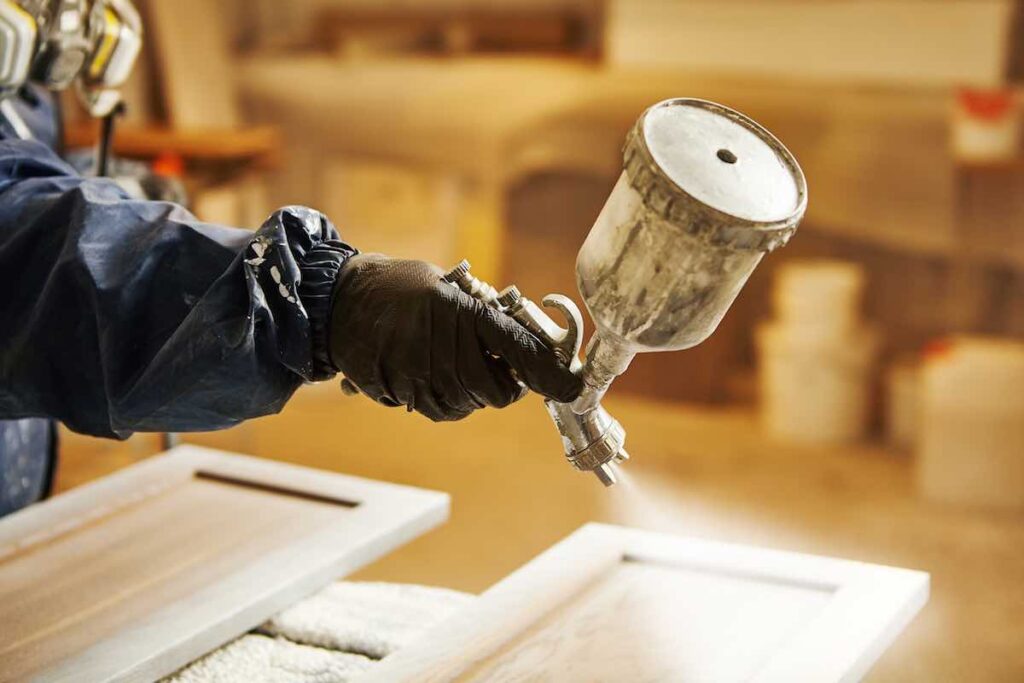 In general, there are four types of paint sprayers available on the consumer market. Our list does not include gravity-feed spray guns as they are mainly used in the automotive industry. Here are the four types of spay painters.
Airless
Handheld airless paint sprayers expel the paint using the sprayer's tip powered by an electric pump that applies incredibly high pressure to force paint out of the paint reservoir.
Pros
With a bit of practice, you can have a fantastic finish
Handheld
Very effective for small and large jobs, such as garage doors
Can spray thicker paints like gloss and latex
Cons
Many of the droplets of paint expelled by the machine don't always end up on your desired surface
Requires practice to perfect creating even coat finishes
This is not a great painter to use in windy areas as the paint tends to drift in the air
Anywhere from 20 to 40 percent wastage
Compressed Air
Compressed air paint sprayers expel the paint from the tip using compressed air. This creates a smoother and more even finish. The typical compressed air sprayer setup includes a high-pressure hose, spray gun attachment, and compressor canister.
Pros
Ideal for smaller-sized furniture such as cabinets
Excellent paint distribution
Very easy to use (good for novices)
Can spray thicker paints
Cons
Not economical to operate
Not handheld
Uses quite a bit of paint
Requires a separate air compressor
LVLP
Low Volume Low Pressure (LVLP) sprayers use a built-in compressor or turbine to atomize paint before expelling it through the tip.
Pros
Offers the least amount of overspray and is usually cheaper than other models
Cons
Not widely available nor very popular
These machines spray at a slower pace
Only sprays thin paints
Have a smaller fan width
HVLP
HVLP or High Volume Low-Pressure sprayers anatomizes paint at a much higher volume than is the case with LVLP because the device uses more air to push the paint to the tip and expel it onto a surface.
Pros
Offers a smooth finish
Has less overspray
Easy for beginners
Needs less prep time
Offers fast clean-up
Cons
Paints slower than airless and compressed
Can only handle thinner paints like primer or wood stain
Can't use thick paints like latex or gloss paints without first thinning them using paint thinner
Not the best fit for larger jobs like walls
---
The Pros and Cons of Spray Painting Furniture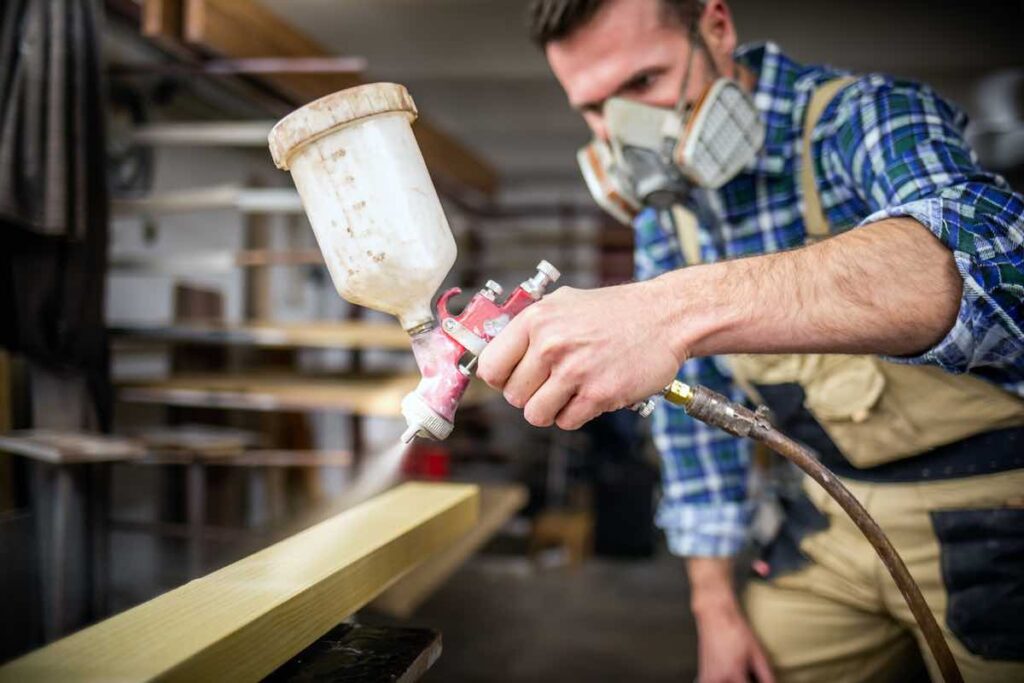 Using a spray painter over a brush or roller also has its benefits and drawbacks. Here are a few of each.
Pros
Faster painting
More even results
Paint dries faster
Complete more projects
Good for painters of all skill levels
More professional-looking finish
Cons
Cleaning sprayer can take longer
Retouching is only possible with a sprayer
It might require a separate compressor (extra cost)
More costly than rollers and brushes
It might require backrolling or back rolling or back brushing for some surfaces, which means you may have to use a roller or brush to apply paint after spraying to penetrate the surface better or make the coat more even.
---
Types of Furniture Surfaces You Can Spray Paint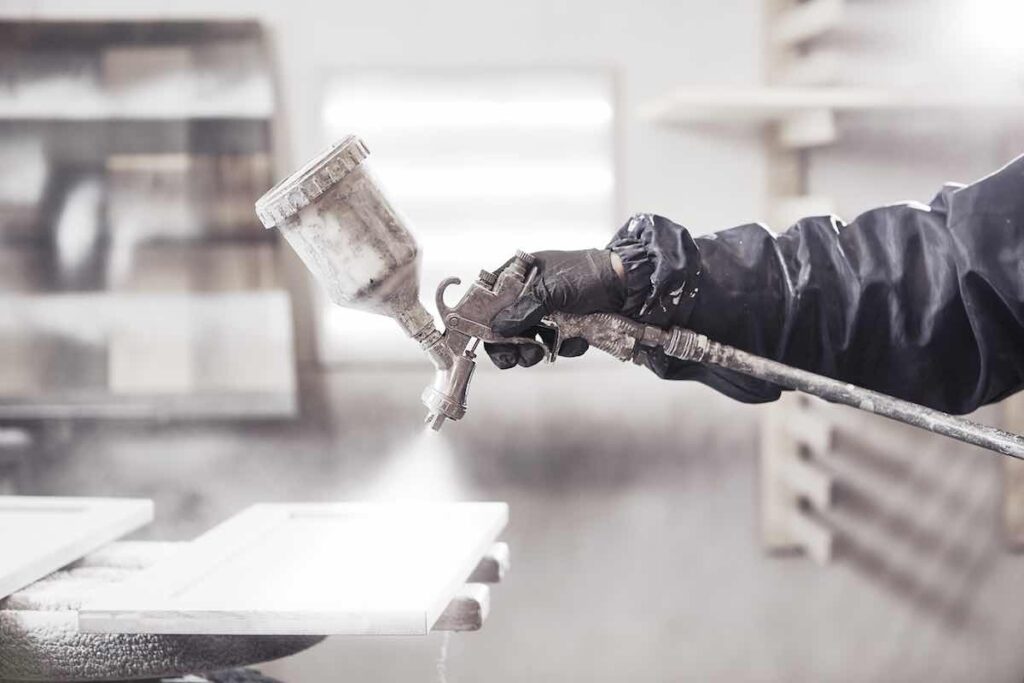 Spray painting does not deliver the same results on every surface. As mentioned above, some surfaces may require some back rolling or back brushing. And certain surfaces may require a primer or light sanding.
With a paint sprayer, you can paint wood, tin, plastic, glass, concrete, terra-cotta, canvas, laminate, medium density board (MDF), fabric, metal (may require preparation such as light sanding), and ceramic (also may require preparation such as light sanding).
---
Spray Painting Tips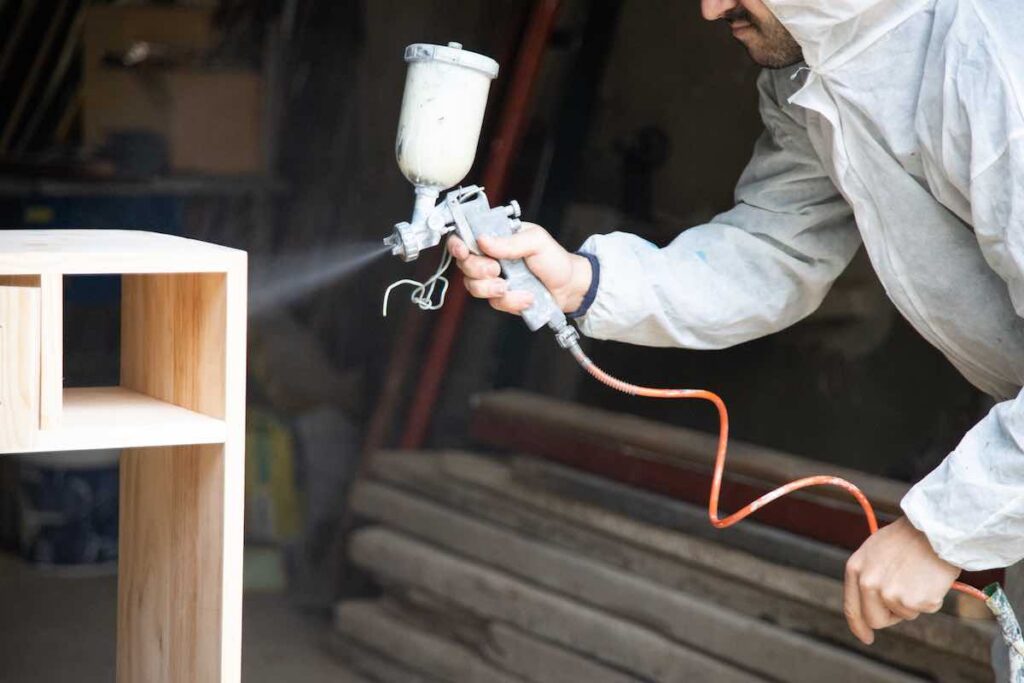 As you know, using a spray painter entails a bit more than just pointing and spraying. There are several factors you should consider before starting. Here are a few helpful tips to help you when spray-painting furniture:
Test
Test or spray in an area away from your furniture to ensure your settings are correct. Also, this prevents any dried paint you didn't clean from the tip from getting onto your furniture surface.
Sand
Some surfaces, such as wood, may require sanding.
Prime
Use primer! It will ensure a smooth coat.
Change Direction, But Carefully
Spray your first coat from side to side, then spray another layer up and down to achieve better coverage.
Make sure you don't "swing" your spray gun. It should be held, keeping your arm straight and perpendicular to the surface for more consistent straight lines.
Never spray at an angle.
For better coverage, maintain the same distance throughout the process.
Overlap paint layers by half every time.
Clean and Keep Damp
Clean your sprayer thoroughly after every use. If you need to take a break, make sure you keep the sprayer tip wet.
Always Overstock
Always buy more paint than you think you'll need, as sprayers tend to use up more paint.
Mind the Air
If painting inside, choose a well-ventilated space. If painting outdoors, choose a day with low wind.
Aim Carefully
Ensure your outdoor painting area is away from objects or places you don't want to get paint on, and use painter's tape to cover any objects or areas you don't want to get paint on accidentally.
---
My Recommendation
It isn't easy to name just one with so many outstanding spray painters. However, if we were looking at the best overall painter, we recommend Earlex HV5500 HVLP Spray Station Paint Sprayer.
Customer after customer remarks on this sprayer's superb finish and its portability. We also recommend purchasing the 1.5mm tip attachment when you buy the sprayer.
And if you're more comfortable with a handheld sprayer, the HOMERIGHT C800766 Finish Max Paint Sprayer is a great choice. Customers raved over how easy it is to use right out of the box. It's also very lightweight and ergonomically superior to many other handhelds.
As with any sprayer, it may take a bit of practice before you get into the groove of achieving that perfect finish, but we're confident these excellent sprayers will make the job much easier.
If you're looking for more furniture DIY ideas, take a look at our furniture section!