After piecing the beautiful quilt top, quiltmakers add dimension and texture by stitching all the quilt layers together. Most sewing machines can handle stitching through the top, batting, and backing with ease. But if machine quilting is your passion, you might consider purchasing a long-arm quilting machine, too.
Unlike traditional sewing machines, the best long-arm quilting machines are large and powerful. The machine is attached to a frame or rack that holds the quilt in place while stitching at high speeds.
Ready to try one yourself? Read on to find the best long-arm quilting machine for you!
---
Our Top Picks
Best Overall
King Quilter II Elite
Budget Option
Q'nique 16x
Best for Sit-Down Use
HQ Simply Sixteen
---
Best Overall
The King Quilter II Elite is one of the most recommended machines among home quilters. This model has it all. It's a powerful machine that's easy to use and beginner-friendly. The computerized settings have many helpful automated features. Whether you're a professional long-arm quilter or just getting started, this is the best long-arm quilting machine.
One of the biggest hurdles for long-arm quilters is in controlling such a large machine. One of the reasons the King QUilter II Elite is so often recommended is its easy mobility. The machine comes with both front and back handlebars for easy steering. With four wheels beneath the machine, you'll find that it's exceptionally easy to maneuver!
Pros
2,200 stitches per minute
Built-in stitch regulation system
Easily controlled by two front handlebars
Offers two quilting modes: precision and cruise
Cons
10 or 12-foot frame only available as an add-on
Although it offers a manual mode, better for quilters who prefer computerized settings
---
Budget Option
There's no two ways about it: Long-arm quilting machines are expensive. Many quilters plan a budget of at least $10,000 when considering this purchase. Some of the best long-arm quilting machines cost less than this. However, quilters still need to consider related expenses to set up their new machine. Frame extensions, bobbin winders,and additional plugins for computerized machines all add up quickly.
The Q'Nique 16X falls on the lower-priced range of long-arm quilting machines, but it doesn't lack for features. Some quilters refer to this as a "mid-arm machine" due to its slightly smaller size. However, this also makes the Q'Nique 16X more appealing to beginners and home users.
Pros
Most accessible for home quilters and beginning long-arm users
Excellent lighting, even in the bobbin and hook assembly areas
Large 7" touch screen
Patented edge warning system
Cons
Stitches up to 2,000 stitches per minute, slightly less than other top picks
16" throat space is slightly less than other top picks
Best for smaller bed quilts rather than truly large quilting projects
---
Best for Sit-Down Use
Since long-arm quilting machines are so large, many quilters stand while using them. However, some machines are height-adjustable and can be easily used while sitting. The best of these long-arm quilting machines is the HQ Simply Sixteen.
The HQ Simply Sixteen is a favorite of many quilters because of the small 30 x 36" table. Although it's certainly much larger than the average sewing machine, it's petite compared to other long-arm machines. This is the best long-arm quilting machine for a smaller studio space.
Despite its smaller size, the HQ Simply Sixteen has plenty of versatility. The computerized settings allow you to save favorite speeds and remember previously used settings. That's incredibly handy for keeping your quilting consistent between sessions!
Pros
Large, color touchscreen
TruStitch stitch regulator
Needle is easy to start, stop, and reposition
Cons
1,500 stitches per minute is less efficient than our other top picks
Computerized settings do not include built-in quilting designs
Smaller size is best for smaller quilting projects such as a twin-size quilt.
---
This is the best long-arm quilting machine for quilters looking for a large workspace with low maintenance. One of the most interesting features of the Juki TL-2200 QVP is its "dry head" technology. Despite all the moving parts, the only part of this machine that requires oiling is the hook area. That eliminates the worry of dripping oil or grease spots on your fabric!
Another top feature of the Juki TL-2200 QVP is the extra large work area. This machine has 18" of throat space and 10" of vertical space, perfect for large quilts! The included ten-foot frame can easily hold a king-size quilt. A two-foot extension is available, too.
Pros
2,200 stitches per minute
Built-in stitch regulator
Well-lit workspace with directional lighting
Cons
Can only be purchased through local retailers
Large frame and machine will need over ten feet of floor space
Only offers a 5-year limited warranty
---
No list of the best long-arm quilting machines would be complete without a Janome. There's a reason Janome is one of the most trusted brands among quilt makers. Janome offers advanced education and support for Quilt Maker Pro owners, not to mention the availability of Certified Service Technicians.
As you look over all the features of the Janome Quilt Maker Pro 18, don't be intimidated! This company offers unparalleled support.
This is one of the most high-end long arm machine models, with plenty of advanced, computerized functions.
Our favorite feature is the literal laser focus. This laser light shows precisely where the needle will come down. It's a great feature for visualizing how the quilting will look and ensuring that patterns are centered on each block.
Pros
2,200 stitches per minute
Two modes for stitch regulation: precision and cruise
Advanced editing capabilities for custom quilting designs
Cons
One of the most expensive choices
Extensive features can take a long time to learn
Best for experienced or professional quiltmakers
---
Long Arm Quilting Machine Buyer's Guide
Throat Length
Have you ever wondered how long-arm quilting machines got their name? The "long arm" refers to the extra distance between the body of the machine and the needle. Also called "throat space," this extra room allows more room to maneuver.
Experienced machine quilters know how important that extra space can be! With a standard sewing machine, it can be hard to quilt the middle section of a large or high loft quilt. No matter how tightly you roll up half the quilt, it's a tight squeeze to fit that narrow throat space.
Do you make a lot of queen and king-sized quilts? Then the best long-arm quilting machine for you will have at least 20" of throat space. If you generally make twin, lap, or crib-sized quilts, 16" or 18" is plenty of room.
Speed
Most sewing machines average about 700 to 900 stitches per minute. That's probably for the best. With only a presser foot between the needle and your fingertips, speedy stitching could be dangerous!
Since long-arm quilting machines are designed differently, the needle can move much faster. Most of the best long-arm quilting machines have handlebars for steering the machine over the rack. Tabletop styles include a frame for manipulating the quilt. With your fingers safely out of harm's way, you can quilt at incredibly high speeds. Our top picks for the best long-arm machines go anywhere from 1,800 to 2,200 stitches per minute!
Table vs Rack
All long-arm quilting machines work with a frame that holds the quilt layers in place during quilting. However, some long-arm machines and frames work with a rack, and others are designed to work with a table. Choosing a long arm with a table versus a rack often comes down to personal preference.
Table-style long-arm machines are easier to adjust for working from a sitting position. Longarm quilters who sit to use their machine often prefer a saddle stool. This style of stool will allow you to use your upper body while providing maximum comfort and stability.
Rack-style long-arm machines are generally used standing up. Some quilters like the extra leverage they have when working from a standing position. However, we would recommend using an anti-fatigue mat if you'll be standing to use your machine.
Finally, choosing to use a table style versus a rack style impacts the way the long-arm machine works. Some quilters relate quilting with a long arm to drawing with a pen. Quilting while sitting down is like moving the paper under a pen. Quilting standing up is like moving the pen while the rack moves the paper for you.
Stitch Regulator
If you've free-motion quilted on a standard sewing machine, you know how hard it is to keep your stitches even! It's doubly hard on a long-arm quilting machine since the machine and frame move independently of each other.
That's why the best long-arm quilting machines include a stitch regulator. As you adjust the speed of your quilting, the machine automatically adjusts stitch length. The result? Beautiful, even stitching throughout your entire quilt.
Many long-arm quilters use gloves with rubber grips to help move the quilt or machine, especially at high speeds. This is another way to help your machine stitch evenly, especially if your long-arm quilting machine doesn't have handlebars.
Computerized Features
Some long-arm machines that have computerized features can be programmed so that the same quilting pattern is automatically repeated across the entire quilt. That's great news for quilters who like to do an all-over effect like stippling or grid designs. It's also convenient for quilters who like to load or design custom patterns for center blocks and borders.
However, there are plenty of long-arm quilters who prefer to control their machine manually. If you don't want to go the programmable route, there are plenty of manual quilting templates available!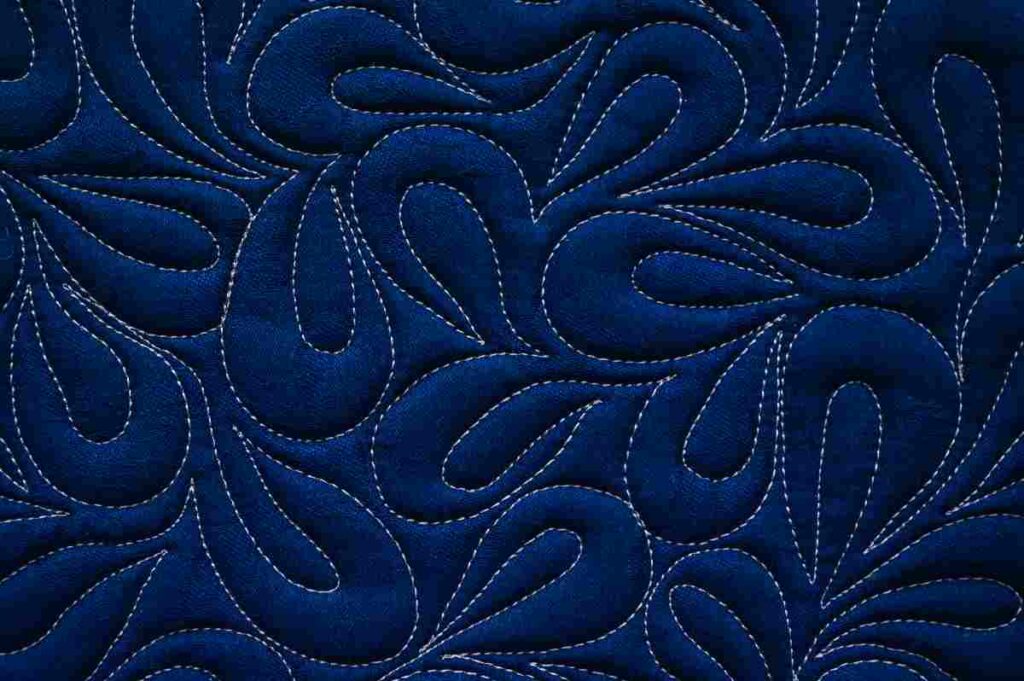 ---
Frequently Asked Questions About Long Arm Quilting Machines
How do I load a quilt onto a long-arm quilting rack?
In traditional quilting, the quilt top, batting, and backing are layered and basted together before quilting. Long-arm quilters, however, will generally be securing each layer to a separate roller. The long-arm quilting machine will then unroll each layer as you work. This method allows the machine to stitch evenly and maintain tension on all three layers during quilting.
Each long-arm machine will have its own specific instructions. However, you will need to make sure that each layer is lined up and secured onto its roller. Many quilters use long quilting pins to attach the fabric to the roller. Some long-arm quilters prefer to use red snappers instead. The red snappers clamp the fabric onto the roller, saving time and pinpricks!
How do I baste a quilt used on a long arm quilting table?
Sit-down long-arm quilting machines often have a table instead of a rack. For this type of machine, you will need to do some basting. You can do this on your long-arm machine, using a manual or programmed basting setting. However, especially for beginners, it's a good idea to baste the three layers together lightly first.
Some long-arm quilters think that a basting spray is most convenient. However, it's important to use a light touch. Too much spray could gum up the needle! Otherwise, you can use curved safety pins to baste the entire quilt. You can then follow up with the basting setting on the long-arm machine for each section before quilting.
---
Choosing the Best Long Arm Quilting Machine
Long-arm quilting machines are a big investment with an even greater return. If you're passionate about machine quilting, upgrading to a long arm would open up countless possibilities!
We highly recommend trying out a variety of machines in-person before choosing the best long-arm quilting machine for you. Quilt shows and local quilt stores will often advertise long-arm machine demonstrations. With some hands-on experience, you're sure to find the perfect fit for you!
Don't forget that all quilters will also need a standard sewing machine for piecing their quilt tops. Here are our favorite standard sewing machines for quilting.
About the Author
Latest Posts
As a novelist, special educator, and freelance writer, Ellen enjoys unwinding with a variety of crafts. Whether it's a quick sewing project or a long-term dollhouse remodel, Ellen loves to be creative whenever she has down time.
Ellen holds a bachelor's degree in creative writing and psychology and a master's in early childhood education. She enjoys learning new things, which is why she dabbles in many types of needlework and yarn crafts. With so many new techniques to try, Ellen rarely makes the same thing twice!
Originally from Virginia, Ellen can often be found with a glass of homemade sweet tea while she ponders her next project.
Ellen can be reached at info@ellensmithwrites.com