Machine quilting is a unique art form, just like hand quilting. However, every artist needs the right tools. What is the best sewing machine for quilting?
At the minimum, you'll need a machine that can easily maneuver layers of thick material. Depending on your quilting project, you might need a variety of stitch functions, too.
The best sewing machine for quilting depends on many factors. Thankfully, with lots of options on the market, you're sure to find the machine that works for you! Here are our top five picks.
---
Our Top Picks
Best Overall
Brother CS7000X
Budget Option
Brother XM2701
Best for Teaching
Singer 4423
---
Best Overall
Our number one pick has features to satisfy quilters of every age and stage. The Brother CS7000X packs an incredible amount of features into a portable and economical machine.
This machine has several features tailored just for machine quilters. The wide, extendable table makes it easy to spread out your work. There's plenty of workspace between the needle and arm, too, which is handy for maneuvering large quilts.
While this machine has plenty of capabilities, it's also extremely user-friendly. No wonder the Brother CS7000X is also our pick for the best overall sewing machine for beginners!
Pros
Lightweight at only 14 pounds
Economical, great value for the price
Easy-to-use automatic threader and drop-in bobbin
Includes ten presser feet and a quilting guide
70 built-in stitch features and an LCD screen
Cons
Quilters may need to adjust the tension to accommodate different fabric weights
May not handle high speeds or especially large quilts, as well as more specialized machines
---
Budget Option
If you're looking for the best sewing machine for quilting without breaking the bank, you'll love the Brother XM2701. Brother is a popular sewing machine brand because it offers a range of high-quality machines. This is especially true of the budget-friendly XM2701 model.
Even though it's only half the price as our other top picks, the Brother XM2701 doesn't skimp on quality. It has plenty of user-friendly features, such as a drop-in bobbin and automatic threader. It also has a versatile free-arm design. While it's not specifically designed for quilting, it will give you a wider range of motion on quilting projects.
All in all, this is the best sewing machine for quilting available at a low price point. It has plenty of beginner-friendly features, and is versatile enough for an experienced quilter.
Pros
Economical
Portable at 12 pounds
27 built-in stitches and six included presser feet
Cons
Not the best choice for very thick or heavy-duty fabrics
Some users report difficulty controlling speed and stitch length
---
Best for Teaching
Machine quilting requires a lot of skill and practice. Experienced quilters often teach classes, record tutorials, or demonstrate techniques to a friend or relative. It's best to have a simple, hard-working sewing machine for quilting lessons.
The Singer 4423 is the definition of a workhorse machine.
This is the best sewing machine for teaching quilting classes because of its strong motor and high-speed stitching.
The Singer 4423 has a maximum speed of 100 stitches per minute! Quilting teachers will be able to slowly demonstrate each step of the process and then quickly finish their demonstration piece.
Pros
Durable, will be able to handle a variety of fabrics and uses
Budget-friendly choice
Lightweight and portable at 14 pounds
Simple, easy-to-use features make it ideal for students to take a turn at the needle
Cons
Fewer stitch functions than other models
Specific quilting accessories, such as a walking foot, will need to be purchased separately
---
Best Portable
Part of the fun of machine quilting is working with other quilters. If you frequently take your work to a friend's house or quilter's guild, you'll want a portable machine!
Weighing in at only ten pounds, the Brother HC1850 is our pick for the best portable sewing machine for quilters. This small-but-mighty machine packs lots of features into a travel-sized machine.
This machine is also ideal for bringing along to quilting classes. You can easily learn any technique on this versatile machine with so many features.
Pros
Weighs only ten pounds
User-friendly features, like drop-in bobbin and automatic needle threader
High capability, with 185 built-in stitches and computerized design
Cons
More expensive than other lightweight options
Voltage is best for US-based quilters
---
Best Mid-Arm
Long-arm quilting is a specific kind of machine quilting. Rather than manipulating the quilt yourself, you load the fabric onto the machine, and the machine moves it for you.
For obvious reasons, long-arm machines are generally quite pricey and require a lot of space!
However, many machine quilters enjoy using a "mid-arm" machine. The quilter, rather than the machine, is still manipulating the quilt.
These mid-arm machines are also more affordable and portable than true long-arms.
The JUKI TL-2000Qi is the best mid-arm sewing machine for quilting on the market. Since it is a specialized machine, it's best for experienced quilters.
If you complete over a dozen large quilts a year, this is a great investment. This machine's high speed, large workspace, and durability make it ideal for heavy use.
Pros
Wide work area is ideal for experienced quilters
1500 stitches per minute
Solid construction minimizes vibration, even at high speed
Cons
Much more expensive than other sewing machines
Steep learning curve, not beginner-friendly
---
Sewing Machine for Quilting Buyer's Guide
Capacity
The best sewing machines for quilting have enough room for maneuvering large, layered quilts.
You'll want to find a sewing machine with a large throat plate area. That's especially true if you make queen and king-size quilts.
Similarly, if you use heavy fabric or puffy batting, you'll need a machine with plenty of room to maneuver.
Technique
Machine quilting techniques are as individual as quilters themselves.
Some quilters favor a simple approach.
Straight-line quilting doesn't require as much room to maneuver the fabric. You can easily accomplish quilting straight lines with a simple sewing machine and walking foot.
Free motion quilting requires more room to spread out, so a longer arm can come in handy! Look for a model with an extendable table. The best sewing machines for quilting all over patterns and stippling support the weight of the quilt for you.
If you like to machine quilt intricate designs, a computerized sewing machine may be best for you. Pre-programmed stitches remove some guesswork for adjusting stitch length and tension.
Style
Stunning quilts can be created with even the simplest materials and stitches.
If you frequently choose quilter's cotton, thin batting, and straight stitches for your quilts, you don't need all the bells and whistles. The best sewing machine for simple quilting projects will be durable, user-friendly, and cost-effective.
On the other hand, quilters with expansive skills will need a machine that can keep up with their style.
For example, if you like to embroider your own quilt labels, you might need a computerized machine. If you often experiment with new techniques, the best sewing machine for quilting your experiments will be versatile and user-friendly.
Budget
Quilting began as a hobby that turned leftover scraps of fabric into beautiful and useful art. Economizing is still an important factor for many quilters today. Fortunately, there are plenty of inexpensive machines on the market.
On the other hand, your hobby budget may cover more than just quilting.
Many of the best sewing machines for quilting are also ideal for sewing clothing, home decor, and embroidery. If you have multiple hobbies, investing in one machine that can do it all might be more budget-friendly.
Space
What does your quilting area look like? If you have a dedicated sewing room, choosing a large machine is much easier. If you'll be setting up and working at your dining room table, however, you'll need a machine that's easy to store.
---
Sewing Machine for Quilting Frequently Asked Questions
How often should I replace my sewing machine for quilting?
Manufacturers expect the best sewing machines for quilting to be used heavily, so they're built for long-term durability. When maintained well, your machine should last for at least a decade.
What presser feet do I use for quilting?
Many of the best sewing machines for quilting come with several included presser feet. However, some specialty feet may need to be purchased separately.
If you'll be quilting in straight lines, try a walking foot. This type of presser foot has feed dogs to move the top fabric. This matches the tension created by the feed dogs in the machine, which move the bottom fabric. Using a walking foot will help you create an even straight stitch through all your quilt layers.
Use a darning or hopping foot if you will be free-motion quilting. This presser foot provides no tension on the top fabric, allowing you to move the quilt freely.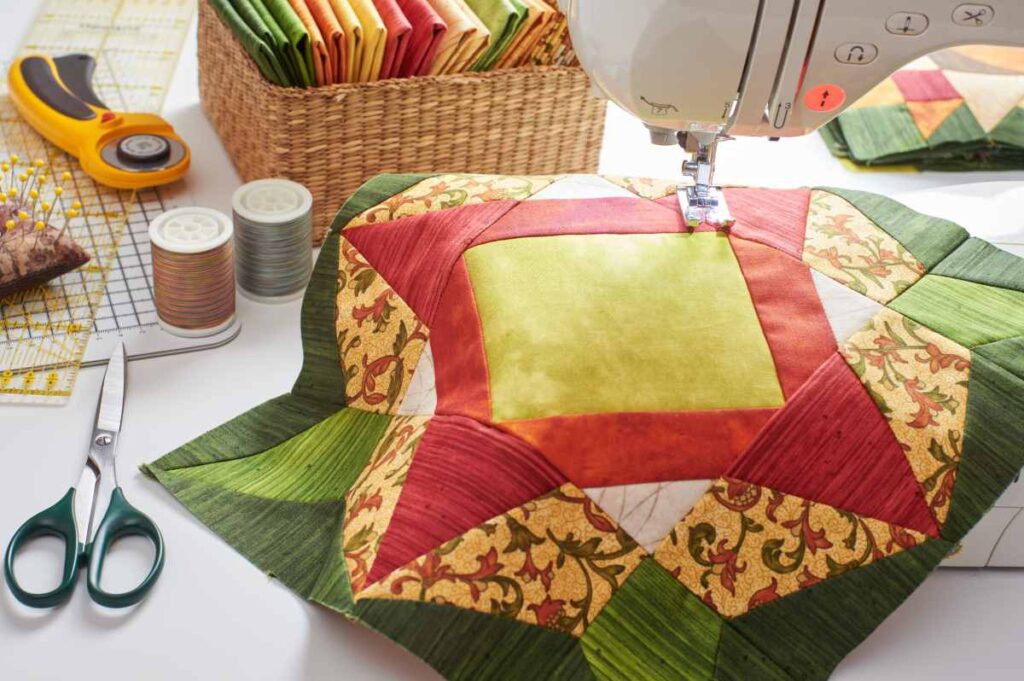 How do I maintain my sewing machine for quilting?
Even the best, most durable sewing machine for quilting needs proper maintenance. You can extend the life of your machine by cleaning it regularly. After every quilting session, brush lint and threads out of the bobbin plate.
Be sure to change your sewing machine's needle frequently. Dull needles are more likely to cause tension issues or even break. A good rule of thumb is to start each project with a new needle.
Finally, have your machine professionally cleaned after a large quilting project. Fluffy batting and snipped threads create lint that can hide in every nook and cranny.
Use a professional service to clean and oil your machine to keep it in tip-top shape.
---
Choosing the Best Sewing Machine for Quilting
The best sewing machine for quilting varies from one quilter to another. Depending on your specific needs, you might choose a machine based on its portability, capacity, or value for the dollar.
You can't go wrong with our #1 recommendation, the Brother CS7000X.
After you've chosen your machine, you'll want to organize the rest of your supplies! A dedicated space for storing your quilting machine and materials is a great way to stay organized. Check out our list of ideal craft tables with storage.