Jewelry is a timeless accessory that adds elegance and style to any outfit. Over time, however, your precious jewelry pieces can lose their sparkle due to exposure to dirt, oils, and tarnish.
To maintain their beauty and keep them shining like new, it's essential to clean them regularly using the right jewelry cleaner.
There are various types of jewelry cleaners available on the market, ranging from ultrasonic machines to gentle cleaning solutions and polishing cloths. Each type of cleaner is designed to cater to different materials and cleaning requirements, whether you need to restore the shine on your gold necklace or remove tarnish from your sterling silver earrings.
To help you find the best jewelry cleaner for your needs, we've selected various options, evaluating them based on their performance, safety, and convenience. Read on to learn more about our top picks and the important factors to consider when making your purchase.
---
Our Top Picks
Best Overall
1-SecShine Jewelry Cleaner
Budget Option
Weiman Fine Jewelry Cleaner Liquid
Best Premium
Magnasonic Professional Ultrasonic Jewelry Cleaner
---
Best Overall
The 1-SecShine Jewelry Cleaner aims to make your accessories look good as new in just a matter of minutes. It is designed to clean a wide range of jewelry, including gold, palladium, stainless steel, diamonds, titanium, soft and porous stones, enamel, and more.
The formula is chemical-free and biodegradable, ensuring safe use while keeping your jewelry tarnish and stain-free for up to 12 months or more.
In addition to being a powerful cleaner, 1-SecShine also boasts of its environmentally friendly ingredients. The absence of ammonia and harsh chemicals in the formula ensures that it does not damage your jewelry pieces or any other surfaces. This gentle, non-abrasive solution is perfect for restoring shine to your precious metals without causing any harm.
If you're looking for an environmentally conscious option to clean and rejuvenate your jewelry collection, the 1-SecShine Jewelry Cleaner is a suitable solution. Its versatile formula and long-lasting tarnish protection might just be what you need to keep your accessories shining and beautiful as the day you bought them.
Pros
Effective on various jewelry types
Chemical-free and biodegradable ingredients
Provides long-lasting tarnish protection
Cons
Not specifically designed for delicate materials
May require more than one application for some pieces
Unknown brand reliability
---
Budget Option
Weiman Fine Jewelry Cleaner Liquid is a gentle formula designed to effectively clean and restore the shine and brilliance of your precious gold, platinum, and titanium jewelry.
It's safe to use on gemstones like diamonds, sapphires, rubies, emeralds, and topaz. The easy-to-use cleaning tray allows you to place your jewelry, such as wedding rings and necklaces, in the solution for up to 30 minutes. If needed, use the included brush to gently scrub away dirt and build-up.
This cleaner works to remove dirt, lotion, soap, and hair styling products that can accumulate on fine jewelry, dulling their sparkle over time. With Weiman's Fine Jewelry Cleaner Liquid, you'll see your jewelry shine like new in just a matter of minutes. However, be aware that this solution is not suitable for use on silver, pearls, and certain other gemstones like amber, jade, and turquoise.
Pros
Effectively cleans fine jewelry, restoring shine and brilliance
Easy to use, with a built-in cleaning tray and brush
Safe for use on gemstones
Cons
Not suitable for use on silver, pearls, or certain gemstones
Requires a 30-minute soak time for optimal results
Some users may find the floral scent overpowering
---
Best Premium
The Magnasonic Professional Ultrasonic Jewelry Cleaner harnesses the power of 42,000 Hz ultrasonic waves to provide a thorough yet gentle cleaning process for your jewelry, eyeglasses, and other items.
The digital display allows you to choose from five preset cleaning cycles, and the auto shut-off feature ensures convenience and safety during use.
This jewelry cleaner can accommodate a generous 20 oz capacity, allowing you to clean various items simultaneously. However, it is important to note that this cleaner is best suited for removing dirt, grime, and bacteria, but it does not remove tarnish from your valuables.
Pros
Powerful 42,000 Hz ultrasonic waves effectively clean jewelry, eyeglasses, and more
Five preset cleaning cycles with digital display and auto shut off
Generous 20 oz capacity accommodates various items
Cons
Tap water only cleaning; does not remove tarnish
Requires a basket to keep items secure during cleaning
No mention of handling multiple cycles causing overheating issues in the manual
---
Starting with the safety of your precious jewelry in mind, this Connoisseurs Premium Edition Jewelry Cleaner Solution is ammonia-free, meaning it won't damage your delicate or fine pieces.
It comes with a large dip tray and a professional touch-up brush to ensure your jewelry settings are deeply and thoroughly cleaned. Choose from the Fine Jewelry Cleaner, the Delicate Jewelry Cleaner, or the Silver Jewelry Cleaner to get the right cleanser for your needs.
While the product works wonders on cleaning jewelry, it may be too strong for some delicate gemstones, which could require extra care when cleaning. After using the provided cleanser, you might also find that some polishing is needed to achieve the perfect shine on your pieces.
Note that no brush is included for the dipping method, so you'll have to supply your own if you prefer that method over the touch-up brush provided.
Pros
Ammonia-free formula, safe for delicate and fine jewelry
Deep cleans settings with included touch-up brush
Multiple cleanser options: Fine, Delicate, or Silver
Cons
Potentially strong for delicate gemstones
May require additional polishing for perfect shine
No brush included for dipping method
---
Buying Guide
When choosing the best jewelry cleaner, it's essential to consider a few key factors to ensure your precious items are well cared for. Here is a guide to help you make an informed decision.
Type of Jewelry Cleaner
There are different types of jewelry cleaners available in the market, and selecting the right one depends on the materials and stones in your jewelry. The primary categories include:
Ultrasonic cleaners: These use high-frequency sound waves and water to clean your items. They are effective for cleaning metal-based jewelry and hard stones like diamonds and rubies. However, they may not be suitable for soft stones like pearls and opals.
Steam cleaners: These use high-pressure steam to remove dirt and grime. Steam cleaners are great for cleaning diamonds and metal jewelry but are not recommended for soft or porous stones.
Liquid cleaning solutions: These are mild chemical solutions designed for cleaning specific types of jewelry. Ensure the solution you choose is compatible with the materials in your jewelry.
Size and Capacity
Consider the size and capacity of the jewelry cleaner, based on the number and size of the items in your collection. If you primarily clean small items, such as rings and earrings, a compact cleaner might suffice.
However, if you need to clean larger items like necklaces or watchbands, ensure you choose a cleaner with a larger capacity and sufficient space.
Safety and Gentle Cleaning
Your jewelry cleaner should be safe and gentle on your precious items. Look for models that are designed to protect delicate parts and soft stones. Some features to look for include:
Timers to control cleaning duration
Temperature controls to avoid damage from excessive heat
A basket or tray to secure small items during cleaning
Ease of Use and Maintenance
A user-friendly jewelry cleaner is essential to ensure effective and efficient cleaning. Look for a device that is easy to operate and maintain. Some key features include clear operating instructions, simple user interface, and easy-to-clean components.
---
Frequently Asked Questions
What is the most effective method to clean diamond rings?
To clean your diamond rings effectively, use a gentle solution of warm water and mild dish soap. Soak your diamond ring for 20 to 40 minutes, and then gently scrub it with a soft toothbrush, focusing on the area around the diamond.
After cleaning, rinse your ring thoroughly with warm water and pat it dry with a soft, lint-free cloth. Avoid using abrasive cleaners, as they can damage the metal of your ring.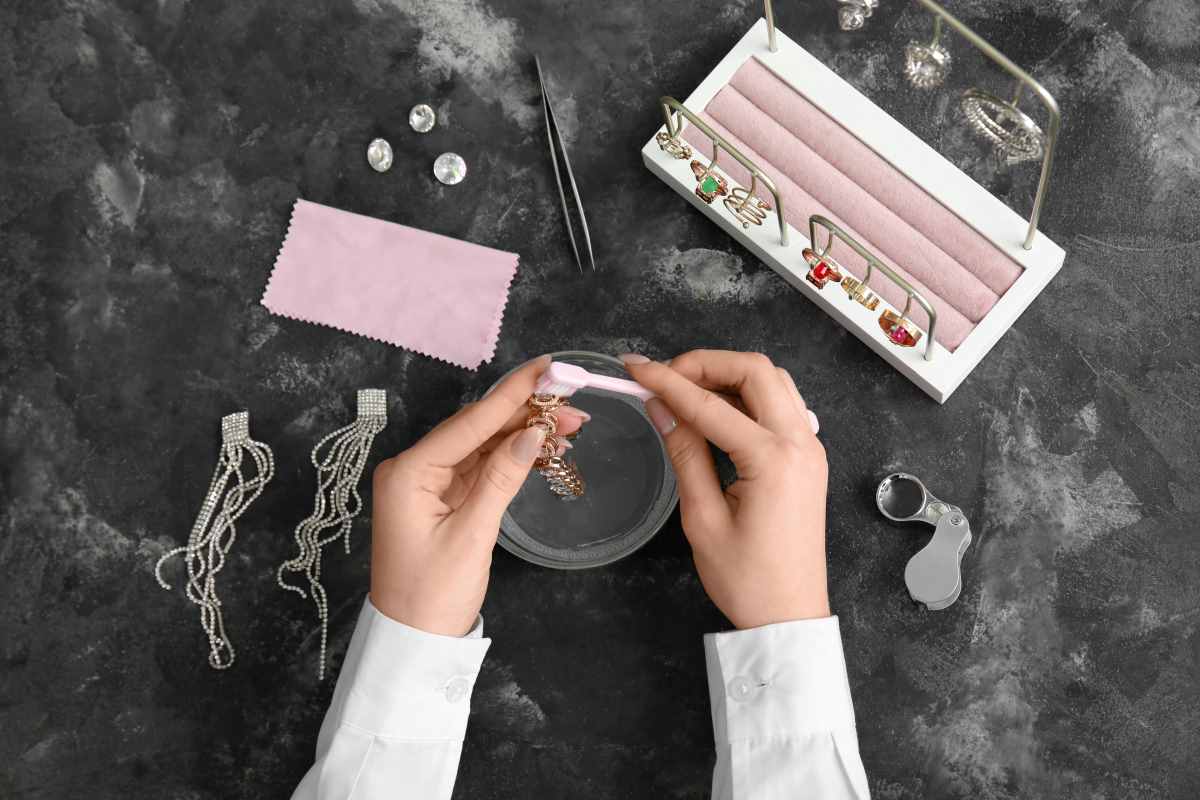 How do professionals clean jewelry?
Professionals often use an ultrasonic cleaner to clean jewelry effectively. Ultrasonic cleaners use high-frequency sound waves to create microscopic bubbles in a cleaning solution. The agitation of these bubbles removes dirt and debris from your jewelry.
After the ultrasonic cleaning, professionals may also use a steam cleaner to remove any remaining residue from the jewelry piece. It's essential to note, though, that not all jewelry is suitable for ultrasonic or steam cleaning, as some stones and settings can be damaged by these processes.
Always consult with a professional jeweler if you're unsure.
---
Wrapping up the Best Jewelry Cleaner
When searching for the best jewelry cleaner, you want to ensure you choose a cleaner that's safe for your specific jewelry materials while effectively removing dirt, grime, and tarnish. Additionally, you should look for a cleaner that fits your lifestyle, whether you prefer a quick wipe with a cloth or a thorough clean using an ultrasonic device.
Now that you know all about these jewelry cleaning products, check out how to clean metal jewelry for more cleaning tips!