If you asked 15 different crocheters what they consider the best crochet hooks, you'd probably get 15 different answers. There are so many factors to consider: weight, material, size, shape, etc.
We've done the work of compiling the best hooks around and detailing exactly why you may love them.
Whether you're dipping a toe into the world of crocheting for the first time or a seasoned veteran looking for something new, you'll love our list of the best crochet hook sets on the market!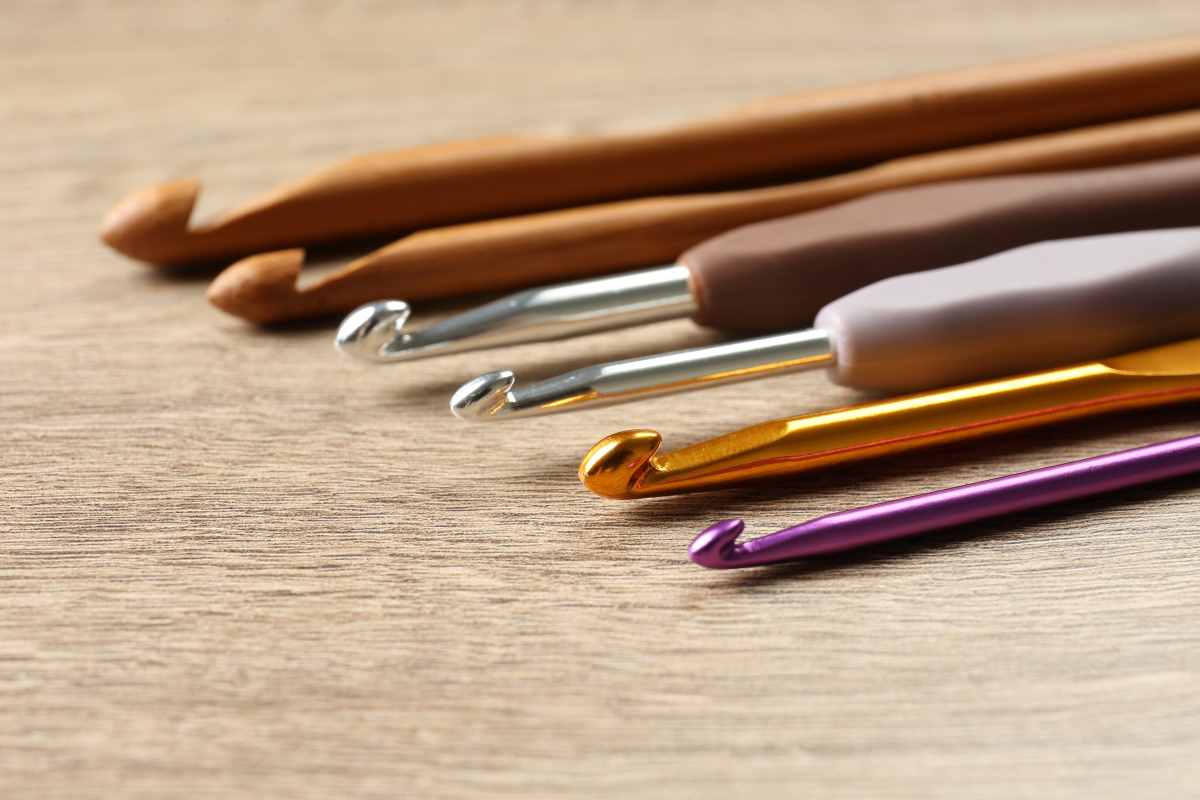 ---
Our Top Picks
Best Overall
Clover Amour Crochet Hook Set
Budget Option
BCMRUN 14-Piece Aluminum Crochet Hook Set
Best for Beginners
BeCrafteeStore 12-Piece Crochet Hook Set
---
Best Overall
Crocheters across the board swear by the Clover Amour Crochet Hook Set as being one of the best crochet hook sets on the market today.
Not only are the colors of the hook handles vibrant and fun, but they help to tell the difference between the hooks at only a glance. You don't need to guess and squint to see whether you're picking up a G or H-sized hook when the handles are different colors.
Speaking of handles, these handles are designed ergonomically, hoping to make crocheting much more comfortable.
The handles are made of soft, grippy rubber, while the shaft and hook are aluminum.
Pros
Different colors make differentiating hook sizes a breeze.
Comfortable to hold.
Smooth metal helps yarn slide easily.
Cons
Shorter than "normal," which may feel weird to avid crocheters.
The metal part may be too short for people who pull their loops far onto the shaft.
They may be more expensive than a beginner wants to pay.
---
Budget Option
If you're on a tight budget, the best crochet hook set is the BCMRUN 14-piece Crochet Hook Set! For less than most fast food combo meals, you can have crochet hook sizes ranging from 2.0 mm to 10 mm in diameter!
These aluminum crochet hooks are incredibly lightweight and excellent for young crocheters.
The wide range of sizes means, for a negligible price, you can crochet a delicate, lacey doiley one minute and swap to a chunky scarf the next.
Pros
Low cost.
Fourteen hooks mean you'll have the size needed for most projects.
Cons
Sizes are only in millimeters, so you must convert them to letters for some patterns.
Some hooks have rough spots that will catch on the yarn.
They may be uncomfortable to hold for extended periods.
---
Best for Beginners
Beginners, you're going to love BeCrafteeStore's 12-piece Crochet Hook Set!
This set's design is similar to our overall best crochet hook pick but for a fraction of the price. Most beginners don't know if crocheting is something they'll love. This set will give you a great feel for it without a substantial financial investment.
Pros
Ergonomic rubber handles are comfortable to hold.
They are clearly labeled with letter and number sizes.
Cons
Some sets come with hooks missing.
The hook is rounded, and it may be difficult to grab some yarn types.
---
Best for Arthritis
If battling arthritis has made you feel like you've got to stop crocheting, pick up a 12-hook set of Boye's Ergonomic Crochet Hooks. Our fingers get enough use typing and working these days that even if you don't have arthritis, your hands will love the soft silicone handles, uniquely shaped to fit your fingers.
This set comes with 12 hooks, ranging in size from B to N.
The grippy handle material is also a nice change from fully metal hooks because they're naturally non-slip. Crocheting probably won't work up a sweat, but the metal handles can still get a little slippery if you've been working with them for a while.
Pros
Thick handles are comfortable to grip.
Colors are easy to tell sizes apart
Cons
Hooks may twist on the handle.
Small sizes feel flimsy.
---
Best For Distracted Crafters
One of the most frustrating parts of crocheting, especially when making something on a large scale, is getting distracted, losing count of your early stitches, and having to start over again. We can say that from experience!
Thankfully, the Counting Crochet Hook Set will make that a pain of the past! These are the best crochet hooks for easily distracted people because they not only keep track of stitches but will also count the number of rows you've done.
You do have to physically press a button to count each stitch and row, but it should be easy once you get in a rhythm.
If you want to be able to rewatch your favorite comfort show while cozy crocheting on the couch, there really isn't a better crochet hook set for you.
Pros
Keeps track of stitches and rows as you crochet.
Built-in light to easily insert hook in the correct spot.
It comes with a carrying case.
Cons
It doesn't have as many hook sizes to choose from as others.
Depending on how you hold the hook, the buttons may not be convenient to press.
---
Crochet Hook Buyer's Guide
Crochet Hook Materials
Not all crochet hooks are created equally. Each has some unique characteristics that have their pros and cons.
Aluminum
Aluminum crochet hooks are the best crochet hooks for beginners because they're affordable and readily available. You can find them in almost any store craft section for a couple of bucks.
They're lightweight and smooth, helping the yarn to slip easily on and off. The smoothness can be a double-edged sword, and sometimes the yarn can slip a little too easily, so be prepared to navigate that learning curve.
Wood
The best crochet hooks for aesthetic appeal are wooden hooks. They're natural and beautiful if that matters to you.
Their texture helps yarn stay put, but they're quicker to warp or break than aluminum or steel.
Steel
If you're doing intricate lace crocheting, the best crochet hooks will be steel because of their tiny sizes and durability.
Keep in mind that these won't work for a large variety of projects, so it's best to have a few in your arsenal instead of relying on them as your sole hooks.
Handle Styles
Inline
Inline crochet hooks are the same diameter all the way from the hook to where your thumb rests.
This is the best crochet hook for projects that require tight stitches or good tension control. The consistent diameter keeps every single stitch the exact same size.
Inline crochet hooks may be less comfortable for big projects than their counterparts, so consider the size and scope of your project when shopping.
Ergonomic
Ergonomic hooks are the best crochet hooks when it comes to comfort levels. Their handles are contoured to fit how most hands grip the hook.
The space between the hook and the thumb rest is generally tapered on these hooks to help the yarn glide along more easily theoretically.
The taper can also come with a bit of learning because you've got to work a little harder to keep the tension on your yarn consistent to keep the stitches uniform.
Hook Sizes
Understanding Sizing
The sizes of crochet hooks refer to their diameter. In America, the sizes are typically in letters, B-T. In other parts of the world, they just use their diameter in millimeters to differentiate them.
Different sizes will impact a few things, the most critical being stitch density. A thinner hook will create tight, dense stitches, while a thicker one will give you bigger, airier ones.
Choosing the Right Size
Choosing the best crochet hook size for your project will make or break your finished product.
Thankfully, most patterns include the recommended hook size and yarn weight. Still, if you're going out on your own and getting creative, there are a couple of things to consider when choosing the right size.
Your hook size must be compatible with your type of yarn. A skinny hook won't work with heavily weighted yarn, while a thick hook will leave a thin yarn in a knotted-up mess.
You must also consider how tightly you hold the yarn while crocheting. Suppose you're naturally tight or loose with the tension instead of in the middle. In that case, going up or down a recommended size may help you get the desired effect.
---
Crochet Hook Frequently Asked Questions
How does a crochet hook work?
Crochet hooks manipulate yarn into various patterns, eventually creating a hat, scarf, gloves, stuffed animal, blanket, and more. It is essentially making a ton of intertwined loops that will provide structure.
Some people say it's "knotting" the fabric, but that's not true. If you make a mistake, you can gently pull the end of the yarn to unloop what you've done and correct it. There are no knots to untie.
Do I need a full set of hooks, or can I just get one?
You can absolutely go and purchase individual crochet hooks, especially if you're just getting started and trying out a single project.
But if you plan to make it a regular hobby, or even more, the best crochet hooks for you will come in a set. That ensures you'll have the size you need for any project and won't have to try to make do with what you have or put the project on hold to buy the correct one.
Which size hook is most versatile?
If you only want to invest a couple of dollars to try out a hobby, the best crochet hook size for you to get is a size I9.
This size hook is right in the middle of the sizes, which means it'll work for various projects like blankets, shawls, and scarves.
It is also compatible with worsted-weight yarn, which most beginner patterns recommend you use.
Can I use crochet hooks to knit?
Unfortunately, no. Even the best crochet hooks can't knit, and knitting needles can't crochet.
Do I need extra accessories besides hooks to crochet?
No! You can crochet many fantastic items without a single extra accessory.
If you are looking to invest a little more into the hobby, here are a few items to consider:
Can my crochet hook be more comfortable?
If you've bought the best crochet hook that's supposed to be ergonomic and more comfortable and still have a cramped-up claw for a hand after working on your project, here's a little hack to try.
You can use a tennis ball to change the crocheting game! Simply use a sharp knife to poke a hole on each side of the tennis ball. Then, push your crochet hook through.
Now, instead of gripping a pencil-sized hook, your hand is wrapped around a tennis ball instead!
You could also try a beauty blender for something softer to hold.
---
Wrapping Up the Best Crochet Hook Guide
The best crochet hooks will open up a world of crocheting opportunities for you. You can make adorable stuffed animals for a child, a blanket to keep warm on chilly nights, gifts for friends and family, and so much more. It's time to choose some hooks and get started!
Now that you know what hooks are best, check out the Best Yarn for Crocheting.
About the Author
Latest Posts
Stephanie Lamberth is a writer who loves crafting, playing board games with family and friends, and cozying up in a warm blanket to get lost in good fiction books.
Crafting has been a part of her life for as long as she can remember. She comes by it naturally, with her mom encouraging it from a young age with a craft bin always busting from the seams with goodies to experiment with and explore. Her favorite things to craft these days are gifts to give family and friends because it's an opportunity to express creativity and love at the same time!
She currently lives with her husband and three kids in Tennessee. They all work and school from home and love spending time together!
Stephanie can be reached at stephanielamberthwriting@gmail.com