Whether you're a crochet expert seeking the best yarn you can buy or a beginner overwhelmed by the seemingly limitless options out there, tracking down the right yarn for your project can be difficult.
Luckily, we've gathered our top picks for the best yarn for crochet right here! Let's go over the pros and cons of our favorite yarns…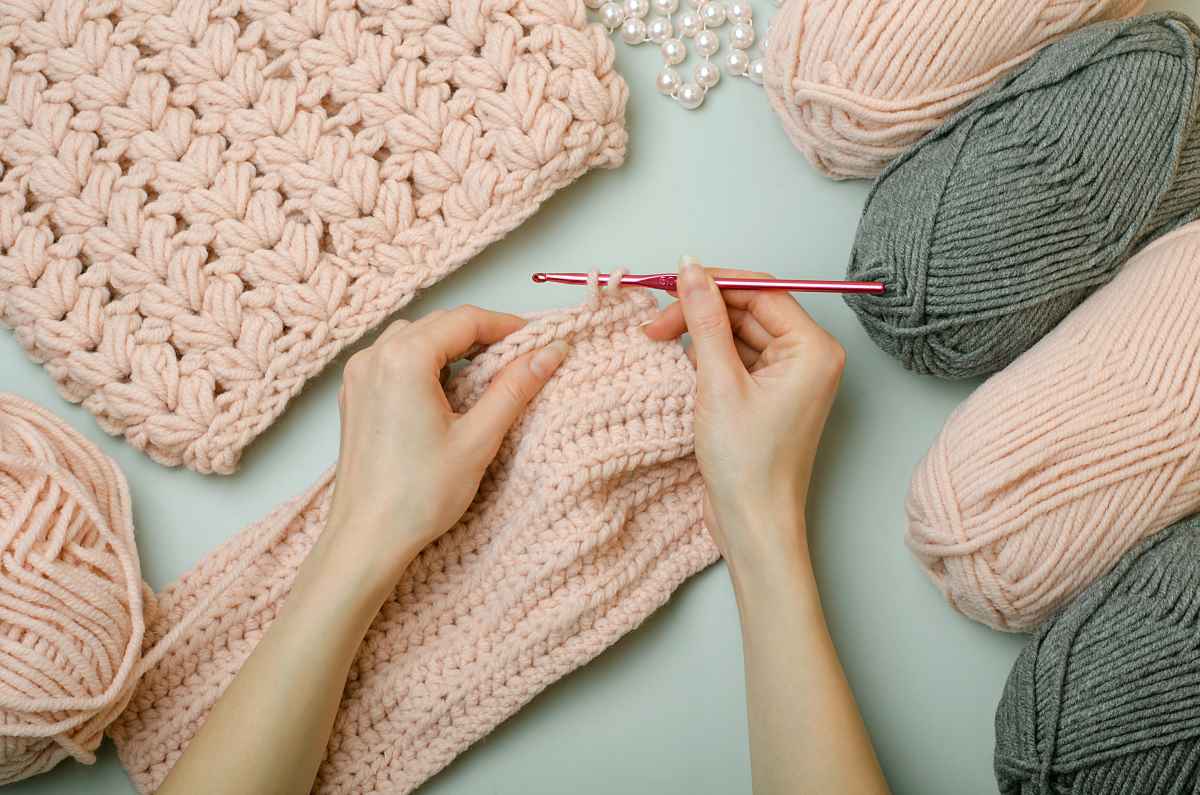 ---
Our Top Picks
Best Overall
Lion 24/7 Cotton Yarn
Budget Option
DROPS Nepal Worsted Yarn
Best for Beginners
Woobles Easy-Peasy Yarn
---
Best Overall
Across the board, crochet enthusiasts sing the praises of Lion Brand yarn. It's one of the most popular yarns for crochet for a reason!
Not only is it well-suited for all kinds of wearables and other projects, from sweaters and scarves (that won't itch!) to baby blankets and socks, but it's also beautiful.
Lion Brand yarn comes in several vibrant, attractive colors that will make your next crochet project pop.
This cotton yarn comes in worsted weight, which makes it good for all skill levels, whether this is your first project or the most recent of so many that you've lost count.
One con to this crochet yarn is that some reviewers complain that it occasionally arrives with cut threads–not ideal for trying to crochet, which requires unbroken yarn.
However, this is a rare occurrence, and you can exchange the yarn skeins if they show up with cuts.
Pros
Good for all skill and experience levels
Good for multiple projects
Vivid colors for beautiful pieces
Cons
Occasionally comes with cuts; can be returned
---
Budget Option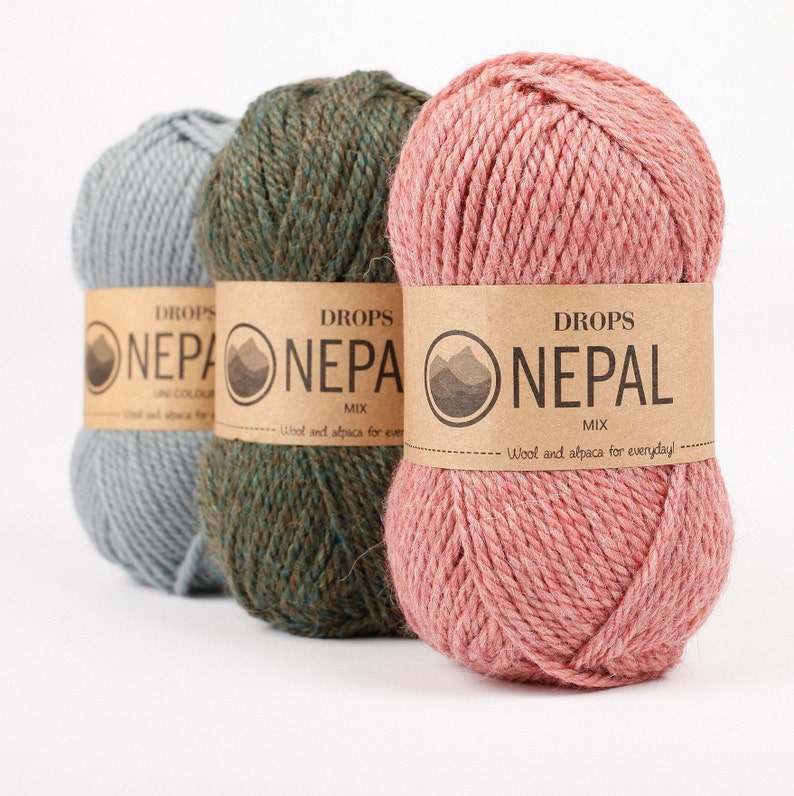 Did you know that, unlike llamas, alpacas actually don't have wool?
This is a common misconception. Alpaca "wool" is actually called fleece; it can also be referred to as fiber!
Why do you need to know this? Because our pick for crochet yarn that won't break the bank is made from a mix of standard wool and alpaca fleece!
DROPS Nepal worsted weight yarn is the best of both worlds when it comes to yarn texture. Wool is a hardy, stiffer material that is easy for beginners to handle; however, wool can also be rougher and itchier on skin. This can make it less desirable for your wearables and other projects.
This is where the alpaca fleece comes in! Alpaca is much softer, and when spun with wool to create yarn, it helps balance out the rougher texture. This provides you with a yarn that can create sturdy wearables and other projects that last longer and hold their shape better than cotton yarn.
One con to consider: wool often shrinks when it's washed, which means you may want to make every wearable larger than you technically need. This results in a longer span of time before project completion.
However, the quality of the results–especially considering the wallet-friendly price tag–are worth the extra time!
This yarn is worsted weight, which also makes it beginner-friendly.
Pros
Alpaca and wool blend creates well-balanced garments and other projects
Budget-friendly
Beginner-friendly
---
Best for Beginners
For true beginners (even kids!) looking for a crochet yarn made specifically for ease of use, Woobles yarn is here to help!
If you're interested in crochet, you've probably seen Woobles–they're rapidly growing in popularity. They've been popping up on many social media sites!
With Woobles kits, beginning crocheters can use step-by-step instructions to make their own miniature plushes. However, for those wanting to do their own thing, Woobles also sells their yarn in skeins!
Woobles has dubbed their yarn "Easy-Peasy," and it lives up to the name. Thanks to its thickness, worsting weight, and overall texture, it's easy to handle and easy to keep track of your stitches as you go.
It also comes in plenty of fun colors!
One downside is that this particular crochet yarn blend–cotton and nylon–is only suited for pretty specific projects. It's not good for wearable items.
However, it is great for plushes, baskets, tapestries, and other decor projects!
Pros
Designed for beginners
Fun colors
Great for plushes and home decor
If you already own a Woobles kit, it can be used to make more of the same plush
Cons
Only good for specific types of crochet items
---
Bernat Maker yarn is another popular yarn for crocheting.
Maker crochet yarn is a good choice for larger projects. Just like the Woobles yarn, it's made with a blend of cotton and nylon, making it suitable for various home decor projects.
One advantage it has over the Woobles crochet yarn is that it's "bulky" weight instead of worsted, making it even more sturdy. This will ensure any crafts that should hold their shape or stand on their own are able to do so.
Since these items will see some more intense use, as they're often used to hold other objects, the bulky weight will also help them stand up to wear and tear.
It is not suitable for wearables.
Pros
Bulky weight
Good for projects that will see plenty of use
Suitable for beginners
Cons
Only good for specific types of crochet items
---
Last but not least is Lily Sugar 'N Cream crochet yarn!
This crochet yarn is spun from 100% cotton, making it a wonderful choice for any wearables or blankets. It's also worsted weight. While you might not want to jump straight to 100% cotton as a beginner, it can be a good second or third step once you have the basics of crochet down.
One pro of the Lily Sugar 'N Cream crochet yarn is its array of colors!
While Woobles Easy Peasy yarn comes in several fun shades, they are a bit childish. Lily yarn comes in equally vivid but somewhat more stylish colors, making it more adult-friendly.
It's also quite absorbent, making it perfect for more unique projects such as towels, coasters, and dishcloths!
The downside to this crochet yarn is that it comes in fairly small skeins, which means you'll have to shell out more money to get enough crochet yarn for more sizable projects.
Pros
Adult-friendly colors
100% Cotton
Good "next step" for beginners to try
---
Best Yarn for Crochet Buyer's Guide
When choosing your yarn, there are a few factors you need to look at: weight, material, color, and difficulty level.
Before choosing what project you want to try your hand at, consider what weight and material you're ready to work with.
Some materials, such as pure alpaca fleece and other softer yarns, can be difficult to manage as a beginner. So, a pair of alpaca-fleece socks probably shouldn't be first on your crochet bucket list.
Certain weights are easier to tackle as a beginner, as well. If a project requires the use of lighter yarns, you may want to wait until you've gotten used to stitching with weightier yarns first.
Stay away from yarns lighter than worsted weight (fingering, lace, or sport weight). Heavier, thicker yarns are easier to work with as a beginner, as they require fewer stitches to complete your projects. The stitches themselves are also easier to see.
Color is also a factor. Avoid dark or multi-colored (also known as variegated) yarns–these make it difficult to keep track of your stitches, which is the most important part of crocheting!
It's also recommended that you avoid textured yarns when starting out, as these strands change in size along their length and make tracking your stitches difficult.
---
Crochet Yarn FAQ
Can I machine wash and dry the wearables I crochet?
You can machine wash your crocheted wearables, though using a delicate or handwash cycle is recommended.
You technically can dry your crochet in your dryer, though it isn't recommended. It's better to line-dry your crochet pieces.
However, if you do decide to dry your crochet wearables, do it on the lowest setting possible. Keep in mind that cotton and wool will both shrink if dried, particularly wool.
Wool is also prone to pilling when dried in a machine, as well as "felting." Felting is the name for when a woolen crochet garment is exposed to heat and movement, combining the stitches and causing them to resemble a piece of fabric closer to traditional felt.
I want to crochet wearables and other items, such as baskets and/or plushes. Can I use the same yarn for all my projects?
While some yarns can be used for multiple projects (for instance, cotton yarn is best for wearables, and you can also make blankets out of it!), other types will not be well-suited to certain projects.
Cotton yarn or any yarn lighter than worsted is not recommended for projects like baskets, plushes, or other types of home decor that have to hold their shape. The heavier your yarn for these projects, the better off you'll be.
So, yes, you can use the same yarn for some projects, but not all.
What yarns should not be used for crochet?
If you're a crocheting expert, you can turn any yarn into something wonderful. If you're not quite at expert level, however, you should avoid specialty yarns like eyelash yarn, which can break even the most hardcore crochet lovers.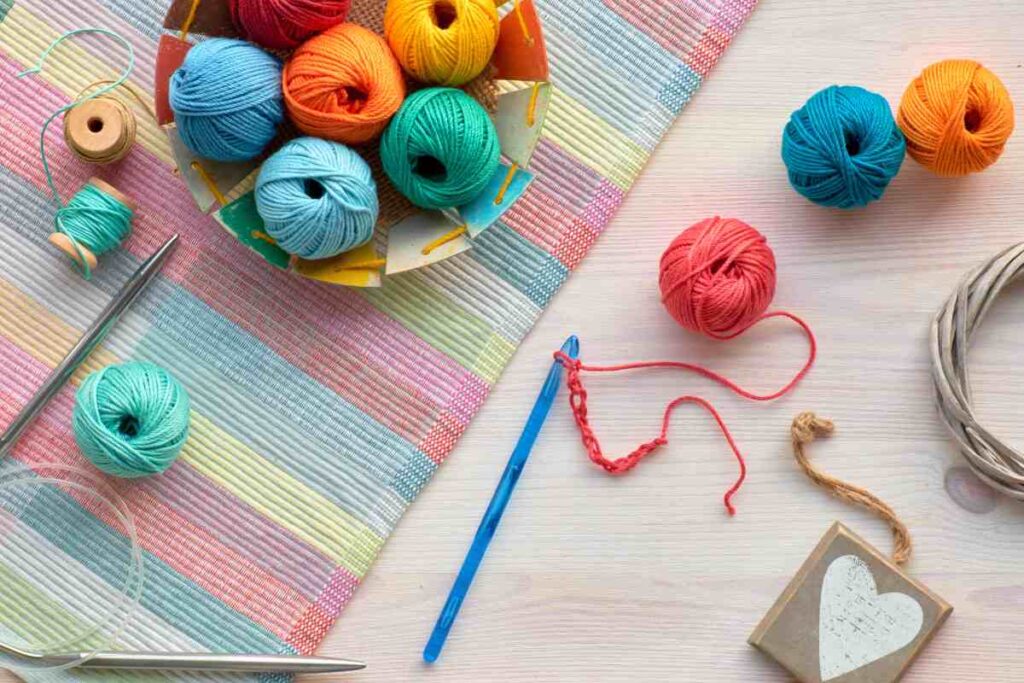 ---
Crochet the Day Away!
Once you've chosen the best yarn for crocheting your next project, you can sit down and lose yourself in stitching!
For more crafts to try your hand at, visit our crafting section now!