If you are new to DIY-ing, chances are you have heard all about chalk-style paints, and you want to give it a try. You've picked out your project piece. You've picked out your chalk paint. You've picked out your chalk paint brush …wait, what was that? You bought brushes but didn't know there were special ones just for chalk paint?
There are!
Because of the nature of chalk paint, you don't just want to grab a traditional paint brush. You want to make sure you find the right brush for the finished look you want to achieve. You see, when it comes to chalk paint, it isn't just about the paint, it's about the brush as well.
But don't worry. We'll walk you through the 11 best chalk paint brushes you need in your DIY arsenal. These brushes will help you create some amazing pieces and have you chalk painting like a pro before you're finished with your first project.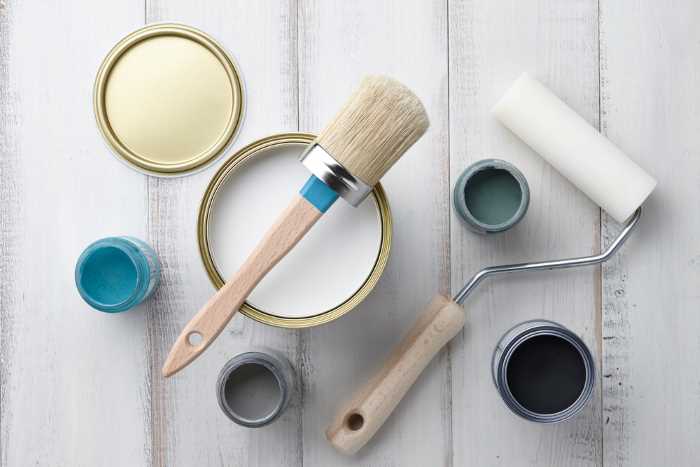 ---
Our Top Picks
Best Overall:
Staalmeester Brush – J – Oval 2010 Series
Runner Up:
Cling On! Oval Paint Brush O35 for Chalk Paint
Best Budget Option:
Modern Art Supplies Chalk and Wax Paint Brush Furniture Set
Budget Kit:
DIYARTZ Chalk & Wax Paint Brush
---
Our Top 11 Chalk Paint Brush Picks
Let's get to our top picks. These are in no particular order, so be sure to check out the entire list before making a choice for your DIY project.
---
Best Overall
Staalmeester Brush – J – Oval 2010 Series
Staalmeester has been making paint brushes for nearly a century, and now they've branched into the world of chalk paint. Their line of chalk paint brushes are made of 100% natural boar bristles, have an ergonomic handle, and are designed for low shedding.
Their chalk paint brush set features brushes of every shape and size for all your painting needs. These let you do everything from painting to blending, decorating and waxing.
Their folk art brush set comes with 6 brushes in varying sizes and styles, making them an excellent choice for furniture and crafting alike.
---
Runner Up
Cling On! Oval Paint Brush O35 for Chalk Paint
The Trekkie in me always giggles a little when I read the name of this chalk paint brush brand.
Cling On! Paint brushes are an excellent choice for synthetic chalk paint brushes. This small, angled brush is perfect for getting into small spaces and doing decoration and detailing, especially on furniture.
The nylon filaments are made to provide even coverage while retaining flexibility and shape retention. Cling On! brushes also help reduce the appearance of brush strokes for a smoother finish.
---
Budget Option
Modern Art Supplies Chalk and Wax Paint Brush Furniture Set
Modern Art Supplies' chalk paint brushes come in a variety of sizes to offer options for painting and detail work. These rounded brushes with natural bristles are designed for use on furniture.
Their shape reduces the amount of time it takes to finish your project while providing a smooth, even coat for both paint and wax. They come in a pack of two, one large and one small brush in the set means you will have the right brush for every part of your project.
---
Infiniti Elementz Professional Chalk and Wax Paint Brush Set
Infiniti Elements offers high-quality, but affordable chalk paint brushes with natural bristles. They come in a set of two and are designed to work for both paint and wax.
These brushes are perfect for providing smooth, even coverage while reducing painting time, making them perfect for large areas or projects.
---
Brossum Large 2-in-1 Chalk and Wax Paint Brush
Brossum's chalk paint brush is another great option if you are looking for an affordable brush. Available in both a large and extra large size, this natural bristled brush boasts maximum bristle retention meaning you'll have minimal shedding when using it on your DIY project.
Like several others on this list, you can use the Brossum brush with both wax and paint, making it a one-shop stop for your DIY project.
---
Dixie Belle Best Dang Brush
Dixie Belle is a widely-known and respected brand of chalk paint, and the company also offers a variety of chalk paint brushes. The company offers both synthetic and naturally bristled brushes.
Dixie Belle's Best Dang Brush is made of natural bristles. It has a rounded shape that is perfect for painting and blending. The flexible bristles allow for more movement and spread the paint evenly across the surface, reducing the risk of brush strokes and helping you get a smooth, even look on all your projects.
Dixie Belle also offers a line of synthetic chalk paint brushes and regular brushes that are available in a variety of sizes and shapes.
---
Tatler And Tatum
Tatler and Tatum's wax and chalk paint brush is an excellent and affordable alternative to other chalk paint brushes. It is designed to work with chalk paint, milk paint, and finishing wax and is a low shedding, naturally bristled brush.
Made from rounded natural bristles, this chalk paint brush is perfect for blending, painting, and applying wax. Its rounded shape helps reduce the time it takes to paint by providing smoother, thicker, and more even coverage.
by providing smoother, thicker, and more even coverage.
---
1st Place
1st Place chalk paint brushes feature a variety of sizes and shapes to help with all your painting projects. This particular set is a pack of 4 natural brushes, including a round brush, 2 piece brush set, and a 4″ flat brush.
That means that you can do almost anything with this set, from painting walls to doing detailed work. Made from natural boar hair, the bristles provide the maximum amount of paint retention. The bristles are firmly set into rust-proof stainless steel ferrules to reduce shedding.
---
Paint Pixie
Paint Pixie brushes are specifically made to be used with chalk or clay-based paint. The company offers a wide range of brushes made for everything from painting walls to decorative work to waxing.
The Paint Pixie Lil' Dusty model, for example, is made for blending colors to achieve a perfect combination of colors. Paint Pixie offers both natural and synthetic models.
---
Annie Sloan
Annie Sloan is the original name in chalk paint, so you can guarantee you'll get a good quality brush from the company that first brought us chalk paint.
The natural bristles are made with split ends to help you achieve good coverage and a smooth, even finish.
The one downside to Annie Sloan is that their brushes are not available for purchase online in certain companies, so you have to find a retail store in your area that carries them. In some instances (such as mine) you'll have to travel 30 miles or more to find a retailer that offers them in stock.
---
New Renaissance
New Renaissance's chalk paint brush is a high-quality, affordable model that helps you achieve good coverage in a short amount of time.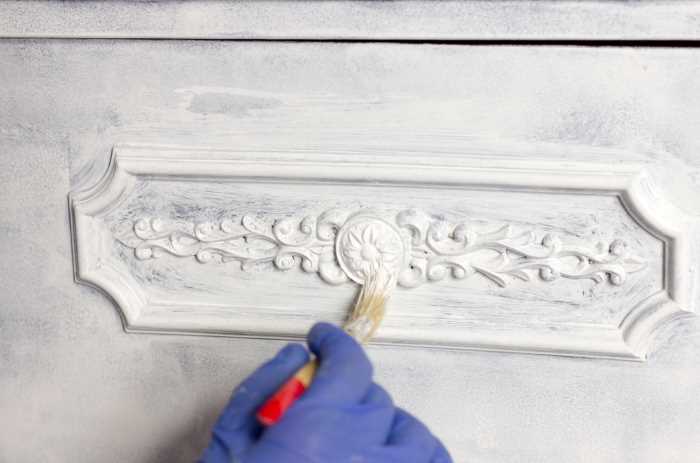 This chalk paint brush is made of natural bristles and is designed to be used with both paint and wax. It is designed for use on furniture, helping you get the coverage you need to help your projects shine.
---
Why Do You Need A Different Brush?
Chalk paint isn't like traditional acrylic paint. It is a thicker, water-based paint designed to give a matte finish when used. Because it is designed to look aged and weathered, you'll want to make sure you use a chalk paintbrush designed to give you that finish. The appeal of chalk paint is that it gives you a hand-painted look, vs the more sleek, polished look you get with acrylic paints.
Even as a first-time DIY-er, choosing the right chalk paint brush will help you achieve the gorgeous effect you are going for and make your piece (and you) look like a pro job.
And most chalk paint brushes you will see are round in shape, vs the wide, flat-styled brushes you commonly use for acrylic paints. Your next question is probably, why round brushes?
The answer is simple. A round brush helps to create the gorgeous effect you get with a chalk paint project. If you are choosing to do a project with chalk paint, more than likely, you are hoping to achieve the hand-painted matte finish. That is mostly achieved through the use of a round brush.
The round design gives you more control over the way the paint is applied to your furniture piece, thus giving you more creative control over the overall look. It helps you achieve the gorgeous hand-painted brush stroke effect that is so popular with chalk paint.
---
But Wait, There's More
But choosing the right brush doesn't end there. In fact, there is more to it than simply grabbing a brush labeled "Chalk Paint Brush." You also need to understand the differences between natural bristled brushes and synthetic bristled brushes.
Natural bristle brushes are often made using natural animal hair, most often from hogs, goats, oxen, or sable. These create a very natural look to your brush strokes. Typically, natural brushes are the ones most seasoned DIY-ers prefer to use for their projects because, overall, it gives a better finish than synthetic ones.
But be careful. Not all natural bristle brushes are created equal. Anytime you use a natural product of this nature, you will run the risk of the bristles shedding due to their fine texture – after all, they're made of hair. So, you will want to make sure you find a brush that is low-shedding.
Synthetic bristle brushes are made from synthetic fibers and not animal hairs/bristles. Most often, nylon, polyester, or a combination of the two is used for these brushes. They will create a much smoother finish to your overall work, vs the look you get using natural fibers. This isn't necessarily a bad thing if that is the look you want to achieve.
So, when picking which bristle style you want to use, think about the look you want your finished project to have.
---
How To Care For Your Chalk Paint Brushes
The most important aspect of caring for your chalk paint brush is to maintain them when they are not in use. When you're finished painting, squeeze as much paint as possible out of the bristles. Then wash it under a running faucet. Usually, a rinse under warm water is enough. If you feel like it's necessary, you can use mild soap. As you wash it, run your thumb repeatedly along the bristles to squeeze out any remaining paint.
Be sure to hold your brush's handle up, with the bristles at a downward angle so as not to get the epoxy holding them in wet. This will help to ensure the longevity of your brushes and reduce the amount of shedding that could occur over time with extended use.
Be sure to use a soap that is as mild or natural as possible, especially on natural bristle brushes. Stronger, more abrasive soaps can strip out important oils over time. If you need to use soap regularly, use shampoo! It will clean your chalk paint brush while also protecting the bristles and keeping them soft and pliable.
To dry chalk paint brushes, wrap them in a clean cloth or hang them by the handle to drip dry. This will ensure that all the moisture evaporates instead of running into the handle or other components.
---
How Do You Store Chalk Paint Brushes In Between Coats?
Chalk paint needs to dry completely between each coat, which usually takes around 24 hours. During this time, it is vital that you store your paint brush properly so that it doesn't dry out. You don't necessarily need to wash it – in fact, some experts recommend avoiding it. Instead, wrap it in plastic wrap or a plastic bag until it's time for your next coat. This will keep it moist and pliable so that it's ready to go.
---
How Do You Get Rid Of Brush Strokes In Chalk Paint?
Getting a smooth finish with chalk paint is vital to the final look of your project! As you're working, brush gently in every direction to reduce the brush strokes. Alternatively, you can brush in a single direction, then switch to the opposite direction during the second coat. Some brands of chalk paint also have leveling agents that reduce the appearance of brush strokes and give a smooth finish.
---
Conclusion
Chalk paint is a trendy and versatile way to decorate your furniture, walls, or other projects. No matter what you are working on, the key is to have all the right tools, including the right chalk paint brush. This will ensure that your finished project looks as good as it can.
Do you have a favorite brush we didn't mention on our list? Tell us about it in the comments below. And happy crafting, guys.