Finding bedroom decorating ideas on a budget doesn't have to be a stressful ordeal. In fact, finding cheap home decor to spruce up your bedroom can actually be quite fun!
Knowing where to look and what to look for can make redecorating a breeze. Keep reading for fresh ideas to inspire your inner interior designer – you'll be surprised at how many low-cost options are out there!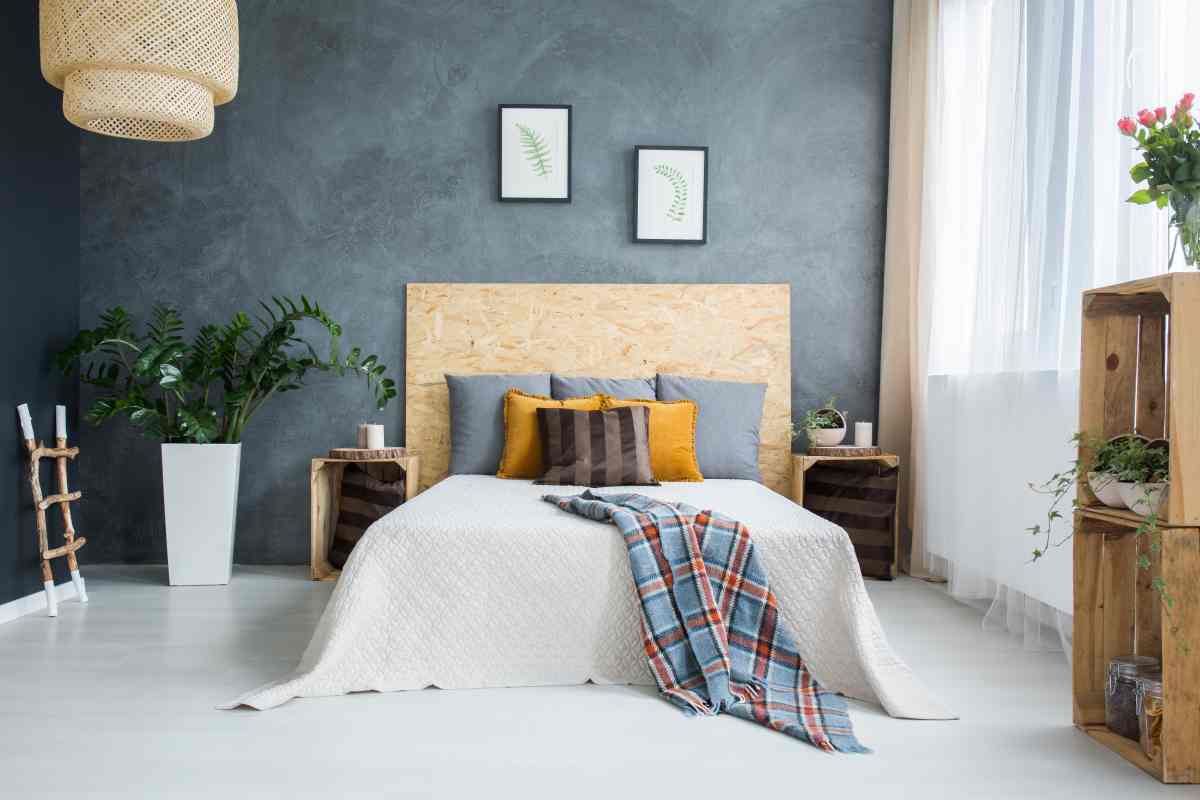 ---
1. Wall Art
One of the best ways to make your space feel new again is by changing up your wall decor. After all, your walls are one of the things you look at the most in your home! One of the cheapest ways to redecorate your home is by simply rearranging what you already have on your walls.
If you always look at the same things on the wall that your bed faces, try putting them on a different wall or rearranging how they're placed! Changing your perspective can give your space a whole new feel and be a phenomenal way to save money while redecorating.
If you're craving something new, the options for cheap wall decor are endless. For art fans, these Sage Green Wall Decor Prints will make a great neutral addition to your space. For a more colorful addition to your walls, these Eclectic Wall Art Prints will easily bring some new life into your room.
Adding photos of loved ones to your walls is another great way to personalize your space. This 8 x 10 Picture Frame Set of 6 allows you to mix and match where you place your photos – fantastic for switching things up when you want a change! If you prefer to keep all of your photos in one place, this 18 x 18 Inch Photo Collage Frame is a great bedroom decorating idea on a budget decor option.
---
2. Accent Walls
If you've never explored accent walls before, you'll be surprised at how much of a difference painting just one wall can make. Adding color to just one side of the room makes it the focal point – perfect for creating color schemes or making certain decor pieces pop against the chosen color.
If you don't want to commit to painting an entire wall, removable peel-and-stick wallpaper is a wonderful way to change up your space! This Modern Blue Geometric Peel and Stick Wallpaper adds both color and design and will look great with a variety of styles.
---
3. Utilizing Floor Space
When looking for bedroom decorating ideas on a budget, many people often overlook the floors. Although floors certainly aren't where the eye is drawn to, experimenting with floor decor can really tie a room together. As well as adding design, rugs can increase the element of comfort and make a space super cozy!
This Shaggy Bedroom Rug comes in a variety of colors and sizes. Placing this rug at the edge of your bedframe will help draw attention to your bed and cushion the space around it. For a circular option, this Handwoven Jute Rug is a great neutral piece to add to your space. Circle rugs make a wonderful complement underneath circular tables, lounge chairs, or desks.
---
4. The Magic of Lighting
Experimenting with lighting use in your bedroom is a wonderful way to personalize your space. Although overhead lighting is convenient, the default bulbs are usually unattractive shades of yellow or bright white. Using a lamp helps highlight different parts of your room and creates a warm, inviting atmosphere – making your space much more cozy!
Depending on the location of your light switches, adding a lamp to your nightstand can also be a matter of convenience. Instead of having to get out of bed to go turn off the overhead light, a bedside table lamp can be turned off in just a quick second. This Minimalist Bedside Table Lamp provides a warm glow that is perfect for winding down before bedtime.
The best bedroom decorating ideas on a budget stretch your money in ways you've never considered before. This Floor Lamp with Shelves not only creates a moody atmosphere in your room but also doubles as storage space – three built-in shelves are the perfect spot for plants, picture frames, books, small knick-knacks, and more.
Besides practicality, experimenting with light in your home can be a great way to add fun pieces to your collection. This Cherry Blossom Bonsai Tree creates a gentle glow that radiates out from a cute light fixture shaped like a bonsai – looking for lamps has never been more fun!
---
5. Throw Pillows and Bedding
When considering bedroom decorating ideas on a budget, many people tend to forget about the place they spend the most time – their bed! Whether you realize it or not, your bed plays a huge part in your room decor; therefore, it's important to consider it an equal part of the space you decorate.
For a relaxed, neutral room – this All-Season Comforter comes in multiple calm tones that will complement any design scheme you've put together. Even if you already have a comforter you like, having an extra one on hand can be just what you need to spice things up when you tire of the current one.
In addition to providing extra comfort, throw pillows are a wonderful and budget-friendly bedroom decorating idea that can add flair to your space. Besides resting on your bed, a throw pillow on a chair or extended window sill can make a world of difference. These Throw Pillow Covers come in a set of four and are available in multiple sizes and colors.
---
6. Long-lasting Plants
Bringing plants into your bedroom is a fantastic way to add life and greenery to a space in which you will spend ample time. Although it's fun to have the real deal, live plants are a responsibility – and anyone who lacks a green thumb knows they can be quite hard to keep up with.
Fake plants look just as wonderful as real ones, and they are guaranteed to last a long time. If you have a shelf or a corner of the room that seems empty, try adding a fake plant! These little gems can brighten up a room and quickly add character to your space.
This Artificial Peperomia Watermelon Plant has a few patterns to choose from and has a unique draping effect that will look great when placed on a higher shelf or elevated surface. If you're looking for something to take up more space, this Dracaena Artificial Silk Plant stands 4ft tall and looks very real!
For a unique option, these Mini Fake Succulents in Human-Shaped Ceramic will make an eccentric addition to your desk, bedside table, or shelf.
---
7. Candles
Bedroom decorating ideas on a budget can be something as simple as adding a few candles around your room. Although minuscule, these Unscented Tea Light Candles are sold in bulk and can make a surprising difference when placed around a room. Whether placed in a decorative line or individually positioned around the room, these little candles fill a space well and are the perfect minimalist decor piece!
If you prefer something a little more prominent, these Flameless Battery-Operated Candles are a nice addition when placed in groups or at complementary angles. Tall candles without a real flame look especially nice when positioned to frame larger pieces such as a TV or a stack of books.
---
8. Shopping Secondhand
One of the best places to look for bedroom decorating ideas on a budget is at secondhand stores. Consignment shops, antique stores, and thrift stores all sell gently used items at discounted prices. Of course, product availability varies by location. However, with a bit of patience, you can often find very cool items for quite reasonable prices!
For fans of academic decor, used books are often sold for quite cheap and make a wonderful addition to any space. Books look great on shelves, leaned against the wall, or stacked on a bedside table.
Tables, tablecloths, lamps, vases, picture frames, bedding, bookshelves, and more often pop up at secondhand stores. If you find an item you like that's a little more worn in than you'd like it to be, you can always fix it up to get it back up to par. Even better, you can completely redesign a furniture item to match your taste!
---
9. Repurposing Old Furniture
A common misconception is that repurposing old furniture is an expensive process – this doesn't have to be true! Depending on what you're going for, even just a fresh coat of paint can bring new life to a nightstand or bookshelf.
Switching out drawer knobs, changing a lampshade, and even simply rearranging furniture are all ways to change the feel of a space.
While repurposing secondhand furniture is a great way to freshen up an old piece, the cheapest way to redecorate your home on a budget is by repurposing the furniture you already have. After all, there's no cheaper place to shop than your own home!
---
Where to Look for Cheap Home Decor
Besides designated secondhand stores, local yard sales and online marketplaces are great spots to snag budget home decor. If you tend to strike out when shopping secondhand, retail stores such as Home Goods, TJ Maxx, Target, Walmart, and IKEA sell cheap decor items that can help spruce up your space.
Cheap home decor items are always on rotation at these stores, and an ever-changing selection of products increases your chances of finding something you like – and increases the odds of finding decor at a discounted price!
Craft stores like Michael's also sell budget decor items and are a great place to look for affordable items to help repurpose and spruce up your old furniture. It may take some digging, but there are plenty of places to find affordable decorative items that fit your taste!
---
So Many Bedroom Decorating Ideas on a Budget
Now that you have an abundance of bedroom decorating ideas on a budget, the only thing left to do is get your home improvement project started! By knowing what you want your space to look like beforehand, your new room will come together before you know it.
Need more inspiration on how to decorate a home to your tastes? Check out our other posts on home decor ideas to help get you started!