If you're a fan of chalk paint, you have probably tried some of the leading brands of this type of paint and are wondering about the Rustoleum chalk paint, also known as Rustoleum Chalked.
Chalk-style paint is a great way to give old furniture an exciting and fresh new look. Both amateur and professional furniture refinishers have grown to love the look they can get with chalk paint. For one thing, the matte finish you achieve with chalk paint can give furniture a vintage or country look.
Another great benefit of chalk paint is that it's straightforward to use because you don't have to do any prep work before painting surfaces with chalk paint.
Are you ready for a comprehensive review of Rustoleum chalk paint? Let's dive in and learn more about what chalk paint is all about and precisely what Rustoleum Chalked brings to the table.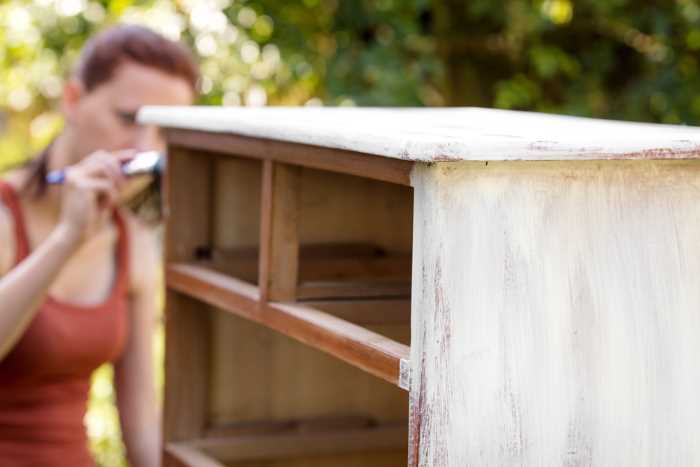 ---
Bottom Line Up Front
Rustoleum Chalked has performed well for me, and the drawbacks are minor. Due to its affordability, availability, and excellent color selection, I'm happy to recommend it.
Purchase here:
Brush-On Chalked
Purchase here:
Spray-On Chalked
Purchase here:
Chalked Protective Top Coat
Read more for background on the paint, the company, and specifics about Rustoleum Chalked.
---
History of Chalk Paint
Annie Sloan was the first company to come out with chalk-style paint, and the company actually trademarked the name "Chalk Paint." That's why other companies who create chalk-style paint have to change the name of their paint. With Rustoleum, the name is simply Chalked.
---
---
About Rust-Oleum
Rust-Oleum was founded in 1921, making the company 100 years old as of 2021. It started when a sea captain named Robert Fergusson noticed that when he applied fish oil to his ship's metal deck, the deck didn't rust. From there, Captain Fergusson worked closely with a chemist to develop one of the first rust-preventive paints in the world.
Rust-Oleum has long been the gold standard in rust-preventative paint for metal surfaces, but the company soon expanded to encompass products that work on various other types of surfaces.
And like most paint companies, Rustoleum has developed its own brand of chalk-style paint, simply known as Chalked.
Chalked is low-odor and safe to use on practically any surface. Like Annie Sloan, it is water-based, so it cleans up nicely with soap and water.
---
---
Why Do People Use Chalk Paint?
Chalk paint has grown in popularity ever since it first became available in the 90s. Part of the reason for its popularity is its versatility. All chalk paint, including Rustoleum Chalked, is easy to use and requires minimal prep work before use. Chalk paint can be used to cover nearly any surface that paint will adhere to, and, in most instances, all you need to do is clean the surface prior to use.
Another reason people like working with chalk-style paint is that it does a great job of camouflaging blemishes that are present in older pieces of furniture. In fact, if a piece of furniture has minor blemishes, it even adds to the charm of the piece, once painted, if your decor is shabby chic, vintage, farmhouse, or country.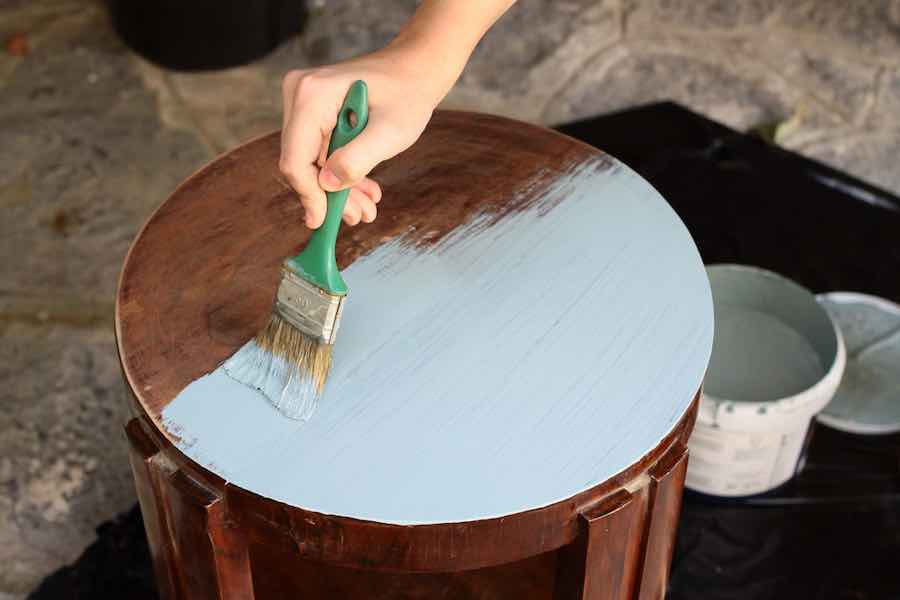 ---
---
How to Choose the Best Chalk Paint
Because there are several different brands that offer chalk-style paint, choosing the best chalk paint can seem like a daunting task. It's all about doing your research and deciding on which paint best suits your current project. Several factors can come into play here, from color to availability, to coverage. Like anything else, you always want to do your due diligence to find what is best for the final look you want to achieve.
For example, some paint companies don't offer chalk paint in a spray can, so if you're painting something like wicker baskets, you will want to keep that in mind. Alternatively, if you're doing a huge furniture chalking project, you probably want to go with a company that sells chalk paint in larger cans.
---
---
Rustoleum Chalked Paint Cost and Availability
Obviously, when you are deciding on the best chalk-style paint for your project, you want to look at several factors. Two of those are cost and availability.
Rustoleum Chalked can be found at a number of retailers, from Lowes to Walmart to Amazon. It is available in a variety of different sizes, so you will be able to find it in just about any size you need. You may also be able to find it at local hardware stores, but those stocks tend to vary, so it may be beneficial to call ahead before making a drive to the store.
The cost of chalk-style paints can vary widely depending on brand and size, so you always want to make sure the paint you want to use also fits within your budget, especially if you are working on a larger project. The good news here is that Rustoleum Chalked is very affordable.
Rustoleum Chalked is comparable in price to other chalk paints, and it's less expensive than the leading brand, Annie Sloan. A quart of paint will run you around $17 – $20, while you can find smaller cans for around $10. The spray version will typically cost around $8. Of course, prices will vary based on the store and area you live in, but this will give you a general idea of the cost you can expect to spend.
---
---
Rustoleum Chalked Coverage
Rustoleum Chalked provides decent coverage and distresses well, which is a plus if you want to create a weathered, shabby chic, distressed, or worn look.
If you are a die-hard Annie Sloane fan, you'll instantly notice that Rustoleum Chalked isn't quite as thick. This means, in most instances, you'll need to apply at least two coats to get the coverage you want. Be sure to give it adequate time between coats to dry. But don't let this detour you because it does have an excellent matte finish that is comparable to other brands on the market once your second coat is applied.
Like most chalk-style paints, you can apply Rustoleum Chalked without any prep work beyond cleaning your piece first. However, if you are working with furniture that has a glossy finish, you may want to give it a light sanding to give the paint something more porous to grab hold of. This will give you a better overall finish and coverage.
---
---
Rustoleum Chalked Paint Colors
One plus side to Rustoleum Chalked is that you will be able to get it in a variety of colors, in both can and spray form.
It comes readily available in 6 pre-mixed colors, available in a variety of can sizes. And the 30-ounce can of Rustoleum Chalked Ultra Matte Paint Tint Base comes in 26 different colors, such as Amethyst Deep Navy, Fresh Mint, and Raspberry, just to name a few. These will have to be mixed in-store at the paint counter.
You'll be able to find the spray version in 12 different colors, including Country Gray, Serenity Blue, and Farmhouse Red.
Rustoleum recommends that you use their Ultra Matte Top Coat to add protection and durability to the items you paint with Rustoleum Chalked. The company says to apply no more than one to two thin coats of the topcoat.
When they say thin, they mean THIN. From experience, the top coat can be a bit runny if you aren't careful, so watch for that when applying it to your finished project.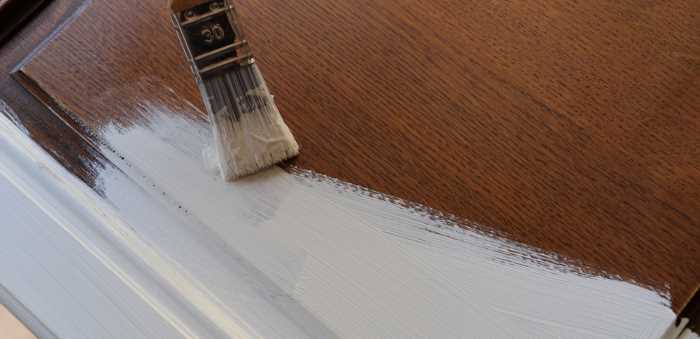 ---
---
Versatility
I'll admit, for some of this section, I am relying on the experience of others as I have only used Rustilium Chalked on a few wood and craft projects. The Rustleum website boasts that you can use Chalked on wood, metal, glass, ceramic, canvas, and more.
In my experience, for anything with a slick or glossy finish, you will want to do a light sanding beforehand to give the paint something to grip. I failed to do this on a pizza tin I was painting for a project and has some issues with the spray version adhering to the surface adequately. It worked perfectly and gave me an excellent finish when using both the spray and brush-on versions with unfinished wood.
So, like most chalk-style paints, Rustoleum Chalked will work well on practically any surface. You'll just have to do some light prepping before use on certain surfaces.
---
---
Durability
As with most chalk paints, you will want to be sure and apply a sealant to your finished piece. I know there is always the temptation to skip this step when working on a project, especially if you like the look you get after applying your final coat of paint. But trust me when I say, you don't want to skip this step with this paint.
The top coat will give it the layer of protection it needs and will provide longevity for your finished piece. Otherwise, you'll be dealing with chips or wear over time. If this is the look you are going for, then great! If not, you'll find yourself having to touch up your paint job down the road.
---
---
Pros
If you are looking for a paint and you are wanting to give Rustoleum Chalked a try, here are some of the definite pros to this paint:
Affordability – it is one of the most economical chalk-style paints on the market
Availability – You can find it at any number of retail and hardware stores
Color options – It comes in a limited number of pre-mixed colors, but you can have close to 30 colors mixed at your local retail store.
Fast drying – I haven't mentioned this yet, but Rustoleum Chalked dries faster than most other chalk-style paints on the market. This means you'll be able to complete your projects quicker than you would use another brand.
Has a nice finish after two coats
Distresses well
Cleans up easily
---
---
Cons
Sadly, nothing is perfect, so Rustoleum Chalked does have its limitations as well. Some of the downsides to choosing this paint are as follows:
Thinner than Annie Sloan, so you'll need to apply more than one coat for adequate coverage
You'll have to apply a sealant to ensure longevity (as with most chalk-style paints) – and most likely two coats if you follow the advice on Rustoleum's website.
Depending on where you live, you may be more limited with color options if you don't live near a store that is able to mix paint colors on-site.
---
Final Thoughts
Overall, I am pleased with the results I get with Rustoleum Chalked. The Pros of this paint definitely outway the cons, and if you are prepared for what you will experience when you use this paint, you will be able to get the desired look with minimal headache.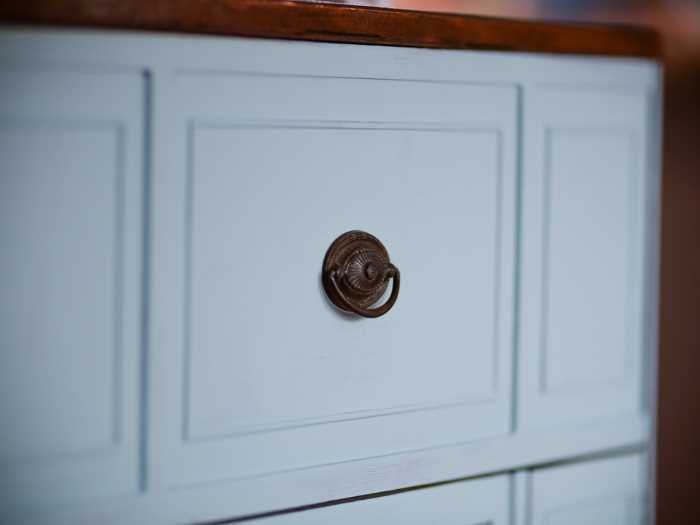 It is also one of the most affordable options out there, so if you are a DIYer on a budget, I don't think you'll be disappointed giving this a try.
If you have used Rustoleum Chalked before and want to share your experiences, please do so in the comments below. We would love to hear what you loved or didn't, about this chalk-style paint.