Handmade picture frames, charming Christmas tree ornaments, custom wall decor – these are just a few of the many projects you can undertake as a wood crafter. Wood has always been a popular artistic medium among hobbyists, and it's no wonder why. There are so many ways you can get creative with this timeless material.
Are you looking to get started with casual wood crafting but aren't quite sure where to begin? No worries – we've got you covered! Together, we'll explore some of the most popular wood-cutting machines on the market and discuss how to select the option that's best for you.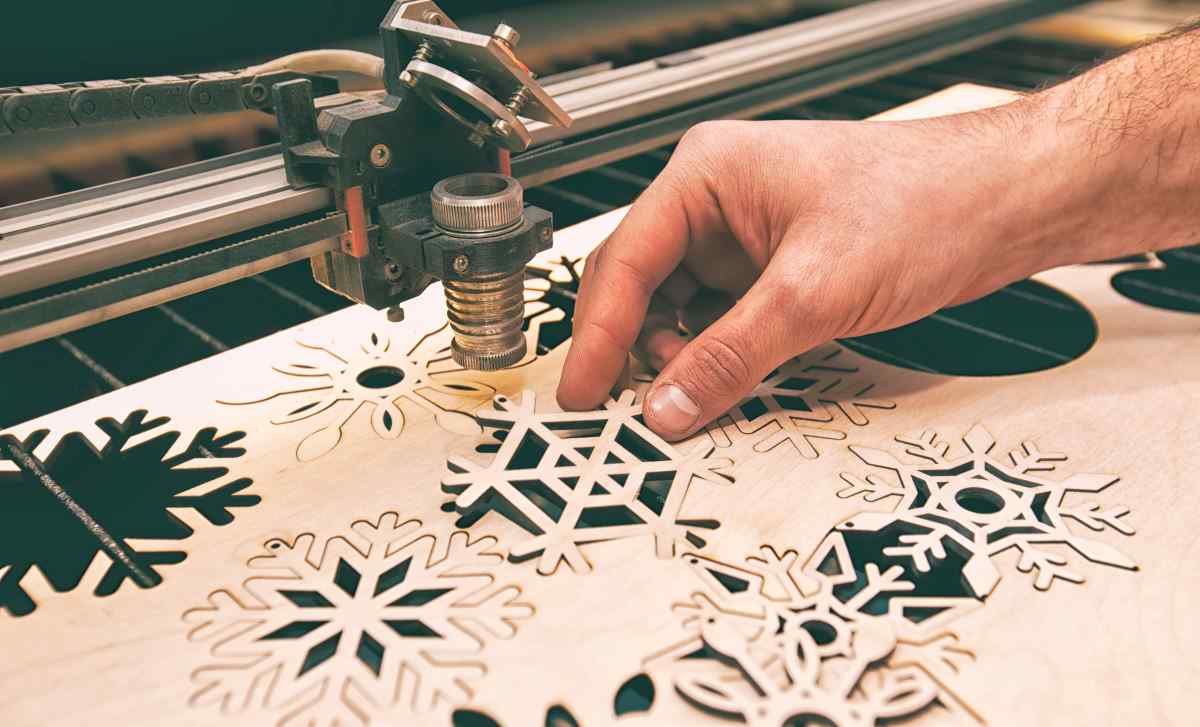 Our Top Picks
Best Overall
xTool M1 3-in-1 Laser Engraver & Cutting Machine
Budget Option
Genmitsu CNC 3018-PRO
Most Versatile
Cricut Maker 3
---
Best Overall
For our Best Overall award, this laser cutter from xTool was an easy choice. Using a focused laser beam, this model "cuts" the wood by burning it away – a technique that is very popular among wood crafters because of its efficiency on wood of varying thicknesses.
This machine has the ability to make very precise cuts in 3-D – so the creative possibilities are practically endless.
xTool is a well-known brand among crafters, boasting a great reputation for versatility and reliability. This model, which also features a cutting blade attachment, is a solid choice for a reliable wood-cutting machine.
Even though it's pricier than the other blade-based cutters on the list, it's still much more affordable than other laser cutters – making it a great choice for those looking to dive into wood cutting for the first time.
Pros
Great entry-level laser cutting machine
Can handle both thin and thick wood
Will make very precise cuts; can be used for more intricate designs
Option to use attachment blade if needed
Cons
More expensive than a regular blade-based cutter
Some buyers reported difficulty with contacting customer support
---
Budget Option
If you're hoping to delve into wood crafting without breaking the bank, this option from Genmitsu might be exactly what you're looking for. This affordable blade cutter comes with everything you need to get started while still sticking to your budget.
Like the xTool, this machine is able to make cuts in 3-D space.
One of the major upsides of this particular model is that the components come pre-positioned, so you don't have to stress over the calibration before using it for the first time.
For an even more user-friendly experience, the Genmitsu uses open-source software with widely available documentation and online tutorials – giving you plenty of ways to learn and hone your skills.
The brand also offers the option to upgrade the tool to a laser cutter by purchasing an add-on attachment sold separately. So, if you purchase this model as a beginner and then find yourself really enjoying wood crafting, you have the chance to go even deeper.
Pros
Affordable, especially for those just getting into the hobby
Components are pre-positioned
Can upgrade to a laser cutter down the road
Cons
Some customers reported assembly instructions were unclear
Some customers had difficulty learning how to use the software at first
---
Most Versatile
Despite the brand's popularity, many people don't realize that a Cricut machine can be used with wood – but with the right blade, it can handle several types of wood popular in crafting. The Cricut Maker 3 is the perfect partner for casual wood crafting when paired with the knife blade attachment.
The Cricut machine can be used for both cutting and engraving wood, depending on the project. However, if you're hoping to make complete cuts, keep in mind that it's best suited for projects with thin wood. The brand specifies it will only cut through basswood up to 1/16″ and balsa wood up to 3/32″.
Nevertheless, we think it's a great option for crafters who work in multiple mediums and want a tool with the versatility to handle them all.
Pros
Popular craft brand with easy-to-use software and plenty of online tutorials
Mid-priced machine – and if you already have one, you'll only need to purchase the blade
Can be used to cut through wood completely or do etching/engraving work
Machine can be used for other kinds of crafting
Cons
Need to buy special blade attachment separately
Cannot cut through thick wood
---
Best Manual Option
The options we've discussed so far rely on computer programs to tell them where to cut — but if you're comfortable making your wood cuts by hand, a handheld tool can be a much more affordable option for a wood crafting machine.
This electric rotary tool from HARDELL is great for projects with simple cuts that don't require a lot of detail. If you're simply looking for a quick way to separate pieces or trim edges, this tool has you covered.
The cordless design allows you to hold it at whatever angle works best, and several other blade attachments are included in the package as well to help with tasks such as sanding and drilling.
Pros
Very affordable option
Cordless design
Has other blade attachments that can help with other woodworking tasks
Cons
Some customers reported difficulty with some of the attachments
---
Best Handheld Engraving Machine
Since wood crafting can take so many different forms, we wanted to include a bonus option for engraving.
If you're crafting with wood and looking for something that doesn't cut all the way through, but rather makes detailed cuts on the surface, this model from UTOOL is indeed the tool for you.
With an ergonomic grip design, this machine allows you to manually engrave the surface of the wood.
While it might take a bit of practice to be able to achieve the level of detail and precision you're hoping for, this affordable pen tool will give you the option to add a personalized touch to your wood crafts.
Pros
Affordable manual option
Comes with multiple steel bits
Ergonomic design makes it comfortable to hold
Cons
Can be a difficult learning curve at first if you've never used a tool like this before
Some customers reported it was a bit loud
---
Wood Cutting Machine Buyer's Guide
Now that we've highlighted some of our favorite wood-cutting machines, let's talk about some of the factors you'll want to consider when buying your next tool.
Type of Wood Craft
What are you planning on making? This is perhaps one of the most important questions you can ask yourself as you're deciding on a wood-cutting machine.
The thickness of the wood that you're using, as well as the level of precision and intricacy you're hoping to achieve with your cuts can be especially helpful for determining what sort of cutter you'll need.
Handheld vs Stand-Alone Machine
It's also important to be honest with yourself regarding your general comfort level with tools. Would you feel comfortable cutting the wood yourself with a handheld rotary tool, or would you rather use software to create the design on a computer and then have the stand-alone machine make the cuts for you?
Determining your personal preferences for how manually involved you'll be in the cutting process can be immensely helpful for making a decision.
Commitment and Investment
You'll also want to consider how much you're interested in spending on a wood-cutting machine.
Blade cutters are typically more affordable, with handheld machines being the cheapest and something like a Cricut being a bit pricier. On the other hand, laser cutters can be much more expensive.
Depending on whether you're just getting started with this hobby or are a seasoned crafter looking for a high-end machine, you may have a different idea of how much money you're willing to invest.
---
Wood Cutting Machine Frequently Asked Questions
Q: How do I know whether a blade or laser cutter would be right for me?
Both of these blade types are able to make precise cuts and are available as lay-flat and 3-D machines.
However, one of the key distinctions is that blade-based cutters are typically more affordable, while laser cutters can handle thicker wood. Therefore, your distinction will likely depend on what sort of wood you're working with and how much you're willing to spend on a machine.
Q: I don't consider myself a very "handy" person – what sort of wood-cutting machine will be the easiest for me?
A stand-alone machine such as a Cricut or xTool might be a suitable option if you don't have much experience with tools.
Since these models are controlled by computer software, your crafting will be more like using a printer than a power tool; you'll do all the design work digitally, and then the machine will take care of the actual cutting.
---
Wrapping Up Wood Cutting Machines
Wood crafting is a timeless and rewarding hobby – and in today's day and age, there are more tools to assist you with it than ever before.
We hope this guide has given you all the information you need to get creative with your next wood-cutting machine!
If you're looking for some creative inspiration, check out our other posts about wood crafting.