Looking to distress a piece of furniture? You'll need some wax!
Wax is a great product to use for distressing furniture because it allows you to emphasize some of the more intricate details, like fine wood carvings or engravings, and laminate accents. It's a sure way to enhance the vintage feel you're working to achieve.
Keep reading to learn about our top five picks for the best wax for furniture distressing.
---
Our Top Picks
Best Overall
Clear Finishing Wax from Jolie
Budget Option
Paraffin Wax Block from Blended Waves, Inc.
Best Natural Wax
Yellow Beeswax Block from Stakich
---
Best Overall
The Clear Finishing Wax from Jolie deserves the top spot on our list of the best wax for furniture distressing because of its quality, reliability, and versatility.
When you're using wax to distress furniture, you can use clear wax as a base, and also combine it with other waxes to achieve the look that you want. If you plan to use dark wax as well, clear wax will protect the surface so the dark wax doesn't penetrate too deep into your furniture. This wax leaves behind a matte finish, though you can buff the surface to produce a subtle sheen.
The Clear Finishing Wax is odorless with a soft consistency, and best of all, it's easy to apply. If you have any wax left over from this project, you can also use it as a protective topcoat for other interior furniture and home accessories. This product is 16.9 ounces, so there's plenty of wax for more projects.
Pros
Easy to apply
Odorless
Can use on its own or with other wax colors
---
Best Budget Wax
Not only is the Paraffin Wax Block from Blended Waves, Inc. our top budget-friendly wax for furniture distressing, but it's incredibly simple to use. It's also scentless, colorless, and solid.
Because the wax is shaped into a block, you don't need brushes or other tools to apply it. Simply rub the block against the surface of your furniture. To treat smaller, hard-to-reach areas and fine carvings, you can use a small hand saw to cut the block into smaller pieces.
When you've finished using the paraffin wax for furniture distressing, you can use the wax for a host of other projects, which is a handy bonus. This wax is ideal to use for candle-making, canning, food coatings, leather care, greasing bicycle chains, therapeutic use, and as a general lubricant.
Pros
Generous amount of wax for the price
Wax can be used for many household projects outside of furniture distressing
Cons
Some customers say they received wax blocks that were partially hollow
---
Best Natural Wax
There are many benefits to using natural wax for furniture distressing. When you use the Yellow Beeswax Block from Stakich, you'll be pleased to know that you're using a sustainable, renewable product that's non-toxic and environmentally friendly. In fact, beeswax is one of the most sustainable woodworking materials out there.
In addition to its natural benefits, using this wax for furniture distressing is quite seamless. Like the product mentioned before, you can apply it directly to furniture without the need for brushes and other tools. Simply use the block to rub the desired areas you'd like to distress, and you're good to go!
You can also use the block to coat the entirety of your furniture afterward to protect it from water damage. Because this product is naturally colored and not clear or colorless, you can expect to receive a more natural finish.
Another benefit is that when you've finished using this wax for furniture distressing, you can utilize it for a number of other DIY projects, predominantly in the skincare and beauty categories. Use it as an ingredient in homemade cosmetics, such as lip balms and lotions, and candles. You can also use it to make homemade waterproofing for shoes and bags.
Cons
Some customers say the wax block is too hard
Some customers complain that it smells like beeswax–but hey, that's what it is!
---
Best Clear Wax
The Clear Soft Finishing Wax from Soft Southern Strokes is a great wax for furniture distressing that's also easy on the environment. Compared to other clear waxes, this product dries quickly and leaves a matte finish that requires little to no buffing–unless you'd like more of a sheen, that is. It also works well with any brand of paint.
This clear wax is petroleum distillate-free, non-toxic, and doesn't emit fumes. To ensure the best quality, this wax is blended by hand in small batches and produced here in the U.S. It's made from all-natural, pure, white beeswax, carnauba, walnut, and plant oils, and has a pleasant citrus and honey scent.
The wax has a creamy consistency that's easy to apply using a wax brush, soft cloth, or fingers. It also comes in an eight-ounce container, which is double the size of typical wax tins. The wax is housed in a large-mouth jar that makes application even easier.
Pros
8-ounce container is double the size of typical wax tins
Creamy consistency; easy to use with a brush or cloth
All-natural ingredients
Cons
Soft wax can shift in the jar in extreme temperatures, though it doesn't affect the performance of the wax
---
Best Dark-Colored Wax
Makers use dark wax for furniture distressing to further accentuate accents and give the furniture a true vintage finish. The Antique Wax from FolkArt Home Decor is a paraffin-infused wax sealer and protectant that dries with a sepia-like tone. It has the effect of refreshing the quality of furniture pieces, while visually aging it to resemble an antique.
When using dark wax for furniture distressing, it's important to take care when working the wax into the furniture's more intricate details. The better the wax is worked into the surface, the more superior the finish will be. After applying this wax, let it dry for one to two hours, then buff it with a soft cloth. The more you buff the surface, the glossier the sheen will be.
This wax comes in an eight-ounce bottle, and a little bit of this product goes a long way.
Pros
Cost-effective
Leaves behind an instant finish that resembles a faux wax stain
Cons
Some customers dislike its thin, watery consistency
It's recommended that you reapply the wax once every six to 12 months, which may be too often for some customers
---
Wax for Furniture Distressing: A Buyer's Guide
Using wax for furniture distressing is the easy part of distressing. It's so easy that you can even use a wax candle for the job. However, we recommend using one of the products on our list, which are more especially designed for this purpose.
There are essentially three ways to use wax for furniture distressing, though all of them serve the purpose of achieving an antique feel. You may use wax to distress specified areas of furniture, which are predominantly the corners, edges, around handles or pulls, and places that would naturally age with time. You may also use it to emphasize certain details like engravings, carvings, and laminate fixtures.
If you're using wax for either of these methods, then you should sand after waxing. Doing so makes it harder to remove the paint underneath, which gives you more control over the final finish.
The more intensive way to use wax for furniture distressing is to cover the entire piece in wax. This is not necessarily to seal the wood, but to make the wood itself look aged.
Beeswax vs. Paraffin Wax
Both beeswax and paraffin wax-based products work just fine when used as wax for furniture distressing. But like with anything else, each has pros and cons.
Beeswax
When and if possible, we recommend opting for beeswax-based products. Beeswax is a natural substance that's gentler on the environment and safer for the maker. An added plus of beeswax is that it releases negative ions into the air, which helps purify and improve air quality. Though this process is more effective in regard to candle-making, it's still something to think about when you're performing DIY projects at home.
Beeswax has a natural yellow coloration to it, so don't expect it to produce a transparent finish. When applied to wood, it'll leave behind a more natural finish.
One of the downsides to using a beeswax-based product is that it has a longer drying time. This is why you might notice that beeswax remains sticky for longer. It also has a shorter lifespan, so it requires regular application every so often to ensure your furniture remains protected.
To lengthen the lifespan of this wax for furniture distressing purposes and other projects, beeswax is often mixed with carnauba, a vegetable wax obtained from the leaves of a Brazilian palm tree. Beeswax sealants with carnauba are often intended for the flooring industry. These products can be used on furniture, but you'll certainly need a power buffer.
Paraffin Wax
When it comes to consumer products, paraffin wax is mostly known for its skin-softening and therapeutic properties. Unlike beeswax, paraffin wax is not a natural substance, though it's obtained from natural sources. Paraffin wax is a mineral wax that's produced as a byproduct of crude oil. Also, unlike beeswax, paraffin wax is non-acidic, so it won't compromise metals if you use it for other purposes.
Compared to beeswax, paraffin is softer, more brittle, and has a greasy feel to it. It's naturally water-repellent, and because it's colorless, this wax won't affect the shade of your finished furniture. If paraffin wax is applied too heavy, it's likely to flake off, so be sure to take care during the application process.
Paraffin is typically cheaper to buy than beeswax, while beeswax tends to be easier to apply. Either way, both products are great solutions for protecting your furniture and creating an antique finish.
---
Wax For Furniture Distressing: Frequently Asked Questions
Do I have to use clear wax over the dark wax?
While you don't have to use clear wax over dark wax, it's certainly recommended. Using clear wax protects the surface of the furniture–not only from water damage but also from the dark wax. If you don't use clear wax for furniture distressing, the paint will fully absorb the dark wax, and you won't be able to control how dark it looks. Using clear wax also allows you to manipulate the dark wax by moving it around on the furniture's surface
How long does it take antique wax to cure?
Antique wax dries within 24 hours but takes about two weeks to fully cure. Try to use the surface as little as possible during this time to allow for a clean finish.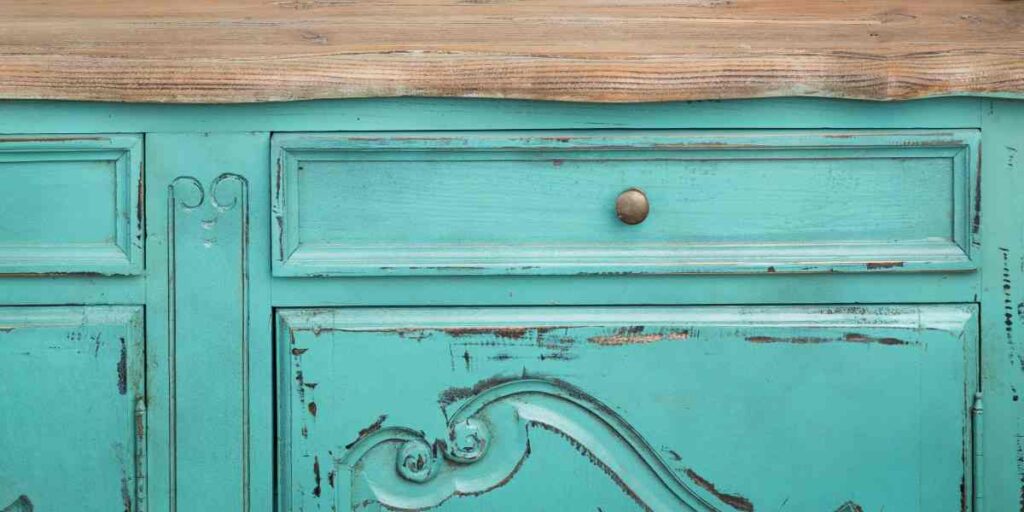 ---
Wrapping Up on Wax for Furniture Distressing
Using wax for furniture distressing is a decision that'll protect the quality of your furniture, and also amplify the vintage aesthetic that you want to create. There are many kinds of wax on the market that you can use for this project, though we recommend one of the choices from our list, like the Clear Finishing Wax from Jolie.
Interested in learning whether it's okay to use wax on painted furniture? Check out our page, Should You Use Furniture Wax for Painted Furniture? to learn more!