Holiday celebrations in preschool always have a special way of creating a buzz and excitement for the little ones in the classroom, or at home. Thanksgiving is around the corner, and it's time to break out the supplies and make a Thanksgiving preschool craft! Simple, hands-on crafts are a perfect way to introduce holiday lessons around an activity that the preschool-aged children will be excited to take part in.
Combine a craft with a holiday and these preschoolers will be little bundles of joy and excitement. All of these crafts use minimal, easy-to-find materials. Some of them you may even find lying around the house.
So, whether you are a parent looking for weekend activities or a teacher with a classroom of preschoolers that are up for some crafting, check out these simple Thanksgiving crafts for preschoolers. They will definitely help to get the little ones into the festive spirit as Thanksgiving approaches!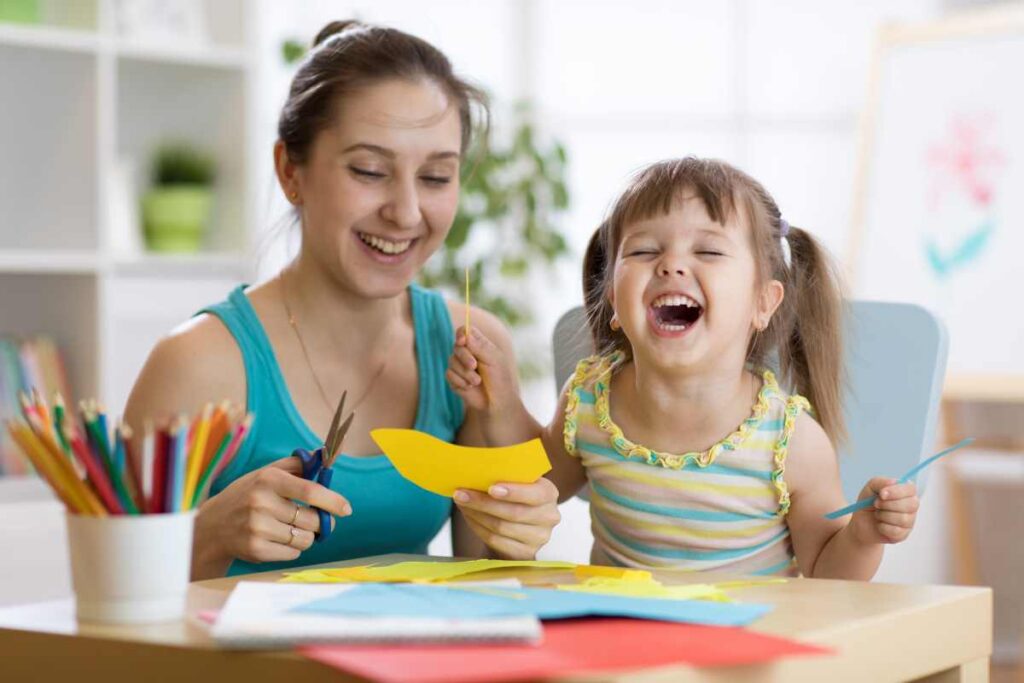 ---
Turkey-Themed Crafts
Turkeys are the most iconic symbol of Thanksgiving. There is an abundance of turkey-themed holiday crafts for preschoolers. The hard part is deciding which of these adorable turkey crafts you want to listen to preschool-age children gobble along with as they dive into these projects!
Paper Bag Turkey Craft
This Paper Bag Turkey Craft is a super simple and fun Thanksgiving craft for preschoolers. The preschoolers will enjoy the process of creating their googly-eyed and colorful paper bag turkeys. Afterward, show them how they can stick their hand into the paper bag and create a puppet!
Encouraging them to name their turkeys if they haven't already is a great way to make a game out of the craft. The supplies needed are simply paper bags, colorful construction paper, glue, scissors, and googly eyes.
Toilet Paper Roll Turkey Craft
Looking for a great way to repurpose empty toilet paper rolls that would've been thrown in the trash? Crafting with items that are usually tossed is a huge win! These Toilet Paper Roll Turkeys are a great craft to utilize as house decorations for Thanksgiving.
Other materials needed are orange pipe cleaners, colored construction paper, googly eyes, and glue. Your preschooler is sure to be honored to have their very own creation placed on the kitchen or bathroom counter as decoration!
Pinecone Turkey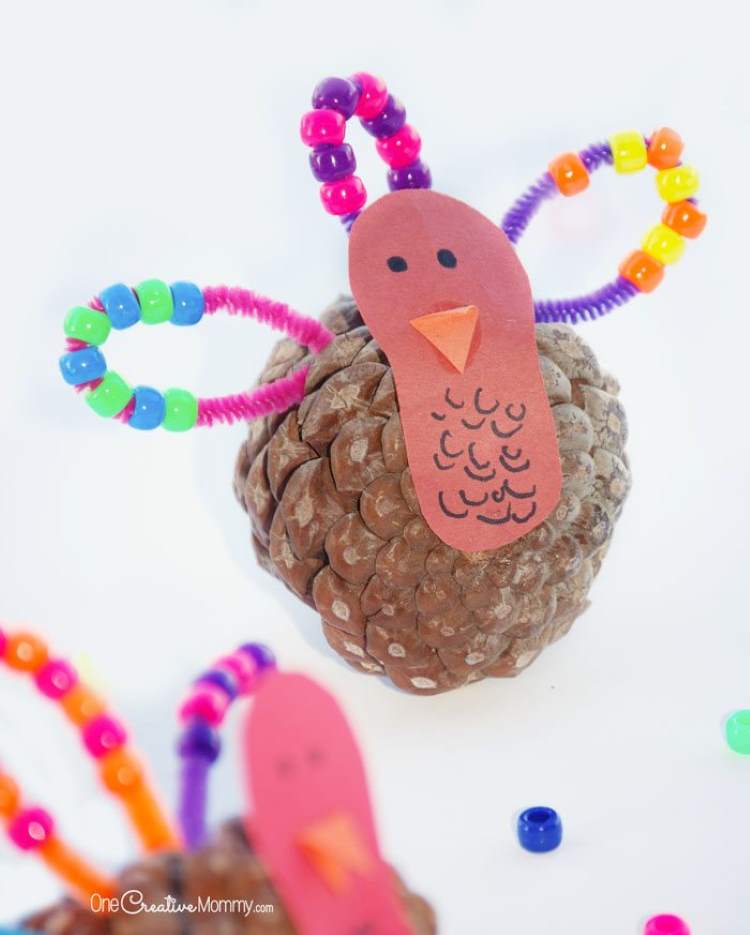 If you have a pine tree nearby, this Pinecone Turkey is amazing for a craft that implements a little outdoor exploration and gathering! Preschool-age crafts for Thanksgiving are even more likely to inject holiday spirit into the little ones if they get to collect their own materials.
Other than the pinecone, you'll just need orange pipe cleaners, colorful construction paper, black Sharpies, and a hot glue gun.
If you do not have a pine tree near you, or you just can't find the perfect pinecones, this craft is not a lost cause. It's always an option to purchase pinecones.
Printable Turkey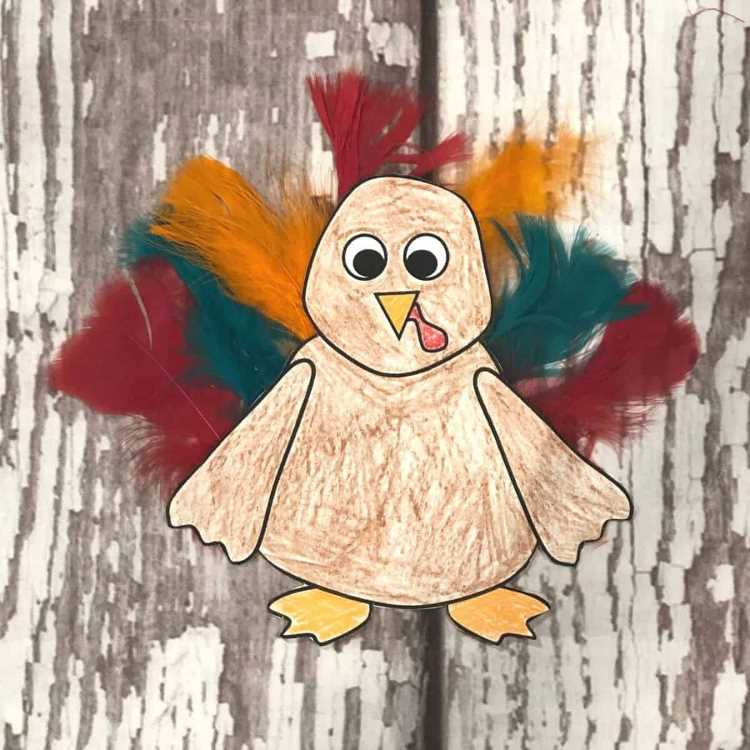 Print this Turkey Craft Template for the base of this turkey that the preschoolers will add feathers to in the final step. Materials needed are the printable turkey craft template, glue, and colorful feathers.
For a simpler route, have the preschooler glue the feathers right onto the piece of paper. If there is time to take the craft up a notch, cut out the turkey with scissors and glue the feathers right on its back.
This turkey makes a great little crafty friend for preschool-aged children to carry around with them throughout the month of November as it gets closer to Thanksgiving!
Chalk-Pastel Turkey
Use bright chalk pastels to make the turkey pop in this Chalk Pastel Turkey Craft. Reminiscent of using chalk on the sidewalk, the preschool-age students will be excited to use chalk pastels on paper.
In this Thanksgiving craft for preschoolers, the materials needed are a turkey template, chalk pastels, black drawing paper, glue, scissors, painter's tape, and googly eyes.
For this craft, it's fun to encourage experimentation beyond the traditional color scheme of orange, yellow, and red that are in most Thanksgiving crafts for preschoolers. Have them use all of the pastel colors to make a rainbow tail; they will love it!
Roll A Turkey
Turn the Thanksgiving craft-making into a fun game with Roll a Turkey. In this printable game, players roll a piece of dice that will have a number that corresponds with one of the turkey's body parts.
This game is a wonderful way for preschoolers to work together in the classroom to create a final product together. They will be learning the value of teamwork all while creating a fun Thanksgiving craft.
If you want to do this with your preschooler at home, it's a great craft to do as a family. Now everyone can get excited for Thanksgiving approaching shortly with this fun game!
---
Something Sweet
Having a little sweet creation to come out of a Thanksgiving preschool craft is a win-win for everybody involved! 'Tis the season for sweet treats, right? Your preschooler will love crafting something that they can bite right into when completed.
Sugar Cone Cornucopia
The Sugar Corn Cornucopia is fun to make and delicious to snack on. This is the perfect holiday craft for preschoolers that love sweets! (Last time I checked, every preschooler had a sweet tooth!)
Cornucopia is kind of a funny word to spell and say, so this sweet craft is a great way to teach the preschoolers about cornucopias and what they are used for!
Pick any snack mix to fill a sugar ice cream cone with and make sure you also have paper plates, paper towels, water and a microwave available for this delicious creation.
Turkey Pear
We tend to all struggle to get our preschoolers to be excited about eating their fruits and vegetables. Making a Turkey Pear makes eating a healthy snack fun in this Thanksgiving preschool craft. You'll need pears, cheerios, raisins, orange peel pieces, and toothpicks to give to your preschooler to create this.
Candy Corn Turkey
The super simple Candy Corn Turkey is great if you're looking for a preschool-aged craft for Thanksgiving that's cost and time effective. All that you'll need is candy corn, paper, crayons, and glue.
Tip: Give the preschoolers a bowl of designated candy corns to snack on. This will help to avoid them pulling off the candy corn that they glue to their turkey.
Thanksgiving Turkey Juice Box Covers
What could be more fun for a preschooler than drinking their favorite juice box out of a Thanksgiving Turkey Juice Box Cover they just created? Sounds pretty ideal.
Hand out juice boxes and incentivize them to finish with the promise that they can puncture their juice box with the straw as soon as it looks like a proper turkey! Juice boxes, colored construction paper, googly eyes, and glue are the only materials needed for this holiday preschool craft.
---
Get Crafty with Paper Plates
For these three paper plate variations, the supplies will be mostly the same. So, let your preschooler choose which plate they would like to make, or have a three day in-a-row paper plate making marathon! For the following crafts you will need: paper plates, construction paper, paint, scissors and glue.
Paper Plate Turkey Handcraft.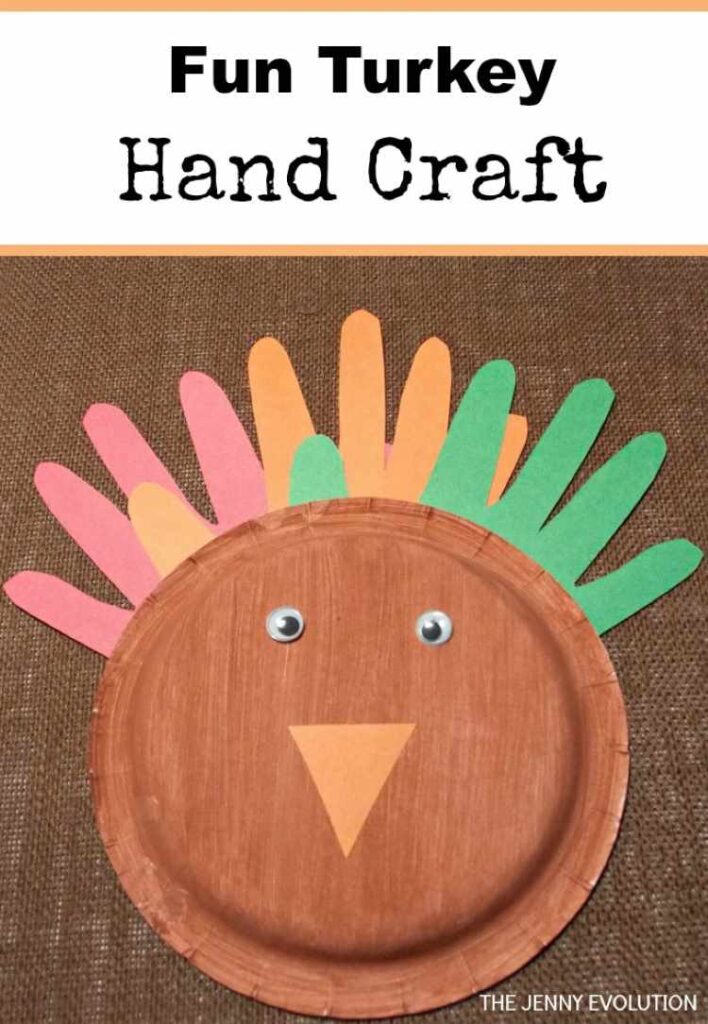 Watch a plain white paper plate come to life as the preschoolers make this Paper Plate Turkey Handcraft. This holiday craft for preschoolers is simple and rewarding for the little ones. They always enjoy the process of painting the plate that they are used to eating lunch off of and turning it into a festive Thanksgiving turkey!
Paper Plate Pumpkin Pie
The most integral desert to any Thanksgiving meal is the classic pumpkin pie. Making a Paper Plate Pumpkin Pie is a great way to build excitement for the big day.
For this preschool-age Thanksgiving craft, the only material you'll need in addition to the listed ones above are cotton balls. They serve as a "whipped-cream" center.
Tip: Make this activity extra enticing and interactive by handing out a slice of pumpkin pie when the preschooler has finished. Never hurts to have a little pre-Thanksgiving pumpkin pie!
Paper Plate Pilgrim
Have the preschooler imagine themselves as a pilgrim and create a Paper Plate Pilgrim. They can model the pilgrim after themselves in this preschool holiday craft by selecting their appropriate skin, hair, and eye color to put on the pilgrim.
Additional material needed for this craft is the pilgrim template, which can be found on the link to the paper plate pilgrim page. The template makes this preschool craft easy to set up.
---
Get those Preschoolers in the Thanksgiving Spirit Today!
Preschool crafts that are centered around holidays create special memories and keepsakes to look back on for years to come. Encourage the little ones to gift one of their Thanksgiving crafts to a family member or friend. They could even use their creation to play a part in decorating their home for the holidays!
Either way, the preschoolers will have a blast expressing their creativity and holiday spirit as they make these Thanksgiving preschool crafts.

If you are looking for additional holiday crafts for preschoolers, check out Cute and Creative Handprint Crafts for Kids. There you will find preschool-friendly crafts for everyday use and holidays, including Thanksgiving!