I am OBSESSED with sloths! Anyone else with me on this one? There is just something so adorable about those lazy little creatures. I just can't get enough. And they are everywhere now.
And guess what?!? It's almost Valentine's Day; can you believe that? Its just a month away!
If you have kids that means you're going to need Valentine's for their classmates.
So, that means you definitely need to check out these adorable printable sloth valentines. And the best part – THEY'RE SLOTHS! Not just any sloths either. These are some of the cutest stinkin' sloth. I have ever seen. Don't believe me? Wait till you see these pictures. Can you tell I'm excited?
One of my favorite things about these little guys is you don't have to go to the store to get them. You can print them right at home. Oh, and did I mention they are FREE? Yep, totally free.
There are a few different ways you can use them too. Whether you use them as standalone valentines, add them to goodie bags, attach a single treat to them, or add them to a pencil (a great alternative for kids with food allergies).
Stand Alone Sloth Valentines
These adorable sloth valentines can easily be printed at home on some cardstock. Just download the pdf, print them, cut them out, and they are ready to go. This is great for classes that may have a no candy policy for Valentine's Day.
As a kid, my favorite part of doing Valentines cards for my friends was picking out which valentine each one got. So, your kids will probably spend a few minutes deciding which of these adorable sloth valentines are their favorites, and who gets which ones.
Once they have addressed all their cards, you're all are done . . . unless you still haven't made their valentines box yet. Then you have a little more crafting to do.
Lunchbox Surprises
If you're like me, you love to tell the ones you love how much they mean to you year round. But you still try to do extra special little things in February. One adorable way to do that is to add them to your kiddo's lunchbox with their favorite treat as a special surprise each day leading up to Valentines Day.
This will definitely be a hit with your younger kids. Middle school kids . . . well . . . I can't promise anything cause middle schoolers can be weird sometimes. But you may be surprised by how your older kids react to these cuties.
Add Your Sloth Valentines to a Goodie Bag
You guys know I love my dollar store. I am in there too many times a week to keep track of, and I would probably be embarrassed if I tried to count and tell you how often (I went to three different ones yesterday looking for wedding supplies for my mom's big day Saturday).
I digress.
You can make some of the best goodie bags from things you pick up at the dollar store, right down to the bags you put them in. I love to take my kids and let them help pick out the things we use to fill the goodie bags.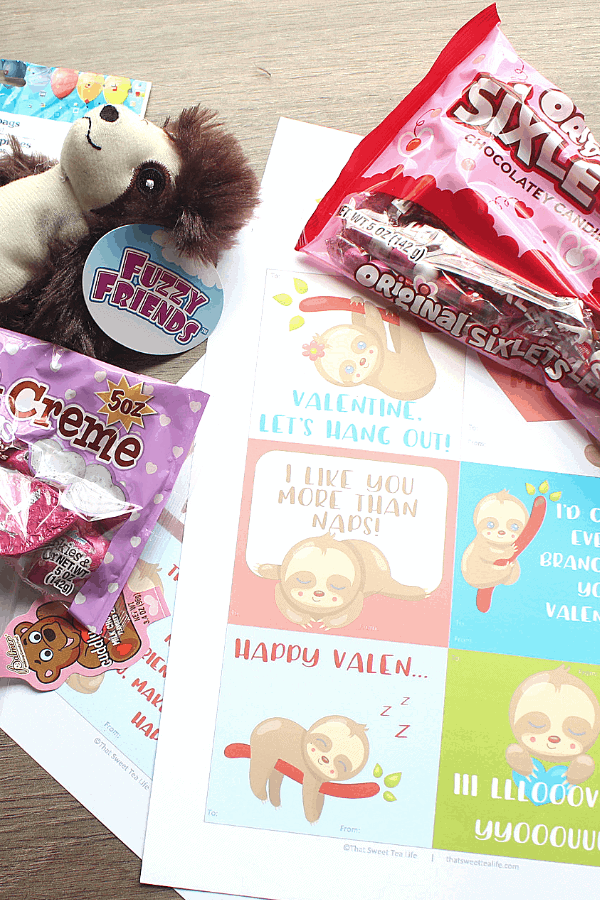 Confession: this isn't as sunshine and rainbows as it sounds. It usually ends up turning into a hostage negotiation, where I am the hostage and the negotiator trying to figure out how to get out of there with everything we need, and not the 10 other things my kids found that they NEED for themselves. It takes mental preparation to do this with the kids. Deep breaths and pep-talks, y'all; deep breaths and pep-talks.
But the end results are always fantastic, and the kids love filling the goodie bags and adding their sloth valentines to it.
You can choose to add your valentines to the inside of the bag or attach them to the outside. It's really up to you how you choose to do it.
Pencil Topper Sloth Valentines
If your child is in a class where there is a known food allergy, you may be limited on what snacks and treats can come into the room. One easy work around for that is to turn these adorable sloth valentines into pencil sails.
All you need to do this is a hole punch and a pack of pencils.
Once your kids have addressed their cards, you'll punch two holes in each valentine – one near the top, the other near the bottom (or you can do opposite corners).
Then feed the pencil through the holes to create a "pencil sail," for lack of a better way to describe it.
Why These Sloth Valentines?
I mean, why not? They're adorable!
I think what I like best about them is they will be different from what everyone else has. And sloths are on trend right now.
I mean, the only way this gets any better is if these little guys are driving red trucks with a gnome for a travel buddy. Kidding. Kinda.
They'll be a unique addition to the valentines haul your kids will have. And, aside from the time it takes to print and cut them, you'll save yourself both time and money by doing these at home on your own.
Don't Forget the Teacher!
You can even grab a cute little plushie, gift card, or cup for a special someone, like the teacher! Add in one of these cuties and you have the perfect teacher gift for Valentines Day. After all, EVERYONE loves sloths!! . . . okay, maybe that's a bit of an overstatement, but even if they aren't a fan, I have no doubt they will love these sweet little guys. Am I right??
How to Get These Sloth Valentines
So, now you are wondering how to get these. Don't worry, I got you.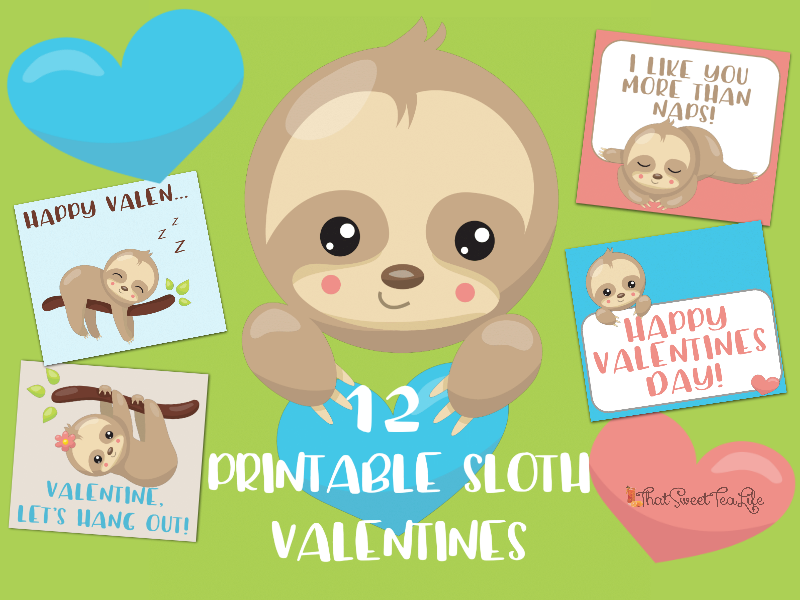 You can download them here.
Conclusion
Ok, now it's time to make some of your own!
PLEASE be sure to post pics in the comments below! I would love to see your creations! And happy crafting!