Decorating shelves — especially living room shelves — seems like such an easy thing to do until you're actually confronted with the task.
We've been there, and we know it can be challenging. However, once you get the hang of it, decorating your shelving space becomes quite simple and can even be fun.
Let us make a few suggestions for shelf decorating ideas living room while enhancing the look of any room.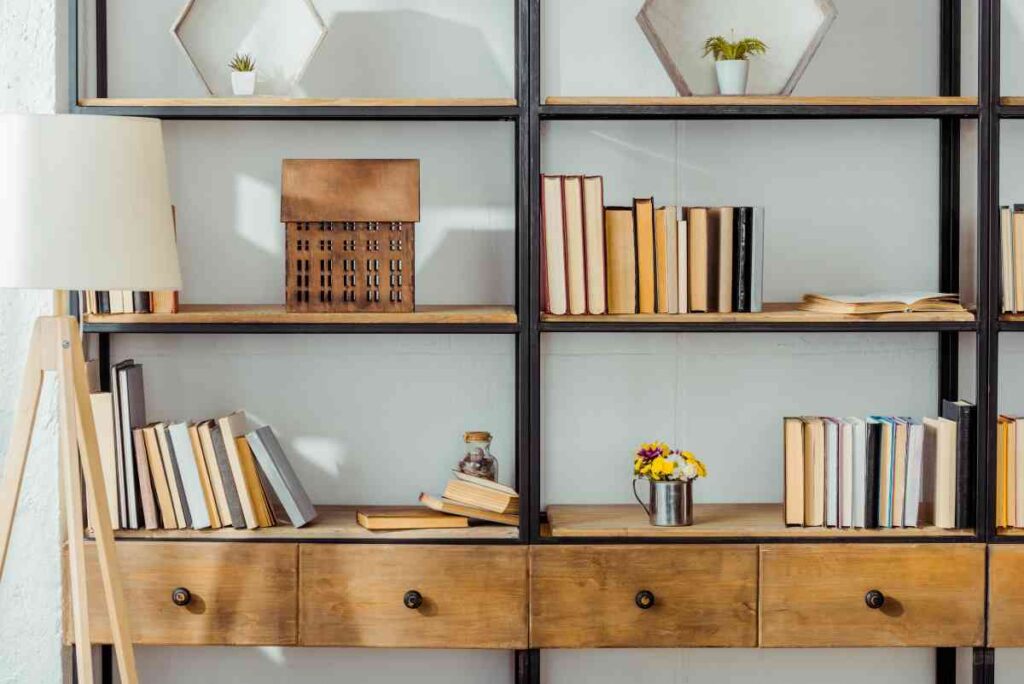 ---
Shelf Decorating Ideas to Make Your Living Room Stand out
When considering living room shelf decorating ideas, you must consider your decor and storage needs. Don't be afraid to experiment from time to time.
You'll most likely have several questions running through your mind about whether or not your shelves will look cluttered or if they'll go with the rest of your decor.
Shelf decorating is a creative exercise that challenges you to up your decor game based on your personal preferences or maybe step outside of your comfort zone just a bit.
Books
The first living room shelf decorating idea is probably predictable. Chances are, you've already tried it before. However, it's an obvious choice for a reason: you can never go wrong with lines of books as decorative objects. It's also excellent book storage.
Most people have a book collection at home that is perfect for exhibiting on a living room shelf, from your favorite titles to books with attractive covers. They can be interesting conversation starters when you have guests over. It can also become an instant and built-in reading nook for you!
You can choose classic book spines, neatly lined up and facing outward with interesting bookends, lay your books flat, center them, or even alternate stacking books.
Try a minimalist style and choose just a few vintage or coffee table books to show their unique cover art. Try placing your collection of books under decorative items such as vases.
Place thicker volumes with slimmer books to give lines of books greater visual appeal.
Consider placing items between books like plants, candlesticks, art pieces, faux plants, and other decorative accessories and decor staples.
This additional book styling tip will provide a visual break from your stacks of books and make your shelf decor stick out more.
Plant and Flower Pots
Adding a touch of nature to your shelving space can enhance the look of your room and create an airy living space. Potted plants and flower pots make colorful spaces and make a great addition to shelves with books.
They can also be used to complement the color scheme of your room and be made to suit a variety of styles, from rustic to modern, Chinoiserie style to shabby chic, and everything in between.
Plants can add visual style to a wall of bookshelves. They, too, can be added as items between books. Fresh-cut blossoms, crotons, silver vase plants, and succulents are some recommended houseplants.
When thinking about your living room shelf decorating ideas, consider decorative containers like woven baskets to store pots in to add texture and an additional aesthetic element.
Adding flowering plants like anthuriums is also a great living room shelf decorating idea because they add color and fragrance at the same time.
Artwork
Incorporating art pieces in your living room shelf decor is a great idea, even more so when you're looking to decorate your built-in shelves. They go especially well with books and faux plants.
An important factor when choosing art prints for your living room shelves is to make sure the frame complements the rest of the decor.
While a classic black frame is a safe option and stands out in white spaces and white living rooms, you can always experiment with bold colors and textures.
Lean artwork with dark frames against white built-in bookshelves or the wall of bookshelves to save yourself the trouble of drilling holes.
Remember not to crowd your shelves with too much art and to keep the artwork at eye level. Avoid a cluttered-looking display by using art sparingly as a statement piece that complements your living room bookshelf.
Decorative Accessories
A wide range of decorative items goes well with living room shelf decor. From accent pieces purchased during your last vacation to sentimental pieces from your childhood, the right decorative accessory can really enhance the look of your room.
Metal, wooden, or ceramic pieces or figurines are other decor items that can be used to spruce up your shelf decor.
Other decorative pieces for your shelves include classic analog clocks, glass or metal bowls, storage vessels like mason jars (with something inside them, of course), and showpieces from a souvenir shop.
Since a decorative accessory can come from almost anywhere, keep an eye out for potential items you can use while on trips, vacations, and when going decor shopping.
Candles and Candle Holders
Candleholders have always been great decor items. You don't have to be limited to candles either. You can also use reed diffusers, wax warmers, and essential oil diffusers.
These usually come in attractive designs that enhance a room's aesthetics while making them smell wonderful.
Vases
Vases are great to use as showpieces and add an elegant flair to your living room shelf decor. If you have a common color scheme for vases that go well together, you can even group them together.
As long as they fit on your shelves, you can make your color scheme for vases match the cohesive color scheme in your living space, even if they come in different shapes, sizes, and textures.
For single-vase decorations, you can pile a few books underneath to add character and height while adding to your bookcase decor.
Vases also give you a great opportunity to add flowers to your room. Add in-season flowers to your vase now and then for a seasonal touch. You can also opt for faux flowers that suit the decor of your house.
Decorative Risers
Decorative risers are a type of stand used in home decor to elevate an accessory or item being displayed.
Traditionally, risers were used for serving food to make dishes more accessible to diners. Nowadays, they are also used for decorative purposes, keeping objects like decorative artwork at eye level.
Risers don't just add height to a showpiece. They also create an interesting depth and visual style when used with items like small potted plants, succulents, scented candles, or even taller objects like vases.
Decorative risers can enhance the look of vignettes in your living room shelf decor since the layering adds extra character. You can find risers in stores or make your own.
Photo Frames
A framed photo is a staple that can be used in a multitude of ways in your living room shelf decor.
Hanging picture frames at the back of your shelves is one way to add depth, creating a layered look. You can also lean artwork against a blank wall if you'd rather not drill holes to hang it up.
When using photo frames, you can use a combination of personal photographs, like family photos and artwork, to create a balanced look.
Using photo frames in your living room shelf decorating is a great way to cherish and share fond memories. However, don't overdo it. Use photo frames sparingly.
---
Neutral or Bright Shelf Colors
When choosing the color of your living room shelving, it's important to take into consideration the cohesive color scheme of your room.
Make the most of the colors of your shelves and walls. If your room is painted a bright color, like deep cyan-colored walls, opt for neutral-colored shelves to create balance.
Some popular neutral shades are white, black, grey, beige, or metallic finish. Since neutral hues go well with most color schemes, you don't have to worry about them mismatching in case you revamp your living room.
You can also create a statement piece with your shelf by opting for a bold, bright color that makes it stand out in the room. Balance it with neutral-colored showpieces and accent pieces to create a harmonious aesthetic.
---
Asymmetrically Designed Shelves
If you want a contemporary look for your living room, asymmetrically designed shelves can help you achieve the appearance you're going for.
Asymmetrical shelves typically go well with any color scheme as long as the color of the shelves is neutral. With this design, you don't have to worry about blank spaces since the shelf itself acts as a statement piece.
This design is also perfect if you're looking for bookshelf decor ideas. A few handpicked vintage books with a few photo frames or showpieces can accentuate the look of your space.
---
Elegant Oak Shelves
If your home decor is primarily rustic and earthy, opt for shelves made from oak. Not only is oak solid, durable, and inexpensive, but it also adds warmth and charm to any room.
Oak shelves come in a wide variety of styles. Whether you want a more contemporary greyish-brown color or a deeper-colored red oak, you can have it match your desired look.
Oak shelves go well with most decor items. They are also very durable.
Books, flea market artwork, and heavier objects can be easily placed on oak shelves. Consider adding succulents on top of a stack of books to create a rustic, sturdy living room shelf decor.
---
Wrapping up Shelf Decorating Ideas Living Room
These are just a few living room shelf decorating ideas. The sky is the limit when it comes to decorating your living shelves. Indeed, these are just a few ideas to get you started!
Once you get the hang of decorating shelves, you'll find it easier to style any shelves, from built-in shelving to built-in bookcases.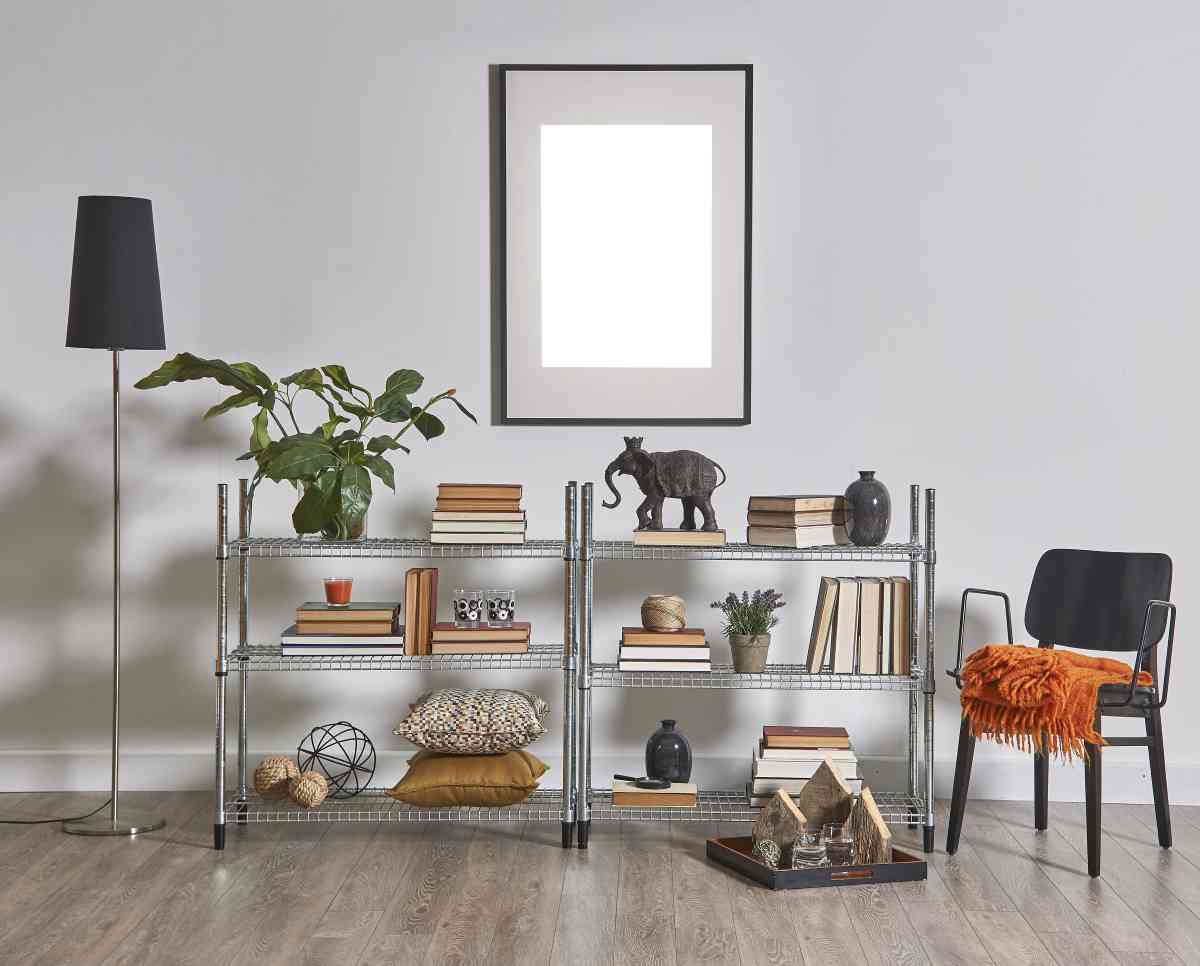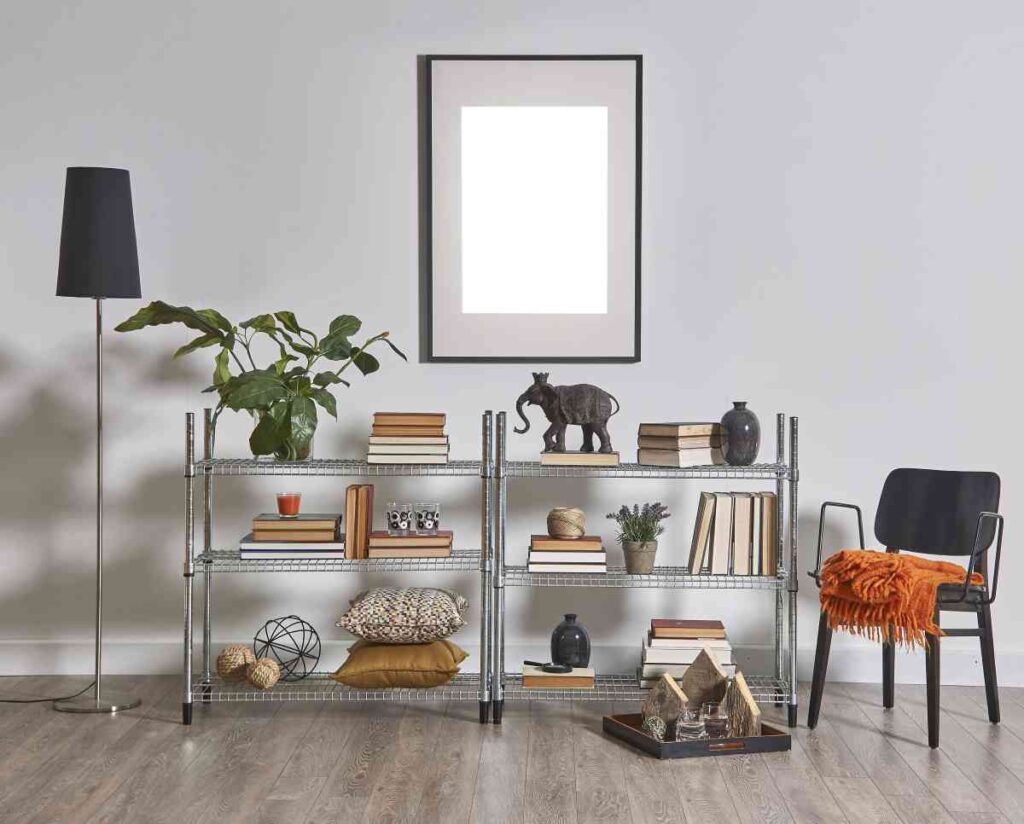 When decorating your living room shelves, you can add a variety of items with different heights, colors, and textures that complement each other. This will add more character and essence to your home decor.
Whether you go for boho shelf decor or color-blocked bookshelf decor, the most important aspect is to enjoy the process!
Now that we've looked at your living room shelf decor, what do you want to tackle next? Be sure to check out our decorating page for more great ideas.