If you've paid attention to decor trends in recent years, many of the extremely popular trends have been… simple. Whites. Creams. Beiges. Tans. Browns. Maybe a sagey green or rusty orange could be thrown in if things are getting wild.
But what does that mean for people who want a little more pizazz? Are colors tossed out the window for good?
Absolutely not!
The best part of home decor is the fact YOU get to decide what YOU want YOUR home to feel like! If something brings you joy, put it in your home!
Since you've found yourself reading this post, it feels safe to assume you love pink and gold.
Guess what?
So do I!
Let's take a look at all of the gorgeous ways you can use pink and gold furniture to create a home you love.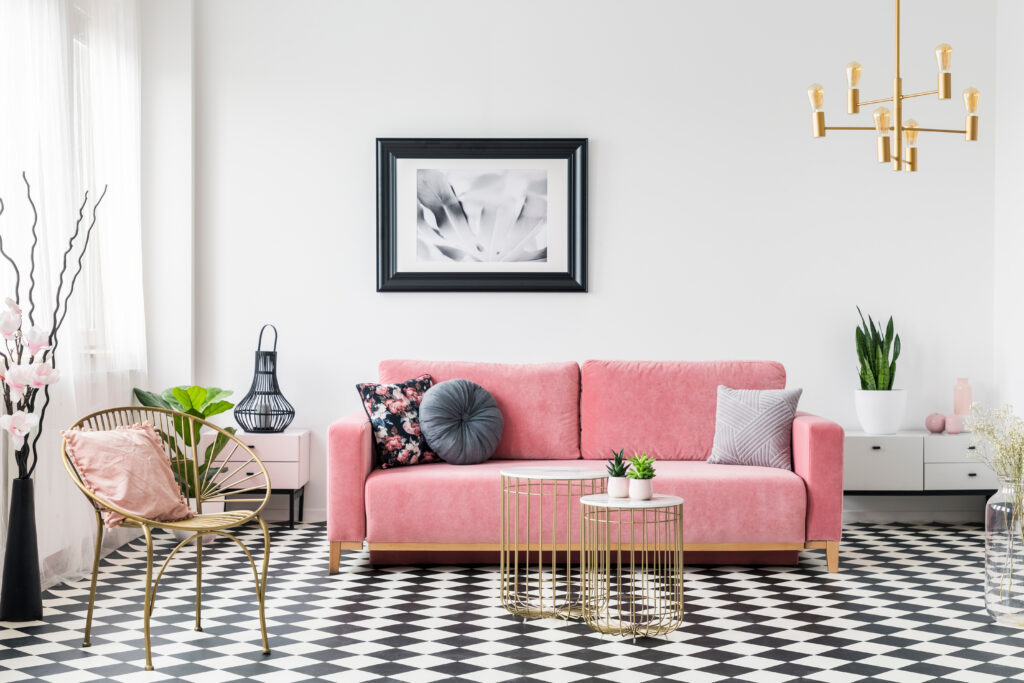 ---
Why do Pink and Gold Work well Together?
Believe it or not, there's a pretty large sea of pink and gold furniture to choose from. That's because these colors work so well together!
One of the reasons pink and gold work so well together is that you can combine so many different shades to get completely different results. We'll talk about some of the styles that use pink and gold well, but here are some pink and gold combinations to get your wheels spinning.
Soft pink and antique gold give an antique feel.
Hot pink and sparkly gold work for glam homes.
Peachy pink and shiny gold lend themselves to a tropical vibe.
Bright pink and yellow gold give a childlike look to a space.
---
Interior Design Styles That Work with Pink and Gold Furniture
If you love pink and gold furniture, you can make it work in any interior design style you've got going on in your home.
Here are a few specific ones where it works really well.
Modern Interior Design Style
Modern interior design is all about sleek lines and simplicity. It's about bringing the outside indoors and incorporating natural elements and textures.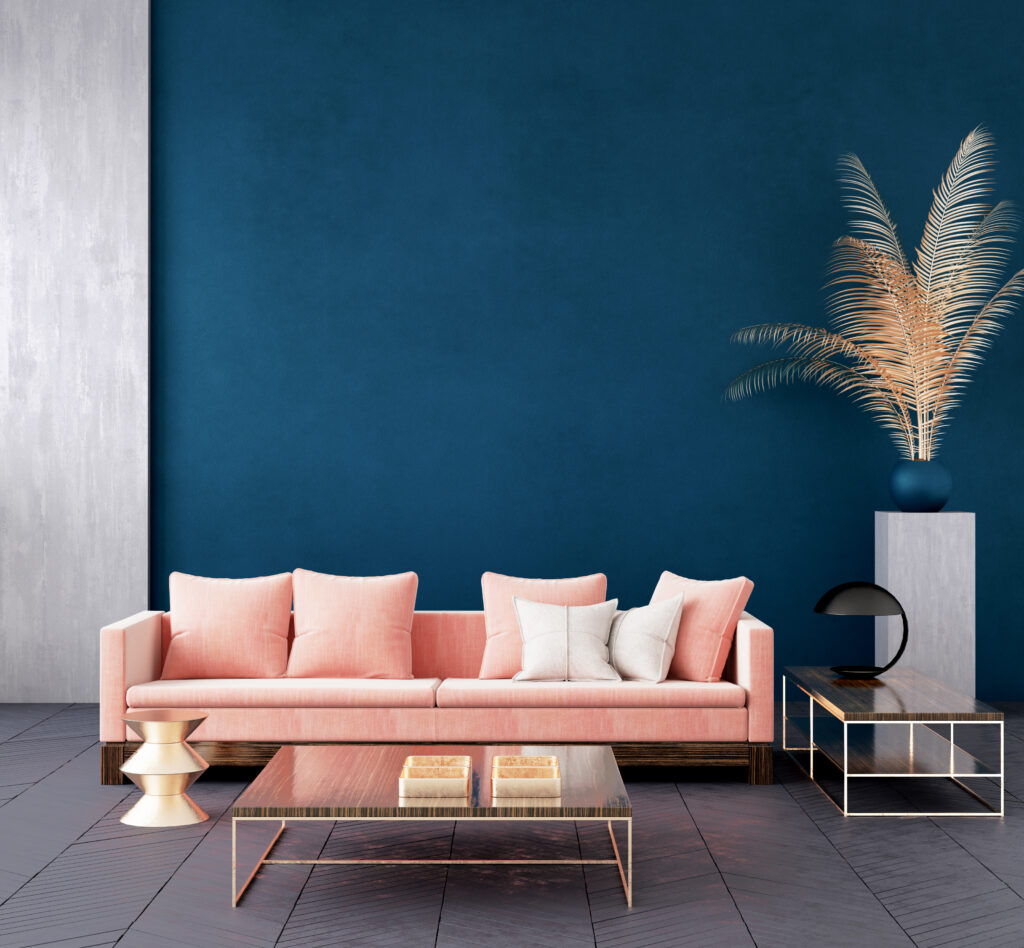 It may seem counterintuitive to think of pink and gold in a room full of natural elements, but it can absolutely be done.
This would be a time to use a softer pink and dull gold. A dusty rose console or cabinet with gold handles and pulls would look beautiful in a modern room.
Bohemian Interior Design Style
Bohemian interior design is a space where pink and gold furniture can thrive!
It's for free spirits who say anything goes. A very common sight in a bohemian home is a neural, natural texture right next to a bright and bold pattern.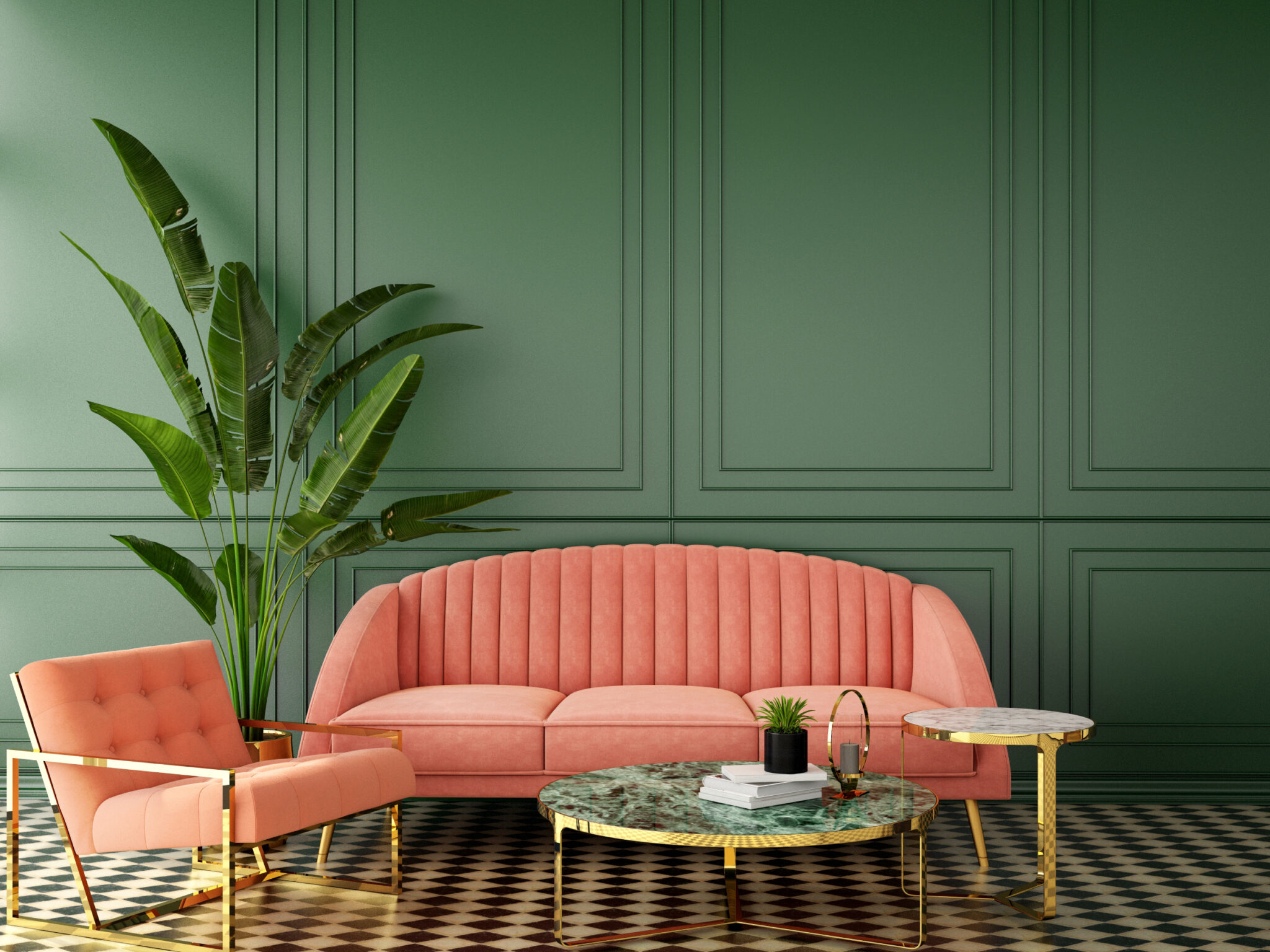 Think of a natural-looking wood chair with a furry white pillow next to a window flanked with hot pink and gold damask curtains.
This style is a place glittery gold would find a comfortable home. It's all about artistic expression and thinking completely outside the typical box.
Shabby Chic Interior Design Style
Shabby Chic interior design was basically created for a piece of soft pink and gold furniture.
Staples of this design style include painted and distressed furniture, tufted chairs and headboards, white-washed floors, and lots and lots of crystal.
This style hearkens back to the 18th century. It's obviously been modernized over the years, but it still has some touches like ornate chandeliers, vintage paintings and portraits, and soft window coverings.
If you want a fun peek into Shabby Chic decor, take 23 minutes to watch Friends episode "The One with the Apothecary Table" and be ready to laugh!
Hollywood Glam Interior Design Style
Hollywood Glam interior design is a mix of modern and art deco. Bright and bold color combinations are a major asset to this design style, so pink and gold furniture fit right in.
This style is all about glamor, shine, sparkle, and high-impact pieces.
A hot pink chair with gold accents right next to a shimmery gray wallpapered wall would look incredible in a Hollywood Glam home.
---
Pink and Gold Furniture for Every Room in Your Home
Now that we've got some design style ideas let's look at specific pink and gold furniture ideas for every spot in your house!
Bedroom
Pink and gold furniture can make an incredible centerpiece in your bedroom.
Headboards
Meridian Furniture makes a beautiful camelback headboard in a soft pink that would look great in a Hollywood Glam or Bohemian-style home. It has bright gold legs that give it a nice extra pop. The curves of the top remind me of something like a "Rose City" instead of the "Emerald City" of Wizard of Oz.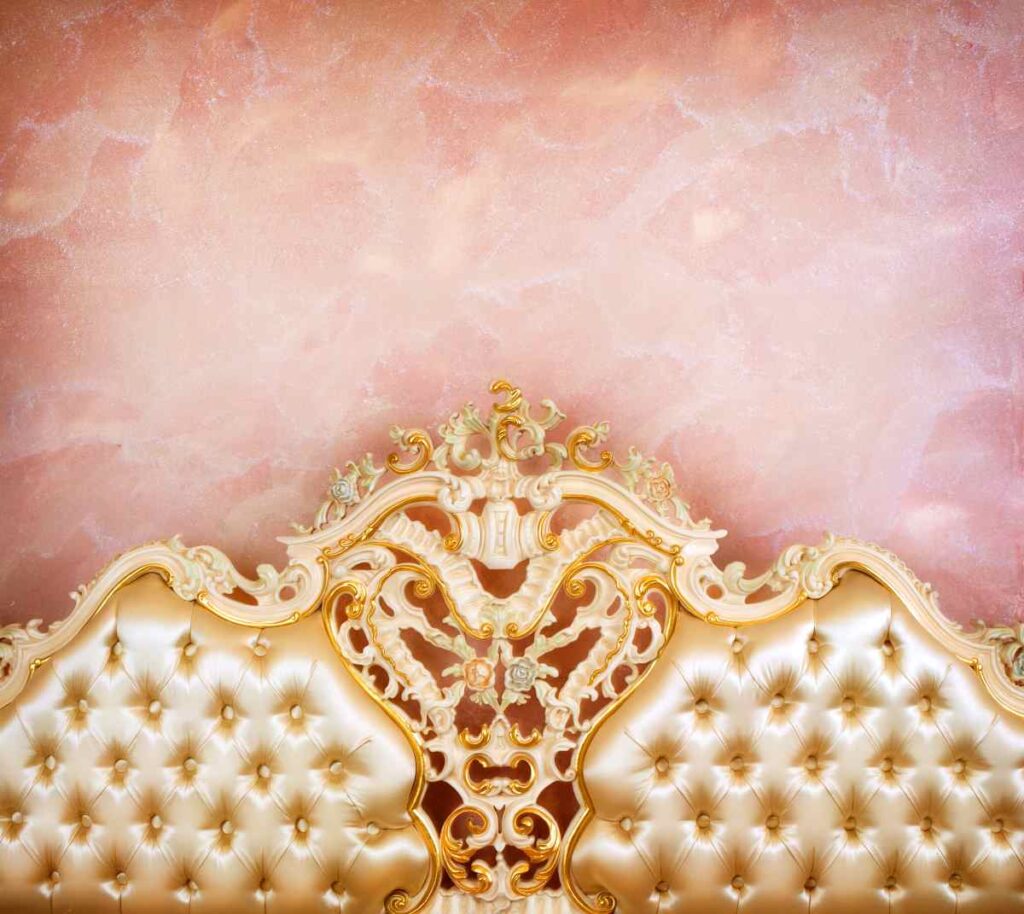 If you want something totally wild and luxurious, you could choose a headboard that's mostly gold with just a few pink accents. A bold and ornate golden tufted headboard would look incredible against a hot pink accent wall or with plush pink bedding.
Dressers
Again, Meridian Furniture is hitting it out of the park with its pink and gold furniture by offering a beautiful blush pink dresser with gold pulls and golden-tipped clear acrylic legs. It would look great in a Modern or Bohehemian-inspired room.
It can be challenging to find bolder pieces available for purchase, but painting a thrift store find is always a great option!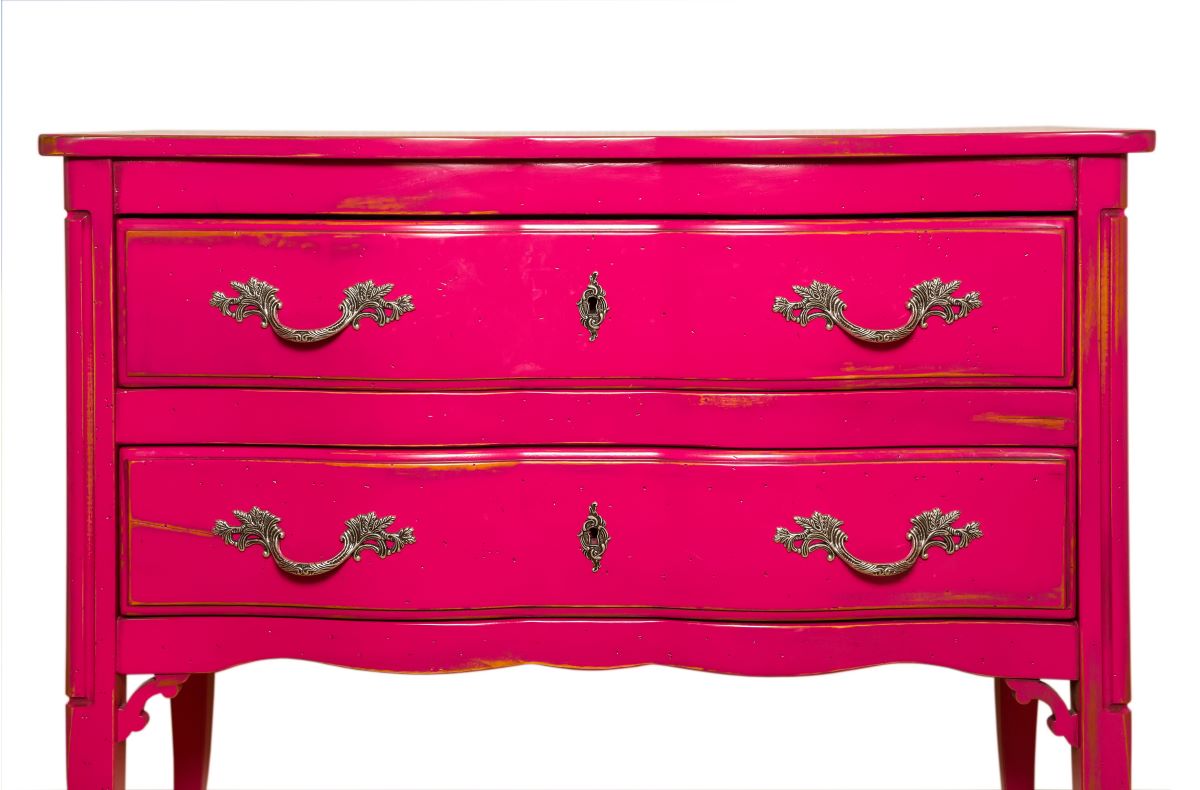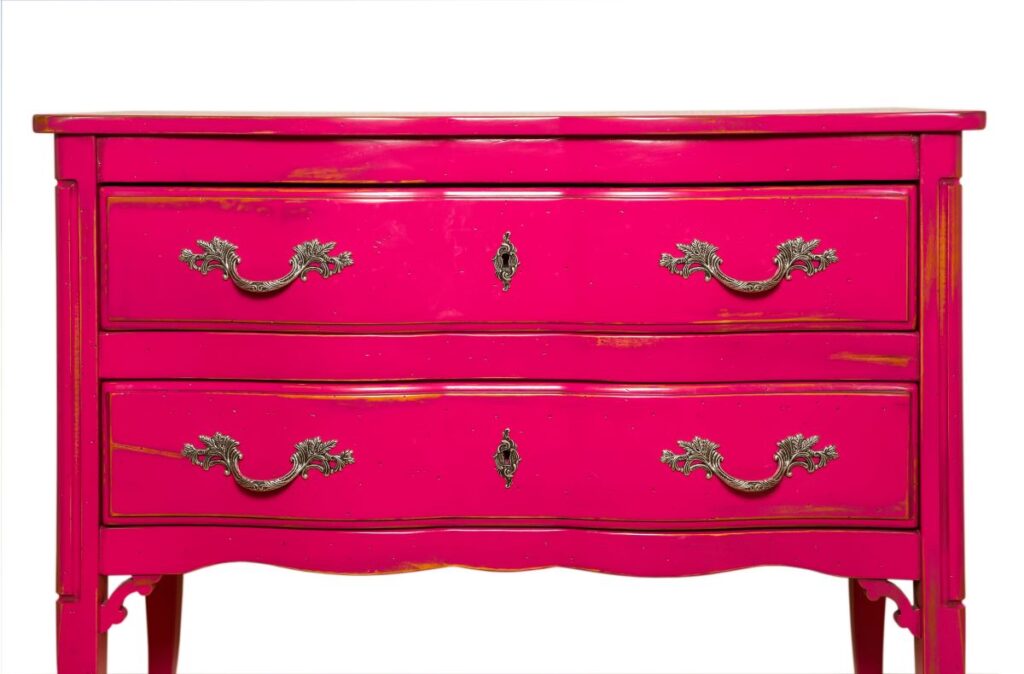 Visit your local thrift store and find a dresser that is the shape you want. Get good quality, bright pink paint and get to painting! Remove the hardware and spray paint it gold.
Kitchen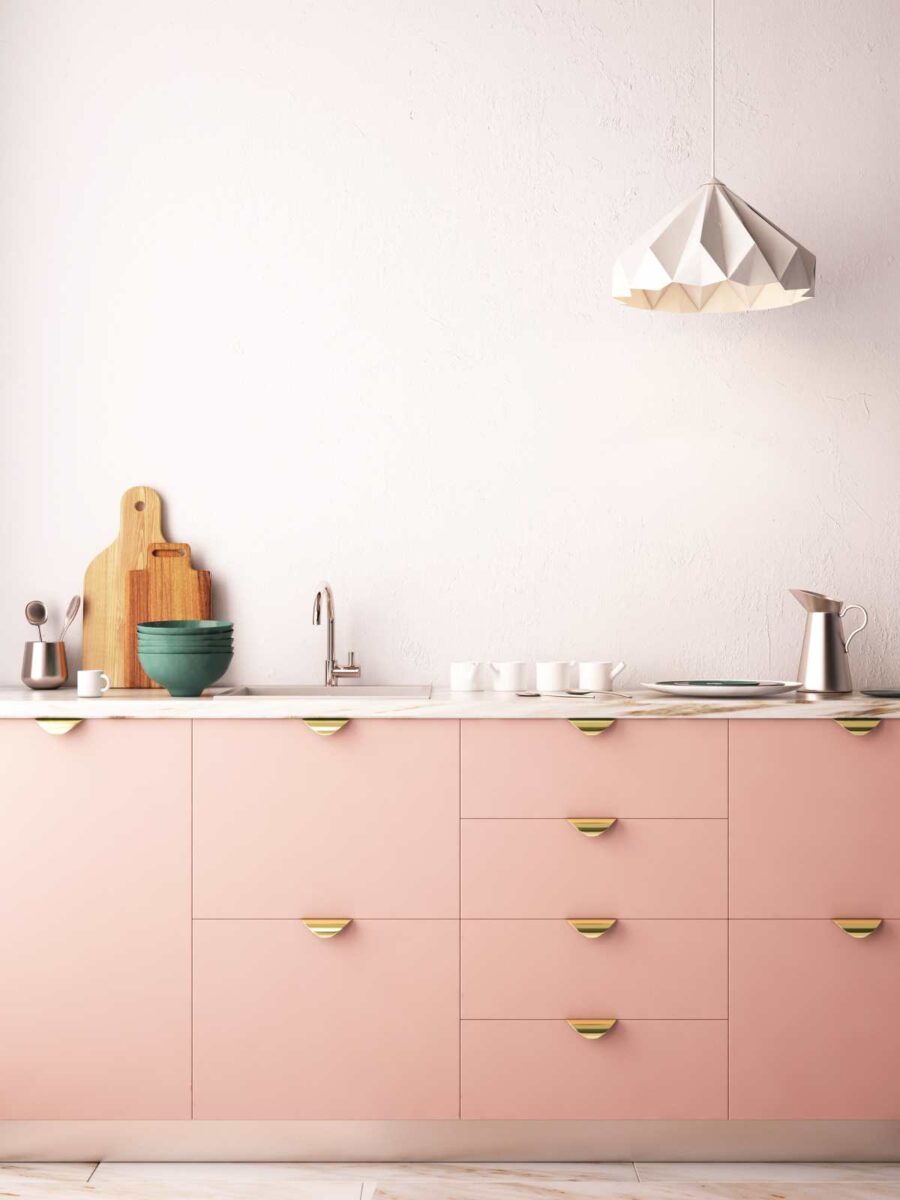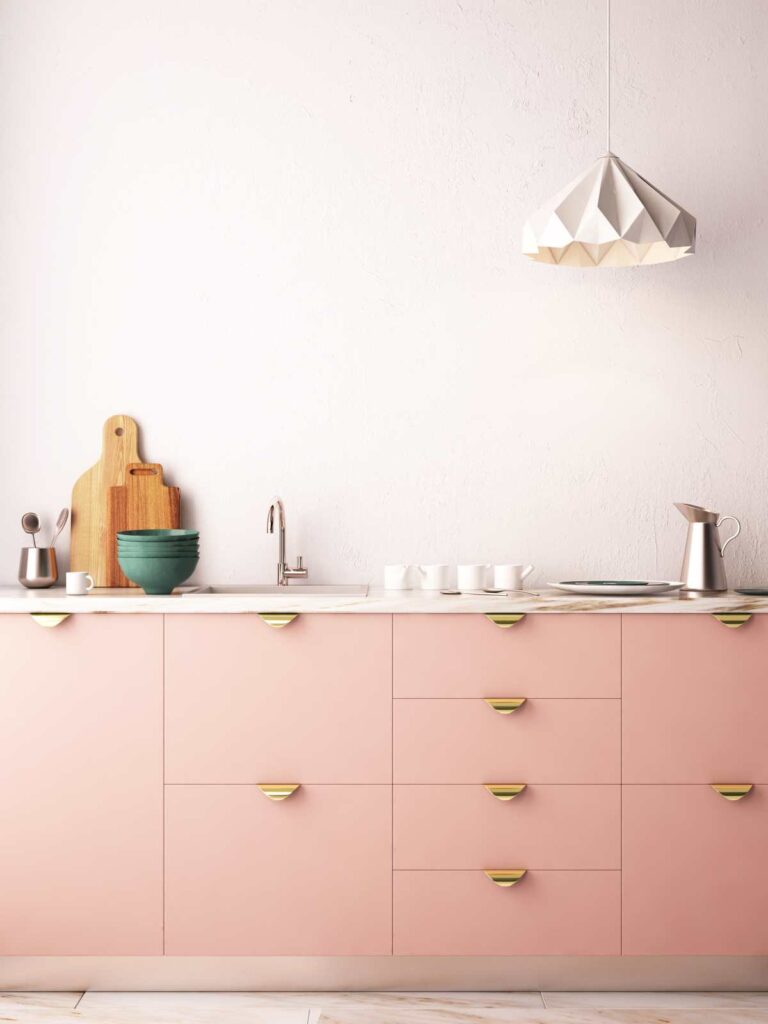 If you're ready to commit to pink and gold furniture fully, make it permanent with pink and gold cabinets in your kitchen! A soft pink cabinet with gold pulls could work in almost any decor style you love.
Dining Room
Your dining room is a place you can easily incorporate pink and gold furniture.
One of the easiest ways to bring those colors into your dining room is in your dining chairs. Whether you're looking for something bold or something subtle, there's a pink and gold dining chair out there for you!
A bright pink credenza is a low-commitment, high-impact way to bring those colors into your dining room, too.
Living Room
Few things will start as much conversation as a pink and gold couch in your living room!
Believe it or not, there are plenty of options out there to choose from. There are many different shapes and sizes, and you can find one in almost any shade of pink you're looking for.
A pink, tufted couch would fit right in a modern or glamorous home.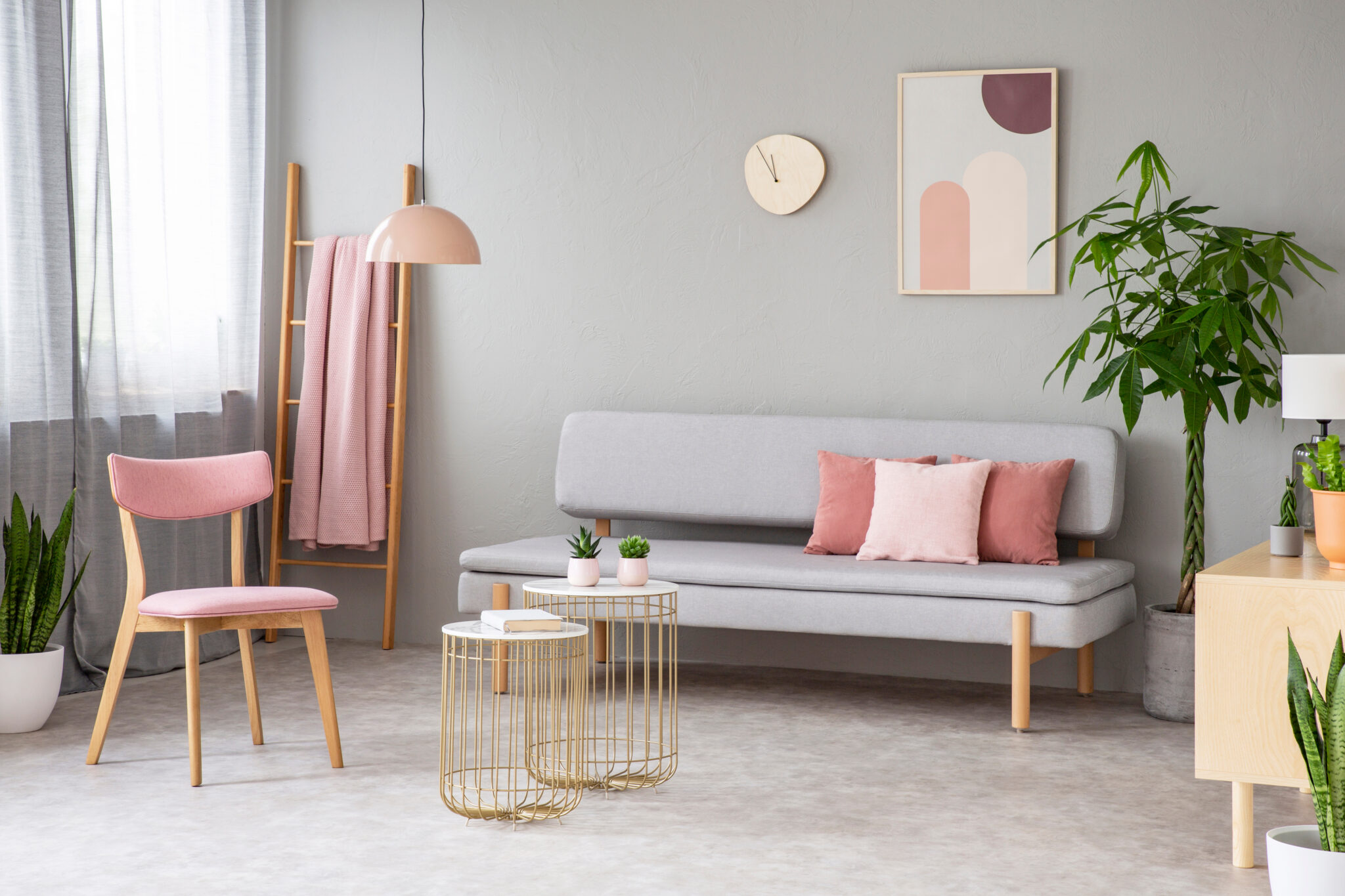 If you want something bolder, there are fuchsia couches. A hot pink couch would look amazing styled with black and white pillows or big and bright floral pillows.
A sleek and simple soft pink couch would look amazing paired with repurposed Shabby Chic furniture. Style it with some thrifted floral pillows to finish off the look.
Outside
Pink and gold furniture can liven up your outdoor living spaces, too!
If you're fully committed to the color combo, try out a cute little bistro table set. This will provide you and a guest with a comfy spot to sit and drink morning coffee or afternoon tea.
You don't have to dive into the deep end if you're not quite ready, though. Keep your existing patio furniture and throw in a pink and gold side table for a pop of fun and color! Style it with some faux greenery because bright green is an excellent color to go with pink and gold.
---
Wrapping Up Pink and Gold Furniture
Hopefully, by now, it's clear that your home should be filled with what you love. So if you love pink and gold furniture, fill your house with it! From bedrooms to living rooms, all the way outside, there's something that will work for every space and style of your house.
Planning to paint some of your existing furniture pink and gold? Here's everything you need to know about Painting Furniture!
About the Author
Latest Posts
Stephanie Lamberth is a writer who loves crafting, playing board games with family and friends, and cozying up in a warm blanket to get lost in good fiction books.
Crafting has been a part of her life for as long as she can remember. She comes by it naturally, with her mom encouraging it from a young age with a craft bin always busting from the seams with goodies to experiment with and explore. Her favorite things to craft these days are gifts to give family and friends because it's an opportunity to express creativity and love at the same time!
She currently lives with her husband and three kids in Tennessee. They all work and school from home and love spending time together!
Stephanie can be reached at stephanielamberthwriting@gmail.com