Blank canvases have been created on the back of Farmhouse white. My prediction is that it has become the perfect blank slate for our new fascination with Bohemian style decor like pink furniture. More and more we are seeing a desire for mixes of rustic old world and bold color choices like we find with teal, blue, and pink and gold painted furniture. While we often think of pink painted furniture as child's play, you will see that there is a lot of pink painted furniture for adults! This comes into play even more for those that adore that a glossy spray paint finish as well as those that love the gold.
Meet "Curvy Coral"
What? Do you not see all those lovely pinks and corals? Yes, this is what my sad little chest looked like before I began working on her. I would have to choose which colors I wanted to work with but I knew they would all fall into the pink, coral, and red family.
I decided to use Begonia and Blush from Wise Owl Chalk Synthesis Paint. This is by far my favorite brand of products to use and I also retail it so that just made sense. Begonia would be more bold than I prefer but thats why I enjoy blending and washing the paints creating a soft dreamy look.
---
The first question most ask is; How is chalk paint different from regular paint? That answer can be found in "Chalk Style Paint or Latex: The Choice is Yours" I invite you to go take a look there.
---
After I gave the chest a good cleaning and scuffing the surface, I wiped her down again and sealed with shellac. Then it was time to paint! I began by laying a good coat of Begonia. …and I quickly grabbed the blush to work it in there too. Using a water bottle I misted the surface to keep everything moving.
Yes, I know. Just stay with me. I continued to work the pink blended palette until I was happy then I reached for some image transfers I created on temporary tattoo paper.
[embedyt] https://www.youtube.com/watch?v=FA5RSmVxaG0[/embedyt]
Once applied I use my Blush to create a Color Wash over everything to pull it together. Then I varnished it all with my Wise Owl Varnish. I bet you are asking about the Gold aspect on the Pink and Gold Painted Furniture. You can find the gold tone in the Bright Brass Ring Pulls from D. Lawless Hardware. Notice I left some of the back plates off the pulls. Always feel free to make each aspect all your own when creating your own pink and gold painted furniture!
As you can see I worked in all that funky chippy textured goodness.
Now, I would love to bring you some more amazing pink and gold painted furniture!
My latest Pink and Gold Painted beauty! Want to recreate the look? Grab you some Wise Owl Chalk Synthesis Paint in Lotus and some Gold Rush and Silver Spark Metallic Lustre from DecoArt. (Those are clickable links to the products) The details were painted in Gold Rush then dry brushed with Silver Spark.
---
This High Gloss Peony Painted Dresser STOPS us in our tracks! Wouldn't you just love to have this in YOUR living room?? You can see it at
Peony Pink Century Dresser from PAINTED by Kayla Payne
Then we have this pretty pink mauve painted curvy dresser from Carrie at Thirty Eighth Street which she named her Pink Chalk Painted Card Catalogue Dresser This would be so lovely and elegant in a kitchen/dining area.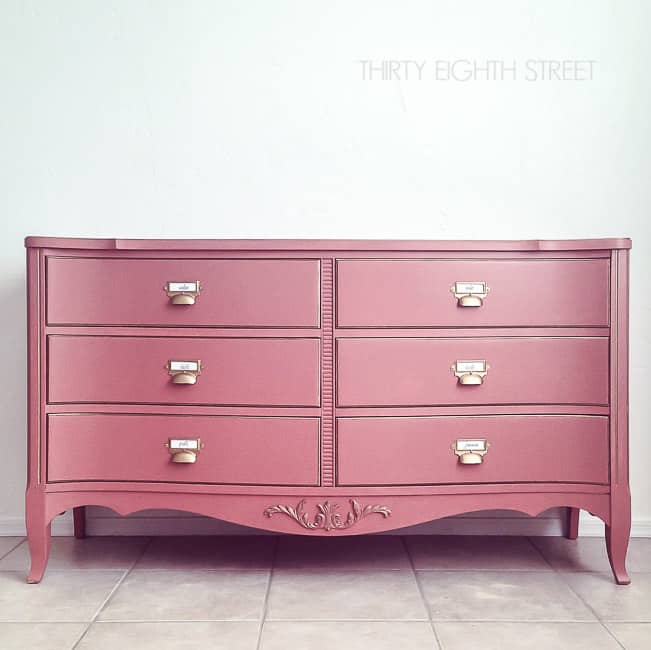 Skipping over to the more BOLD side we have Traceys Fancys Pretty Pretty Peacock Dresser in french provincial style…Incredible!