Step 1 to perfectly sprayed furniture is taking our sprayer out of the box! Too often it is left in there for MONTHS. How about we take the guesswork out so this doesn't happen to you ANY LONGER! Im going to show you exactly what to expect.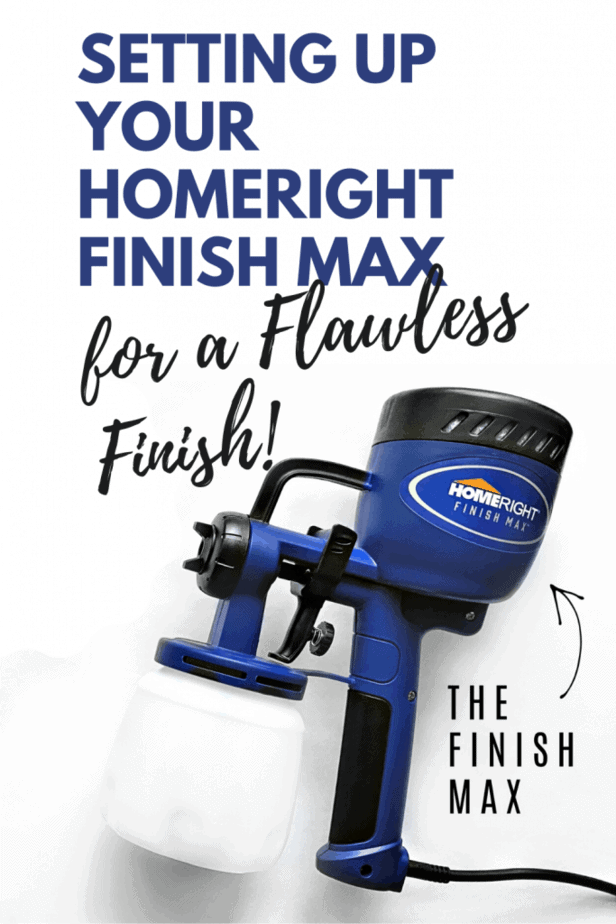 No clogs, orange peel, or splatter or sputtering! You wont believe how easy it is to get a flawless smooth professional finish! (Or how inexpensive) it can be!
As a basic DIYer I never thought I could create a sprayed finish, nor one that looks so professional and flawless! But, after jumping in feet first, I figured out quickly just how possibly it is!
First I had to buy the right sprayer. There was NO way I would invest much considering I had no idea whether I would stick with this hobby. I wondered though, if I could get the results I wanted without spending a couple hundred dollars? Someone recommended to me the Homeright Finish Max which you can find HERE (aflink) for somewhere between sixty to seventy bucks! Thats it!
Once I received it I quickly confronted analysis paralysis. You know, that thing we do where we are just FREAKED OUT about figuring out something? So, you just do nothing. Ha! You would think someone plopped us in the middle of a brain surgery and said "Here you go! Fix em!". No, its just paint y'all! No ones life is going to be altered if we goof this up!
Spraying can not get any easier than they have made it. You need no air compressor, and there are no tips to get broken or confused. The ONE thing you have to conquer is making sure the viscosity is right!
Paint viscosity is the "thickness" of the paint. This dictates how easy it is for the point to flow out. If the paint is too thick, it will only sputter and glob. If the paint is too thin, it will splatter and run. Homeright provides a special cup to assist you in getting it JUST right!
In the video below, you can see as I walk through exactly how to set up your sprayer for success! Here are the items you will see me using:
Links are provided for you and may be affiliate in nature. If you shop through them, it is possible I may earn a commission.