Repainting furniture is one of the best and cheapest ways to freshen up a living space! Not only is it a great way to save the environment (don't leave them at the dump!), but it's also a great way to save some money (you don't have to replace them!). Plus, it will make you feel like a DIY wizard!
But when it comes to painting wicker furniture, things can seem a bit trickier than regular indoor furniture. So it's a good thing you've found this page! Keep reading to learn the best tips and tricks for painting wicker furniture.
---
Before Starting to Paint Wicker Furniture
In our opinion, the best solution to any problem is always prevention; that's why the best tips and tricks for painting wicker furniture start before you even grab a hold of the paint.
Prepare Work Area
When it comes to painting wicker furniture, the best choice of work area will always be outside. If you don't have the luxury of working outside, choose a well-ventilated space, like a garage, where you can keep the door open. I'm sure I don't have to tell you to avoid working in any nice areas of your home, like living or dining rooms!
No matter where you choose to work, pick a day that isn't too windy. The wind could pick up dirt or leaves, ruining a fresh layer of paint.
To prepare your work area, move any pre-existing things that you don't want getting accidentally painted, and lay down a large tarp or drop cloth. You'll clean and paint your wicker furniture on the tarp or drop cloth to avoid getting any paint on the ground.
Clean/Wash/Dry the Wicker Furniture
The next tip for painting wicker furniture is not to rush straight into painting! You want to take your time cleaning the wicker furniture thoroughly to provide a smooth base upon which to layer the primer and paint.
But how to clean wicker furniture, with all its little nooks and crevices? There are several ways you can do this. You could use the dust attachment of your vacuum, a stiff-bristled brush, a toothbrush, or all three to really get rid of the dust and dirt that has probably accumulated over the years they've sat on your front or back porch.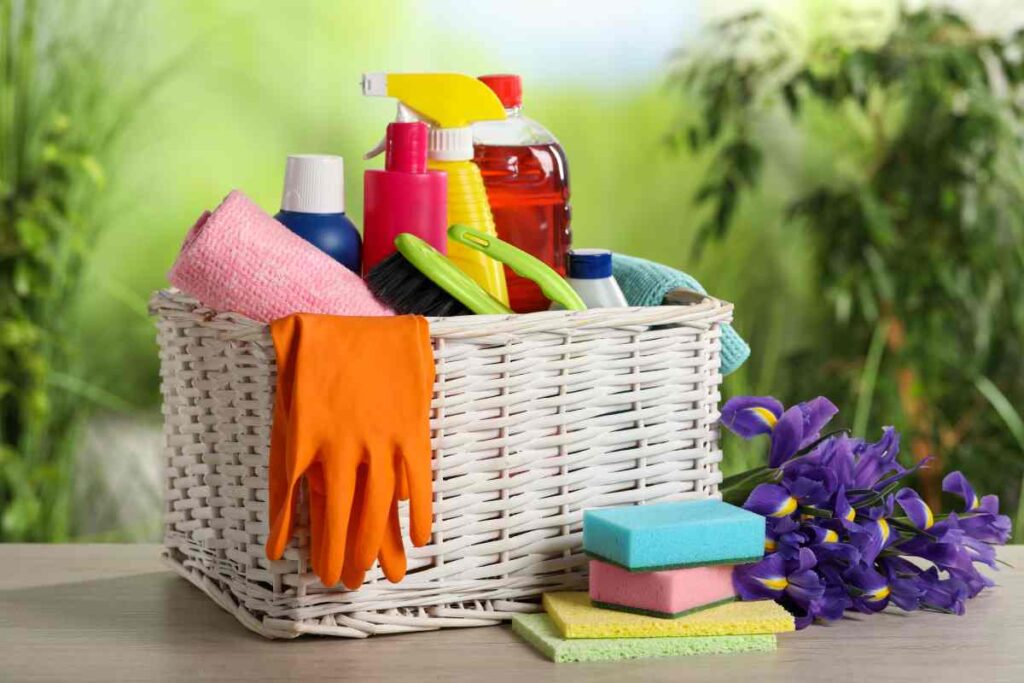 Once you've taken off all the grime you can, we suggest you use a hose or a sponge to wash your wicker furniture. You can use warm water and dish soap. If you're worried about potential mold or mildew, you can mix some bleach with warm water, but remember to rinse the wicker furniture after using the bleach.
Once the wicker furniture has been properly dusted and washed, let it air dry as long as necessary. For a full guide on cleaning wicker furniture, use our comprehensive and easy guide!
Repair if Needed
Depending on how long you've had your wicker furniture, you might find some spots where the wicker has broken or come loose. Don't despair! Once the wicker has dried out completely, use some wood glue to fix the wicker back together.
You're almost ready to start painting wicker furniture!
Primer
The next tip for painting wicker furniture is to apply a spray paint primer for wooden surfaces. This ensures that your future layers of paint will adhere perfectly well to the surface of the wicker. Make sure to let it completely dry before moving on to the next step!
This step can be skipped, however, if you plan on using an all-in-one spray paint that doesn't need a primer applied before.
---
Painting Wicker Furniture
If you've followed the above tips for what to do before painting wicker furniture, you're perfectly prepared to start the actual process of painting wicker furniture!
Use Spray Paint
Spray paint is the best option when it comes to painting wicker furniture. Can you imagine trying to get into all those nooks and crannies with a paintbrush? Even the smallest of paint brushes would have a hard time covering all those convoluted surfaces, and it would simply take forever.
That's why our biggest tip for painting wicker furniture is to use spray paint to get the job done. But if you want to use chalk paint, check out our guide on How to Paint Wicker Furniture with Chalk Paint. Keep learning about the best paint for wicker furniture, or go ahead to the next step!
First Coat
Apply the first coat of spray paint by keeping the can at least eight inches away from the wicker and using smooth, sweeping motions. Continue doing this until you have applied an even first layer of paint and you don't see any of the old color peeking through. Let this first layer dry completely before moving on to the next step of painting wicker furniture.
Second Coat
The next tip to painting wicker furniture is to apply the second coat of spray paint as perfectly as the first. Use a steady hand, and don't keep the spray can too close or too far from the wicker.
Sealer
Once the second layer of paint has dried completely, the next step is applying a layer of spray sealer. This step is important no matter where you plan on keeping your wicker furniture after! It seals the paint in, protecting it from abrasive external factors like sun, rain, wind, and more.
---
Tricks For Getting it Just Right
And voila, you have painted wicker furniture! If you've followed the tips above, chances are you've got yourself some beautiful, as-good-as-new-looking furniture that will brighten up any space they're in.
But keep reading for some more tips to help make the job even easier!
Use Gloves and a Dust Mask
Though painting wicker furniture might not seem like a super dangerous job, keeping your lungs and skin away from chemicals is always best. To keep yourself safe from potentially breathing the spray paint or getting it on your hands, we suggest you use gloves and a dust mask, at least when using any spray primer, paint, or sealer.
Remove Old Peeling Paint
If, at the cleaning stage, you see any of the old layers of paint peeling, take a moment to remove any peeling bits by hand. If you paint on top of those, they'll eventually peel off anyway and take the new layer of paint with them! It might seem like an annoying task, but trust us–it's well worth your time and energy.
Check for Mildew or Mold
One of our most important tips for painting wicker furniture is checking for mildew or mold. If you see any suspicious-looking dark spots on your furniture, don't just paint over it! That's just delaying the problem, which will certainly pop back up again in the furniture, maybe even worse than before.
As we mentioned earlier, use bleach if you suspect mold or mildew, and scrub the suspicious spot vigorously until it's gone.
Let the Paint Dry Between Coats
As with the painting process of most things, letting layers of paint dry in between applications is essential for a smooth finish. Don't rush the process–you'll thank us later for convincing you to be patient!
Paint from Different Angles
Because wicker material is a bit tricky to paint, a trick for getting it just right is holding the spray paint can at different angles during the various applications. This ensures that you're getting a layer of paint on just about every visible surface of the wicker material!
Flip Furniture Upside Down
Though you might not normally think to paint the underside of the furniture, wicker furniture is special in that because it's made out of woven material, you might catch a glimpse of the inner angles of the furniture if you look carefully.
So to ensure that no old paint is visible when the layers of new paint on the top side of the furniture are completely dry, we suggest flipping it upside down and applying the same layers of primer, paint, and sealer again. Now that's a job well done!
---
Frequently Asked Questions About Painting Wicker Furniture
How Much Time Will It Take?
This depends on how much wicker furniture you're repairing, the state of that furniture, and how many layers of paint you want to apply. Clearly, the worst state your furniture is in, the longer it's going to take to dust, wash, and dry it, and the same goes for the number of paint layers you want to apply. The more layers of paint you use, the longer it's going to take for the whole project to dry out.
I would suggest planning out at least a day of total work time to give yourself enough buffer!
How Much Will It Cost?
The main cost of painting wicker furniture comes from the cans of spray paint, which is decided by how much furniture you're repainting—the more furniture, the more cans of spray paint you'll need to get the job done. Of course, you'll need to purchase anything else you don't already have at home, but the good news is that most of the cleaning materials you usually already have in an average household.
Fortunately, repainting wicker furniture isn't an expensive task. We would budget about $30!
What Skill Level is Necessary?
Have no fear; painting wicker furniture is a DIY task that requires beginner skills. That means that just about anyone with a bit of patience and dedication can freshen up their wicker furniture with a layer of fresh paint!
What Tools Will I Need?
At the very least, you'll need:
A drop cloth or tarp
Furniture primer, spray paint, and sealer
You could also use:
A dust mask
Gloves
Vacuum with a dust attachment
Warm water
Dish soap
Bleach
Sponge
---
Wrapping up Painting Wicker Furniture
We hope this post has given you the best tips and tricks for starting your own painting wicker furniture adventure. As you've learned, what might seem like an intimidating process is actually totally doable with patience and the right set of instructions.
Now you're ready to freshen up your entire outdoor wicker furniture set! Have more furniture to paint? For more guides and suggestions, check out our Painting Furniture posts!