Do you have a piece of veneer furniture that you'd really like to fix up, but aren't sure how? Not to worry, because painting veneer furniture can be easy! All you need is a few tools, some elbow grease, and the right paint to refurbish an old piece into something that's like new.
Keep reading to learn more about painting veneer furniture and how to get started.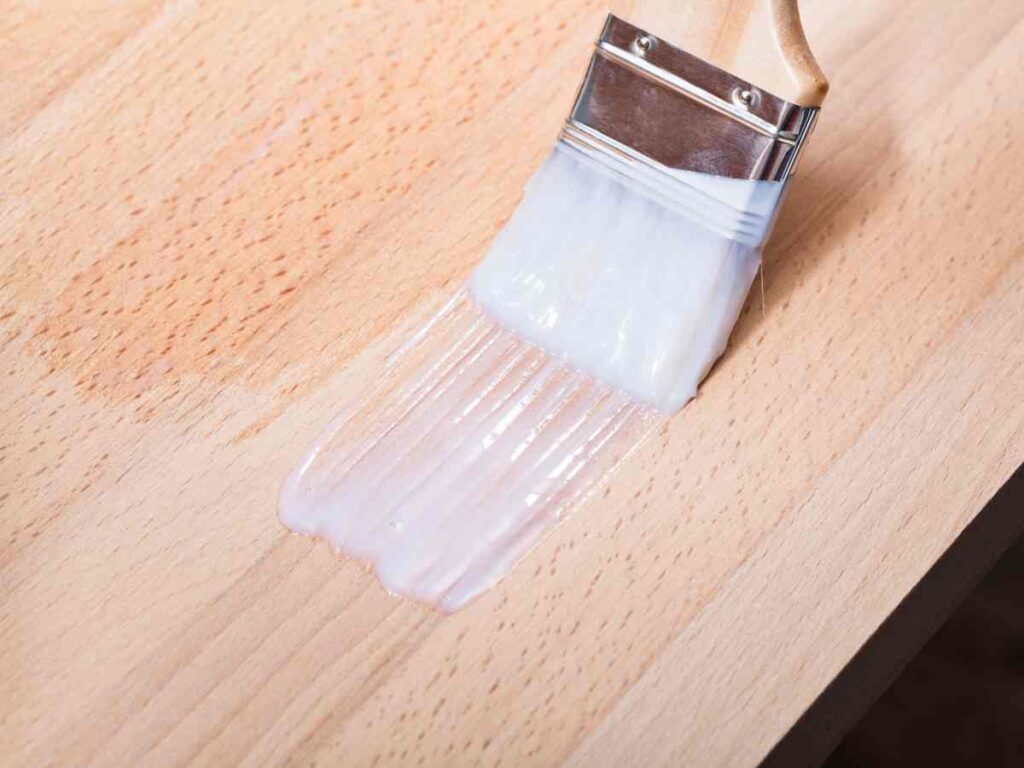 ---
What Is Veneer Furniture?
Some people turn up their noses when they hear the word "veneer" because of a common misconception that veneer is low quality. The truth is, veneer offers the same high quality as solid wood, along with a few bonus features.
In woodworking, veneer is a paper-thin cut of natural wood that's adhered to the sides of a substrate, such as plywood, particleboard, or medium-density fiberboard (MDF), otherwise known as manufactured wood. Veneer has been a staple in furniture-making for hundreds of years and that's because of its long-lasting durability.
No matter how costly or chic a piece of solid wood furniture might be, it's still susceptible to the elements. Solid wood is responsive to the climate, and it expands when it's warm and contracts when it's cold. This natural occurrence becomes a problem when creating furniture with moving parts, like drawers and cabinets. Even slight fluctuations in wood size can prevent these functions from working properly.
Veneer offers a solution to this problem. These slices of wood are adhered to a solid core surface. Veneer isn't solid, so it doesn't absorb moisture, which ensures that your furniture will last for years to come.
How to Prevent Damage to Veneer Furniture
While veneer furniture has more long-lasting qualities than solid wood, it can also be susceptible to damage, particularly around the edges and seams.
Because the veneer is paper-thin, it's possible for moisture to seep in through the edges. Excess moisture can compromise the adhesion that binds the veneer to the substrate, causing it to become loose. Over time, the veneer can also peel and crack. To prevent this from happening, consider these easy-to-follow precautions:
Use a desk pad to avoid writing directly overtop the veneer, which can scratch the surface
Use coasters to avoid moisture from seeping into the veneer
Keep veneer furniture out of direct sunlight, which can also cause damage over time
Regularly clean your veneer furniture with a damp cloth using soap and water
As a stronger layer of protection, you can also add a glass top to your veneer furniture. If you do so, remember to add felt pieces along the corners, underneath the glass, so it doesn't make direct contact with the veneer.
---
Products for Painting Veneer Furniture
Oil-Based Paint
Oil-based paints are a great choice for painting veneer furniture and nearly any other surface. This paint type is available in vibrant colors and leaves a shiny finish. A key benefit to oil-based paint is that it protects wooden surfaces from heat, moisture, and mold damage, as well as rot, insects, and abrasions.
However, there are few downsides to using oil-based paints. These paints err on the costlier side, are more difficult to clean, and require a longer drying time. They also contain much higher volatile organic compounds (VOCs) than other paints. VOCs are industrial chemicals that emit into the air as fumes, and are responsible for the pungent odor of these paints.
It's definitely recommended that you wear a mask and have proper ventilation when applying oil-based paint.
Chalk Paint
Chalk paints are another fine choice to consider when painting veneer furniture. Chalk paint is water-based and leaves an ultra-matte, antique-like finish.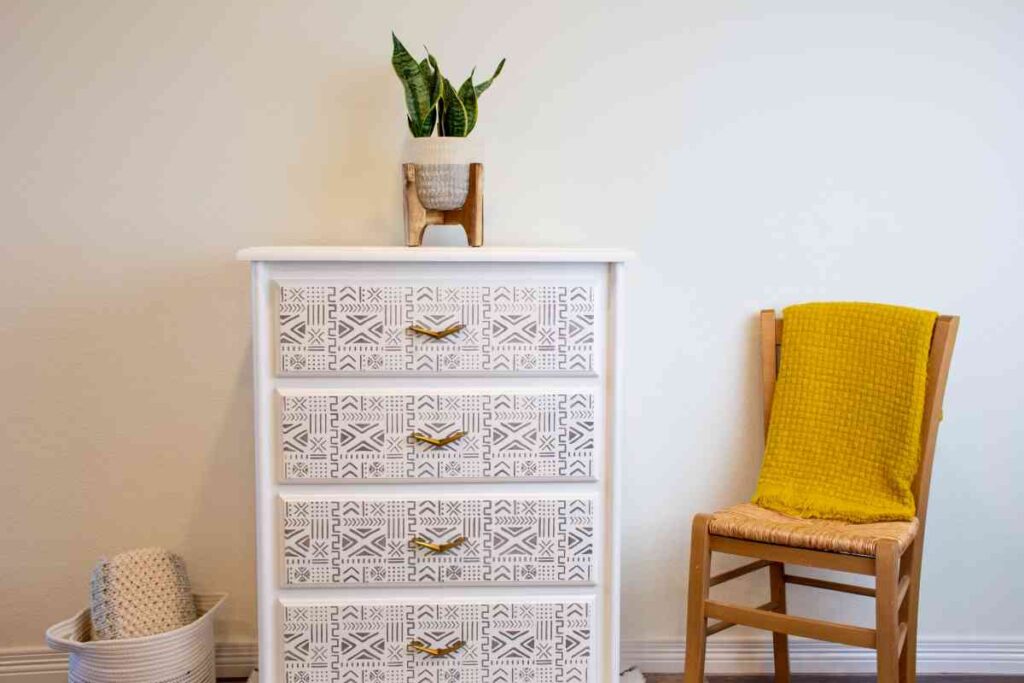 The convenient part of using chalk paint is that it requires little to no preparation. Chalk paint adheres easily to surfaces without the need for sanding. If you choose this paint type, then you must apply a topcoat to prevent flaking.
If you're interested in painting veneer furniture with chalk paint, consider one of the 55 color choices from Country Chic. If you aren't sure what color to choose, opt for a neutral like Vanilla Frosting or Sunday Tea.
Acrylic Paint
Many people prefer acrylic paints over any other paint, and that's because of its versatility. Acrylic paint is water-based, non-toxic, and easy to use and clean. These paints are known for their bright, vibrant colors.
One of the main benefits to painting veneer furniture with acrylic paint is that it's fast-drying. Because it dries quickly, acrylic paint isn't ideal to use for blending; however, it's great for adding several layers of paint.
Even though it's easy to clean, acrylic paint is permanent when it dries on fabric, so be sure to prepare your workstation beforehand.
Enamel Paint
Enamel paint is another choice to consider when painting veneer furniture. Enamel paint can be oil-based or water-based and offers a more durable finish. When it dries, this paint leaves a glossy finish and forms a hard coating that protects against moisture and mildew.
A coat of enamel paint can last for several years and is suitable to use on both indoor and outdoor furniture.
Enamel paint takes longer to dry than water-based alternatives. Because of its longer dry time, you can blend enamel paints together. Enamel paints also leave behind a glossy finish, so it's more prone to scuffs and scratches.
---
Painting Veneer Furniture: A Step-by-Step Guide
Ready to start your project? Follow these nine steps on painting veneer furniture to achieve a smooth, durable finish.
1. Prepare Your Workstation
Before you start painting, take a few minutes to set up your workstation. Taking the necessary preparation steps now will save you time and effort on cleanup afterwards.
The best way to protect nearby surfaces is to first lay down a tarp or canvas drop cloth. You can secure the tarp or cloth in place with painter's tape.
Next, if you're working indoors, you'll want to keep your workspace ventilated. Open up a few windows if possible. Otherwise, move your project outdoors if feasible.
When it's time to start painting, remember to use gloves and a mask. By protecting your face, you'll avoid breathing in dust or wood particles while sanding, or inhaling chemicals from the paint.
2. Perform a Quality Assessment
Before painting veneer furniture, you'll need to assess the quality of the veneer.
If the veneer surface is in good condition and is without knicks or chips, then you can move along with the steps listed below.
If the veneer is chipped or damaged but isn't loose, then you have two options to consider: you can use wood filler to fill in the chips and then sand over it. Or, if you're interested in creating a worn, weathered look, you can leave the damage alone and cover it with a coat of primer.
If the veneer is severely chipped and very loose, it can compromise the stability of the entire piece. In this case, it's best to fully replace the veneer.
3. Remove Hardware
Before painting veneer furniture, remove all hardware, including draw pulls, knobs, hinges, brackets, and other fittings. You may choose to reuse the old hardware or replace it with new fittings for a different look.
4. Clean the Furniture
When painting veneer furniture or furniture of any kind, you should thoroughly clean its surface beforehand. Removing dirt, dust, and other debris will make for a sleeker finish in the end.
To clean the veneer surface, you can use detergent and hot water. Dip a rag into the solution and use it to wipe the surface clean. Allow it to fully dry before moving on to the next step..
5. Sand the Veneer
Whenever you're painting veneer furniture, it's highly recommended that you sand beforehand. Veneer tends to be on the sleeker side, and sanding adds friction to the surface, which allows the paint to adhere to it better. If you're using oil-based or acrylic paints, sanding is an especially important step.
We recommend that you use a 120-grit fine sandpaper and work your way up to 220-grit sandpaper if needed. You can also use a sanding block for this step.
Make sure you sand the entire piece, including the main surface, legs, drawers, and all other spaces and crevices. When you're finished sanding, dust off the furniture and vacuum the surrounding area so it doesn't affect the paint job or dirty your workspace.
6. Cover Areas You Don't Want to Paint
If there are parts of the furniture you don't want to paint over, or if you want to use different colors on different areas, then cover the parts you don't want to be painted with painter's tape. Doing so will allow you to paint the desired parts of the furniture with ease seamlessly.
You can also use this step if you want to add a bolder design, such as stripes, to the veneer.
7. Apply Primer
While you don't necessarily need a primer with certain paints, it's recommended that you use a primer when painting veneer furniture. Using a primer will help the paint to better bind to the veneer's smooth surface and prevent the paint from flaking and cracking.
For best results, apply primer with a brush and keep brushstrokes consistent with the direction of the grain. Be sure to cover all surfaces, including cracks, crevices, and hard-to-reach edges.
8. Apply Paint
Now, it's time to begin painting! Whichever paint option you choose for painting veneer furniture, you should apply it the same way you applied the primer: in the direction of the grain.
Allow the paint the necessary time to dry; dry time is specific to the paint that you use. Apply additional coats to achieve the look you want.
9. Add a Top Coat (Optional)
When you finish painting veneer furniture, you have the option to add a topcoat, varnish, or sealant. To do so, simply fill a clean paint tray with your topcoat of choice and use a brush to apply it. Adding a topcoat is another way to protect the surface of your finished product from damage.
---
Wrapping up Painting Veneer Furniture
Painting veneer furniture is a great way to breathe new life into old fittings. As long as the bones of the furniture are solid, you'll be able to refurbish it to match your new and changing aesthetic, and to suit different rooms in your home.
Wood veneer isn't the only kind of furniture you can paint over. You can also paint metal furniture for a new look, too! Interested in learning how? Check out our comprehensive guide on how to paint metal furniture to learn more!