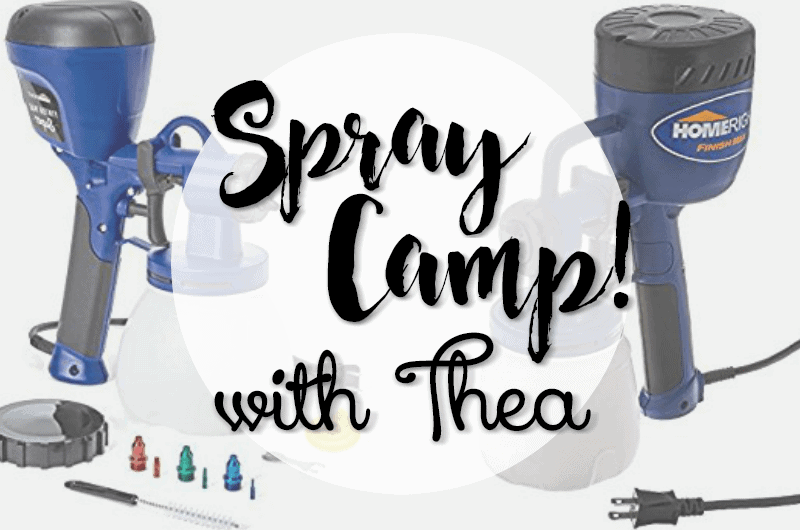 Learn How to Spray Furniture with Thea
Have you wanted to learn how to spray furniture?  Are you scared of the cost or the unknowns of spraying furniture??
Learn how to SPRAY Furniture with ME in an ONLINE class!
Would you like to take painting up a notch to get a flawless professional finish but you dont know what equipment to buy or how to spray furniture? 
Just look how fast and painless it can be…
I have found the Homeright Sprayers (No Air Compressor Needed) are the absolute BEST introduction to spraying.  And you may never move on! (I havent!)
This is a  OnLine class! 
After you Subscribe below CLICK HERE TO JOIN THE GROUP
(Please be ready to include your Paypal Email to speed up your membership approval)
You do not have to be present during the live class! You can ask questions before or after. The group will be available to you forever!  
We will cover loading your sprayer, preventing clogs, troubleshooting splatter or other variables, differences in each sprayer, differences in products sprayed, cleaning your sprayer, and any questions you can think of!  Please note though that this will be a water based class.  No oils or enamels covered.  
We will Feature the Homeright Finish Max during class but but the information covered will apply to each sprayer!
Benjamin Moore Advance Latex Paint You can purchase this at Select Benjamin Retailers (See it-> http://bit.ly/2CLI6Iw )
You do not HAVE to have these paints! I am using them for demonstrations purposes as one is latex and the other is a chalky style paint.