Whether you're new to jewelry making or are just figuring out how to best round out your supplies, the following 12 jewelry-making tools are must-haves.
Read on to learn a little about each essential tool to create unique, inspired jewelry!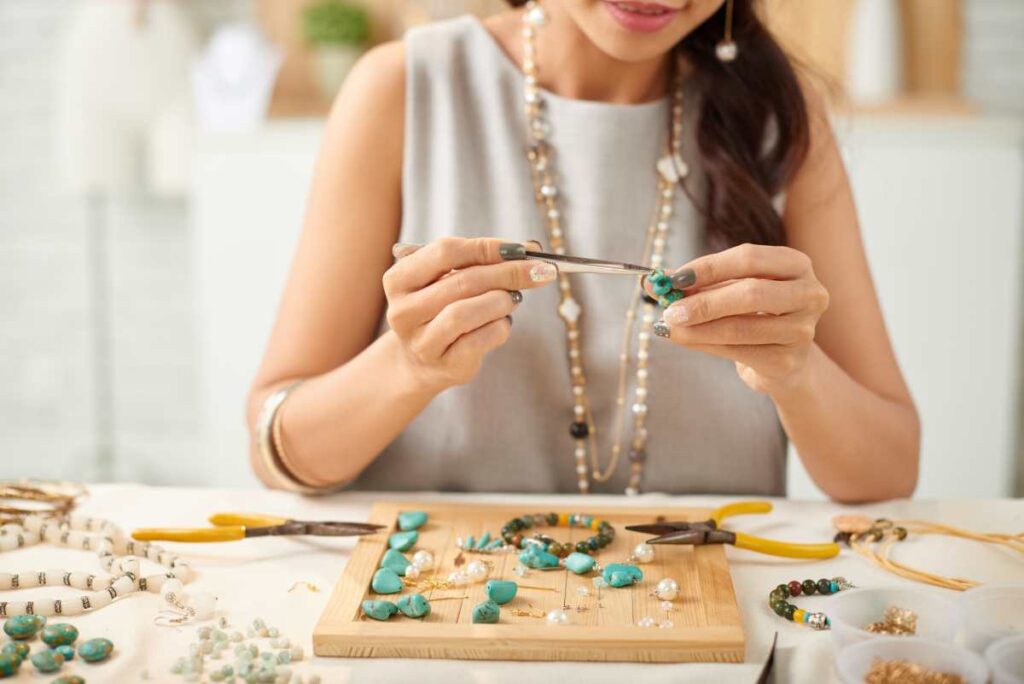 ---
Basic Tools
1. Pliers
Pliers are an essential jewelry-making tool. Three basic types should be in every jewelry-maker's toolbox: round nose, chain nose, and flat nose.
Round-nose pliers have round, tapered jaws suitable for looping and curling wire. They usually have two cylindrical tips. Round-nose pliers are essential for creating loops for earrings, pendants, and wire-wrapped components. They are also useful for forming consistent curves and spirals in wire.
Chain-nose pliers (also called needle-nose pliers) have long, tapered jaws that come to a point. They are flat on the inside and often have serrated or textured jaws for a better grip. These versatile pliers are used to grip, bend, and manipulate wire; open and close jump rings; crimp beads; and hold small components during jewelry assembly.
Flat-nose pliers have broad, flat, wide jaws that may be smooth or serrated. They are ideal for straightening wire, holding components, and making sharp bends or right angles in wire, and are also useful for opening and closing jump rings.
2. Wire cutters
Wire-cutting tools are another essential piece of a jewelry-maker's toolbox. Clean, precise cuts give jewelry a finished, professional look. Every jewelry maker should have one or more of the following types of wire cutters in their arsenal.
Flush cutters, also known as flush-cut pliers or flush-cut wire cutters, have blades that are flat on one side and angled on the other. The flat side allows the cutter to make a clean, flush cut without leaving a sharp or pointed end.
These cutters are ideal for cutting beading wire, headpins, eyepins, and other thin-gauge wire. They are commonly used in beadwork and wire-wrapping projects.
Side cutters, also called diagonal cutters or side-cutting pliers, have blades that are angled to one side to create a sharp angle on the cut end of the wire.
These cutters are versatile and can cut various types of wire, including thicker gauge metal wire.
Memory wire cutters are designed specifically for cutting memory wire, a hard and stiff wire commonly used in making bracelets and chokers.
These cutters have strong, hardened blades that provide a clean cut without damaging the blades (which can happen if you try to cut memory wire with regular cutters).
3. Crimping tools
Crimping tools are essential for jewelry-making, particularly when assembling beaded jewelry. You use crimping tools to secure crimp beads or tubes in place, ensuring that your jewelry components are securely attached and finished neatly.
Crimping tools come in various designs, but there are two primary types: crimping pliers and crimping stations.
Crimping pliers are designed specifically for crimping beads or tubes. They have two notches or chambers in the jaws to perform two distinct crimping actions: tube or bead compression and folding.
The back notch gently compresses the crimp tube or bead, which creates a rounded or oval shape and secures the wire in place. The front notch folds the compressed crimp into a flattened shape, providing additional security and a neat finish.
Crimping pliers offer precision and control, allowing you to create a reliable and polished crimp connection. They are available in various sizes, allowing you to work with different crimp bead and wire sizes.
Crimping stations, on the other hand, are devices that simplify the crimping process. They consist of a base with built-in chambers for holding the crimp bead or tube and wire.
Crimping stations are user-friendly and provide consistent results, making them ideal for beginners. They offer stability and can accommodate multiple crimp sizes.
4. Tweezers
A good pair of tweezers is a must-have among your jewelry-making tools!
Whether you're working with tiny beads or lobster clasps, tweezers can make your life much easier when making jewelry.
---
Needles and Thread
Threading and beading needles are essential jewelry-making tools, especially for jewelers who work with beads or other small components. They make it easier to string beads onto thread or wire.
5. Threading and beading needles
Threading needles, also known as hand-sewing needles, are typically small, slender, and have a sharp, pointed tip.
They are commonly used for hand-sewing fabric, but they are also useful for some jewelry-making tasks, like stringing beads onto thread or cord, hand-sewing fabric elements onto jewelry (for example, attaching fabric backing to embroidered beadwork), and adding small, delicate embellishments to jewelry designs.
Threading needles come in various sizes and thicknesses to accommodate different types of threads, cords, or wires. For jewelry making, you'll typically use smaller, finer needles to fit through the holes of small beads.
Beading needles are specifically designed for jewelry making and beadwork. They are long, thin, and flexible with a fine, rounded, or blunt tip, and are primarily used for threading beads onto various stringing materials, including beading wire, thread, and cord.
They are ideal for stringing small beads with tiny holes, creating intricate beadwork patterns and designs, and working with seed beads and other small, delicate beads.
Beading needles are flexible but sturdy enough to handle tight spaces and fine beads. They often have a slightly larger eye compared to threading needles, making it easier to thread with different stringing materials.
6. Beading threads
Choosing the right thread for jewelry making is crucial for ensuring that you create durable, functional, and aesthetically pleasing pieces.
Beading threads are typically thin, flexible, and strong. Designed specifically for stringing beads, beading threads are ideal for bead weaving, bead embroidery, and stringing small- to medium-sized beads. You can find bead threads in various materials, such as nylon, polyester, and silk.
Beading wire, often made of stainless steel or nylon-coated steel, is a flexible and durable jewelry-making tool that comes in various thicknesses (referred to as wire gauge).
Beading wire is suitable for stringing beads with small holes, heavy beads, and for creating jewelry designs that require structure and rigidity. It's commonly used in designs involving crimping and wirework.
Cotton cord is a soft, natural fiber cord that can come in various thicknesses and colors. It's often used for making friendship bracelets, macramé jewelry, and bohemian-style designs, and is good for knotting, braiding, and weaving.
Leather cord is made from animal hides and is available in different thicknesses and colors. It has a rustic, organic look, making it ideal for creating leather bracelets, necklaces, and pendants.
For something smooth and delicate, silk thread is the way to go. Use it for knotting pearls and gemstone beads to add a touch of elegance to your creations.
A stretchy elastic cord is perfect for creating quick and easy-to-wear stretch bracelets.
---
Essential Components
Clasps, jump rings, earring supplies, and beads and gems are all essential jewelry-making tools to keep on hand.
7. Clasps
Two types of clasps are the most common among jewelry-making tools: lobster and toggle.
Lobster clasps are named for their lobster claw-like shape. They consist of a small, hinged lever with a spring mechanism that opens and closes the clasp when pressed.
Lobster clasps are known to be reliable and secure; they are less likely to accidentally open compared to some other clasp types.
Sleek and streamlined, lobster clasps are perfect for modern and minimalist jewelry pieces. You can find them in various sizes, materials (such as base metal, sterling silver, and gold-filled), and styles, (including decorative).
Lobster clasps are commonly used in bracelets and necklaces where you need a secure and straightforward closure. They work well for both lightweight and heavier jewelry.
Toggle clasps consist of a bar and a ring. To fasten the clasp, you insert the bar through the hole in the ring and flip it to secure the jewelry. Toggle clasps are a good choice for people who may have difficulty manipulating lobster clasps.
Unlike lobster clasps, toggle clasps are often chosen to stand out and can even become a focal point in jewelry designs.
8. Jump rings
Jump rings are small, circular metal rings with a split or opening that allows you to attach other jewelry components like clasps, charms, pendants, and chain links.
Jump rings come in various sizes, materials, and styles, and are crucial for connecting and assembling jewelry pieces.
9. Earring backs, posts, and wires
It's also a good idea to have some earring backs, posts, and wires in with your jewelry-making tools. These supplies are essential to supporting the functional aspect of your jewelry designs.
Try to keep a few different styles on hand to pair with your creations.
10. Beads and gems
Most jewelry makers will want to have a variety of beads and gems among their supplies to bring pop and interest to their pieces. Gold, glass, and seed beads are staples.
Use gold beads to create high-end jewelry, including necklaces, bracelets, and earrings for formal occasions and as accents or focal points in your designs.
Glass beads come in a wide range of colors, shapes, sizes, and finishes. They're typically less expensive than gold beads and can be used for casual pieces as well as fancy creations.
Seed beads are typically small, cylindrical or spherical beads available in various sizes, with larger numbers indicating smaller beads (e.g., 11/0, 8/0). Their size makes them good for accents or bead designs.
Gemstones, crystals, and clay beads are also good options to have around, depending on the style you're creating.
---
Jewelry Design and Organization Supplies
11. Organizer
Organization is essential for jewelry makers, allowing you to separate and categorize different types of beads, findings, wires, tools, and other components and making it easier to find what you need when you need it.
A jewelry organizer helps protect your supplies from dust, dirt, moisture, and potential damage caused by mishandling or accidental drops. It can also save you space and allow you to keep track of your inventory, which helps you avoid overbuying or running out of essential supplies.
12. Design Board
In the context of jewelry making, a design board is a tool that jewelry designers use to plan, visualize, and organize their jewelry designs before creating the actual pieces. It provides a creative space where you can arrange and experiment with various components, beads, gemstones, and findings to conceptualize and refine your jewelry ideas.
Design boards can be simple, such as a piece of foam board covered in fabric, or more specialized, like a beading mat with built-in measurements and compartments.
Some jewelry designers even use virtual design boards or software applications to digitally plan and visualize their designs.
---
A Toolkit for Success
Whether you're a beginner or a professional, a well-stocked supply cabinet can inspire and enable you to let your creativity shine. Jewelry-making tools don't have to be fancy! As long as you have these essential basics, you can easily create unique pieces.
Ready to make more? Learn how to make your own beaded earrings and other great jewelry creations here!