Let's be honest: most of us have way more pictures than we know what to do with. Even before the age of social media filled our phones to the brim with photos, trying to find a place to display your most precious memories was a difficult task.
Scrapbooking is a solution that doubles as a fun and creative outlet for many people! However, it can be an intimidating hobby to try and get into as a beginner.
Luckily, it's nowhere near as difficult as it looks. Here's our beginner's guide on how to start scrapbooking!
---
Step 1: Organize Your Photos
Before you start breaking out the books, you'll want to organize the photos you'll be scrapbooking.
The best way to store physical photos effectively is a photo storage container. You can even label them according to your organization method!
There are a few methods you can use for sorting your photos…
Sort by Date
This is the most common (and the easiest) way to sort your photos when you first learn how to scrapbook. Many people organize their scrapbooks by year, as well. This allows them to easily find pictures of certain events, people, and "stages" of life.
For example, if you have a child nearing the end of high school, this type of organization will be a huge time-saver when you need to track down photos to display for their graduation party.
Or, if you know you haven't seen a family member since a particular year and want to find a photo of them, organizing your photos by date will help you find it quickly.
Sort by Event
If you plan to only scrapbook specific important events from your life, organizing your photos by event is another option.
For example, you can sort out weddings, graduations, birthday parties, family reunions, and more.
This can be trickier if your photos are scattered over multiple or similar events, such as family weddings. You'll have to get creative to narrow down which pictures belong to which event.
Sort by Family Side
Another option for beginner scrapbookers is to organize photos by which side of the family is in the photograph.
If you're married, this could mean organizing photos according to your spouse's side of the family or yours. If you're unmarried, this could mean your parents' sides of the family.
This can be helpful if you and your spouse have a combined collection of photos and want to scrapbook them separately.
---
Step 2: Pick a Theme
While picking a theme isn't strictly necessary, it can be extremely helpful to keep you from getting overwhelmed as you first learn how to scrapbook!
Some people may feel stifled by a theme, preferring to let creativity flow where it will. Others rely on a theme to make all the options feel less intimidating.
Either way, there are a couple of ways you can apply a theme as a beginner scrapbooker!
An Inkling of Inspiration
Before you start scrapbooking, try gathering inspiration for different themes and ideas from many sources. Craft magazines are a great place to start, as are scrapbooking websites.
And, of course, Pinterest is always there to help if you strike out in other areas!
Take notes (or create a bookmark or Pinterest board) of what you like. You can even clip out pictures from your magazines or print pictures off the web to create a physical vision board.
Vision boards are helpful for beginner scrapbookers because they can be hung in your crafting area or taken with you to the craft store. They'll help you keep your chosen theme at the forefront of your mind.
By the Book
If you're a fan of a multi-piece project with the same theme throughout, you'll want to choose a theme to apply to your entire scrapbook. This means every page will be designed according to the theme you choose.
For example, if you start scrapbooking a Disney vacation, you'll likely theme the entire scrapbook's design based on Disney.
If you're concerned this will make your scrapbook feel repetitive or one-note, don't worry–even within singular themes, there are multiple ways to express them on the page.
You can theme one page based on Mickey-shaped foods and include pictures of you and your family enjoying them. You can even do a page based on character meet-and-greets and include their signatures, if you like!
If you're scrapbooking a wedding, you can theme each page according to a different flower in the bride's bouquet. You could also shuffle through the color palette and decorate your pages on a rotation.
This way, even though each page is different, the book itself is still following a single theme!
Page by Page
Another option for those learning to scrapbook, particularly if you're scrapbooking by year or side of the family rather than event, is to theme each page individually. This can feel chaotic or overwhelming for some, but for others, it allows their creativity to run wild!
There are no rules when it comes to theming page by page. The only thing to remember is that when you open the scrapbook, except for the first and last pages, you will see two pages at a time. This means you may want to theme each pair of pages similarly.
---
Step 3: Collect Your Craft Supplies
Next up is the truly fun part: shopping for your supplies!
Start Shopping
If you're just learning how to scrapbook, you'll need to allocate some funds to building a diverse collection of scrapbooking supplies.
If you keep a close eye on ads for craft stores, you can almost always find some amazing coupons that can be used on top of already running sales. You can also make out like a scrapbooking king on Black Friday or just after any major holiday!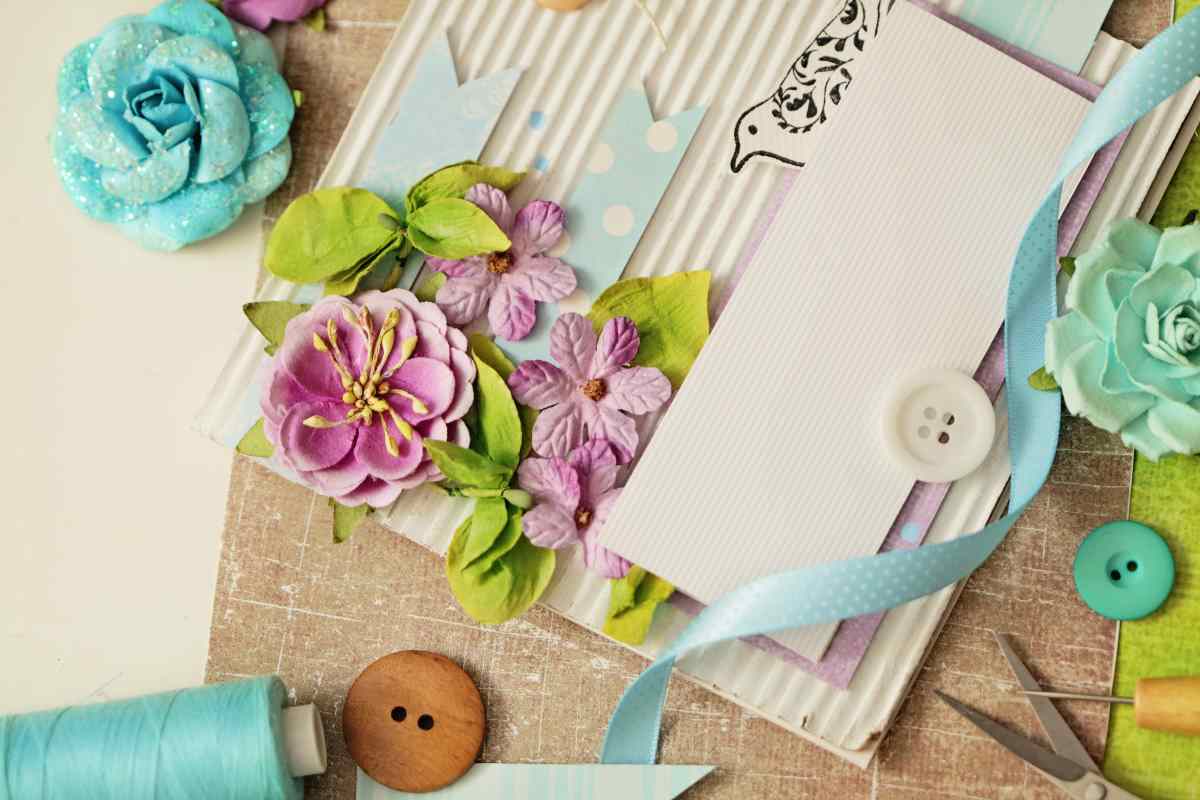 Bits and Bobs
One of the most enjoyable parts of scrapbooking is adding what we call "bits and bobs." These are usually non-paper-based details you can add to your collages, such as charms and wood embellishments. You can even add flat keepsake items such as the key to your first house, buttons from a favorite shirt, or dried flowers from a bridal bouquet!
Thrift Some Threads
Scrapbooking can be done with anything, and the mixed-media look is growing more popular. If you visit your local thrift store, you can find some cheap pieces of clothing you can cut up and use in your collages. Popular choices of fabric for beginner scrapbookers are denim and cotton.
You can also track down fabric by the bolt at your local craft store, but thrifting tends to be cheaper for certain materials, particularly denim.
Stock Your Staples
Every person learning how to scrapbook should have the following scrapbooking staples:
Glue. Having more than one kind on hand is a smart idea; you never know which objects will require stronger glue. We even recommend having hot glue in your collection.
Scissors. Regular scissors will do, but you can also invest in craft scissors if you want to play with paper texture.
Craft knives. You'll need these for more precise cuts and to apply certain scrapbooking supplies properly.
Quality ink pens. You may want to write notes on your pages or pictures!
Paper trimmer. This will allow you to get even edges on any paper you need to cut down, and you can also use it on photos!
A ruler.
Pencil and eraser. When using your ruler, you may need to mark the paper, and you want to be able to erase the mark.
Pick Some Paper
Last but not least, there will be no scrapbook without the paper.
Colored cardstock is the best choice as a base layer of paper, as it's hardy and thick. It will hold up better under all the decorations you're about to glue and tape on it.
Whatever theme or themes you've chosen, you can find all kinds of scrapbooking paper that will match. You can even mix different designs, patterns, textures, and colors to achieve a truly unique look!
You can also purchase sets of paper scraps to get plenty of variety.
---
Step 4: Expect Emotions
Even experienced scrapbookers forget to consider this step.
Prepare to Process
While scrapbooking is an entertaining and exciting activity, it can also stir up a lot of emotions you didn't expect. Looking at pictures of important events and people–some of whom may not be around anymore–can hit harder than you might think.
Give yourself plenty of time and space to process and enjoy looking back on these memories when you first start scrapbooking.
Get Ready to Giggle
On the other side of the spectrum, you may dig up some hilarious and/or deeply embarrassing shots of family members–and yourself!
Enjoy the cringe. Laugh at yourself and your family. Don't be afraid to put some of your more embarrassing moments on display, too–you'd be surprised how much joy and laughter they can bring!
---
Step 5: Start Scrapbooking
Step by Step
Don't rush through this, especially on your first project! Take it bit by bit and enjoy the process.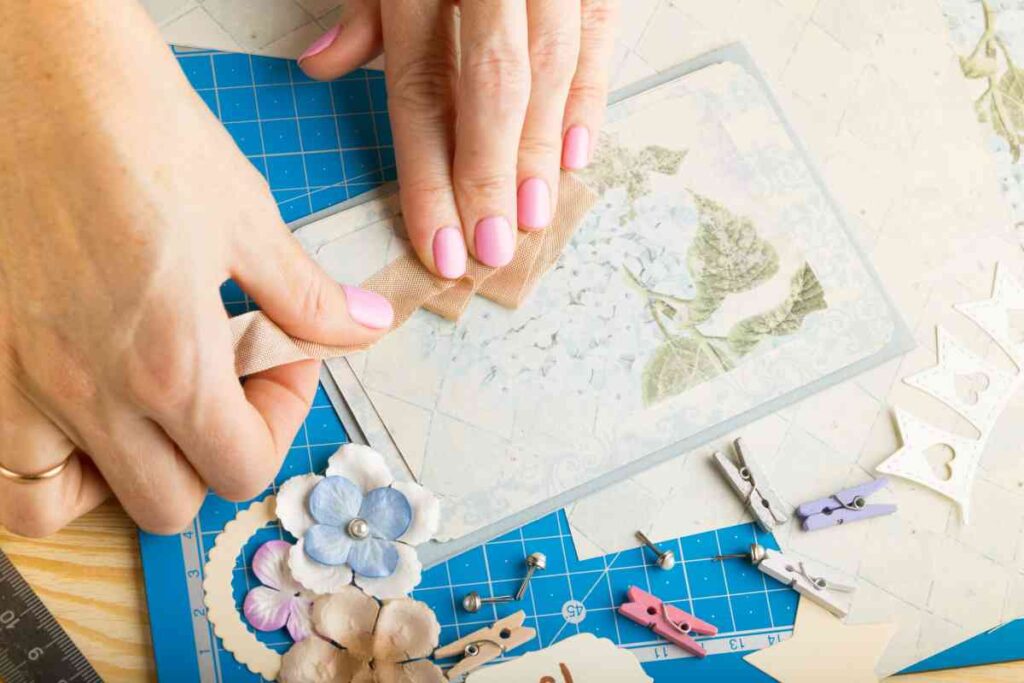 Nothing is Permanent
If you mess up, don't panic! You can always start again with another page, reprint photos, or buy new supplies.
To avoid mishaps, you can try laying out your entire page and all its elements before gluing or taping to see the full picture. Snap a photo of the layout, then add each piece one at a time.
Don't Delete
Don't delete your pictures after you scrapbook them! Instead, put them on a USB drive. Scrapbooks are not indestructible, and you may need to print more copies of those pictures someday.
---
Step 6: Share Your Story
Show It Off!
Ta-da! You've completed your first scrapbook! Now, you can show it off to your family and friends and enjoy your trip down memory lane.
---
Frequently Asked Questions
I ran out of scrapbook protectors, but I have more pages I want to add–can I insert more?
The answer is yes! If your scrapbook came already filled with sheet protectors, you can always add more. Your only limit is when the book will no longer close nicely.
Which is better for securing pictures and other elements: glue or tape?
It depends on the material!
Pictures will do better with tape runners than liquid glue, as liquid glue will damage the picture over time. However, elements made of fabric, metal, or wood will do better with glue–the stronger, the better!
You can also use photo corners to keep your photos safe.
Is there anything I shouldn't add to my scrapbook?
Avoid any materials that are acidic in nature, or loose materials like glitter and sand.
I've started scrapbooking, but I want to get better–where can I learn more?
If you look in your local area, you can probably track down scrapbooking classes or clubs where you can craft with and learn from more experienced scrapbookers!
Ask your local craft store, as well–they may host classes or other events.
Can photo and paper scraps be recycled?
While it might sound strange, photographs cannot be recycled, despite being "paper." Throwing them in the trash is the best way to dispose of them.
Scrapbooking paper scraps, however, can be recycled.
---
Wrapping up How to Start Scrapbooking!
Now that you know how to scrapbook, there's no limit to what you can create!
For more craft ideas, crafting advice, and some of our favorite crafting products, visit our crafting section now!
About the Author
Latest Posts
Cassidy Eubanks is a proud Michigander, an avid reader, and a writer for That Sweet Tea Life.
Her bachelor's in Creative Writing isn't where her passion for creative pursuits stops – she grew up crafting, scrapbooking, and finding ways to make the most out of every space in her home. She loves sharing her favorite ideas for decorating and DIYing on That Sweet Tea Life to help you create the living space of your dreams!