The Homeright crew has taken my favorite sprayer and made even more improvements to create the Homeright Super Finish Max! Spraying your old furniture may seem daunting. You may even have the sprayer but have yet to take it out of the box because you are just so uncertain! But once you find out just how professional of a finish you can get by spraying your old furniture, you just may never go back! Once I finally dove in to spray with my Homeright Finish Max I fell in love and really I didn't think it could get much easier! ..until now.

Does that look familiar? Well it should! Its rather close in comparison to my beloved Homeright Finish Max! One of my favorite clients has truly made me put my sprayer to the test!

If you follow me on Facebook you probably know I insist on spraying when I do super light or white finishes. White has such a small amount of pigment in it, getting an even finish is tough! When you pair that fact with a brush,.. you have an even more impossible situation. ..ok not impossible BUT if you can make the task easier- Go for it! Using a sprayer allows me to just lay down the pigments,. where they rest and harden and become this flawless white coat of perfection,… *sigh*
This would be our canvas. ..always insistent on quality solid wood furniture,..
no veneer here.
Living in a beach home with light flooding in,.. that silky smooth finish is kind of necessary. Using a brush just wouldn't do!
High Quality Furniture requires a High Quality Finish.
This armoire had no shelves. Only a bar across the interior. Once belonging in the Governors Mansion, this French solid walnut armoire was absolutely stunning. New shelves add function for my client…
The Color is Chantilly Lace by Benjamin Moore. For these pieces I used Benjamin Moore Advance.
I've long loved my Homeright-so finding out they were coming out with a new and improved model,.. I was beyond myself! The first thing is,.. what is so different??
The two glaring differences would be multiple tips and multiple spray caps.
In the past I had become quite comfortable with getting the correct viscosity for my sprayer. If the paint were too thick I'd have a splattery mess,.. -too thin and we have runs and poor coverage. However with the improved power and performance of the Super Finish Max Extra, I no longer needed to worry about that! The different nozzle and spray cap options would provide all I needed.
Especially given the task ahead…
I would be tasked with painting these lovely Mahogany Chippendale Reproduction Chairs in Coral Gables. Yes I know. This home is a lovely mix of layers of white and wood tones with gentle pops of color throughout in the form of aqua, turquoise, and coral. These would fit amazingly.
8 Chairs in total. Each one would be prepped well. Seats removed. Cleaned with Krud Kutter which would also act as a deglosser. Wiped down with Vinegar and water, then 3 coats of clear shellac. While I paint furniture-I also believe in preserving it. One day, when someone decides they want to have wood tone chairs, they will thank me for the clear shellac protecting the wood up under that paint.
I started off putting my Super Finish Max Extra to the test by simply pouring in the Benjamin Moore Advance and placing the narrow blue tip on the nozzle. I'm a fan of trial and error.
I was happy however, to see my Benjamin Moore Advance paint needed no thinning.
Lovely right? I knew there would be a few added processes to get the look we wanted, so spraying in the open would be fine to lay the base coats. The final coat and glazing would take place in a protected area. The day was gorgeous! What better way to work?
Before I knew it I had 8 coral chairs just waiting for their final touches. One light coat, followed by 2 more full coats. The final coat would come the following day. I love using the sprayer for sleek modern finishes and also to create the perfect base for more involved finishes. These chairs would go on to be glazed and distressed.
Here you can see the progression! Of course the Coral alone is lovely. however each level of the process would take the look to a completely different level. Each chair would be glazed with 100% strength Unicorn SPiT in White Ning, buffed away and then distressed. I love the genuine feel that comes through by completing the entire process… all eight chairs would undergo this process and await their seats!
And here you can see them in their natural habitat!
There you have it. 8 incredibly intricately carves CORAL chairs. The big question I know you have is do I recommend the New Super Finish Max Extra. I DO!
While I LOVE the Finish Max I have used SO often in the past-what can I say, I don't mind paying a little more for more ease of use. Not having to worry about thinning the paint perfectly is an extra thing I can't mess up! I still say the Finish Max is GREAT to introduce you to the world of Spray Finishes! Especially given just how cost effective they are! BUT If you can splurge and grab a Super Finish Max Extra-go for it!
Here I will leave you my affiliate links for the sprayers and a couple other products I used with this project.
(Also by purchasing off Amazon through my links, I will earn a small commission.)
Have more questions? Let me know! I'm happy to help! If you enjoyed this-please share it! Pin it! Help me to continue helping others!
About the Author
Latest Posts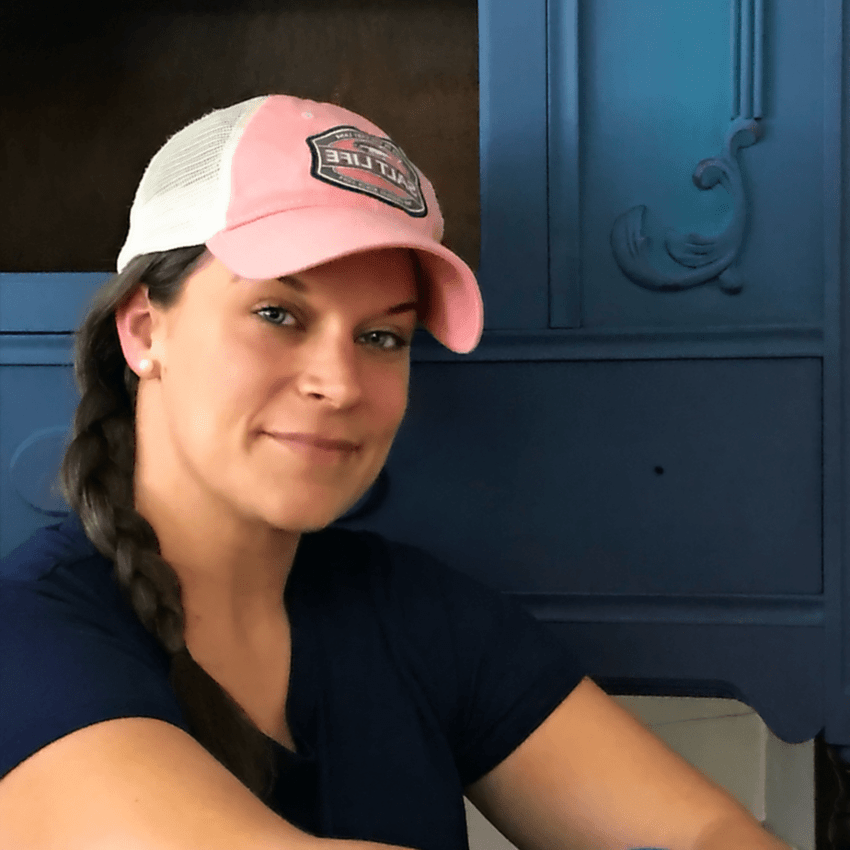 Thea Osborne is a celebrated blogger renowned for her expertise in DIY and paint techniques. With a keen understanding of Southern culture, Thea's commitment to producing engaging and informative content, coupled with her detailed tutorials, inspire her readers to embrace their own creative pursuits.
Thea's passion and creativity have left a lasting impact in the DIY community, transforming "That Sweet Tea Life" into a thriving and cherished resource.