When you're really in the mood to get crafty, there are few mediums that allow you to be as creative as plain paper.
You can cut, color, paint, fold, or glue to make paper into almost anything you'd like it to be.
With so many ideas out there, it may feel overwhelming to figure out where to begin with paper crafting. In this post, we'll give you a few great starting points covering a wide range of crafts.
Read on to learn more about how to make paper crafts.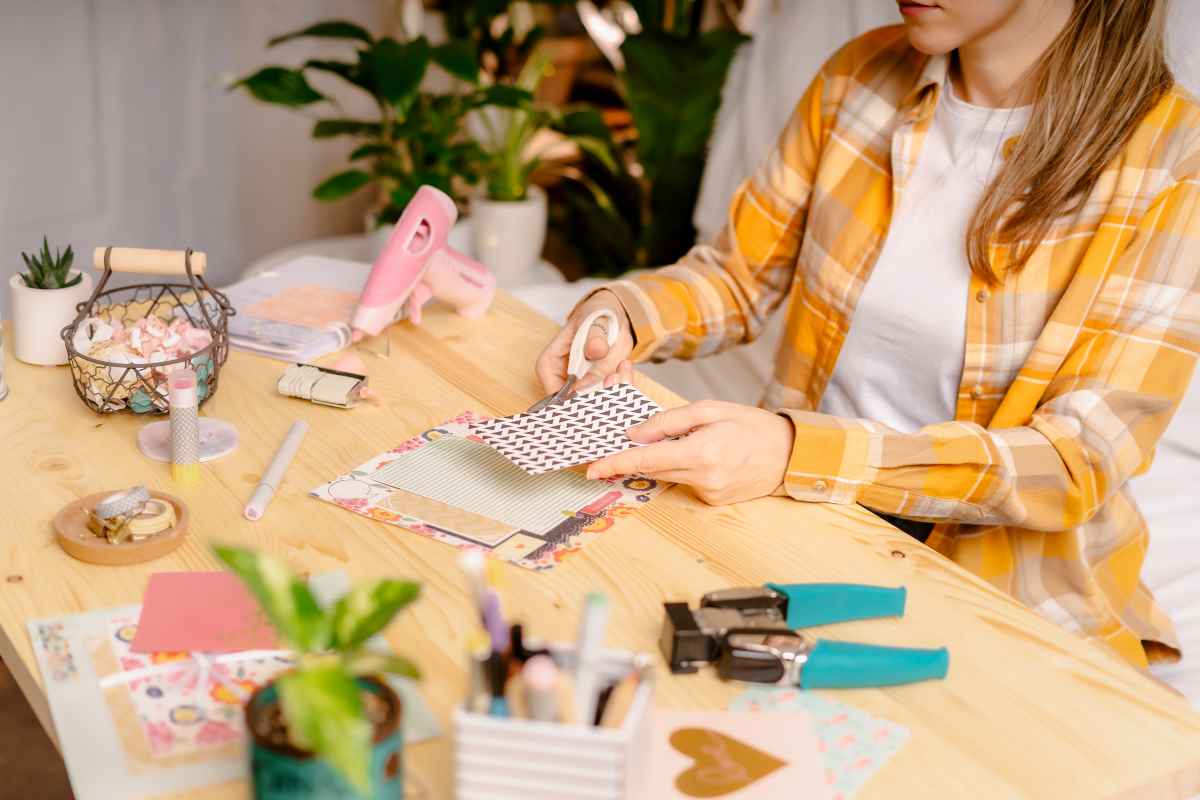 ---
Origami
Dating back over one thousand years ago in ancient Asia, Origami is simply the art of paper folding. While the paper is the only thing officially needed to practice origami, there are a few extra tools you can pick up to make it a little easier or more interesting.
Supplies Needed
Origami Paper
While any paper could be used to get started, having actual origami paper is going to make it easier because it will be the size ratio you need to do most beginner models.
Most beginners use "kami," which is just "paper" in Japanese because it's thin and easy to manipulate and fold.
As you become more comfortable with the craft, you can branch out to "chiyogami" paper. It is thicker and comes in more traditional patterns.
Bone Folder Tool
A bone folder tool will ensure you get crisp, straight folds without damaging the paper. High-quality ones are actually made from bone and are nice and smooth.
Cutting Tool
While most models will start with a typical square-sized paper, some will require you to change the ratio a bit.
Having a good cutting tool will also allow you to branch out and get creative with the paper you're folding. You could use scrapbook paper or even wrapping paper!
Instructions
Origami is essentially just folding paper into shapes! It can be a crane, a frog, or even a star.
For specific model instructions, find a tutorial online or buy a book to teach you!
---
Scrapbooking
When you think of scrapbooks, chances are you think of big, bulky baby books from the early 1990s. We've got good news— scrapbooking has evolved! There are so many ways you can practice it to learn how to make paper crafts.
Supplies Needed
Scrapbook Paper
The options for scrapbook paper out there are almost endless.
If you're not sure what you're looking for, head to a local craft store and take a trip down their scrapbook aisles. Between the paper, stickers, stamps, and so much more, you're sure to be struck with inspiration.
If you already know what you have in mind, there's almost any kind of paper you could be looking for available online. There are solids, prints, and even lots of over 500 pieces to choose from!
Adhesive
Double-sided tape is going to be your best scrapbooking friend while you're learning to make paper crafts. It's easier to use than regular tap and cleaner than glue.
Journal or Binder
You'll need something in which to keep your scrapbooking pages. You can scrapbook straight onto journal pages or put your finished pages into page protectors and clip them in a binder.
Instructions
There's no right or wrong way to learn how to make paper crafts in scrapbooking! It can be as simple or as complex as you'd like it to be.
Search "scrapbooking" on Instagram or Facebook for endless inspiration, or buy a complete kit of supplies full of paper, stickers, and other embellishments, and get going!
---
Paper Flowers
Learning to make paper crafts can result in creations that will far outlast their "natural" counterparts. While real flowers are beautiful, there will come a day when they die. Paper flowers will never wilt!
This is a great way to learn how to make beginner paper crafts because it requires very few tools and almost instant gratification.
Supplies Needed
Paper
Literally, any paper will work for this craft. From tissue to scrapbooking, you can't go wrong. The only thing to keep in mind is the paper will be seen from both sides, so it needs to be double-sided or the same color on each side.
Cutting Tool
If you want a uniform look, a paper punch with a scalloped edge will make quick work of whatever paper you're using.
You can also easily freehand flower shapes with a simple pair of scissors.
Brads
Brads will be used to hold the flowers together in the center. The color isn't important as it won't be visible in the finished product.
Instructions
Punch or cut out flower shapes. If free-handing it, trace the bottom of a cup and cut scalloped shapes around the outside of it to ensure somewhat equal sizes.
Once you've got your flower shapes, stack them on top of each other and punch the brad through the center. The number of pieces you'll need will depend on the type of paper you're using. The thinner paper will require more pieces; thicker paper requires less.
Then, starting with the piece on top, start folding the paper into itself, around the brad. You're essentially just scrunching it up and creating the center of the flower.
Repeat until all pieces of paper have been crunched toward the center.
Now you've got a paper flower! These can be used to decorate a wreath, put on pieces of wire and incorporated into floral arrangements, or just put in a bowl or other vessel to visually enjoy all by themselves.
---
Paper Chain Wall Hangings
Do you have a huge, blank wall in your home and no idea what to fill it with? A paper chain wall hanging is a budget-friendly DIY solution to that problem. When you're learning how to make paper crafts, practical use for the finished product is always an added benefit!
Supplies Needed
Paper
The paper you choose to use will depend on what you want your wall hanging to look like. Construction, cardstock, or scrapbooking paper is recommended.
Adhesive
You'll need something to stick the paper to itself. It could be glue dots, glue sticks, hot glue, or even double-sided tape.
Something to Hang On
What you choose to hang your paper chains on depends on the style you're looking for.
A boho or rustic home style could mean you use a reclaimed branch from your backyard.
If your home is more sleek or modern, a simple dowel rod could look really nice.
Putting on a coat of spray paint in coordinating colors would take this craft to the next level.
Instructions
You don't even need to learn how to make paper crafts to get this craft done because chances are good you've already done it sometime in your lifetime.
Cut your chosen paper into strips around two inches wide and five inches long. Use the adhesive to connect the two ends, making a circle. Insert your next strip of paper into the center of your circle and connect the two ends around it, creating a chain.
Repeat the process until your chain looks the way you'd like. Make as many chains as needed to achieve the desired finished product.
Put them on the stick or dowel and hang them on the wall using a string attached to each end.
Paper chain wall hangings are a great beginner paper craft because you can personalize them to fit your own style.
Your creativity is the only limit to what you can make! Here are some ideas to get creative juices flowing:
Rainbow
Ombre
Color block
Add a few strips of glitter or metallic paper
A mixture of hues of a single color
---
Other Beginner Paper Craft Ideas
Here are a few other ideas you can look into as you're learning how to make paper crafts:
Wreaths
Paper wreaths are great beginner paper crafts because it's nearly impossible to mess them up.
You could make a 2D wreath by just cutting out a wreath shape and decorating it with other pieces of cut-out paper.
A 3D wreath is a little more challenging but can still be as simple as a foam wreath form, paper circles punched out, and little pins to stick hundreds into the foam.
Pages of a book rolled up into cones can be glued together to form their own wreath shape.
Photo Backdrop
Whether you use paper garlands hung vertically, paper chains, or groups of paper pinwheels, this is a great project to try when learning paper crafting.
Gift Bows, Boxes, Bags, and Tags
All things gift-related can be made with paper!
The boxes and tags typically do better when made with thicker paper. The bows and bags can be made with thinner paper.
This is a great idea for leftover pieces of gift-wrapping paper that may not be big enough to cover a large box. Transform it into a couple of coordinating bows or a simple gift bag with some clever folds and tape!
Recycled Paper
Making your own paper out of old paper is an excellent beginner paper craft.
Essentially, you'll blend up some old paper and water and then squeeze out as much of the extra water as you can and let it dry into new sheets of paper.
A really neat idea is adding tiny flower seeds and using recycled paper as a little gift tag. Once the gift is received, the tag can be planted in the ground and will grow beautiful flowers!
---
Wrapping up How to Make Paper Crafts
No matter which project you try, learning how to make paper crafts can be a fun activity for a crafter at any experience level! Get started with an origami crane, or dive deep into an entire bouquet of paper flowers. Whatever you decide to do, just have fun!
Check out our Craft Page for more inspiration!