Decorating the house for any season is an exciting endeavor, but can any decorating experience truly rival that of Christmas?
Glitz, glamor, and evergreens abound during the winter season, and when it comes to Christmas decorations, none is more important than the "star" of it all: the ever-famous Christmas tree.
However, nothing is more intimidating than facing down a blank canvas, and facing an empty tree is no different. With so much potential waiting to be plumbed, how can you choose which way to deck your halls this Christmas?
To help you out, I've listed ten ways to create the beautiful tree of your dreams this season. Without further ado, here's how to decorate a Christmas tree!
---
Modern Metallics
Silver and gold, silver and gold…you've probably heard the song, right? When Burl Ives sang about seeing silver and gold on every Christmas tree, he was truly onto something.
One of the most modern ways you can decorate your Christmas tree is by picking out decorations that follow a "metallic" theme; not only is it modern and chic, but it's simple to do and gorgeous to look at.
This doesn't have to end at silver and gold bulbs or lights, either—there are many kinds of ornaments that have a metallic sheen to them.
You can throw on some snowflakes, icicles, or even nutcrackers boasting a metallic theme while bringing your Christmas tree decorating ideas to life this year.
Of course, if you prefer a quieter Christmas display, there's nothing wrong with hanging up some bulbs, flipping on the twinkle lights, and calling it a day. The sleek color palette will do most of the job for you, anyway!
---
Ribbon Twists
Ribbons aren't just for wrapping presents this year; they're also great tools for decorating your tree!
While this isn't the most pet-friendly option (suffice to say, it has been observed that a cat may just attempt to climb the ribbons or otherwise steal them for its own holiday fun), but they're stunning to look at and easy to arrange.
Depending on your tree's color scheme, you'll want to choose a complementary color for your ribbon.
If your tree leans red, for instance, I suggest using a gold ribbon to offset the scarlet streamers a little bit. If your tree leans blue, try an icy-toned silver for the best effect!
---
Family Pictures
If you're wondering how to decorate a Christmas tree while still prioritizing a personal touch, this Christmas tree decorating idea may be for you. It's a bit more hands-on and not entirely cost-effective, but there are many tricks you can pull in order to make it happen within your budget!
If you want to incorporate family pictures into your Christmas tree decorating ideas without sacrificing elegance, head to the nearest craft store or thrift store and see if you can hunt down some old crystal pendants (the kind you would see on a chandelier!)—otherwise, if you have an old chandelier lying around, you can pluck these right off.
All you need for this craft are family pictures, crystal pendants, Dimensional Magic Mod Podge, and depending on how crafty you want to get, some extra beading and some jewelry tools.
You can cut out the pictures and Mod-Podge them to the backs of the crystals to create sparkling, beautiful crystal ornaments to hang on your tree!
---
Sparkling Stars
Star light, star bright, first star I see tonight…let me stick you on my Christmas tree? Well, that's not really how the rhyme goes, but it's what we're going to do!
Another great Christmas tree decorating idea is to go with a star theme. With enough unique star ornaments hung on every branch—and maybe one for the tippy-top, too—your tree will be the most elegant, shining tree on the block.
Stars are inexorably tied up with the imagery of Christmas, so they make for a great choice of theme for your decorations.
Just make sure not every star looks exactly the same…after all, it might get boring after a bit. You want to dazzle the eye, not dull it down.
---
Frozen Florals
Floral decorations aren't only good for springtime. There are plenty of ways to incorporate flowers into your Christmas tree decorating ideas—in fact, it's easy to learn how to decorate a Christmas tree with this theme.
All you need are some false "winter" flowers from the craft store if you want to make your own display, but you can also track down plenty of pre-made floral ornaments if you're a bit too busy shopping and entertaining to sit down and make your own ornaments!
Flowers and other plants that are most associated with Christmas are poinsettias, of course, as well as holly and mistletoe.
---
Simple Strings
If you're someone who prefers simplicity over extremism, don't worry—there are plenty of ways to show off your Christmas tree without overwhelming your guests with ornament-heavy boughs and blinding lights.
There are many strings of lights nowadays that are designed with elegance and beauty in mind, and you can absolutely get away with stringing your tree with them and leaving it at that.
There's something utterly enchanting about a lit-up Christmas tree, ornaments or not. It turns the whole room cozy and welcoming, and with some uniquely beautiful lights, you can achieve elegance without sacrificing the simplicity of a twinkling tree.
---
Winter Wonderland
There's no reason why you can't enjoy the sight of a snow-heavy evergreen—even indoors! Many Christmas trees come "snow-flocked," or artificially designed to look as if they've just been brought in from a snowstorm. However, there's an added benefit to this: the snow never melts!
The beautiful trees glimmer and shine, bringing winter into your home without the harsh bite of the cold. They also look gorgeous decked out in similarly "frosted" ornaments such as icicles, sparkly white bulbs that mimic snowballs, shimmering snowflakes, and other snowy accessories.
There's nothing boring about this monochromatic magic—in fact, it's sure to brighten whatever room you choose to settle your tree in. (It'll also make the presents underneath look twice as vibrant!)
---
Brightly Colored Boughs
If a plain or monochromatic Christmas tree decorating idea isn't for you, no problem. You can absolutely figure out how to decorate a Christmas tree in full color.
There are unlimited shades of Christmas bulbs, lights, ribbons, and other types of ornaments out there, ripe for buying, and you can deck your halls in as many shades of color as you like.
Try to pick complementary shades so your ornaments don't end up clashing—for instance, neon yellow and pastel lavender are probably a no-go—but you can mix and match all kinds of palettes to create a tree that is truly and uniquely yours.
I suggest wintery mixes such as ice blue, silver, navy, and white; statement combinations, such as black mixed with jewel tones; or soft neutrals.
---
Handmade Holiday
Beauty is in the eye of the beholder, and beautiful Christmas tree decorating ideas can come in any shape, size, or medium.
If you're looking to celebrate sentimentality this Christmas, I recommend sitting your kids down, arming them with craft supplies and child-safe scissors, and letting them go nuts.
There's something heartwarming about looking at a Christmas tree and knowing that every single ornament on it was handmade by someone you love. Plus, your kids will get the pride of knowing they were singlehandedly responsible for decorating your entire tree this year!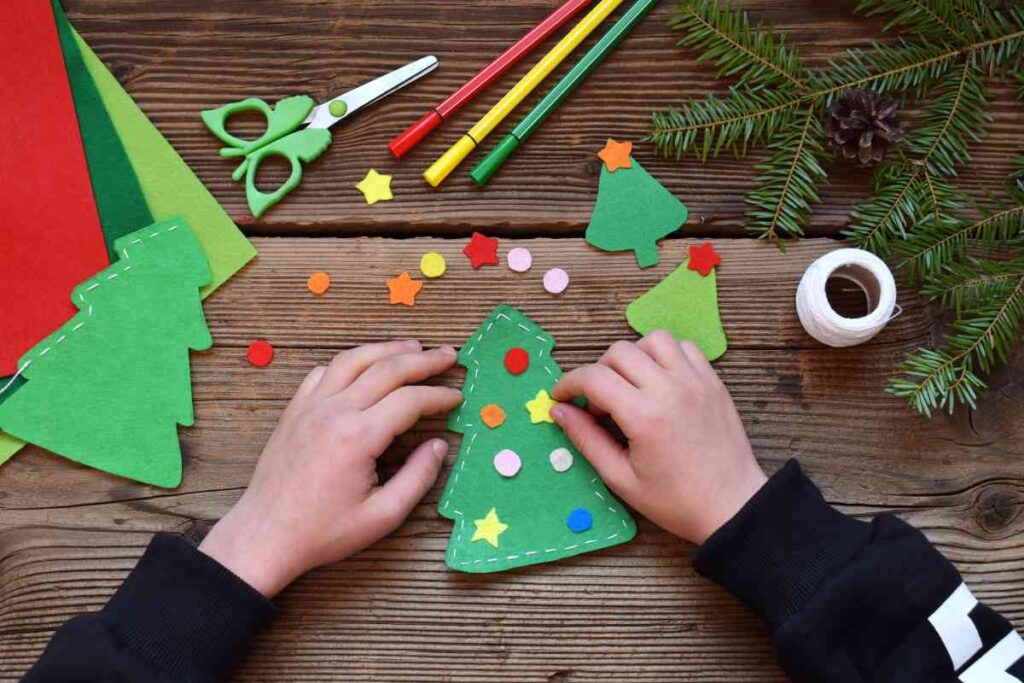 And if you're still wanting to be a bit picky about the color palette, that's no problem—you're in charge of the supplies, so you're in charge of what gets made!
Just make sure all the supplies you offer fit the color scheme you want, and you'll be golden no matter what ornaments your kids decide to fashion with their handy tools.
---
Partridge in a (Pine) Tree
Okay, so no one's actually going to be throwing a partridge into their Christmas tree, but if you are an avian enthusiast, this Christmas tree decorating idea could be kind of fun!
There is an incredible assortment of objects listed off in the Twelve Days of Christmas, and utilizing these things makes for a cheeky Christmas tree decorating idea.
If you can gather the ornament equivalent of all the gifts listed in the song (okay, maybe the gold rings can just look like real gold?), it can even become a fun scavenger hunt to set up for your kids.
Challenge them to sing their way through the song and hunt down every category of decorations you hid somewhere in the boughs of your tree, and they'll be entertained for a good long while!
---
Wrapping Up How to Decorate a Christmas Tree
There's no limit when it comes to choosing how you want your tree to look this upcoming holiday, but hopefully, this list will help you get on the right track! I hope these ideas have inspired you to come up with your own unique idea for how to decorate a Christmas tree!
Looking for more holiday décor ideas? Check out our décor section now for seasonal and holiday-themed decorating ideas!