It goes without saying that the Christmas season can be a hectic time of year, as calendars fill with holiday parties, concerts, tree-lighting ceremonies, and family gatherings to celebrate the holiday.
Amid all that, though, it's rewarding to take time to add a personal touch to your home's celebratory mood with a DIY Christmas decor project. Read on for some ideas for holiday do-it-yourself projects.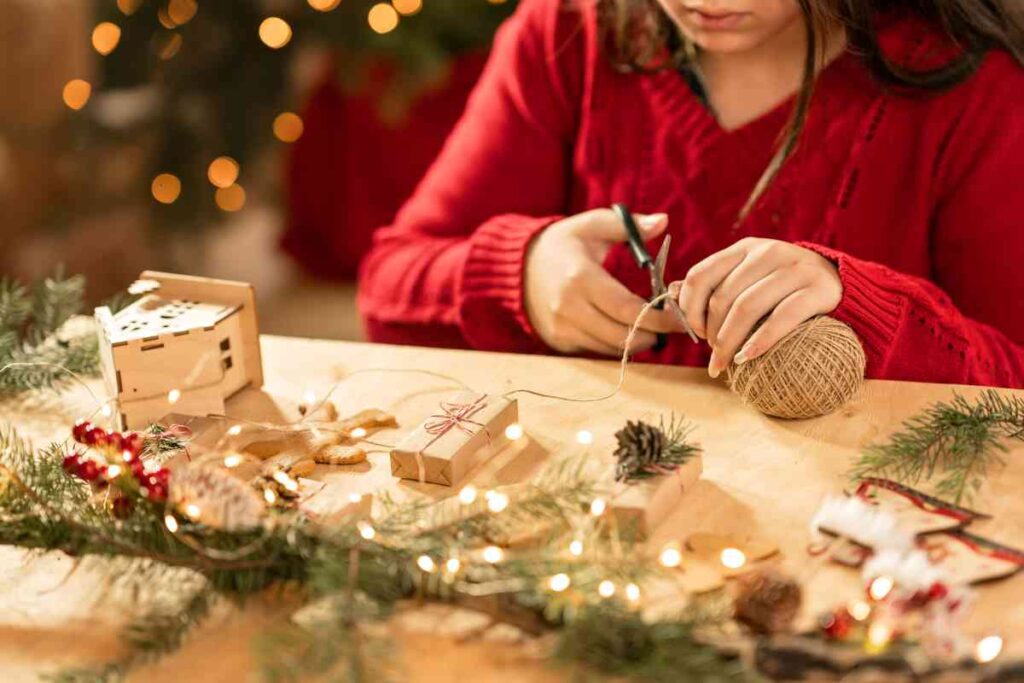 ---
Wrapping Paper as DIY Christmas Decor
Giving your home some Christmas flair can take the time that you may not have during the holidays. But a little wrapping paper can go a long way in adding a festive touch to your home in terms of Christmas DIY decor.
Repurposing Wrapping Paper
There are ways of giving your home that special holiday feeling that doesn't necessarily have to take a lot of time. Try repurposing wrapping paper as a table runner to add a festive touch to holiday meals.
If you're like most of us, you probably already have some wrapping paper on hand, unused in Christmases past, making this a super-economical option for DIY Christmas decor.
Or how about another simple idea, from Tatertots and Jello, for using wrapping paper placed around Styrofoam cones to create some stylish Christmas trees as holiday-themed accents around the house?
---
Other Household Items for DIY Christmas Decor
Of course, wrapping paper isn't the only thing you'll have around the house that can readily be transformed into attractive pieces of DIY Christmas decor.
For instance, if you're looking to step up your Christmas cookie game, the holiday-shaped cookie cutters you have around the house — you know, the stars, snowmen, bells, trees, and what-have-you — all are candidates for quick and easy DIY projects.
Cookie Cutters as Christmas DIY Decor
At fabartdiy, you'll find lots of ideas for transforming old cookie cutters into new Christmas decorations. As one example, you can take old cookie cutters (use the kind that is fully covered on one side rather than outline-style cutters) and melt colorful fuse beads inside them for interesting tree ornaments.
Or, you could simply wrap the outside of a cookie cutter in holiday-themed paper for another take on sprucing up the ornaments adorning your tree. It doesn't get much easier than looping a festive ribbon through the top of your cookie cutter and hanging it on the tree.
If you're looking for a rustic motif for your holiday decorations, simply wrap twine around your old cookie cutters and hang them on your tree.
More Household Items as Christmas DIY Decor
If you have some of the big, old-style Christmas light bulbs around the house, try embellishing them with glitter and other fancy materials to create new Christmas ornaments to hang among the family heirloom ornaments that have graced your tree for years.
A simple but elegant idea for repurposing household items into materials for DIY Christmas decor is old costume jewelry. Dig some old costume jewelry out of your jewelry box (or junk drawer) and simply place the colorful baubles onto the Christmas tree.
Another easy suggestion for holiday decor without a lot of muss and fuss is to take an old yardstick and paint it in a solid holiday color. Then use the letter tiles from that old Scrabble game you don't play anymore to spell out seasonal words like "peace" and "joy" and glue them to the yardstick.
---
DIY Christmas Decor Lighting Ideas
Creative lighting is, of course, a key to holiday decor that is both festive and meaningful. And in terms of Christmas DIY decor, the good news is that there are plenty of ways to add a special touch to your home by incorporating lights with readily available household items like Mason jars and wine bottles.
Read on for some ideas on how to make lighting one of your easy Christmas DIY decor projects.
Wine Bottle Lamps
Simply feed a string of lights into a wine bottle — you can use battery-powered lights or plug them into a nearby receptacle — to dress up your mantle, a dining table, or any nook or cranny of your home.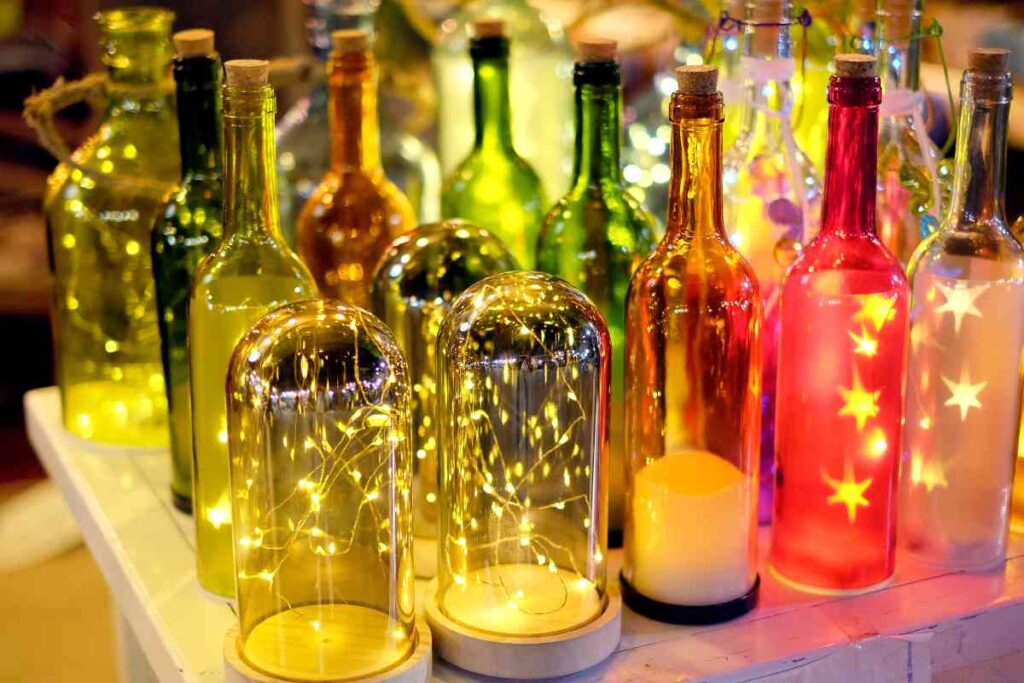 As a related idea, you can use wine bottles as elegant and inexpensive candle holders, embellishing them with sprigs of greenery, or even pinecones, to add a holiday motif to your home. Of course, be careful to ensure that your embellishments, if you choose to make any, don't present the possibility of catching fire.
Mason Jar Lights
Mason jars and various forms of lighting are guaranteed ways of boosting the holiday spirit around your home with just a little bit of effort. For example, one simple idea is to set a floating candle in a Mason jar filled with water, fake cranberries, and greenery.
For something a little bit more involved, and for an outdoor light display, you might want to try simply hanging Mason jars along your porch or elsewhere on the outside of your house and running a strand of small Christmas lights into, out of, and around the jars.
If you'd like to get the kids involved in some holiday DIY crafting, buy some small Mason jars and decorate them on the outside with glitter. Then, use them as candleholders — of course, don't let the young ones play with matches — can add a touch of holiday light and joy to your home.
---
DIY Christmas Decor Projects for Children
No one gets more excited during the Christmas season than youngsters, and getting them involved in simple Christmas DIY projects can both keep them occupied and make them a real part of the family celebration. Read on for a few simple ideas for getting your children into a constructive Christmas spirit.
Popsicle Stick Ornaments
When you combine kids and popsicle sticks, the possibilities are endless. Instead of bundling up the kids to make a trip to your local crafts store, simply purchase your supplies online and stay inside where it's warm.
At Craftionary, they show you step-by-step how to make Santa Claus out of popsicle sticks. In addition to popsicle sticks, you'll need a hot glue gun. Some red felt and a white pompom will make up the jolly old elf's hat. Add cotton balls for his beard, googly eyes, and some white paint, and Santa is ready for his big debut on the Christmas tree.
Paper Plate Wreath
Crafty Morning is just one of the places you'll find instructions for youngsters to make paper plate wreaths. Kids can cut a wide circle inside the paper plate to create the wreath shape and then cut out strips of dark green and light green construction paper to build the wreath itself.
Once the green construction paper is attached, cut a triangle into the ends of the pieces to create the effect of greenery. Then attach tiny circles of red and white construction paper to the greenery to mimic berries.
Finally, add a ribbon and maybe a candle constructed of scrunched-up paper to complete the wreath, and let the kids decide where in the house they want to hang or otherwise attach their contributions to your DIY Christmas decor.
---
Christmas DIY Decor Projects with Greenery
Greenery, from cedar boughs to holly branches to pine boughs, is an indispensable element in Christmas DIY decor projects. Here are a few ideas for how you can beautifully integrate greenery into your holiday household.
Cedar Ornaments
If you'd like to add a traditional touch to a nontraditional Christmas tree — say, a white or other-colored artificial tree — making cedar ornaments can be a quick and easy way to bring greenery into the equation.
All you'll need are some small sprigs of cedar greenery, some cardboard cut into a triangle, and some twigs to serve as the trunk of your cedar tree ornament.
Using hot glue, attach the greenery to the cardboard triangle, creating a tree shape, and then use some more hot glue to attach the twig, or trunk, to the tiny tree ornament.
And if by chance, you don't like using your creation as an ornament, it can also work as a package topper, adding a bit of interest and whimsy to your gift-wrapping efforts.
Evergreen Centerpiece
For a more elegant and prominent use of evergreens in your DIY Christmas decor, consider assembling a dramatic centerpiece such as the one described at Celebrate & Decorate with Chloe Crabtree.
To assemble the centerpiece, you'll need a collection of evergreen pieces — such as boxwood, cedar, white pine, and pinecones — along with assembly materials like a container, chicken wire, wet floral foam, anchor tape, green wired sticks, and floral wire.
Creating this ambitious centerpiece also will require a couple of tools — kitchen shears and a wire cutter, to be specific — along with embellishing materials like red ribbon, candles, and small red Christmas ornaments.
As you'll see, it will take some time, and a bit of expertise, to make the evergreen centerpiece, but the result will be a unique creation that, in addition to being a centerpiece of your holiday table, will be a conversation piece for all of the family and friends gathering with you for holiday meals and celebrations.
Other Christmas DIY Greenery Projects
If a massive evergreen holiday centerpiece seems like it might be a bit too much for you to tackle at a time when there is no shortage of other demands on your time, you can get other ideas online at Thistlewood Farms.
Try using various bits of greenery in simple ways, such as dressing up an outdoor urn or an indoor fireplace mantel. Spruce up a wreath with real greenery, or even use faux greenery to avoid the potential mess, not to mention possible allergy issues of live greenery.
---
Wrapping up DIY Christmas Decor
We hope this post has provided you with some inspiration for pursuing your own DIY Christmas decor project to brighten up the holiday season and maybe even get your children involved in DIY decorating. For even more ideas, check out the other Christmas posts at That Sweet Tea Life.