Homemade Christmas decoration ideas can be found all over the web! There is just something so satisfying about finding Christmas decorations to make at home with loved ones or just finding Christmas decorations to make yourself! But while we can find homemade Christmas decoration ideas on Pinterest sometimes it's nice to have the shortlist! This way we don't get lost going down the rabbit hole… Lost in the homemade outdoor Christmas decorations, the homemade Christmas tree decorations, the Christmas ornament ideas or of course there are the Christmas pallet ideas! The list is endless honestly.. So how about I give you some of the BEST DIY Signs I could find you! (You can see all my favorite DIY Signs here)
Of course you could also just follow me on Pinterest!
One of my most recent projects you may like is this DIY Wood Sign of a nativity scene! Sometimes simple is best to create the look and message we want to convey…💙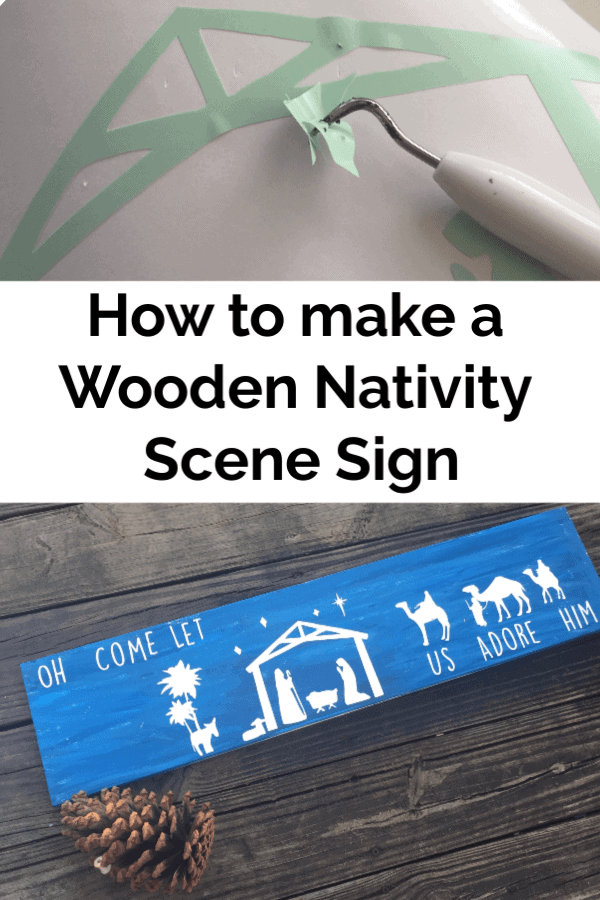 Another Wooden Sign I created was Vertical and you can simply lean it up where you like!
This Barnboard Christmas Sign by Timeless Creations (Click for Tutorial!) is so adorable and simple!! You know how much of a fan I am of the slightly rustic paired with "glam" so the way they approached the lettering is right up my alley! Its so completely cute!
Kenya Rae's Wood Christmas Sign using the Dremel Styl0+(Click for Tutorial) is so lovely! I love her style! She always pulls something out that is perfectly timeless!
I feel like I have to work this Woode
n Christmas Garland by Jessica Lehman (click for Tutorial) into my own decor! Its such a great spin on a traditional decor piece that so many use!
Buffalo Plaid seems to always rear its adorable head during Christmas! And this year is no different. Just Measuring Up created this Buffalo Check Christmas Tree Table Topper (Click for Tutorial) is so sweet and slightly rustic! I would love to have one of my own!
Design Inside the Box created these sweet Christmas Wooden Gift Tags! (Found at DesignInTheBox.com) I think they are not only completely sweet but a little over the top awesome since they can be reused from year to year! What is even better is where she found the little pieces to work with! I never woulda thought it!
Possibly my absolute favorite of this Homemade Christmas Decoration Ideas Collection is this precious Peg People Nativity Scene by LittleBitsofHome.com Its so sweet not to mention this is likely one that we won't cringe over if the littles decide to play with the pieces… then again maybe I would, its kinda perfect…
If you are more on trend than I am you may prefer this incredible Holiday Wood Sign with Lights (Click for Tutorial!) by Two Feet First! Really I could see this fitting into just about any style of decor! If it doesn't,.. lets be honest, its just that awesome that you are allowed to create and sport it anyways! I mean its CHRISTMAS!
Last but DEFINITELY not least is The Dotted Nests SUPER COOL DIY Christmas Countdown Letterboard Wood Sign!! (TheDottedNest.com). It has to be one of the Neatest ways I have seen to count down to the big day!! Also, if Im honest, I also LOVE that I dont have to put it away after Christmas! This cutie can hang out all year long!
Ok folks! Thats about all I got for today!! I hope I picked out some good ones for you! NOW, its your turn!! I want to see your creations! Send me what you do and who knows, maybe I will feature it too!! I just love to see what you makers are makin! Till next time my friends!