Few seasonal activities are more fun than Halloween crafts!
Carving pumpkins, decorating the house with spooky lights and cobwebs, baking autumnal treats – it doesn't get much better than that.
But not all Halloween crafts are created equal.
If you're looking for a Halloween craft for kids, you'll want something fun and engaging without being so complex or challenging that your kids get frustrated or discouraged.
So, keep reading for our top recommendations for Halloween craft kits to keep your kids entertained!
---
Our Top Picks
Best Overall Halloween Craft Kit
Halloween Crochet Kit for Beginners
Budget Halloween Craft Kit Option
Halloween Foam Pumpkin Craft Kit
Best Halloween Craft Kit for Older Kids
Create Your Own Halloween Window Art
Best Halloween Craft Kit for Younger Kids
Halloween Wreath Signs Decorations
Best Halloween Craft Kit for Classroom Use
280pcs Halloween Foam Stickers Set
Best Halloween Craft Kit for the Whole Family
DIY Lantern Jar Craft Kit
---
Best Overall Halloween Craft Kit
This adorable Halloween craft kit comes with everything you need to make your own spooky crochet bats, including six different colors of yarn, cut button eyes, stuffing, a crochet hook, a yarn needle, and stitch markers.
Crocheting can be intimidating and takes patience, which is why this beginner-friendly Halloween craft kit is perfect for younger ones wanting to try something new.
The instructions are clear, the tools provided are made with kids in mind, and the kit even comes with a video tutorial.
Not every child learns the same, so having written instructions coupled with a video to watch makes the craft super accessible.
Plus, it comes with loads of extra yarn to account for any mistakes or practice runs needed! This crochet Halloween craft kit is virtually fail-proof and lets you try as many times as you need to get it right.
In general, crocheting is an awesome skill to introduce to kids.
It helps to develop and improve dexterity, motor skills, patience, and confidence. And the best part is, kids will feel super accomplished once they complete the task!
This Halloween craft kit is reasonably priced and comes with great-quality materials.
The only downside is that this kit is designed for kids, meaning the yarn is thin, and the crochet hook is small, meant for smaller hands.
This could prove to be a bit difficult for adults attempting to help their young ones or adults who may want to complete this project themselves.
Aside from that fact, the Magimuse Halloween Crochet Kit for Beginners takes the top spot on our list of best Halloween craft kits for good reason!
Pros
Affordable
Great for developing motor skills
Clear instructions
Cons
Materials are child-sized and could be difficult for adults to use
Crocheting has a learning curve and may prove to be frustrating for some kids
---
Budget Halloween Craft Kit Option
There is no craft to get you more in the Halloween spirit than decorating a pumpkin!
But, carving real pumpkins can be messy, expensive, time-consuming, and potentially dangerous for children without close supervision.
So, why not try a pumpkin decorating Halloween craft kit instead?
This foam pumpkin craft is safe, easy to complete, and doesn't require nearly as much supervision as actual pumpkin decorating does.
As far as group Halloween craft kits go, this one is reasonably priced and comes with plenty to make the most of your pumpkin decorating.
The foam materials are easy to work with and require little to no instruction, making this Halloween craft kit perfect for young kids.
Because such minimal guidance is needed, this craft is super customizable. Every child can complete their craft with a product totally unique to them.
However, with the ease, quantity, and low price comes a dip in quality. The included stickers aren't the most adhesive and can be hard to remove from their packaging.
But overall, this foam pumpkin Halloween craft kit is a great budget option for a fun Halloween party activity for all ages.
Pros
Inexpensive
Easy to execute
Safe
---
Best Halloween Craft Kit for Older Kids
For older kids who require a bit less guidance and supervision when crafting, this window art Halloween craft kit is a perfect choice for a seasonal activity.
The kit comes with 12 different spooky suncatcher frames, including candies and cakes, pumpkins, cats, bats, and monsters.
With these stencils and the eight different window paint colors, including glow-in-the-dark paint, this Halloween craft is sure to keep your kids entertained this spooky season.
However, the craft kit is definitely geared towards older kids. The paint tubes could be hard for little ones to handle, and for the final product to really turn out well, you'll need to paint within the lines.
Typically, the paint dries pretty fast, but if applied too thick, the suncatchers may need to be left to dry overnight.
Aside from age limitations, the materials are high quality, and the instructions are easy to follow, making this craft kit an excellent choice for a Halloween activity!
Pros
High-quality and durable
Few materials or steps are required
Cons
Not suited for young children, best for older elementary to middle school age
It needs time to dry
---
Best Halloween Craft Kit for Younger Kids
If the other Halloween craft kits have been too advanced for your super little ones, then this decorative wreath Halloween craft kit should be just perfect.
This project requires minimal supervision or instruction and has virtually no learning curve.
The foam wreaths come in four different colors, and the seasonal stickers are all different colors, textures, materials, shapes, and sizes!
Simply remove the stickers and accessories from the packing and decorate the pre-cut foam wreath however you like – it's that simple.
With all the different decorative options, kids can be as creative as they want and design a Halloween wreath decoration unique to their style.
Sometimes, Halloween crafts can be a little too spooky for our littlest ones. This foam wreath Halloween craft kit perfectly balances creepy and cute so that it's more age-appropriate.
This kind of craft is excellent for coordination, concentration, and motor skills. You could even turn it into a counting and sorting project!
With such a low cost for such a high quantity of materials, this Halloween craft kit isn't the highest quality. But it sure is a lot of fun and is super easy for kids of all ages!
Pros
Tons of materials and accessories
Virtually no instructions are needed
Not too spooky for young children
---
Best Halloween Craft Kit for Classroom Use
For teachers, folks who work in a daycare, or parents hosting a big Halloween party, you're looking for the most bang for your buck when it comes to Halloween crafts and activities.
This 280-piece Halloween sticker value set is just that! Kids can decorate their ghosts, witch hats, and pumpkins to their heart's content with all the different stickers, ribbons, glitter, and googly eyes provided.
The foam materials are non-toxic and super safe and easy to use. The final products are great for decorating classrooms, bulletin boards, doors, homes, cards, and gifts!
With this Halloween craft kit, you can provide an awesome seasonal activity for a large group without breaking the bank!
Pros
Great for large groups
Lots of options
Cons
A dime-a-dozen craft
Low quality
---
Best Halloween Craft Kit for the Whole Family
If you're hunting for a great Halloween craft that the whole family can do together but is as fun for the adults as it is for the kids, look no further than this lantern jar Halloween craft kit.
This craft kit includes four different colored mason jars with multicolored light strings, different spooky silhouettes for each jar, and all the crafting supplies you may need, including the necessary batteries.
Turn a simple mason jar into a backlit, illuminated pumpkin, witch, cemetery scene, or ghost, and accessorize each jar with all kinds of creepy seasonal accessories.
The plastic mason jars are a great, safer alternative to glass and create a fun Halloween atmosphere in any home.
It's an especially great project for a four-person household – you can each design your own lantern jar to display!
Pros
Great for all ages
Easy to assemble
Cons
Included string lights have an exterior battery box
Not the most creative kit on the list
---
Halloween Craft Kit Buyer's Guide
Cost
When it comes to picking a Halloween craft kit, it's important to be realistic about how much you actually want to spend.
Seasonal crafts tend not to be very cost-efficient, considering you'll only use and display them for a few weeks a year at most.
If you really want a Halloween craft kit that is high-quality and durable enough to last for several years of Halloween decorating, then it would be totally worth it to invest in a higher price tag.
But if you're looking for a quick, easy activity to keep a Halloween party's worth of kids occupied for a bit, you'll probably be more interested in a lower cost, and thus lower quality, craft kit.
Ease of Use and Age Recommendation
Like most other crafts, Halloween craft kits will come with an age recommendation.
Just because the craft is geared toward kids doesn't mean it's intended for all kids.
It might involve a certain level of skill and concentration found in older kids or include small parts that might be dangerous for younger kids.
Either way, be sure to check the age recommendations before purchasing a Halloween craft kit!
Amount of Product
Another factor to consider when purchasing a Halloween craft kit is the product you'll receive.
Some of the Halloween craft kits on this list come with over 200 different pieces, which would be plenty for a whole classroom of kids! But some might be enough for just one person.
Rather than buy a bunch of one-person crafts, try searching for larger craft kits or value packs that will come with enough materials for a whole group. It will be less expensive this way, too!
---
Halloween Craft Kit FAQs
Should kids be supervised when working on Halloween craft kits?
Usually, yes!
Even Halloween craft kits that don't require tools or scissors still might have small parts that could be a choking hazard for really young ones.
However, supervision and instruction are different things. Depending on the ease of the craft, kids might just need an adult in the room to supervise, while other crafts may require more hands-on instruction.
What other supplies do I need to do a Halloween craft kit?
Most Halloween craft kits are pretty self-contained and come with whatever tools and supplies you may need to complete the craft.
However, you might need a few household items you'll already have on hand, like scissors.
You may also want some glue or tape if you're working with stickers since the adhesiveness might not be the best.
Additionally, you may find yourself wanting to spruce up your Halloween craft kit with different stickers, paints, markers, or other supplies you have at home!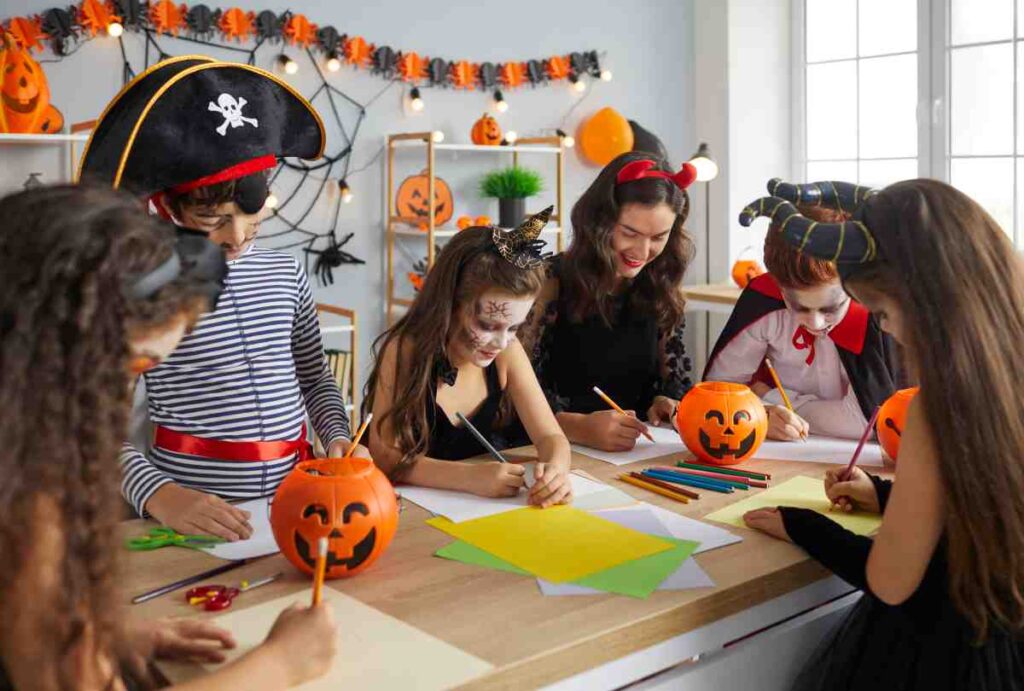 ---
Wrapping up the Guide to Halloween Craft Kits
Considering its awesome final product, the important skills it encourages, and the care taken to ensure the craft is accessible to all types of learners, the Magimuse Halloween Crochet Kit for Beginners takes the cake for the best Halloween craft kit for kids!
However, all the Halloween craft kits on this list are awesome seasonal projects sure to keep your kids entertained this Halloween.
For more spooktacular Halloween decorating ideas, check out 7 Amazing Halloween Table Décor Ideas!
About the Author
Latest Posts
Leah is a writer for That Sweet Tea Life and is passionate about learning and trying new things.
She has a master's degree in English and loves to write about and share her colorful & crafty DIY experiences!
Leah can be reached at leah@applepiemedia.net