In this easy stromboli recipe, my stromboli is made like a calzone, which is the equivalent of folding an unbaked round pizza and its toppings onto itself to form a half moon, sealing the edges, and baking it so the "toppings" create a wonderful, savory filling.
This method is simpler than the traditional rolled up version and it's the way the first stromboli I ever ate was made.
My History With Strombolis
After trying both a calzone and a stromboli during my freshman year of college, I chose the latter as my favorite because the stromboli had mozzarella cheese inside, whereas the calzone had ricotta. I couldn't afford to eat strombolis often, but they were a treat when I could splurge on one. One day, years after college, I decided to make them at home. I already made homemade pizza, so it made sense to try a stuffed pocket version.
The Versatility of Strombolis
Strombolis are incredibly versatile. Whatever you'd put on top of a pizza, you can use to create filling for a stromboli. As a mother of three boys, I found strombolis to be a great way to get my little guys to eat vegetables like mushrooms, olives, and even artichoke hearts. Basically, if I mixed it with enough mozzarella cheese and baked it inside pizza dough, my boys would eat it.
Experiment to Create Your Favorite
I experimented with all sorts of meat and veggie combinations, but one of the family favorites was chicken, olives, artichoke hearts, and sun-dried tomatoes served with a pesto sauce on the side. (I learned to put my sauces on the side to keep the strombolis from leaking or coming out soggy.) That's the version I'm sharing in this recipe.
Creative Family Night Idea
Rather than make the same stromboli for everyone, a fun family night dinner idea is to let everyone create their own customized stromboli by selecting ingredients from a "filling bar."
Making an Easy Stromboli
Besides being made in calzone fashion, I make this "easy" by not making my own pizza dough. I take advantage of the premade doughs found in most grocery stores. I also use pre-cooked chicken to cut down on overall meal preparation time and to eliminate a dirty baking dish to wash. Finally, pesto sauce from a jar or a packet mix is an easy alternative to the pestos I used to make from my herb garden.
If you've made pizza at home, then making strombolis will feel very familiar, with just a few additional steps.
First is rough chopping the sun-dried tomatoes and artichoke hearts. I use kitchen shears for the tomatoes to make the job go faster.
Next, use a knife to divide your dough into quarters and roll them into balls.
Roll out each ball into a circle (or a shape somewhat close to a circle) approximately 10 inches in diameter, which just so happens to be the length of my rolling pin.
Add the filling ingredients. I start with cheese as the first layer and finish with more cheese to top everything off.
Remember you will be folding the dough, so be sure to place the filling on the bottom half of the circle and NOT the middle (one of my early mistakes)!
Fold the top half of the dough to cover the filling.
Pinch the edges of the dough together and roll them up to seal the stromboli.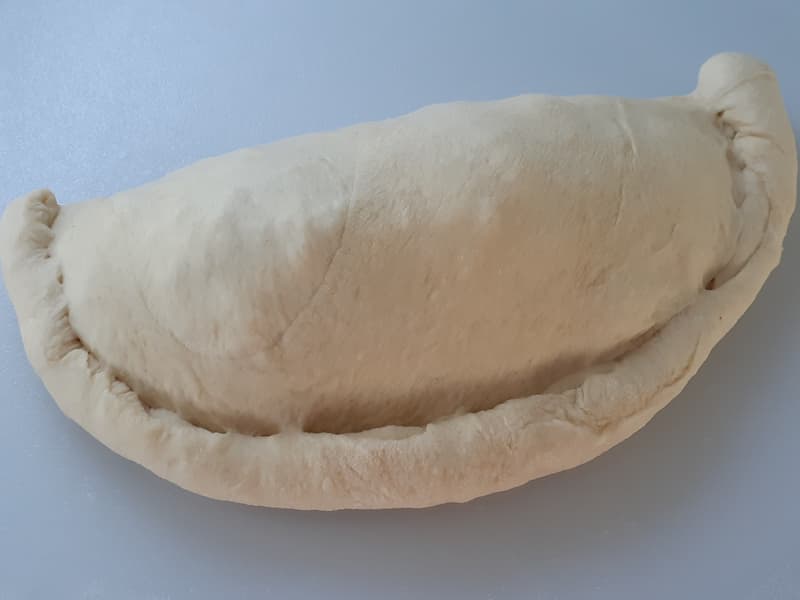 Place the stromboli on a baking sheet sprinkled generously with cornmeal.
Bake and enjoy the smell of the stromboli as it turns golden brown.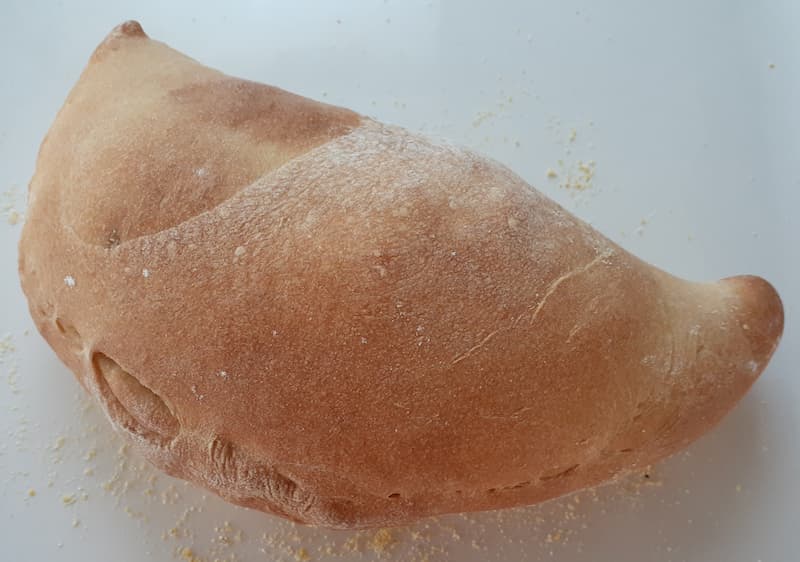 If you choose to make this in a "less easy" way (making dough from scratch, baking chicken breasts, making homemade pesto), the recipe still works. You'll just have to factor in the time it takes you to prepare those ingredients. The method to assemble and bake the strombolis will be the same.
Why I Don't Add Any Spices to the Filling
In this stromboli recipe, I don't add any spices to the ingredients in the filling because I let the flavors of the ingredients take center stage — the saltiness of the olives, the tanginess of the artichokes, the sweetness of the sun-dried tomatoes, and the mild butteriness of the mozzarella. Since there will be pesto sauce served with the stromboli, I don't want to create a situation where it tastes like there's too much going on (which happened in my early trials). Experience taught me that keeping this particular recipe simple produced the best results.
Strombolis Can Be Frozen
Strombolis can be made and stored in the freezer, unbaked, for up to three months. After assembling, place the strombolis on a lightly greased baking sheet and place in the freezer. Once they are frozen, I wrap the strombolis tightly in wax paper and put them in freezer bags.
NOTE: I did not have good results when I baked frozen strombolis even after I experimented with various temperatures and bake times. I found that if I unwrapped the strombolis, placed them on a baking sheet sprayed lightly with cooking spray, and thawed them overnight in the fridge or left them on the counter in the morning, the strombolis were ready for baking in the evening and turned out as they were supposed to.
Side Dishes for Strombolis
A fresh salad is a classic side for strombolis — a Garden Salad with a tangy dressing is my go-to, but a Caesar or Greek Salad is also a tasty choice.
A chilled Italian pasta salad also goes well with a stromboli. Be sure to include lots of vegetables to keep the meal from being too carb-heavy.
During colder weather, a cup of an Italian-style soup makes a nice accompaniment to a warm stromboli — Minestrone is my personal favorite, followed closely by Pasta Fagioli.
Having said all this, let's get to it.
Yield:

4 Servings
Easy Stromboli
This easy stromboli filled with chicken, olives, sun-dried tomatoes, artichoke hearts, and mozzarella cheese, accompanied by a creamy pesto sauce is a fun twist on the traditional pizza night.
Ingredients
1 ball (16-17 ounces) pizza dough
8-10 ounces cooked chicken
1/2 can (4.25 ounces) chopped olives
1/2 can (13,75 ounces) artichoke hearts (usually amounts to 4 hearts)
1/2 cup sun-dried tomatoes, julienne cut
8 ounces mozzarella cheese, shredded
1 packet creamy basil pesto mix
1 cup milk (for pesto mix)
1/4 cup olive oil (for pesto mix)
1 jar (6 ounces) basil pesto
Cornmeal
Instructions
Preheat over to 350 degrees.
Rough chop the artichoke hearts and use kitchen shears to cut sun-dried tomatoes into halves or thirds, depending on the length of the piece.
Divide all ingredients into approximate fourths to make assembling easier and to ensure each stromboli has the same amount of filling.
On a lightly floured surface, use a large kitchen knife to cut the pizza dough into quarters. Roll each quarter into a ball.
Roll each ball out into a circle roughly 10 inches in diameter.
Layer cheese, chicken, olives, artichoke hearts, sun-dried tomatoes, and more cheese on the bottom half of each dough circle.
Fold the top half of the dough over to completely cover the filling.
Press the edges together and then roll the edges up to seal in the filling.
Sprinkle a baking sheet generously with cornmeal. Place the strombolis on the baking sheet (you may need to use a floured grill spatula to lift and transfer the stromboli).
Bake for 30 minutes until golden brown.
While the strombolis are baking, prepare the creamy pesto sauce according to the packet instructions.
When the pesto sauce is fully cooked, add additional jarred pesto to desired consistency.
When the strombolis are done, serve with the pesto sauce.
Notes
If you have frozen your unbaked strombolis, place the them on a baking sheet sprayed lightly with cooking spray. Place the baking sheet in the refrigerator overnight or leave out on the counter in the morning. Once thawed, bake as written for freshly made strombolis.
Make sure to follow That Sweet Tea Life on Pinterest and check out more great recipes here.